Unique 13-fret custom Martin made for John Mayer
Solid Cocobolo and Engelmann spruce with Style 41 appointments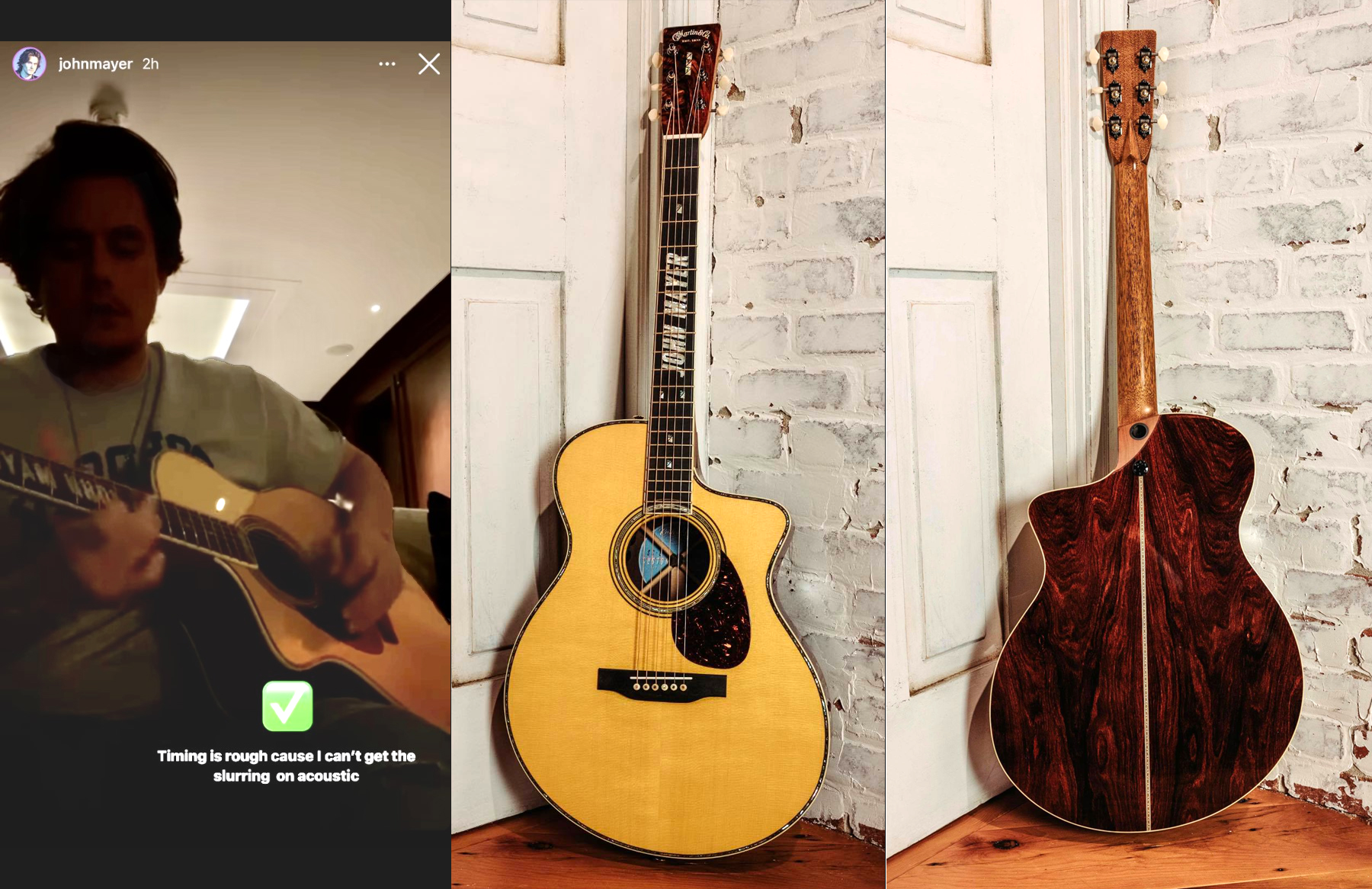 An eagle-eyed Aaron Short sent me the photo on the left to ask about what this guitar might be. And since it is now out there in the public media, my self-imposed gag order regarding any behind the scenes stuff at C. F. Martin & Co. has now some leeway for replying. This is one very cool guitar.
I feel it is important to make clear that this was a private project that Martin had no intention of publicizing. Mr. Mayer had no part in the project or its design, and it was made entirely as a surprise for him, conceived by his friend Fred Greene, Martin's VP of Product Management.
When Mayer chose to reveal the guitar on his social media, I asked the powers that be if that meant I could post about it. The response I received from Fred was, "Since it's no longer secret, feel free to share." And so I shall.
The revolutionary Martin SC-13 is the basis for this one-of-a-kind custom Martin that was made for John Mayer, with the artist's name inlaid on the fingerboard in abalone shell, using the font from the cover of his latest album, Sob Rock. It also gets a matching abalone rosette around the sound hole, and abalone trim along the edge of the top, making it similar to Style 41 Martins. And that rosette goes all the way through the fingerboard extension on the top, making a full circle. This is a cosmetic embellishment that John Mayer himself came up with for one of his earlier signature models.
The woods are spectacular! The highly-figured cocobolo and shimmering Engelmann spruce look good enough to eat, and even the neck is made from figured mahogany. And the figured cocobolo face plate on the headstock is so outrageous it looks like tortoise shell! There is an inlaid abalone script logo and three split abalone  diamonds stacked like rectangles down the center; and all of it is set off by pearloid buttons on the six tuning machines.
The asymmetrical SC design (S body shape named for the bass side curves of the silhouette, C for the treble cutaway) incorporates Martin's first 13-fret neck with a new neck joint that allows for no heel at all, much like an electric guitar. It is a departure in many ways from the traditional designs of this venerable guitar-making powerhouse. Its proven success is expected to give rise to other SC models in the future – a future put off-course by the COVID-19 crisis. Product projections aside, this SC was produced under the radar, expressly for John Mayer.
(click to enlarge photos – click Back Button to return to article)
The SC-13E is part of the Road Series of acoustic-electric guitars made in Martin's facility in Navajoa, Mexico, and priced for working musicians. Mayer's guitar was built in Nazareth, PA with primo tonewoods and appointments. That would mean a much higher commercial price, should anything like it appear for sale to the general public.
Mayer has been a big fan of Engelmann spruce since he was introduced to it by Dick Boak when they were designing his original signature model, the OM-28 JM. That limited edition is now a desirable collector's item with a skyrocketing price, if you can find one at all. But they made a regular production model based on it, the OMJM, which has the same Engelmann spruce for the top that is matched with the same Indian rosewood back and sides, the rosewood species used on the OM-28V he played for many years prior to the signature models based on it.
Since then, Mayer has had multiple Martin signature models, including two made with cocobolo back and sides, the 00-45 Stage Coach and 00-42 Stage Coach editions. Each is a 12-fret 00 with a slotted headstock. The 45 has an Adirondack spruce top and the 42 has Sitka. Engelmann made a reappearance as the top wood on the D-45 JM, made with Guatemalan rosewood back and sides.
Engelmann spruce has a quick and snappy report, but slower velocity to the swell that rises up and out from sustained chords and harmonic overtones. That effect is barely perceptible when new, but after a year or two the tone of an Engelmann soundboard really blossoms into an ever more-colorful pastel glow that enhances the tonal complexity of whatever rosewood species is used to frame the sound chamber.
Cocobolo is a true rosewood. To my ear, it sounds most like Guatemalan rosewood, with a similar inky-dark undertone, although Guatemalan does not have quite as steely a report from the fundamental notes as cocobolo sends out. The cocobolo should put some meat on the precise Engelmann fundamentals, and the Engelmann should ultimately accentuate the lushness of that deep, dark coco cavern down in the bass and low-mids.
With a body size and sound chamber falling somewhere between a Grand Performance and an Orchestra Model, an SC in this combination of cocobolo topped with Engelmann spruce is mouthwatering in its acoustic potential. But it might provide some challenges when plugging in the onboard Fishman electronics, tonal complexity being a bit of a maverick when it comes to the rodeo of a segmented sound system servicing a large auditorium or concert arena. Fortunately, SCs have an internal switch that cuts the bottom end for just such environments.
I had played an early R&D version of an SC made with solid Indian rosewood and Sitka spruce, and cosmetics similar to Standard Style 28. It was also braced a little heavier. The success of the SC design made with Standard Series woods was apparent from the get go. And it is not telling tales out of school to say the reality of production model SCs made in Nazareth with solid tonewoods that are on par with the Standard Series is (hopefully) only a matter of time. But I would not put money on that happening any time soon.
Since I published this account on September 2, C. F. Martin has saw fit to  go public about the guitar on their own social media, with guitar designer Rameen Shayegan posting "I am thrilled to have some glam shots of this custom one-off we built as a surprise gift for John Mayer. I'm ESPECIALLY thrilled that he loves it and is actually playing and enjoying this instrument. Working on projects like this reminds me how much I love my job"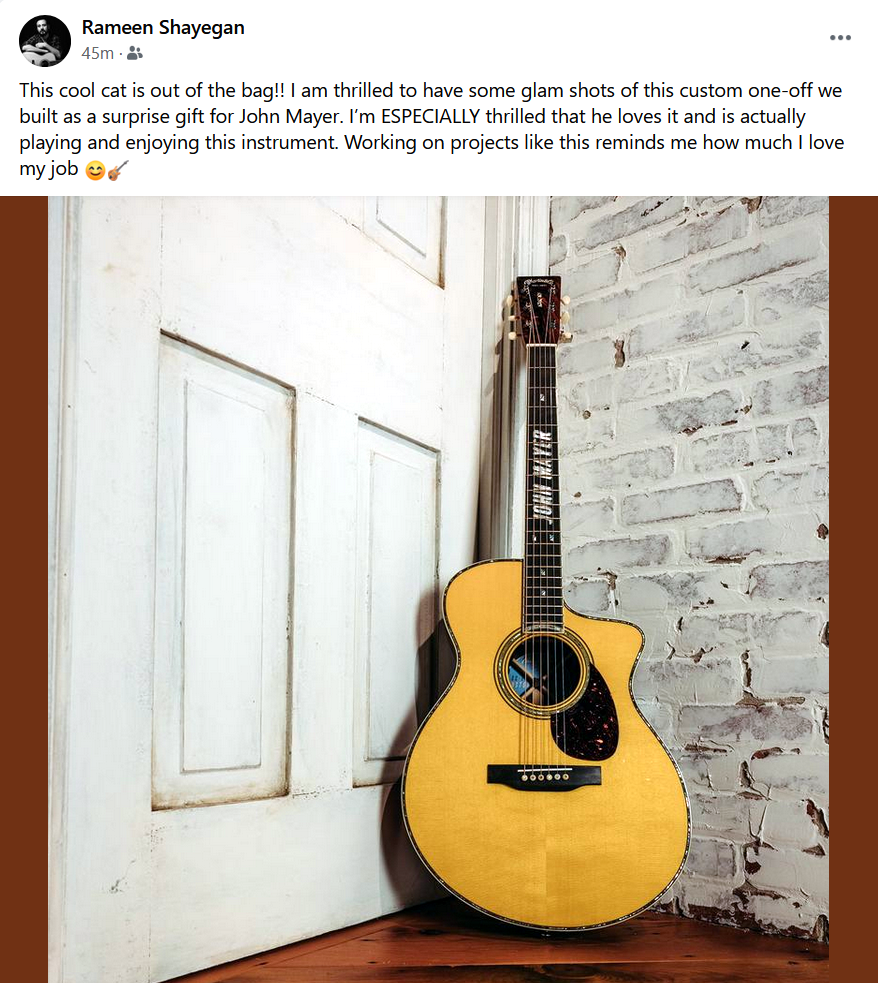 I imposed upon Rameen's holiday weekend to ask him about the guitar. "Fred (Greene) walked into the Design Team office one day and said he wanted a one-off SC made from Cocobolo and Engelmann spruce. And then he followed up by saying, 'I want you you guys to pull out all the stops' and to 'really pearl it up!' And that is when he said, 'Oh, and it is for John Mayer.' Whew! I went to work on it immediately."
Cocobolo can be very difficult to work with. It is oily, which makes it problematic where gluing is involved. And some people have serious allergic reactions to the dust when it is sanded. And it can crack when you are working with it.
"We have no bending presses in Nazareth to make the SC body, or bracing masks for that design, or anything really." What Rameen did have is experience from making the SC prototypes. "I had to bend the sides of John's new Martin the old fashioned way, by hand, over a primitive form, minimal iron 'egg.'" This is a device heated by electricity and used to bend guitar sides that are first soaked in water. It was the main way to bend sides at Martin until the turn of the century. "There was no margin for error, but it turned out beautifully."
Tim Teel, CFM Director of Instrument Design, came up with the fingerboard design. Rameen said that it was tag team effort. "We wanted to base it on Mayer's Sob Rock album. Did you know Mayer designs his own fonts? That is a pretty cool hobby to have. So, everything about the design, including the split diamond position markers on the fingerboard were inspired by the design concept on his new record. And we included a 360 degree rosette like the one he came up with for his 00-45 SC model."
I asked about the pickup and was told it is the Fishman Matrix Infinity, which has onboard tone and volume control. Rameen considered using the Fishman's Goldline Plus pickup that Mayer often uses on stage, so he can fit a feedback buster into the sound hole. "But the SC design is not prone to the same sort of feedback issues one can have with traditional acoustic guitar bodies."
Tim Teel  told me that they built the guitar for Mayer partly because they felt he would be a wonderful adjudicator when it came to a Nazareth-made SC made with solid woods and higher-end construction, and that Tim really enjoyed the design process. By all accounts, "he loves it." Rameen went on to say that "Mayer is such an important artist whose playing has proven him to be one of the greatest guitarists of all time. That he loves this guitar and enjoys playing it means to me more than I can say."
In an early conversation, Fred Greene stressed that this guitar was "a one off for John. He is a special person and good friend."
That being said, there have been many one-off guitars made in Martin's Custom Shop for notable recording artists that were ultimately used as the basis for an artist signature model, the D-35 David Glamour being the most recent example.
Might this be another Mayer model in the making? I am one man who cannot say.
But I can say, I will be appearing on YouTube's Aaron Short Music channel on Labor Day (Monday, Sep. 6,) answering questions from the live audience about all things Martin related, via the chat bar feature. The show starts promptly 4 PM, Eastern Time, and will remain up for replay viewing on Aaron's YouTube channel. I have no doubt this guitar will come up as one of the topics for discussion.
Here is the video Mayer posted on his Instagram story outlet, picked up by a Celine Dion fanzine.