The Taylor Road Show was off to its first week of 2015 dates, with a stop at Matt Umanov's guitar shop in New York City's famous Greenwich Village.
One Man's Guitar dropped in to see what was new and interesting in the world of Taylor Guitars.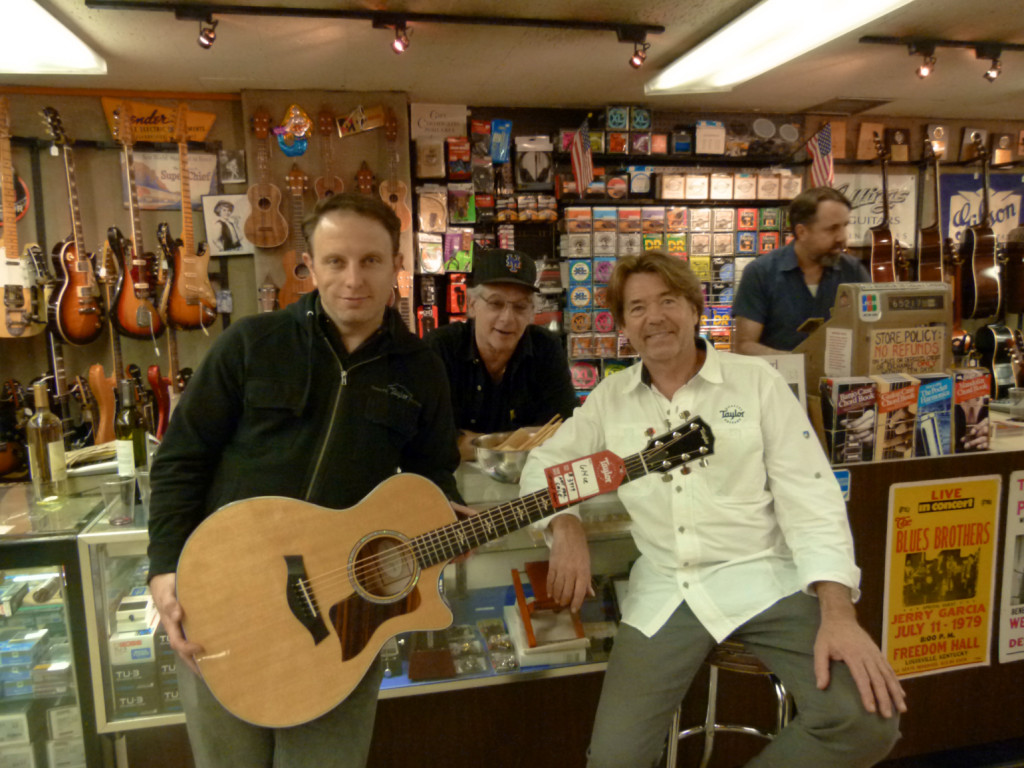 Quite a lot, as it turns out.
The MC for this road show was Nate Shivers, Taylor's District Sales Manager for the northeast region. And joining him was Grammy winner Wayne Johnson, in his tenth year as a Taylor Product Specialist. Together they put together the kind of enjoyable and educational evening that I happily recommend to anyone remotely interested in the music made on acoustic guitars.
After some welcoming remarks by the affable Mr. Shivers, Wayne Johnson launched into a demonstration of his "go to guitar," a 13-year-old Taylor 74NS, the precursor of today's 714CE-N. He explained how this particular Taylor model was nylon string guitar ideal for steel string players who didn't want to have to tackle the 2 inch neck on a classical guitar, and that it was designed with amplified performance in mind. He then proceeded to play some impressive upbeat Latin-tinged Jazz, through a Fender amp, aided by an array of effects pedals, including a looping box that allowed him to lay down bass and chord progressions before soloing over top of them.
As he switched seamlessly from fingerstyle to flatpicking, and from ingrained composition to off the cuff improvisation, it was immediately apparent why Wayne Johnson has spent decades as a studio and touring guitarist for acts like Manhattan Transfer and Rickie Lee Jones. But he displayed a different sort of professionalism in the role of product demonstrator, as the rest of his performance was less about displaying his mad skills and more about showing off the potential and personality of the various Taylor guitars put through their paces over the next 75 minutes. All other guitars had steel strings, and with one exception they were all heard acoustically, with the aid of a Rode M5 microphone.
Nate Shivers was likewise entertaining in his own respect, with a winning demeanor, wry sense of humor, and the easy going enthusiasm of someone who loves his job and has sincere appreciation for the guitars he markets, and a respect for the company who makes them, from their farsighted commitment to wood management and ecology, to their innovations in modern luthiery and a product line that has evolved through what Taylor has learned from practical experience and the feedback from their customer base among amateur and professional musicians.
Smooth Operators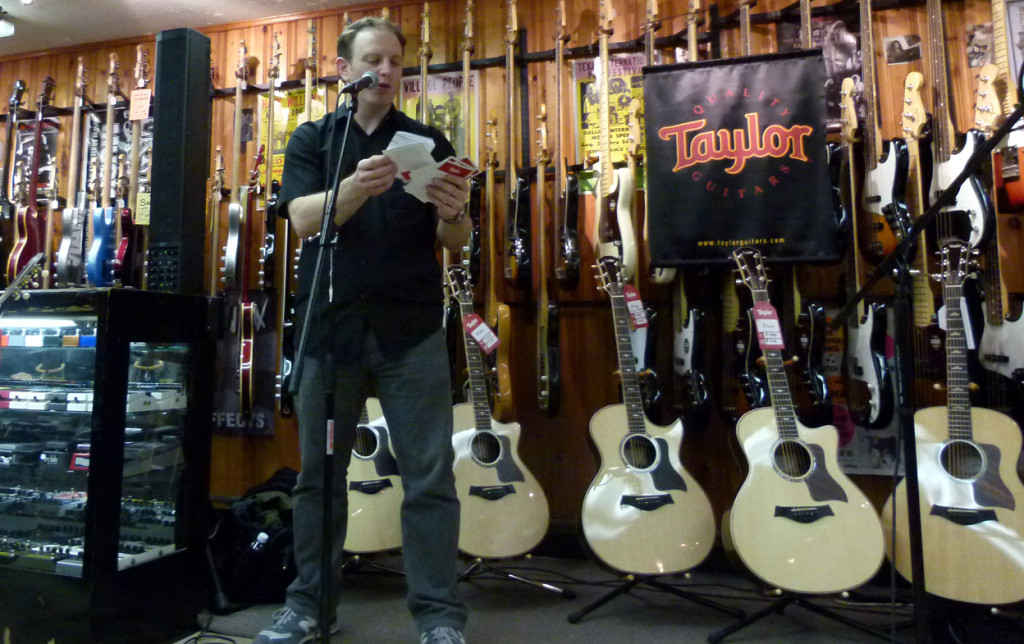 They certainly have the road show concept down to a smooth and entertaining operation. Shivers first took the audience through the current array of instrument sizes, and Johnson played basically the same progression of chords and melody examples on each. From the Grand Concert, with its short-scale neck and relatively small top area and body depth, on up to the prodigious Grand Orchestra that has replaced the Taylor Jumbo design, each size was heard in an example of the 800 Series, made with Indian rosewood back and sides and a Sitka spruce top.
The second part of the presentation focused on the tone woods employed across the various series, including mahogany, maple, rosewood, ovangkol and koa. Each was heard via Taylor's Grand Auditorium body size, which has become one of the most popular guitar designs in modern times, inspiring other brands to produce similarly progressive shapes and sizes in much the same the way the Martin dreadnought and the Gibson jumbo designs did in the twentieth century. The GA was said to provide a Swiss army knife kind of versatility, and Wayne Johnson took advantage of this to stretch out and play various pieces he felt worked well with certain wood combinations.
When it came to top wood, most of the guitars had Sitka spruce from the Pacific Northwest, but the example made from Hawaiian koa wood had a koa top. There were some other guitars available for playing before and after the presentation made from other wood like Engelmann spruce.
A high end Presentation Series guitar made from Cocobolo was used to demonstrate the latest generation of on-board amplification systems, the Expression System 2. This patented pickup consists of three small piezo crystals that sit behind the saddle, rather than under it. They are held in place by three screws set into the bridge. Instead of some 60 pounds of pressure squashing the crystals, as on traditional undersaddle pickups, the ES-2 only brings a few pounds of pressure to bear, resulting in a less-strident piezo sound when plugged-in, and a pickup that is sensitive to nuanced changes in finger pressure, string tension, and any percussive or damping techniques a guitarist might use on the instrument's body.
A major highlight for me was getting to know the newly reworked 600 Series, designed to make the most of American maple, a sustainable native hardwood. Like the new 800 Series that underwent a similar refresh last year, the 600 series also gets Taylor's new thinner finish and animal protein glues. But it also gets a torrefied Stika spruce top, and unique bracing designed expressly to wring out as much warmth, resonance, and complexity as possible. And over all that maple is a hand-rubbed dark Brown Sugar stain, meant to evoke the look of classical violins.
I thought they did a great job with these new 600s. They definitely have more going on in terms of presence and color down inside the voice, while there is also a hint of old dry box sound to them that is likely due to the torrefied spruce, which provides some "vintage tone."
At the end of the presentation, Wayne Johnson took us through a special maple version of the T5 hybrid, a true acoustic-electric guitar that offers five-way switching of three pickup sources. When combined with adjustments in tone controls, effects pedals, etc. offered an astonishing spectrum of guitar sounds. From Tele to ES-35 to Santa PRS, to a perfectly pleasant and more than acceptable acoustic guitar tone, and all of it weighing much closer to a typical acoustic guitar than most any electric guitar.  I was totally sold on the T5 and am seriously considering test driving one for possible purchase sometime soon – even if I cannot fit it into the budget for a few months yet.
In the words of Nate Shivers, there is nothing like bringing a bunch of really cool guitars and putting them into people's hands and letting them decide for themselves. And for those of us in attendance on this particular evening, we had the opportunity to play the same guitars that Wayne Johnson had just used in such impressive ways, as well as some ultra-cool instruments from the Taylor Custom Shop.
And it was a very nice touch that Matt Umanov provided cheese plates, crackers and cold cuts, as well as beer, wine and soft drinks, which I heard does not normally happen at such Taylor Road Show presentations. So any dealers reading this may want to make note of it.
I cannot recommend taking the time to attend one of these evenings. And if you are fortunately enough to have one passing through your neck of the woods, don't forget your wallet. The guitars brought for display, and at least in this case the other Taylors available at the dealership, were all offered for sale at abnormally low prices!
Learn more about the upcoming Taylor Road Show schedule HERE
And stay tuned for One Man Guitar's first Taylor review, coming soon!
(click to enlarge)
More photos HERE
See it? Now hear it!