The Standard OM-28 is resurrected by C. F. Martin, alongside an upgraded, updated 000-18, and new Aura models
I was traveling sans internet yesterday, when Martin announced the lineup of new models, which will debut at the 2014 Spring show in Frankfurt, Germany.
OM-28
As expected, Standard Style 28 has received a makeover, following in the footsteps of the one that appeared with the fabulous D-18 and the upgraded OM-21. Gone are the much loved OM-28V of the Vintage Series and the pricier OM-28  Marquis. In their stead is the first Standard OM-28 since 1994, melding vintage appointments like herringbone top trim and the classic short pattern diamonds and squares on the fingerboard, with modern design features like Martin's High Performance neck and a short drop-in saddle in a 30's style bridge.
The High Performance neck combines a modified low oval profile with the Performing Artist Taper, which first appeared on the guitars in the Performing Artist Series. It features a 1-3/4″ width at the nut but tapers to 2-1/1/8″ at the 12th fret, adding up to a sleeker faster and thoroughly modern neck. But unlike the PA models, the profile of the neck used on the revamped guitars in the Standard and Retro Series is not as shallow and flat in the back, providing a bit more traditional feeling in the palm of the hand.
Basically this new model replicates the look and feel of the OM-28 Retro model, only without the on-board electronics, and with a bone saddle rather than the Tusq used for the acoustic-electric Martins.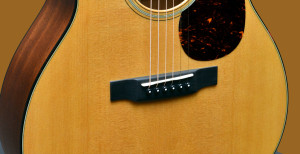 30's Style Bridge with drop-in saddle
000-18
The new 000-18 likewise sports the High Performance neck and 30s bridge, having already traded in its rosewood bridge and fingerboard for ebony some months before. But this latest edition also gets scalloped braces to go along with its more-vintagey appointments. And about time too, I say. As with the OM-28, this new 000-18 is basically identical to the 000-18 Retro, which appeared at Winter NAMM, minus the electronics.
New Aura Models
The DC-Aura GT and GPC-Aura GT are made of Indian rosewood and Sitka spruce, with the full Aura F1 Plus pickup system, and African blackwood bridges.
You can see all the new Martins HERE
But you will have to wait for Summer NAMM for the even more exciting rosewood model! Will the snow never melt!?