The Martin Experience took place last night at Rudy's Music in Soho, New York City.
A series of traveling presentations at various musical instrument retailers across the nation, this particular Martin Experience gave the  general public an opportunity to get up close and personal with showcase guitars built in Martin's Custom Shop, along with a couple of the people who design them.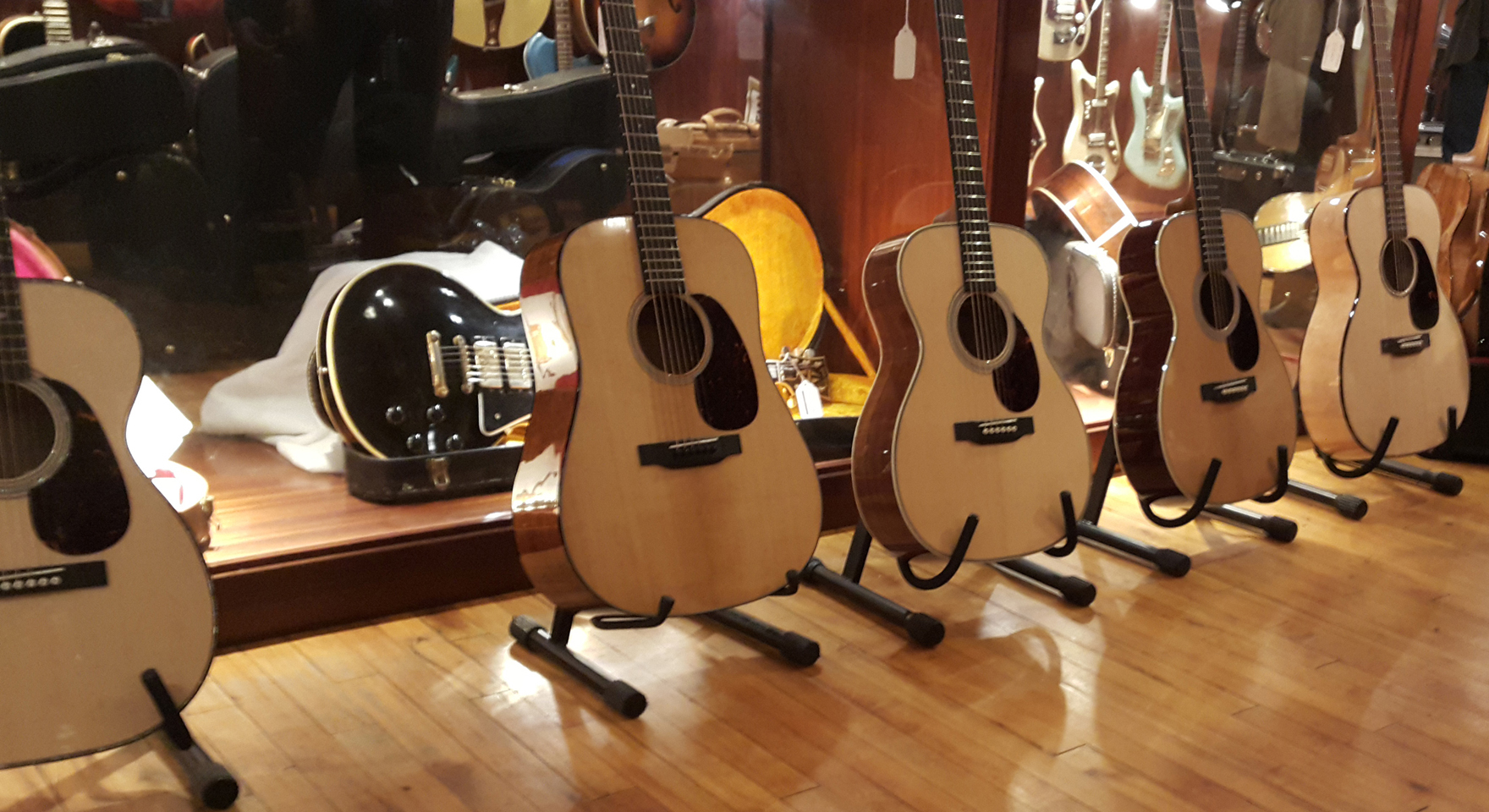 Adhering to Martin's current policy of keeping things on a first name basis, they were introduced as Randy and Emily, and I shall leave it at that.
Emily is normally housed within the Custom Shop where she designs one-of-a-kind or sometimes three-of-a-kind Martins, and helps build others that were ordered by various Martin dealers or their private customers.
Randy is District Sales Manager for the New England area and each of them personally designed some of the guitars on display.
Every instrument was for sale with "aggressive pricing" just for that particular evening, and future evenings. Check out the link to the Martin Experience schedule below, if interested.
They did a quick overview of the difference between typical Martin models with names like D-18 or OM-42, and the guitars they were exhibiting like a private fashion show of Tiffany jewelry, which Randy kept referring to as "Custom Shops."
Each instrument was shown front and back to the crowd of some two dozen oglers, and briefly strummed, while Randy and Emily revealed some of the specs and details that went into it. After some discussion of various tonewoods, bracing, and neck joints, torrefied wood, and fielding related questions, the wide-eyed onlookers were set free to play the many guitars set before them, like a pack of puppies who had obediently stayed in place far too long before permission was granted to pounce on a trough full of Alpo.
I certainly couldn't blame them, as the bevy of Martins were extremely inviting to behold, and later to be heard. I did not get to play many of them, as I didn't want to get in the way of potential sales. There ended up being more than one Martin that left that night in the hands of a new and very lucky owner.
Here is a quick overview of the line up.
As I said, some of these were made in batches of three, while others were one-of-a-kind. But when it came to the guitars designed by Randy, each was made in a batch of five.
If any of these instruments sound appealing enough to seek out, he said that you should contact your local dealer so that proper channels may ultimately supply the appropriate build sheet and list price.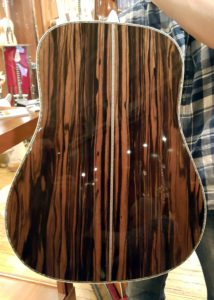 The most expensive was arguably the most impressive. A 14-fret dreadnought made in Style 45, with back and sides of wood Emily referred to only as "Asian ebony." I assumed it must be Macassar ebony, which grows only on the Indonesian island of Sulawesi (Celebes.) But it turns out it is Mun ebony, which grows on the Asian mainland, in Viet Nam. She said they acquired but three sets, which have now been used, and in this case very well used indeed.
I have been a big fan of guitars made from Macassar ebony and Adirondack spruce since I played my first one, built by Bruce Petros some 12 years ago. But a Martin made with this ebony is one exotic bird.
The top has forward-shifted, Golden Era bracing, and insanely tight grain. As such, it seemed a bit subdued when flatpicking, kind of down inside itself. But when strummed, and especially when fingierpicked, it was glorious. Alive with splendid colors in the harmonics that reflected off the dense ebony undertone, I could have played it for hours. Just an infant with a tremendous future ahead of it, it is going to let loose soon enough and flatpick like a champ.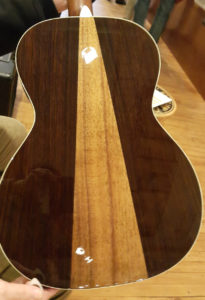 Another serious favorite was the slope shoulder 00L that Randy had designed. In his words, it was the CEO-7 with some upgrades that included a high-color abalone rosette, Indian rosewood back and sides, and a center wedge of koa. It also has the High Performance neck, while retaining the short scale.
What a versatile tone machine! Jimmy Rodgers, George Barnes, George Jones, George Harrison, George George George of the Jungle, it looked and sounded magnificent regardless of who was playing what. And when I heard it was for sale for just over $2,700 I was sorely tempted, as that is an outrageously great price for that kind of tone and playability.
For a lot more money, there was also a 00L in Madagascar rosewood with old fashion looks to its very straight grain, with an Adirondack spruce top that had the M1 torrefaction used on the Authentic Series. In Emily's estimation, all the Madagascar rosewood remotely like it is "all gone." And it had that way down deep openness that the new torrefaction wakes up in a brand new guitar.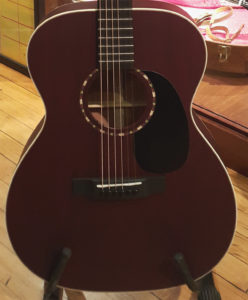 On the much more affordable side there were some guitars built along the lines of the 15 Series and new 17 Series, including a 12-fret 00, made with domestic Cherry and Adirondack spruce, and an all-mahogany OM with a slender rosette and back strip made in the multi-color herringbone first used on the Martin EMP models of the 1990s, which Emily said she "just found in a drawer."
And then there was the slope shoulder 14-fret dreadnought with the same body shape used on the CEO-6 models, but with the build, looks, and thin finish of the new Black Smoke models from the 17 Series, only without a pickguard and and the addition of a wisp of abalone around the soundhole. I have speculated that we will see a slope shoulder dread added to the 17 Series sooner than later and this guitar only made me that much more eager to see that come true.
Others from Randy's batches of five custom Martins included a flamed mahogany 000-18 and an OM-21 with high altitude Swiss spruce for the top, Foden-style fingerboard Markers (aka Style 25 markers) made in high color abalone, to go with an abalone rosette.
There was also a luscious Cocobolo OM-28V, and a modern OM-28 with Adirondack spruce for the top and one of seventy-five sets of Honduran rosewood they got in recently, which also has a beautifully figured headstock.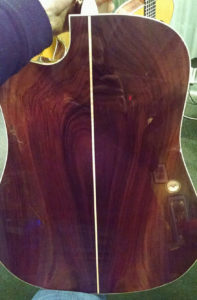 There was a D-18 with rear-shifted bracing under its Adirondack spruce top, and a regular forward-shifted D-18 with Ambertone shading on the Sitka spruce, and a single ring abalone rosette.
I also loved the East Indian rosewood flatsawn back on a cutaway acoustic-electric dreadnought. It looks like some fluted passageway worn out of the sandstone at the Grand Canyon, or perhaps the Georgia O'Keefe painting of it. But as full-bodied as it sounded, it was bested by the Cocobolo dreadnought with the torrefied Sitka spruce top and forward-shifted bracing.
Unfortunately my photos of these guitars did not come out, since I was using a smartphone in low light. Emily was kind enough to text this one along this afternoon. But no photo can capture the 3D illusion it has in person.
How about an M size guitar, with Swiss spruce for the top and a maple back that was both flamed and had birds eye? A rare and very handsome set indeed. And it had a most beautiful little sister in a birds eye maple 00-41 with a top grade Sitka spruce soundboard that sang as glittering and magical as Cinderella's ball gown must have looked. It also had Madagascar rosewood for the binding and the center strip running up the two-piece maple neck.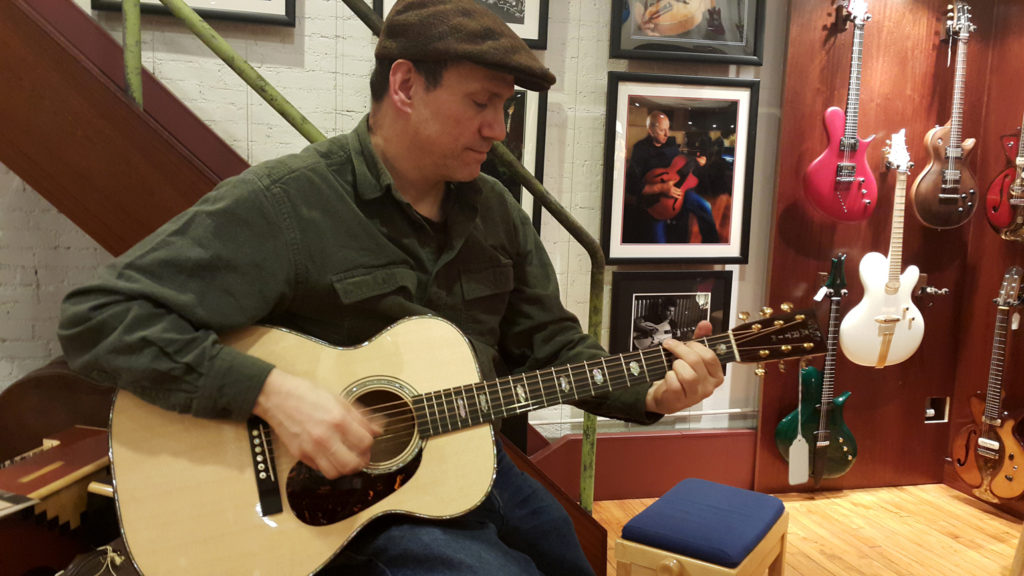 The Martin Experience offers a variety of events, some with live musical performances, historical presentations, and a chance to play some amazing one-of-a-kind Martin guitars. There are also free t-shirts, and in this case anyone who bought a set of strings at Rudy's got a free set of Martin Lifespan strings to go with it.
Martin Experience events are currently scheduled throughout the USA from now until December. Find one in your area HERE
More photos from last night HERE