Martinfest is the annual gathering of the Unofficial Martin Guitar Forum
Taking place in and around Nazareth, Pennsylvania, home of Martin Guitars, the 15th Martinfest was a successful mixture of tradition and new directions.
Here is a video of just some of the amazing instruments I and others got to play at Martinfest 15, over the first weekend of August, 2016, all of them made by C. F. Martin & Co, est. 1833.

Those guitars referred to as "converted" typically started as Martins from the 1950s or 1960s. which had aged gracefully, or been through some hard times, before they were re-topped and braced to be much more like the Martin guitars of the 1930s than most modern guitars. The conversions in this video were all accomplished by master craftsman who honed their skills at the Martin factory for decades, before going into "private practice."
A Wonderful Annual Party
As described in greater detail elsewhere, Martinfest consists of a friendly gathering of guitarists from all levels of skill and varied musical tastes, along with their friends and family members. This year there were some 180 people registered, although they didn't all stay at the main hotel.
During the days, we congregated at Nazareth's Boro Park (Friday and Sunday) and the town center for the Martin on Main street fair (Saturday.) The evenings consisted of all-night reveling and music making at the hotel. This year, we were joined by the one and only Laurence Juber, one of the world's best guitarists. LJ was our special guest at Maritnfest 5 and Martinfest 10.
It was a new hotel this year, for the very first time. And while it may be too far from Nazareth to become our new home, it was a very good stop-gap place to stay and play.
Here is a video showing some of the goings on, but only representing a fraction of the people who actually attended the overall event.
Details of the 2016 Martinfest events, and in depth descriptions of some of the guitars can be read at the UMGF in my personal Martinfest Journal of Adventure.
Below is a picture by famed photog Robert Corwin, showing your humble Spoon playing a 1930 OM-45 De Luxe.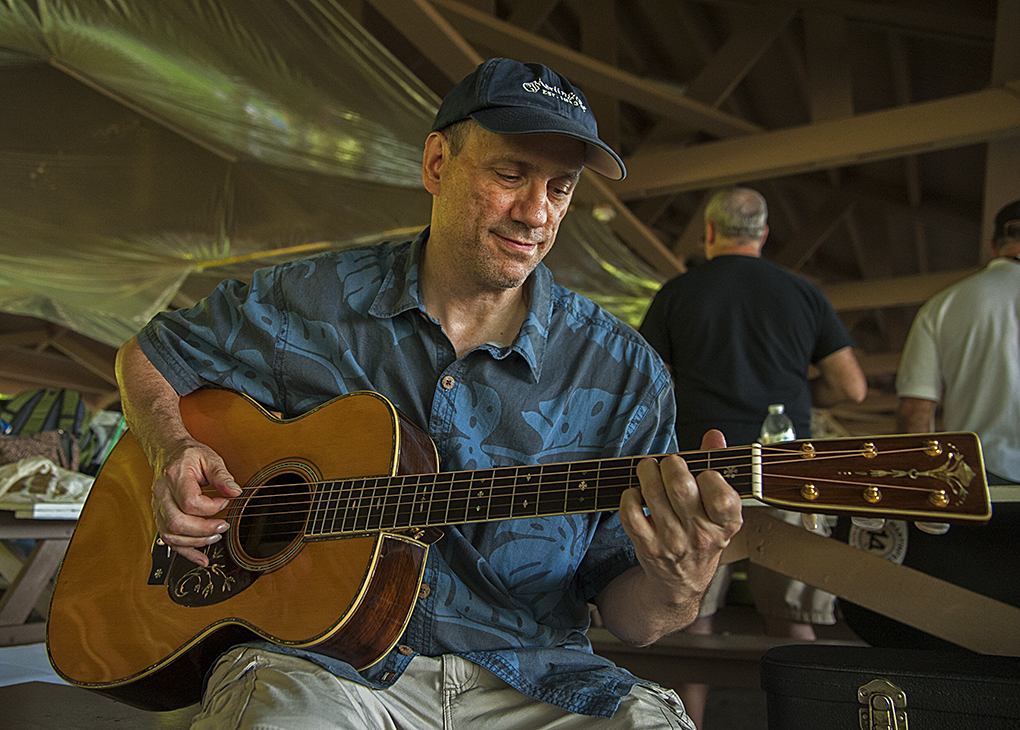 photo: R. Corwin
One of 11 made, it among the most valuable guitars ever built. Since I was asked to demonstrate the one at the Martin Museum on that Friday night, I may be the only person in history to play two of these less than two days apart since they were shipped from Nazareth in 1930.
Yeah, Martinfest is that kind of event.