Authentic Series Specs at a Lower Price
Available only from a Martin "Custom Shop Expert" dealer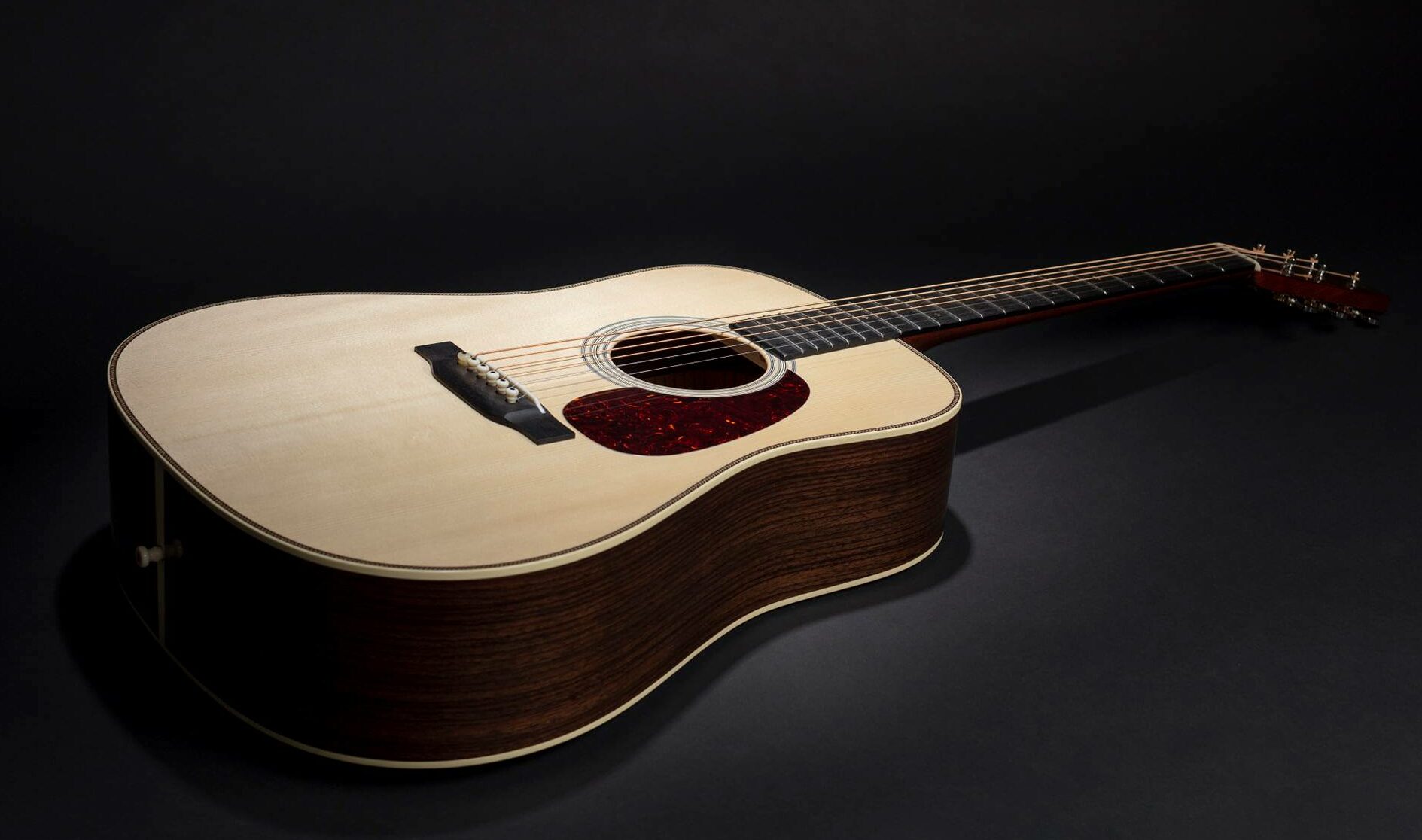 Spring Surprise Sprung
Martin Guitars has introduced their Custom Shop Experts designation, granting certain dealers a special badge to signify that they do a high-volume business in one-of-a-kind instruments built in the Martin Custom Shop. They are also being granted the privilege of selling some exciting new Martin models that feature construction techniques from the lofty Authentic Series, at a lower price than any previous thoroughbred from that stable.
Some seven years ago, I sat in the office of Tim Teel, Martin's Director of Instrument Design, along with Fred Green, Vice President of Product Management, discussing the neck shapes of the 1930s Orchestra Models about to be recreated for the Authentic Series. I asked if they might eventually sell guitars based on the Authentics, but with Standard Series woods, while pricing them in between the two. The answer was an emphatic "No way!"
Well, Garth… way.
Wayyyyyyyyy!
Made by the craftsmen and craftswomen of the Custom Shop, the guitars in the Authentic Series are painstaking recreations of specific, priceless instruments built in Martin's Golden Era, centered on the 1930s. But these new Custom Authentic models have certain changes to the specifications that make them more affordable, if no less exclusive. Pricing starts just over $5,200.00, compared to $6,888.00 for an authentic Authentic.
The eight new models are actually two models, offered with four different finishing options, including the basic Vintage Gloss finish exclusive the Authentic Series, an Amberburst top not previous used in the series, and for an additional up-charge, a less-dramatic version of the "relic" processing found on their Aged Authentic models, as well as both the Amerburst top and the new Stage 1 Aging, as it is being called.
The D-28 Custom Shop 1937 is based closely on the fabulous D-28 Authentic 1937, which debuted in 2014. The all-new Custom Shop 1937 000-28 has the styling of a 1937 000-28 with a neck and bracing similar to the CEO-7 model that first appeared in 2013.
The lower sticker price is being achieved by using East Indian rosewood for the back and sides and by not using Martin's Vintage Tone System of wood torrefaction. They also have a modern adjustable truss rod in the neck, rather than the rigid steel T-bar used in Martins from the pre-war era.
UPDATE: These Custom Shop models have been renamed from the original "Custom Authentic" models used to describe them prior to their official release. And that release date was moves up from the Summer NAMM Show to April 26 of this. Given how long it takes to build and age each of these exquisite guitars by hand, dealers with the Custom Shop Expert badge were granted permission to accept pre-orders for them. But that "pre" was quickly removed. So now it is just a matter of waiting for the first ones to reach the first dealers who received the first customer orders.
See the list below to contact the Custom Shop Expert dealer nearest you to place your (pre)order.
The full story of these new Custom Shop 1937 models and the Custom Shop Experts program will appear in the upcoming issue of Martin: The Journal of Acoustic Guitars, based on my interviews with Fred Greene and other Martin insiders.

The Future is Bright
One year ago, the global pandemic compelled C. F. Martin & Co. to suspend operations. They had just managed a nimble navigation to remain afloat in the wake of the most recent economic downturn, only to face the greatest challenge in their 188 years in business – the complete shutdown of production due to COVID-19.
Senior management had to restructure the entire company and invest considerable time and treasure before any of their guitar builders could safely return to work, and all other employees could be supplied with the means to work remotely. Anticipated product launches were postponed and some models already in production were suspended, in some cases indefinitely. So, I was very happy to see these new Custom Shop models appear, basically on schedule.
Orders for regular catalog models are now being filled, but with a backlog larger than at any time since they opened the modern factory in 1961. And yet, they are appearing at long last in the shops and showrooms and on the websites of Martin dealers around the globe.
The consumer appetite for portable and affordable musical instruments grew steadily across the months of the pandemic lock down. Music soothes the soul, and the playing of live music is a delight for all who get to experience it. It also provides hours of satisfaction for free, after the initial investment in a quality instrument like a guitar or a ukulele.
But these modern times have also inspired musicians to step up and buy the sort of world-class instruments only available from builders like C. F. Martin & Co., with an "if not now, when?" attitude and a sense that life is too short not to play a Martin, as one of their old sales slogans put it. And so too has increased the interest in ordering a one-of-a-kind instrument from Martin's Custom Shop, which is busier than ever.
I have designed multiple custom Martins over the years, with the help of multiple dealers, and I now own more customized Martins than stock catalog models. Each of these special guitars has been wonderful and worth the time and effort and cost it took to have it built. None of those dealers is even part of this new Custom Shop Experts program. The point being, there are many Martin dealers with many years of expertise when it comes to shepherding a customer through designing their dream guitar. But these official experts are different from the rest.
The new Custom Shop Experts have been selected because of their long-time practice of ordering large numbers of custom Martins, not just for individual customers, but for the dealer, so they can offer a unique guitar only available from their store. They put careful and considerable thought into each guitar before finalizing the specs, so that their websites are often glittering with mouthwatering Martins, made from stunning woods, both traditional and unusual, and inlays and cutaways and combinations of features not available anywhere else but on that one guitar in that one showroom.
Reaping What They Sow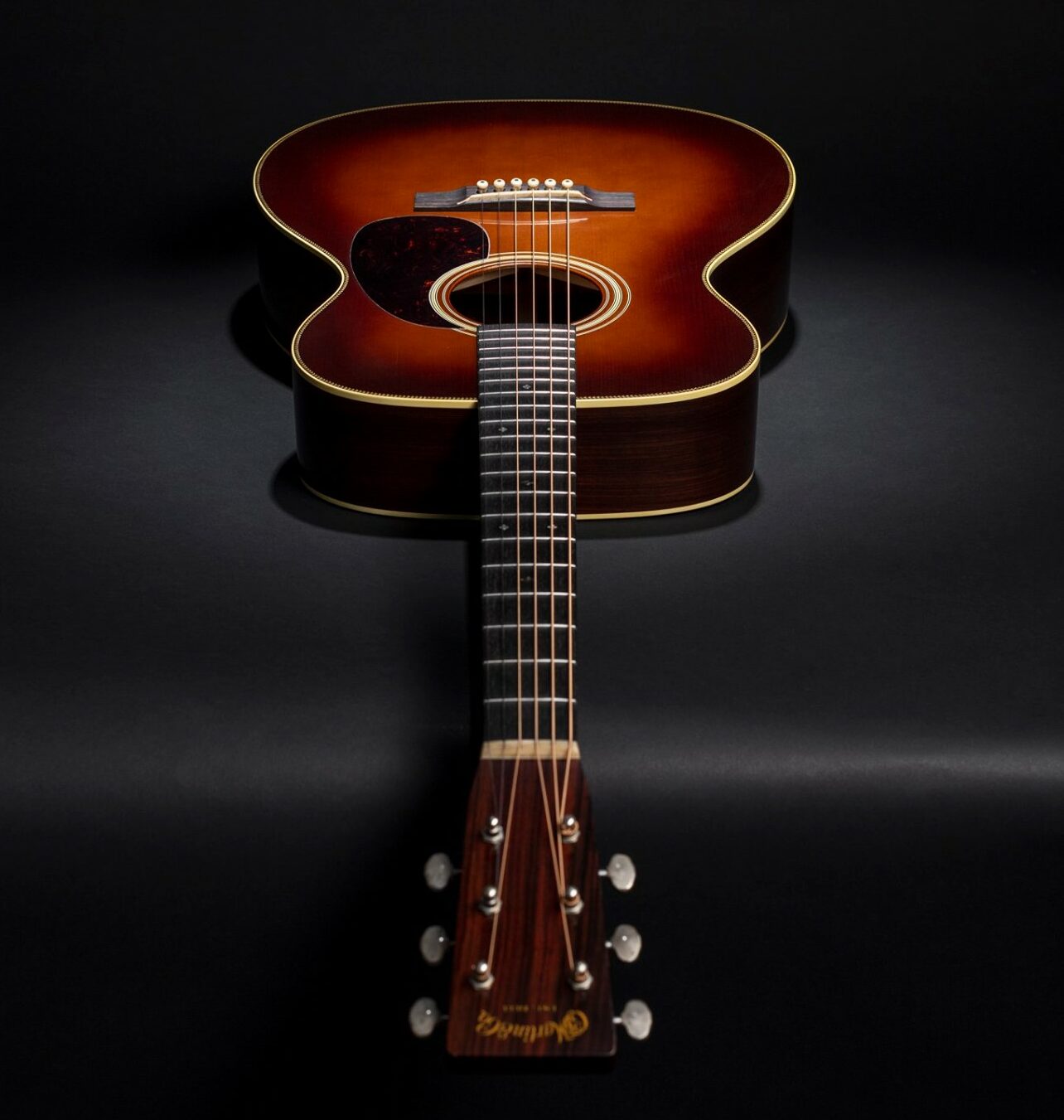 This list appears to primarily include dealers in large cities or who otherwise have large showrooms and who also sell guitars from many other leading brands and independent luthiers. They attract customers on-line and as walk-ins who might not have considered ordering a Martin, let alone an out of the ordinary Martin, until that one-of-a-kind guitar is put in their hands and they can't let it go and end up taking it home.
For their continued efforts to order and offer guitars from the Custom Shop in such quantities, these select dealers have been rewarded with the exclusive right to sell these new Custom Shope models. And boy, are they gonna sell!
Besides the modern neck rod, the D-size design has all the important pre-war specs of the version made with the pricey Madagascar rosewood and VTS spruce. The new 000 is the first guitar in the modern Authentic Series that isn't based on a specific vintage Martin. It will have 1/4″ bracing similar to the old 000-18 Authentic 1937, and a neck shape that is being officially listed as a Modified V that has a 1930's Style heel, and the standard 1-3/4″ fretboard taper matched with 2-5/16″ string spacing. That basically says it has the neck currently available on the CEO-7. But the actual designer referred to it as being based on the OM-28 Authentic 1931. I will have to get my mitts on it before I can make further comment.
The usual questions concerning whether or not there will be more models included in this new concept, or other woods like mahogany back and sides, get the same answer they always do. If these sell as well as Martin hopes, then yes, there might be other models, eventually.
The only thing I am permitted to say for certain is that these current Custom Shop models will eventually go away, as they do have an End Date.
The following Martin dealers are currently members of the new Custom Shop Experts program in 11 different nations. The sooner you reach out to one about ordering your amazing new Custom Shop D-28 1937 or Custom Shop 000-28 1937 guitar, the sooner you will be cradling it in your lap.
And that is one man's word on…
The New Martin Custom Shop Models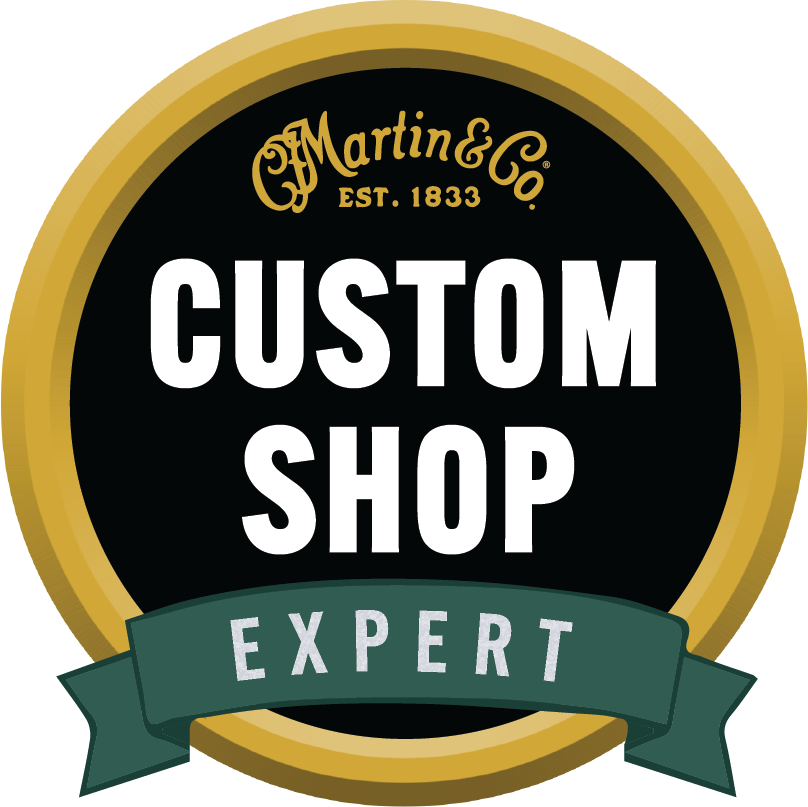 Available only from a Custom Shop Expert dealer

United States

Arizona

Acoustic Vibes
2070 E Southern Ave
Tempe, AZ 85282
(480) 656-7749

California

Lightning Joes Guitar Heaven
100 E Branch Street
Arroyo Grande, CA 93420
(805) 481-2226
Website

Tall Toad Music
43 Petaluma Blvd. N
Petaluma, CA 94952
(707) 765-6807
Website

Instrumental Music
1501 E. Thousand Oaks Blvd
Thousand Oaks, CA 91362
(805) 496-3774

Colorado

Wildwood
500 S Arthur Ave, STE 700
Louisville, CO 80027
(303) 665-7733

Georgia

Ken Stanton Music
6010 North Point Parkway
Alpharetta, GA 30022
(770) 670-4424
Website

Illinois

Chicago Music Exchange
3316 N Lincoln Avenue
Chicago, IL 60657
(773) 525-7773

Tobias Music
5013 Fairview Avenue
Downers Grove, IL 60515
(630) 960-2455
Website

Music Gallery
2558 Green Bay Road
Highland Park, IL 60035
(847) 432-6350
Website

Kentucky

Willcutt Guitars
406 Rosemont Garden
Lexington, KY 40503
(859) 276-0675

Massachusetts

Music Emporium
165 Massachusetts Avenue
Lexington, MA 02420
(781) 860-0049
Website

Michigan
Elderly Instruments
1100 N Washington Avenue
Lansing, MI 48906
(517) 473-5810
Website

Montana

Music Villa
539 E Main Street
Bozeman, MT 59715
(406) 587-4761

New Hampshire

Manchester Music Mill
329 Elm Street
Manchester, NH 03101
(603) 623-8022
Website

New Jersey

Russo Music
619 Lake Avenue
Asbury Park, NJ 07712
(732) 455-8397
Website

New York

Music Zoo
123 Smith Street
Farmingdale, NY 11735
(844) 687-4296
Website

Rudy's Music
461 Broome Street
New York, NY 10013
(212) 625-2557

Pennsylvania

Northeast Music
713 Scranton Carbondale Hwy.
Dickson City, PA 18519
(570) 909-9216
Website

Empire Music
719 Washington Road
Mt Lebanon, PA 15228
(412) 343-5299
Website

Tennessee

Gruhn Guitars
2120 8th Avenue S
Nashville, TN 37204
(615) 256-2033

Music Outlet
1050 Winfield Dunn Parkway
Sevierville, TN 37862
(865) 453-1031

Texas

Tone Shop
15317 Midway Road
Addison, TX 75001
(972) 661-8663
Website

Strait Music
2428 W. Ben White Blvd.
Austin, TX 78704
(512) 476-6927

Fuller's Vintage
116 North Loop
Houston, TX 77008
(713) 880-2188

Canada

Quebec

Centre de Musique Diplomate
311 Rue Beaubien E
Montréal, QC H2S 1R9, Canada
+1 (514) 274-5413

International

Australia

Acoustic Centre
206 Park St
South Melbourne VIC 3205, Australia
+61 3 9699 5691
info@acousticcentre.com.au

Denmark

Akustikken
Bagerstræde 7DK-1617
Copenhagen, Denmark
+45 86 1260 34
info@akustikken.dk
Website

Germany

Musikhaus Hermann
Gymnasiumstraße 2
88400 Biberach an der Riß, Germany
+49 7351 9789
info@musikhaus-hermann.de
Website

Italy

Centro Chitarre
Via S. Sebastiano, 14
80134 Napoli NA, Italy
+39 081 446705
info@centrochitarre.com

Netherlands

Fellowship of Acoustics BV (TFOA)
Moerheimstraat 144
7701 CJ Dedemsvaart, Netherlands
+31 (0) 523-232205
info@tfoa.eu
Website

South Korea

Sam-Kwang Music Instrument
173, Beomil-ro Busanjin-gu, Busan
Busan, South Korea
+82 51-632-3003
30samkwang@naver.com

Acoustic Jun
#203 21, Dongtangiheung-reo257beonga-gil, Hwaseong-si, Geyonggi-do
Seoul, South Korea
+82 31-376-7670
acousticjun@naver.com

United Kingdom – England

Peach Guitars
3 Crown Gate, Wyncolls Road, Severalls Industrial Park
Colchester CO4 9HZ, United Kingdom
+44 1206 765777
experience-martin-custom-shop@peachguitars.com

United Kingdom – Scotland

GuitarGuitar
36 Trongate
Glasgow G1 5ES, United Kingdom
0800 456 1959
orders@guitarguitar.co.uk
Website

(click on photos to enlarge)