Artist signature models and a 000-30 among the 2017 Martin guitars
New for Winter NAMM
After various names and numbers have leaked out over recent weeks, the latest 2017 Martin news offers something for almost everyone
Updated January 17, 2017
000-30 Authentic 1919
I have waited over two years to talk about the Authentic Series entrant for 2017, a replication of a 000-30 built in 1919. As per their mission to keep as many features identical to the original article as possible, this is a VERY lightly built 12-fret Auditorium-size guitar; just as the actual 1919 000-30 is very lightly built even by the standards of the day.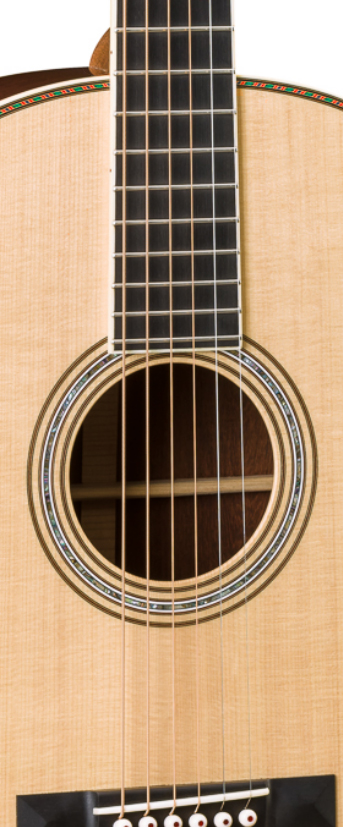 The vintage source guitar is quite rare, only one of two 000-30s ever built. It is historical significant as the first Martin model to feature a neck and headstock carved from one solid piece of mahogany, rather than a conjoined neck where the headstock is made separately. And it was also the first time Martin used grained ivoroid for the binding instead of elephant ivory. Given the fact C. F. Martin IV is passionately committed to the Save the Elephant movement and other efforts to stem the illicit ivory trade, it is a timely Authentic model indeed.
The Authentic Series reproduction has solid Madagascar rosewood back and sides, and an Adirondack spruce top treated with Martin's Vintage Tone System torrefaction, including the bracing and bridge plate, which were made to closely replicate those on the very special vintage Martin. You can read more about VTS torrefaction HERE.
This model is also special for having rosewood back and sides made thinner than even their other Authentic Series offerings. And since Martin didn't start using truss rods in guitar necks until the mid-1920s, this guitar does not have one. According to the manager of the Custom Shop that built it, it is "such a lightweight instrument and extremely responsive." While it has modern T frets, it has a type of compression fretting developed expressly for a solid mahogany neck without a support rod.
Style 30 (and the basically identical Style 34) was designed to offer a high-end Martin without the use of abalone shell purfling. Instead, it has a colorful wooden mosaic inlaid as rope or "half herringbone" purfling. Style 30 has always been a personal favorite of mine. And to be able to play a time machine version, before the colors faded from the inlay, even if the modern German marquetry inlaid around the top is not exactly the same as that used back in the day, will make this particular Authentic a woody feast for the eyes and ears.
List Price: $8,599
2017 NAMM Show Special
SS-0041GB-17

This guitar is based upon a vintage 1896 guitar by Philadelphia luthier George Bauer, who built instruments between 1890 and 1910. Martin purchased the Bauer Presentation Model at auction and have used the unique and quite fancy aesthetics to create this year's Show Special.
It is a 12-fret 00, larger than the source instrument, and made from Guatemalan rosewood and European spruce treated with Martin's Vintage Tone System. It has hide glue construction throughout, and scalloped 1/4" bracing, Style 41 pearl top trim, and the one of a kind fingerboard inlay was altered slightly to add a Martin-esque touch. Limited to 50 instruments.
List Price: $9,999.
CS-D18 Outlaw-17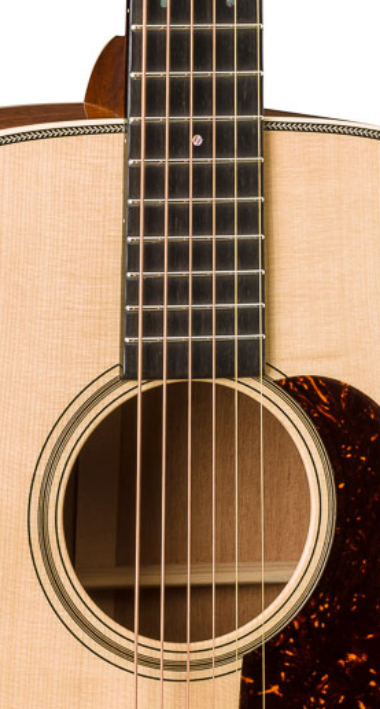 This limited edition of 100 guitars is available to dealers only in 2017. As with other Custom Shop Series instruments, this model is made with hide glue construction as on the Authentic Series guitars. And it has a VTS Adirondack top as well as other features normally unavailable outside Martin's Authentic Series. But it has the modern High Performance neck rather than a V neck, so it basically makes it a mahogany companion to last year's CS-Bluegrass-16. It also gets unique Antique White binding and the same Antique top toner that debuted on the Bluegrass model.
The name Outlaw was chosen by Custom Shop manager Jeff Allen and relates to the Martin "laws" that prohibit him from allowing outside custom orders to have certain spec combinations along the Authentic Series lines, but which he can get away with for his CS limited editions. In Jeff's words, "It's basically an Authentic Series body with the modern neck." The most notable differences is the fact the Outlaw bridge plate, bracing and kerfing are not "tucked" under one another.
And then there is the herringbone and ivory-colored trim on a "D-18." While not entirely outlaw, similar styling did appear on a different D-18 made years ago for that self-styled pirate Jimmy Buffet.
List Price: $6,999
CEO-8.2 and CEO-8.2E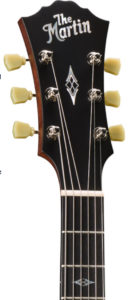 Designed by Martin CEO C. F. Martin IV, this is one big Grand Jumbo guitar, with a unique Bourbon Sunset Burst shading to the top. The E version has the new Fishman Blackstack sound hole pickup, with an exclusive ivoroid cover that matches the binding. This guitar is made entirely with Forestry Stewardship Council certified wood.
It differs from the 2015 CEO-8 in several ways. Where that guitar had sycamore back and sides and a VTS Sitka spruce top, this new version has mahogany back and sides and a VTS European spruce top (a favorite combination of mine.) It has the simple dovetail neck joint, however, rather than the full dovetail, and it has an ornate headstock taken from Martins old archtop models, and the rarely used slanted "The Martin" headstock logo, which appeared on the prototype of the 2015 CEO-8, but not the main run. The fret markers are different as well, and there is no inlay on an otherwise identical pickguard.
List Price: $3,999 – $4,999 for the acoustic-electric version
00-28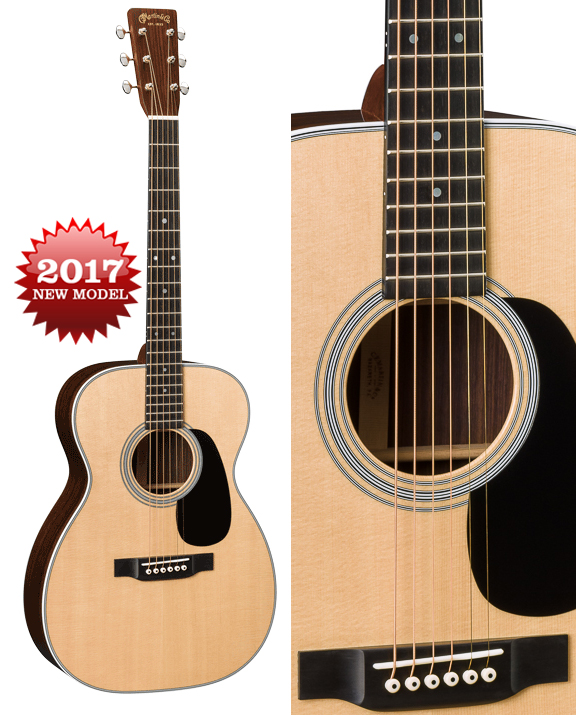 Standard Style 28 gets scalloped braces on a model other than an OM, finally! The 00-28 has the same Indian rosewood and Sitka spruce along with the same classic cosmetic appointments as the Standard D-28 and OM-28.
I absolutely loved the new 00-18 that came out in July, and I am sure Martin was well aware what a successful design it proved to be. A 00-28 with the same High Performance neck and scalloped 1/4″ braces was a no-brainer.
List Price: $3,599
There are two artist "signature models" coming out at Winter NAMM as well.
Dwight Yoakam DD28 Signature Edition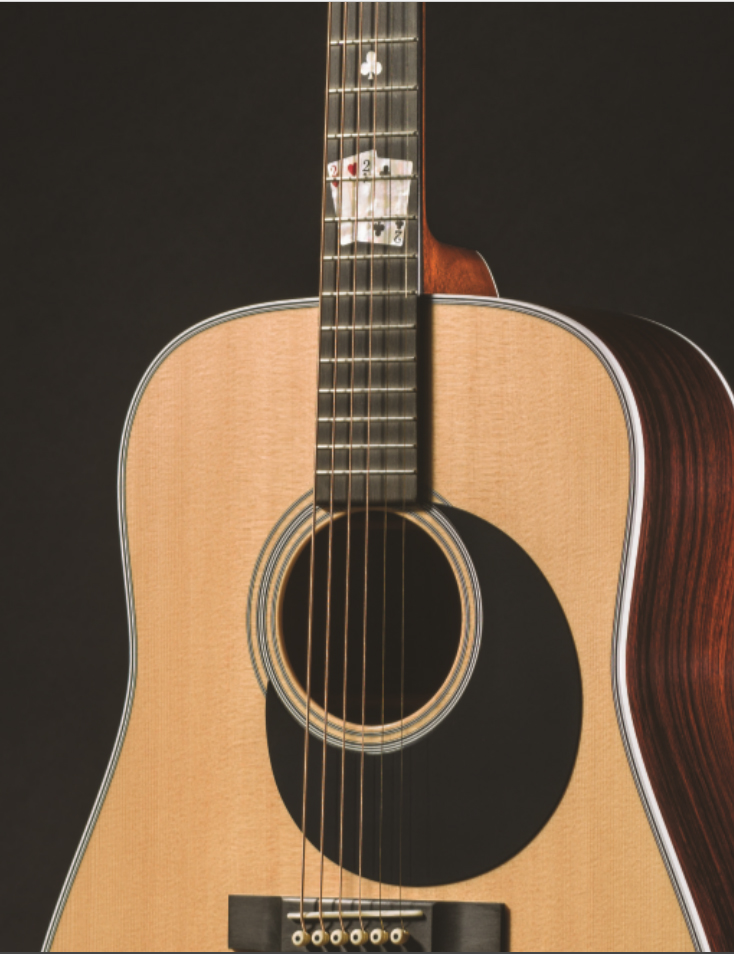 Based on Yoakam's 1972 D-28, it has a 1-11/16" low profile neck, and Indian rosewood backing a Sitka spruce top as on a Standard D-28, with the addition of scalloped braces as found on an HD-28 while retaining the Standard D-28 top trim. It also has unique fret markers from a deck of cards, and a stunning pair of deuces in mother-of-pearl inlaid around the 12th fret area, and a black "bull horns" pickguard (think Chicago Bulls logo more than Texas A&M's,) all of which came from the imagination of Dwight Yoakam, and ultimately turned into practical aesthetic designs by Martin Custom Shop Manager, Jeff Allen, and his staff.
The singer's personal guitar was made in the Custom Shop, with more expensive woods and construction features like hide glue. The production model is being built more like a Standard Series guitar. Allen told me, Yoakam "was adamant that the price point remain below a certain ceiling, so a greater population of his fans could afford to own and play his signature model."
List Price: $5,999
D-28 John Prine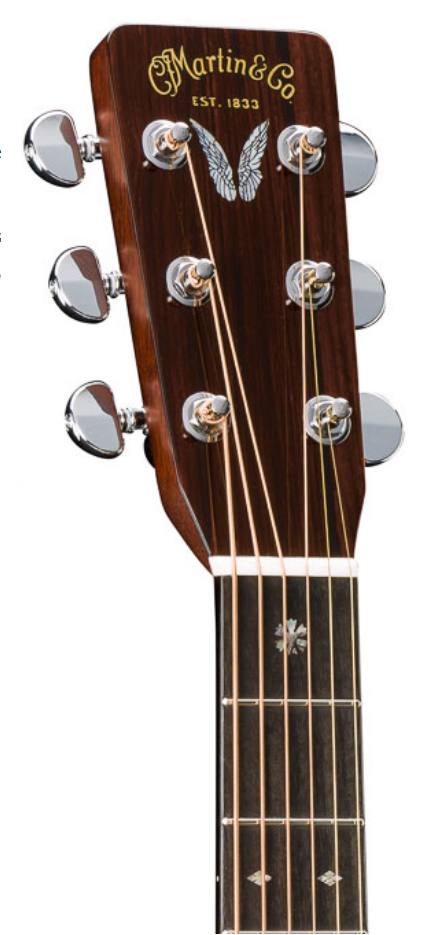 Inspired by the 1960s D-28 played by this master musical storyteller, his new signature model has Madagascar rosewood back and sides and an Engelmann spruce top with scalloped Adirondack braces (!) to support it, and a 1-11/16" modified V neck.
According to Martin's Tim Teel, Prine brought his workhorse D-28 to Martin and was directly involved with the design process. Teel was especially impressed with the bass response. "I am pretty certain it has an Engelmann top, so that is what we went with" for the signature model "and it has great bass response."
Special inlay includes beautiful mother-of-pearl angel wings on the headstock faceplate, denoting Prine's classic song Angel from Montgomery, as well as Golden Era Style 45 abalone snowflakes for fret markers.
List Price: $6,999
D-200 Deluxe
This is the production run version of Martin's two-millionth guitar, which was officially completed in December, 2016. Made with rare pre-CITIES Brazilian rosewood and other beautiful tonewoods, like the ridiculously figured bear claw Engelmann spruce top, it is also embellished all over the place with amazing inlay inspired by exquisite time pieces. It is a very different direction taken from other milestone Martins, and features the absolute zenith of decorative craftsmanship.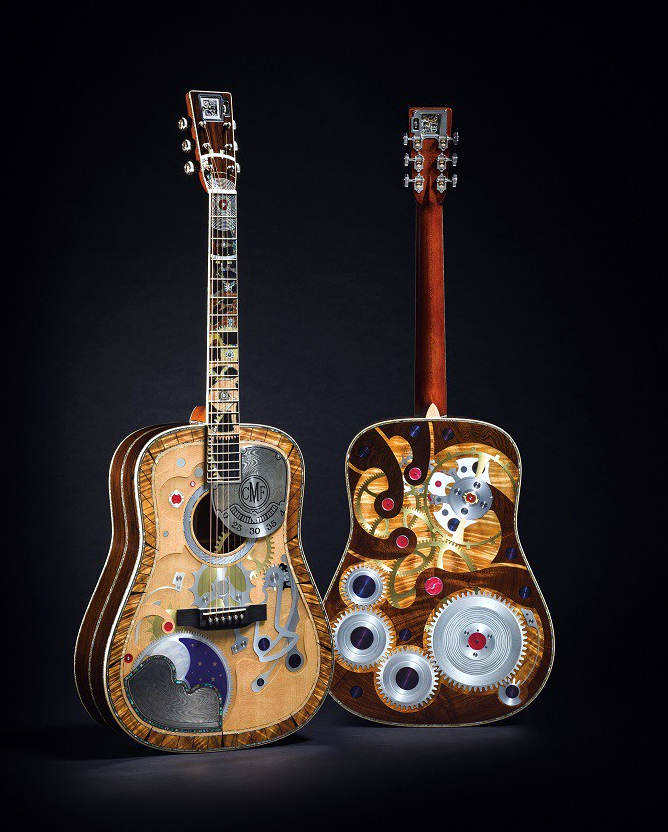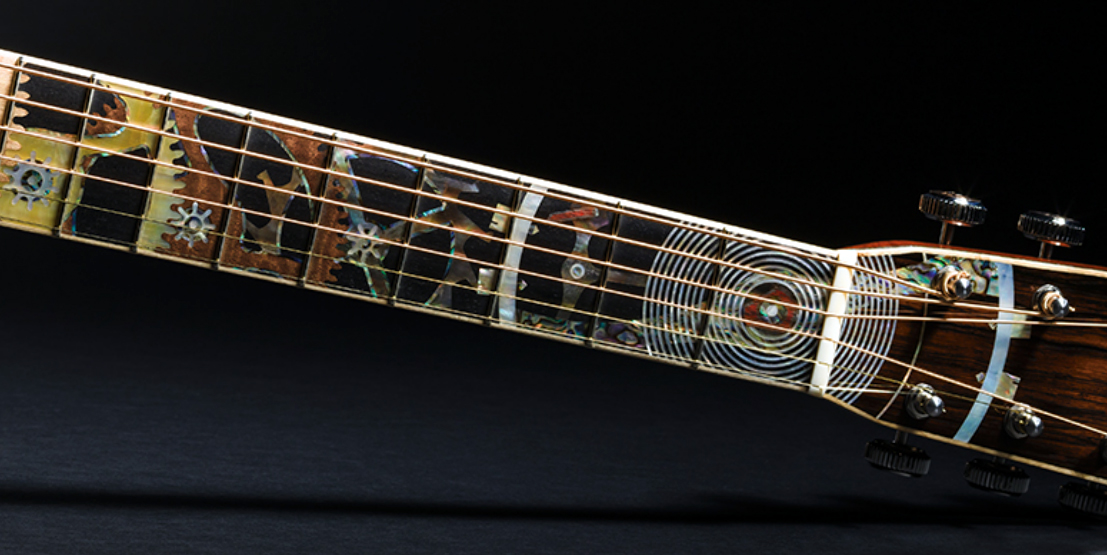 List Price: $149,999, including a stainless steel case, and fabulous high end wristwatch with its own handmade Italian case.
16 Series Reboot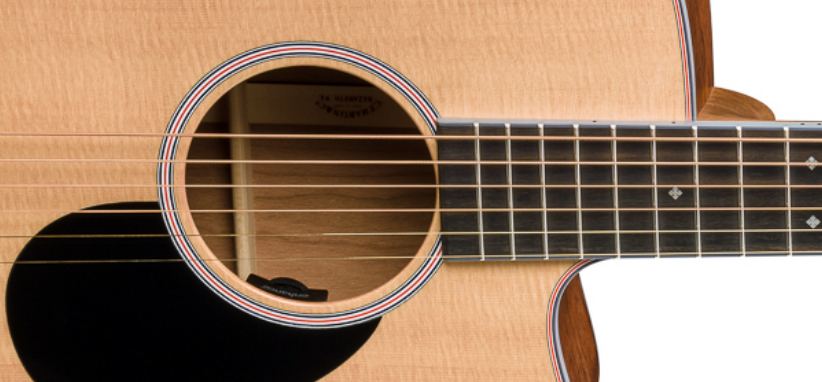 We did get some new and very cool additions to the 16 Series, which is now being called the Americana Series.
In addition to fabulous new styling, including brushed silver bindings, it is focusing on domestic American hardwoods, including cherry on an OM cutaway acoustic-electric, and a sycamore dreadnought with 000/OM depth, in both a cutaway and non-cutaway versions. All of them come with Fishman Matrix VT Enhance electronics.
List Price: $2,899 each ($2,699 for the non-cutaway dread.)
Road Series and X Series Additions
The introductory X Series has added a 14-fret Grand Concert size instrument, the 00LX1AE, made from Martin's High Pressure Laminate back and sides and a Sitka spruce top, it has a short-scale High Performance neck shape and on-board Fishman Sonitone electronics. List Price: $799
The X Series now has its own ukulele, the 0X uke is made of durable high pressure laminate in an attractive bamboo pattern, also available in green, blue or red bamboo pattern HPL. List: $499
The impressive and affordable Road Series has gained a Grand Performance and a Dreadnought model made with cutaways and Fishman Sonitone electronics. The GPCRSG and DRSG have Sitka spruce tops and, new to Martin, back and sides of African mutenye, sometimes called bengé or olive walnut, because it has attractive grain similar to walnut. List Price: $1,699 each.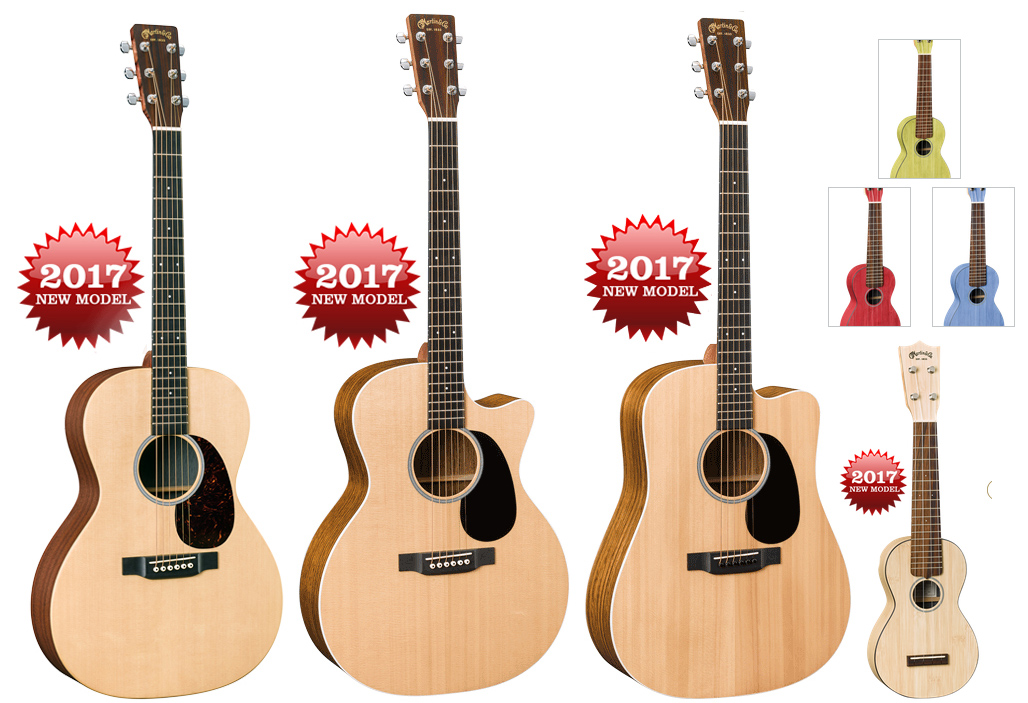 Backpacker and Ukulele Anniversary Models
For those liking even smaller Martins, there is a new Backpacker 25th Anniversary model made with sapele back and sides ($399 List), and two new ukes. The C1 Centennial is made with African mahogany ($599) and C3 Centennial is made from South American mahogany ($2,999) to celebrate the 100th anniversary of Style 1 and Style 3 ukuleles.
The D-420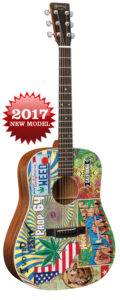 The most surprising new Martin model was made in commemoration of the expression "Four-Twenty" associated with smoking marijuana, and used for Proposition 420, which went on to expand the rights of Californians relating to personal marijuana use.  And even more surprising, all mention of the model was removed from the Martin website two days after it appeared as one of the new models released in 2017.
And then it reappeared. Cheshire cat that it is.
With a list price of $2,999, it was made from African mahogany and a Sitka spruce top printed with a custom illustration by Robert Goetzl, known for illustrating books on Martin Luther King and the Wright Brothers, and who has designed other elaborate murals for Martin Guitars.
What happened to the D-420? I thought perhaps it went the way of record albums like Neil Young's Homegrown and unreleased movies like Hippie Hippie Shake.
Unfortunately there were other models intended for release that will not be making an appearance, which I may not discuss as a result. Here is to hoping we see some of them at the Frankfurt or Nashville shows later this year!
Martin is also debuting new Titanium Core strings, which I will be getting on a guitar soon. They have nickel windings and the core is more flexible than steel cores. I am thoroughly converted to their Retro brand Monel alloy strings when it comes to mahogany guitars. But I will give these new strings full testing with a variety of tonewoods and see what it what.
Visit the Martin website for further information about the new 2017 Martin Guitars
Related Reading:
Winter NAMM 2017 Acoustic Guitar News Headquarters