2016 marks an historic event in the history of popular music, the invention of the Dreadnought guitar
Here is a recap of the many 2016 Martin Dreadnoughts
This year C. F. Martin & Co. has been celebrating the 100th anniversary of the Dreadnought. Named for largest class of British battleships ruling the waves of the First World War, it was a revolutionary instrument that dwarfed typical acoustic guitars at that time, in size and firepower.
While the Ur Dreadnought from 1916 is quite different from the iconic D-28 and D-45 of today, there is no doubt that the Martin Dreadnought is the most-played, most imitated steel string acoustic guitar design in history. Nothing else comes close to it in popularity or influence.
To commemorate this achievement in design and production, Martin produced an entertaining video called, romantically enough, The Ballad of the Dreadnought.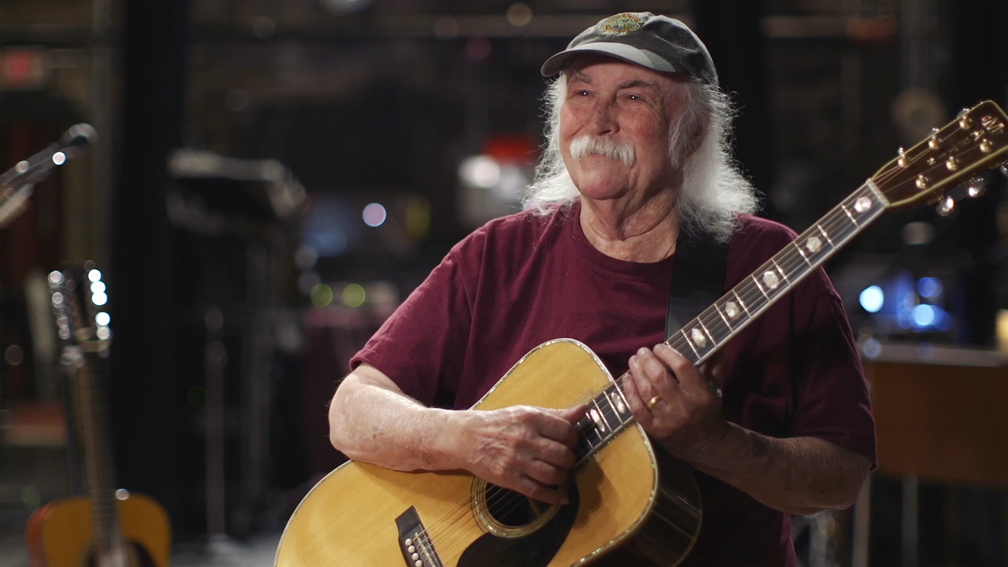 (This video remains viewable only on the official Martin website.)
The Gleaming New Fleet
Given the auspicious anno, a plethora of Dreadnought guitars have been released for sale by Martin. Only a handful will end up being reviewed by One Man's Guitar, but it is well worth mentioning each of them.
Here they are, basically in reverse order of their release date.
All prices are official list price; see your Martin dealer for the real price.
All models come with Martin's High Performance neck and appropriate string spacing, unless otherwise stated.
D-15 Special – $1,799
A special "time-limited edition," this is basically the best-bang-for-the-buck D-15M, but with a Sitka spruce top instead of the usual mahogany. Sold for the same price as the 15M, it is a bargain on paper.
I have not seen this model yet. But with Martin's new Simple Dovetail neck joint, I expect this special edition to sound even better than some of the spruce-topped dealer custom orders that were made with the older M & T neck joint.
I look forward to seeing how well the improved neck joint works with the simplified bracing used on the 15 Series. Worst case scenario, it is a very good price for a Martin made with all solid woods.
DR Centennial – $2,499
A special "time-limited edition," this is a bare bones Martin in terms of appointments, which puts the value on tonewood. It features Indian Rosewood back and sides, with a torrefied Adirondack spruce top via Martin's propriety Vintage Tone System (VTS) of wood torrefaction.
It has the simple dovetail neck joint but scalloped forward shifted bracing. Sight unseen, I would say this is about on par with guitars in the new 17 Series, which does not yet offer any Dreadnought, or rosewood guitars. And never has VTS Adirondack spruce appeared on such an affordable instrument.
DRSG – $1,499
The new king of Martin's very affordable Road Series, this acoustic-electric guitar has a solid Sitka spruce top and solid siris for the back and sides. Siris is a worthy mahogany alternative that is a bit less toasty dry in tone than sapele and with glittering harmonics. It also has Fishman Sonitone electronics as a standard feature, and a "glossy" finish, rather than the satin finish used on the other Road Series guitars.
Hog heaven in the form of a 12-fret Dreadnought for Martin's Authentic Series with hide glue, thin finish, bridge plate tucked under the X-brace, hand-carved 1-7/8" neck that is miraculously comfortable in that way Martin was able to achieve in the 1920s and early '30s, and a VTS Adirondack spruce top over traditional South American mahogany back and sides, with a Brazilian rosewood fingerboard and bridge.
The original Dreadnought guitars were built exclusively for a chain of musical department stores, which went out of business during the Great Depression. Built in 1931, the D-1 was the first Dreadnought sold under the Martin brand. This is an exacting reproduction of one of only two D-1s built, before they renamed the model the D-18.
"A guitar designed with the younger generation of Bluegrass players in mind." This Custom Shop series cannon is made with Guatemalan rosewood and VTS Adirondack spruce with an extra-large soundhole and forward-shifted, scalloped braces, all put together with hide glue, and a unique "Antique Toner" for the top. No doubt it was inspired by the legendary Brazilian rosewood D-28 played by Tony Rice and Clarence White before him. But it has its own mystique, with '50s style dots on a fingerboard that has been trimmed to fit, rather than overhang the soundhole. And it has its own mojo going on, with the sleek, fast High Performance neck, and a magnificently meaty voice.
The John Lennon Commemorative Models
D-28 John Lennon 75th Anniversary Limited Edition – $11,999
D-28 John Lennon – $5,499
The 75th Anniversary LE has Madagascar rosewood back and sides under a VTS Adirondack spruce top, and special mother-of-pearl inlays that are truly stunning when seen in person.
The more affordable version is an open-ended edition made with Indian rosewood and VTS Sitka spruce, it gets some of the John Lennon inspired inlay, but not the LE's lavish inlays on the top and pickguard.
Both models get a lovely "peace sign" marquetry on the rosewood back, and rear-shifted, non-scalloped bracing like the D-28s made from the late 1940s up into the 1960s, resulting in a voice with punch, power, and definition.
Standard Series Acoustic Electric Dreadnoughts
DC-35E – $4,299, DC-28E – $4,199, DC-18E $3,899
In 2016, acoustic-electric guitars with cutaway bodies were introduced to the Standard Series of professional-level instruments, melding contemporary trends in modern music with the iconic designs that made Martin the premier acoustic guitar maker in the world.
Each of these Dreadnoughts has the same tonewoods and bracing as their more-traditional counterpart. The 35 has the three-piece Indian rosewood back and a Sitka spruce top with 1/4" non-scalloped bracing for mammoth bass response and precisely defined trebles. The 28 has a two-piece Indian rosewood back and a Sitka spruce top with non-scalloped 5/16" bracing, for meaty, projecting fundamentals and a leaner yet muscular bass. The 18 has South American mahogany back and sides and a Sitka spruce top with forward-shifted, scalloped 5/16" bracing, to maximize the resonance and response of the bright and open mahogany tone.
And they all have Fishman's VT Aura Enhance technology, combining an undersaddle pickup filtered through a Fishman Aura microphone image, and a bridge plate sensor that gets blended in via the volume, tone, and blend controls discretely hidden just inside the sound hole. In my opinion this is the most "acoustic" sounding plugged in tone available in the world today.
DC-15ME – $2,249
The cutaway acoustic-electric theme enters the 15 Series, allowing a guitarist to amplify that sweet and mellow D-15 tone via the Fishman VT Matrix Enhance electronics, which allows the blending of a bridge plate sensor and an undersaddle pickup, all controlled through the volume, tone, and blend controls just inside the soundhole.
This 12-fret cannon was the first 2016 model to commemorate the 100th anniversary of the Dreadnought design. South American mahogany back and sides with a VTS Sitka spruce top, scalloped bracing and a throwback straight bridge, it harkens to the very first Dreadnoughts while showcasing the modern Martin construction, a 1-3/4″ neck with the Modified V profile, 2-1/4″ string spacing, and the Vintage Tone System technology that uses heat and air pressure to affect the molecular structure of a new spruce top until it is converted to a physical state similar to that of wood decades or even hundreds of years old. In guitarist speak, it makes a new guitar sound opened up and broken in right out of the box. I am a big fan of Sitka on top of mahogany, and a very big fan of this particular model.
D-35 50th Anniversary – $4,999
2016 also happens to be the 50th anniversary of the D-35, which introduced three-piece backs to the Martin catalog, and 1/4" bracing to the Dreadnought design, inventing that signature bassy D-35 tone.
This special D-35 has a back center wedge made from organic Indian rosewood, and VTS European spruce top, as well as scalloped bracing to further enhance that deep and rumbling bottom end.
It also has the Fishman VT Aura electronics, for a very "acoustic" plugged in tone.
A smaller size dreadnought based on the classic 12-fret 0 size Martins, the D Jr models are full realized guitars ideal for travel and leisure, but made from solid tonewoods. Be it the bright and vibrant spruce-topped version or the mellower sapele-topped one, the acoustic-electric versions rival any guitar's volume when plugged-in.
Quite a Collection
That is a full baker's dozen of new Martin Dreadnoughts, with all the roar and rumble one could wish for.
And that's not including three Dreadnoughts added to Martin's X Series, in various looks and colors. But since they are all made from the same high pressure laminate for the back and sides they all sound basically the same – offering a very pretty, musical ring and ample bass response. And they are quite a bargain when even the ones with on-board electronics come in under $1,000 list price.
And finally, the fleet is complete with the Dreadnought Jr.s, smaller versions of the Dreadnought design that are still larger than other travel guitars and can sound huge when amplified. The spruce topped D Jr. has been upgraded to an acoustic-electric. And there is now a version with a sapele top, with or without electronics, which has a lovely tone.
To step farther back into time, in more ways than one, the vanguard that set the course for this momentous Year of the Dreadnought was this LE-HMSD, released in 2015. Still available at certain Martin dealers, it is a mahogany 12-fretter with a VTS Sitka spruce top, and this lavish artwork depicting the Dreadnought's namesake battleship, in action on the open sea.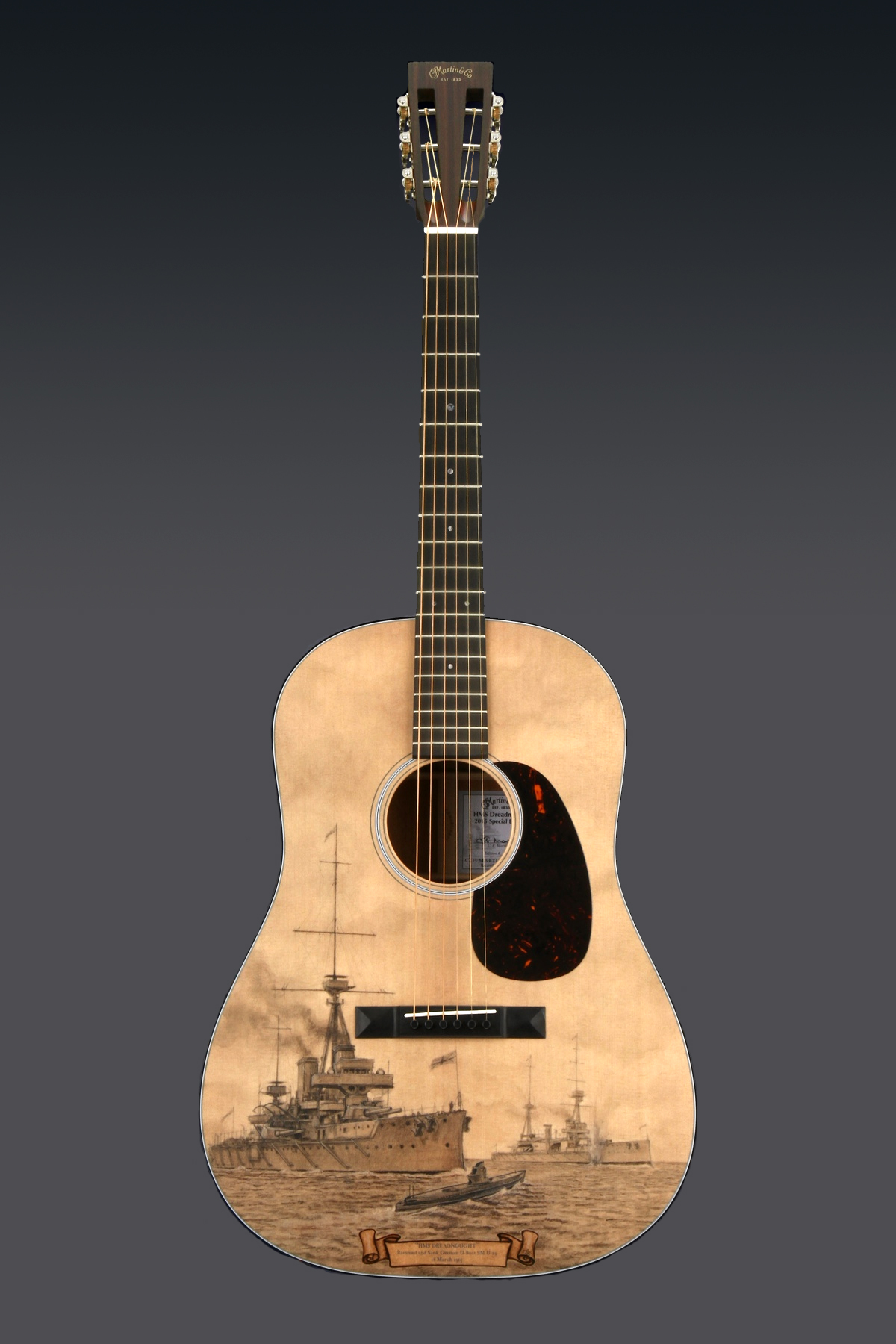 That is 19 Dreadnoughts released in 2016, bringing the current Martin catalog count to 58 guitars of one sort of Dreadnought or another, if I managed to count correctly!
I can't wait to see what 2017 will bring to the Martin line!