A new President, a new 12-string guitar, a new "mahogany" are among Summer NAMM Martin offerings.
When the doors open Thursday morning at the Summer NAMM show in Nashville, Tennessee, a new era will officially begin at C.F. Martin & Co., the oldest guitar producing entity in America, and one of the nation's oldest family-owned businesses.
Jacqueline Renner
On June 2, 2015, Martin announced the appointment of Jacqueline Renner as their new President, after a two-year search. It is presumed she will be present at Summer NAMM to meet and greet dealers and journalists in person.
According to CEO and Chairman C.F. Martin IV, "Jacqueline is an outstanding business leader whose strategic thinking and brand-building experience will serve us well as we continue to grow our brand while maintaining unparalleled business and manufacturing standards expected by our customers worldwide… We warmly welcome Jackie to the Martin Guitar family."
It is expected that Ms. Renner will use her extensive expertise in the markets of international luxury items to strengthen and expand Martin's global presence in much the same way Amani Duncan used her youth-market savvy to develop Martin's image and presence among the youthful Gen Xers and Milleniums when she was hired in 2012 as Vice President of Brand Marketing. Read the full press release announcing Renner's appointment HERE.
The New Martins with the New Woods
*A full review of each new Martin models will appear on One Man's Guitar beginning in a few days.*
Every one of these new instruments matches up traditional designs with progressive features and materials, including exotic, non-traditional (for Martin) woods like Guatemalan rosewood, Asian siris, South American gonçalo alves, and African utile aka sipro mahogany, which has now replaced South American mahogany on the 15M series of Martin guitars.
SS-0041-15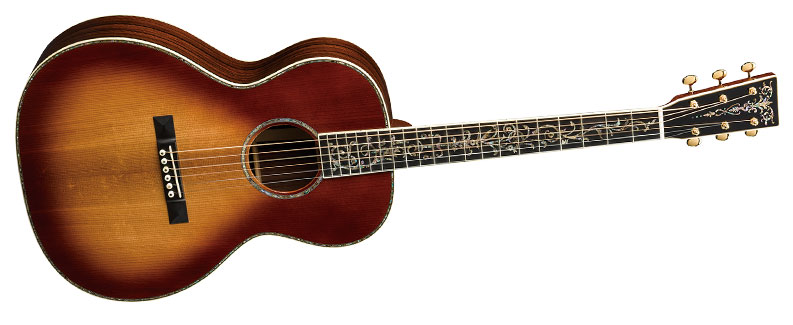 The show-stopper is clearly the limited edition NAMM Show Special.
This guitar takes the specs of the modest yet phenomenally popular CEO-7 to create a high-end stunner by adding a torrefied Vintage Tone System Adirondack spruce top with a unique "Cinnamon Teardrop Burst" shading, ultra-fancy pearl inlays, and gorgeous Guatemalan rosewood, which Martin only began using on certain exclusive models a year ago. It also comes with on-board Fishman Aura VT electronics.
Although the custom shop has been receiving a great many orders that use the CEO-7 as the starter for unique instruments, this is Martin's first official model using the CEO-7 body with different appointments and tonewoods. And this one has a modified V neck. It is certainly an impressive instrument and hopefully the first of many new models to use this body size, which was inspired by a vintage Gibson design that was itself inspired by some earlier Martin designs.
~
HD-35 CFM IV 60th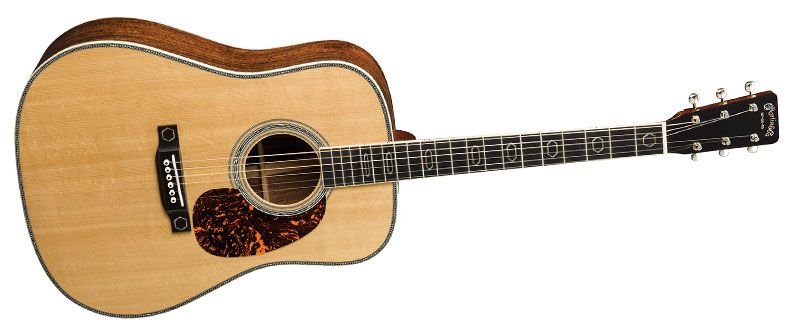 Chris Martin turns 60 this year and to celebrate, the venerable guitar company has produced a special limited edition of 60 instruments. A dreadnought made in a unique version of Style 35 to likewise commemorate the 50th anniversary of the D-35, this guitar has the outline hexagon fingerboard markers originally designed by Mr. Martin decades ago, and the pearly herringbone trim that also first appeared on a limited edition during the early years of his reign over the family business.
What makes it most interesting to me is the use of siris for the back and sides, with a top of torrefied European spruce. Siris has lovely tonal properties that work very well large bodies like the dreadnought. I look forward to hearing what influence the European top and the Indian rosewood center wedge on the style 35 three-piece back has on the overall voice.
~
D12-35 50th Anniversary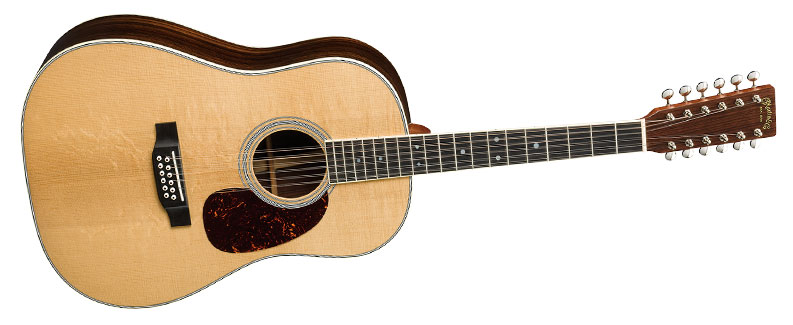 Like the 6-string version released in January, this new 12-string 12-fretter released to celebrate a half century of Style 35 is made with Indian rosewood back and sides, and it has a torrefied European spruce top. Unlike the 6-string version, it has Sitka spruce bracing rather than Adirondack, and unlike the original 1965 edition this modern one has a slightly narrower 1-13/16" width at the nut and a modified low oval profile. I am looking very forward to seeing how this baby feels and sounds when I test drive it later this week! They are only making 183, the same as the original 1965 run.
~
LE-Cowboy-2015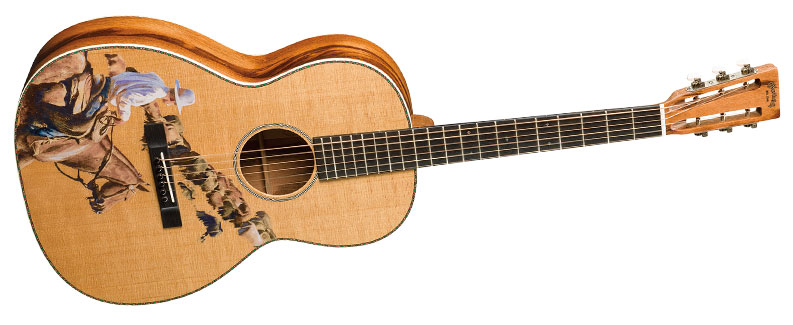 Martin's occasional series of cowboy guitars has taken a major step up with the latest edition. The entire guitar is made from solid tonewoods and the artwork was created by William Matthews, a celebrated painter of western motif art.
The previous Martin cowboy guitars were basically budget guitars inspired by the budget guitars of the 1930s and 40s that had various western scenes stenciled onto the tops. They were the sorts of things acquired from mail order catalogs and sold as novelty items. The Martin versions were rather cute and kitschy, often featuring caricatures of Martin executives among the cartoon cowboys. The guitars themselves were made with the X Series specs that uses high pressure laminates to create a modern budget Martin model.
The LE-Cowboy-2015 is a traditional Martin 12-fretter similar to guitars made during the late 1800s. And it is made out of solid tonewood, including a genuine mahogany neck, ebony bridge and fingerboard, and a torrefied Sitka spruce top to go along with the solid gonçalo alves back and sides. Native to South and Central America, gonçalo alves has been used for years by independent luthiers and has been available from the Martin custom shop for some time. Otherwise, this limited edition is built to the same level of specs as the 000-15SM.
~
00-15E Retro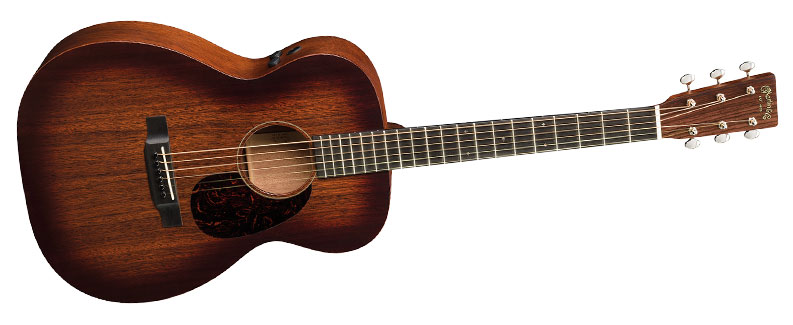 The Retro Series at Martin features on-board Fishman F1 Aura plus electronics, which allows the player to blend their pickup signal with high-tech "images" that apply special tonal effects derived from recording a similar guitar with high end microphones. In the Retro series, the images were made from recording vintage Martins, in this case a pre-war 00-15.
Otherwise the guitar is basically today's 00-15M with the extra electronics and Tusq saddle that comes with them. It also has the special "15-Style Burst" on the top, previously only available in the D and 000 sizes.
It provides the looks of a vintage 14-fret 00-15 from the prewar era, with many twenty-first century specs. While it has a short-scale neck with the short pattern diamonds and squares fingerboard markers, the neck is carved in their modern modified low oval shape, with the Performing Artist taper and corresponding 2-13/16" string spacing.
It is a fine crop of new Martins to be sure, bringing together the old Martin with the new, just as the new President takes over and the CEO starts to look toward a well-earned retirement from daily operations.
And it also establishes the fact that Martin's Vintage Tone System of wood torrefaction is front and center of the modern Martin world, as is the increased used of alternative tonewoods. I am pleased to see torrefaction appearing on Sitka spruce, and a return of siris and Guatemalan rosewood to Martin back and sides. But it is the change to sipo on the entire 15 Series line that is the real big news from Martin, even as it goes unmentioned in their press releases.
African sipo, the New "Mahogany"
The least assuming of the new Martin models, the 00-15E Retro represents a quiet change of considerable significance. At C.F. Martin, the term "mahogany" no longer refers to South American mahogany, as it has since company's founding. The term now officially refers to an African wood called sipo, also known by its scientific name utile.
The term "genuine mahogany" will remain in use at Martin when referring to, well, genuine mahogany.
Sipo is a close genetic relative to sapele. Both are members of the botanical mahogany family, but where Martin always listed sapele as its own type of wood, and referred to it as "African mahogany," sipo is only referred to as "mahogany".
All Martins in the 15 Series, including all 15M guitars, are now made with sipo. This is a clear sign of the limited availability of instrument-grade South American mahogany. It is also a sign of Martin's embracing sipo as a suitable replacement for genuine mahogany as that wood drawers nearer and nearer to possible extinction, at least when it comes to wide availability in international trade.
In general, the timber industry considers sipo to be much more like South American mahogany in its physical properties than any other alternative. But when it comes to guitar making, one industry insider described it this way: "It looked, worked and had a tap tone like Mahogany… I do think out of all the "cousins" of mahogany… (Spanish) Cedar, Sapele, African Mahogany (Khaya)… Sipo has the most similar tonal qualities to genuine Mahogany."
One owner of a sipro 00-15 recently arrived from the custom shop with a full gloss body, simply said his guitar "looks and sounds great."
It is indeed a new era beginning at C.F. Martin & Co., and I join with millions of guitarists around the world in wishing President Jacqueline Renner good luck and great success to her and everyone at Martin Guitars.