Wonderful Guitars from Santa Cruz Guitar Company
 Winter NAMM Booth# 1708 (Hall E)
Models on display for the playing include a Standard OM Grand and an all-mahogany 00 1929, while the Custom Shop display includes the 12th and final installment of their 40th Anniversary FTC model, and an a Firefly model made with highly flamed koa back sides and top,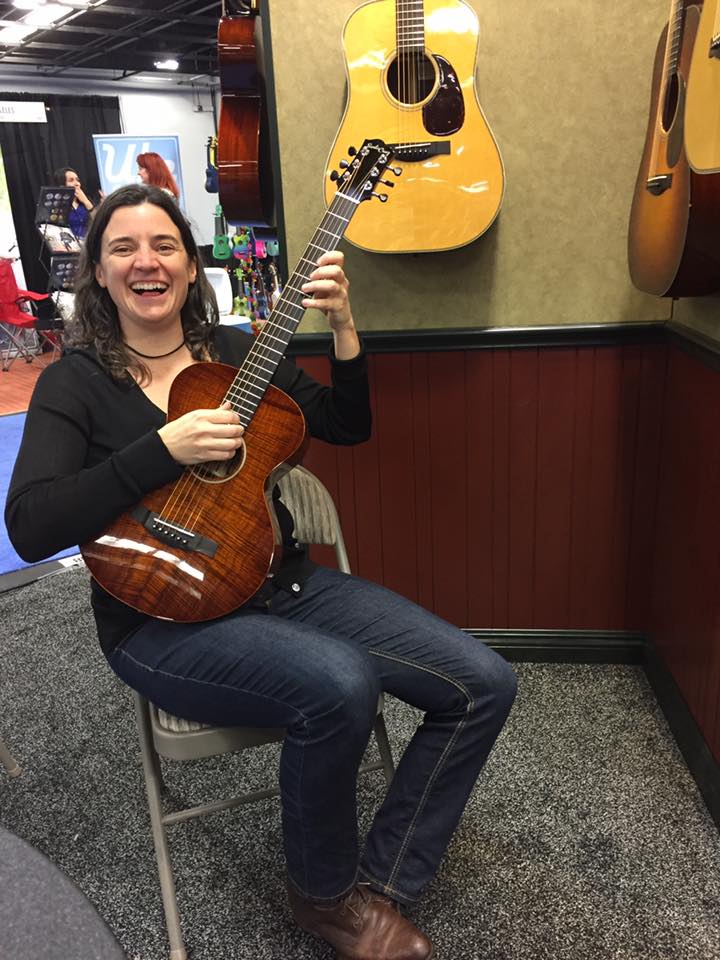 seen here enjoyed by indie fingerstyle phenom Jamie Stillway.
The Brad Paisley B/PW signature model debuted at Summer NAMM. Is a pre-war style dreadnought made with Indian rosewood for the back and sides and a bearclaw Sitka spruce top, forward-shifted bracing and a 1-3/4″ V neck and 2-3/16″ string spacing, and a white calligraphy cowboy hat on the headstock.
Scott Law's D-Law signature model is a mahogany dreadnought with vintage D-28 appointments including diamonds and squares on the fretboard and herringbone trim, a Italian spruce top with tobacco sunburst, Adirondack bracing, hide glue construction. It has 2-3/16″ string spacing at the traditional-looking long saddle to go along with a 1-11/16″ V neck that is slightly shorter in scale (25.25″) from the usual SCGC 25.375″).
They have a Bob Brozman Baritone Pro, a 12-fret dreadnought sound monster by any means, this one has outrageously flamed koa rather than the usual mahogany, and a German spruce top.
And then it gets really good.
While many of the 12 40th Anniversary FTC models have maple back and sides, this one is made with mahogany back and sides, a bearclaw Sitka top, whiteish cowboy rope purfling and rosette, the classic SCGC art deco fret markers set into upper left corners, and replica decco tuners. Each of the 12 guitars has a different styling in terms of toner, sun burst tops or lack there of.
Other custom shop offerings include a Tony Rice model with bearclaw German spruce, an OM Grand 12-string with high-grade Adirondack top (!) and an H13 custom with Alpine moon spruce over cocobolo, a soft lamp light sunburst and super fine sparkly Style 42 inlay
And that is just the ones I can remember at the moment.
Related Reading: