The Walnut Creek Fingerstyle Model From Petros Guitars
I have loved every Petros guitar I have ever seen in person. And this 12-fret Claro Walnut and Redwood beauty promises to be spectacular.
Bruce Petros and his son Matt have forged a unique path as modern American luthiers. Their guitars are incredibly lush in tone, very much the opposite of the overtone-less, fundamental sound of many contemporary, small shop luthiers.
Petros guitars are not just good, they are glorious. And this one appears to fit that description once again.
As per the official Petros Guitars press notice:
This is a short scale instrument (24.5") which makes it a joy to play. The shorter scale has much less string tension which makes it much easier to play. The Petros Walnut Creek (formerly our Ultra-Light) is a wonderfully light weight guitar with a thunderous sound. It is made from gorgeous curly Claro Walnut with a master grade Redwood top and a Butternut neck. Our arched soundboard, meticulously tuned braces and graduation creates a top that produces those full bass fundamentals while simultaneously enabling ringing trebles and lush overtones. This guitar will growl or sing softly. It will give you whatever you ask of it.
"For any of you with aging or arthritic hands, this is the answer."
(click to enlarge)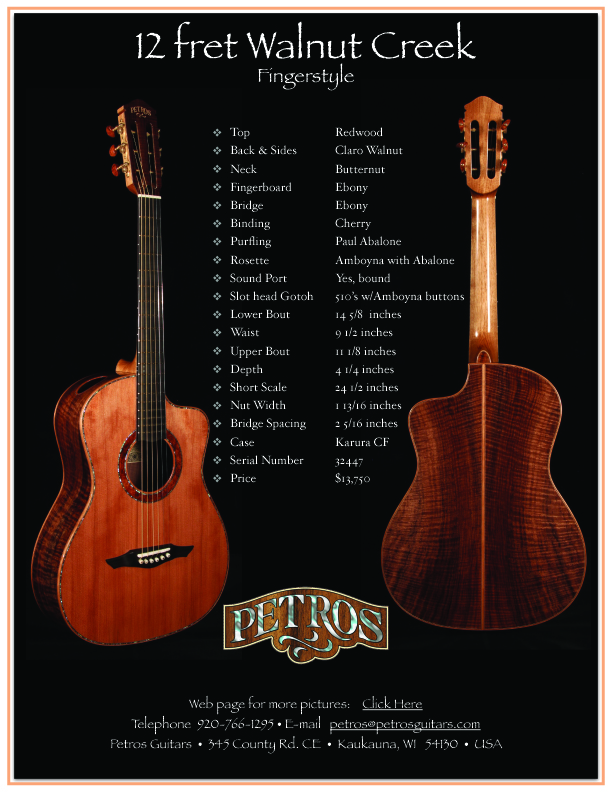 Many more mouthwatering photos of this gorgeous instrument at Petros' Official Website