A little something for everyone as Summer NAMM Martin guitars are officially announced
Including the NEW D-28
 Beloved personalities honored with unique models, and the Standard Series receives a half dozen new acoustic-electric models without cutaways!
Exclusivee in-depth reviews of many of these new Martins will follow in the coming weeks.
Although Summer NAMM does not open its doors until July 13, 2017, C. F. Martin & Co. has officially announced their new guitars ahead of time, creating some heated buzz as summer gets underway.
The NEW 2017 D-28
Only about time the D-28 got the makeover similar to the D-18, combining specs of the now defunct Vintage Series with the today's High Performance neck. The looks are that of a post-war D-28, but with forward-shifted bracing. I have confirmed this is not a typo – model has forward-shifted NON-scalloped braces – the first cataloged dreadnought with this spec.

List Price: $3,299
Beloved Personalities Honored
d-boak Inside Out
Martin's own Dick Boak has been honored with a special edition celebrating his artwork and his long career at C. F. Martin, which comes to a close in January as he takes a well-earned retirement.
This Sitka spruce-topped Dreadnought has the forward-shifted scalloped bracing and genuine Mahogany back and sides that he loves, with some beautiful soundboard artwork of his own design, inspired by some of his earlier illustrations and his admiration for the Martin-invented X bracing, that he shares with the wider world, by letting them "see through" the top to the bracing beneath.
Read our exclusive interview with Dick Boak regarding the fascinating development and realization of this unique project.
List Price: $2,999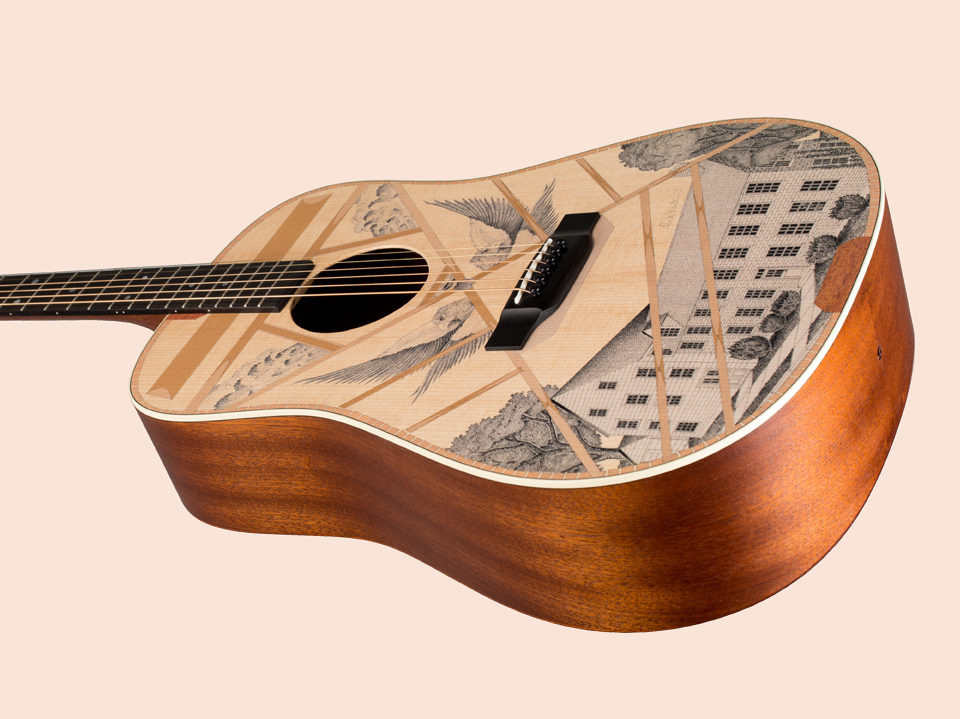 D-18 Jason Isbell
As part of his long love affair with Martin guitars, singer-songwriter Jason Isbell has been recently playing a D-18 Authentic 1937, when not playing his D-28E Retro, D-42, and D-41 Special, to name but a few. And now he is being honored with his own signature model.
It has the same 1-11/16" V neck and rear shifted bracing of his Authentic 1939, along with hide glue construction and thin finish, but it has the bracing has the scalloping and non-tucked bridge plate of the D-18 Golden Era model, no pickguard, a straight pyramid bridge (whaaaaat?) and the fretboard has a custom inlay at the 12th fret of one of his tattoos.
List Price: $5,999

D-18RG – Robert Goetzl
Fine artist Robert F. Goetzl has created artwork for Martin Guitars for some time, while keeping things in the family. After all, his mother is the sister of Chris Martin's mother.
And his contributions to the world of fine arts is being honored with a special D-18, which features stunning artwork of a soaring eagle and a Native American in the traditional dress of a Lakota Sioux tribal chief. One guitar from this special edition is being donated to the Native American Heritage Association, which raises awareness and charitable funds for South Dakota's impoverished Crow Creek and Pine Ridge Reservations.
List Price: $4,699

Ed Sheeran ÷
In six short years young Ed Sheeran has gone from the smallest stage at the Glastonbury Festival to closing the festival from the main stage, before 100,000+ fans knowing all the words as they sang along to his many hit songs, performed all by himself on his wee "Little Martin" guitar, to thunderous applause.
The third iteration of an LX Ed Sheeran Martin joins a collection of small guitars with huge popularity and phenomenal power to entertain, at least when in the hands of Mr. Sheeran himself. This is the exact same model he used at Glastonbury.
List Price: $699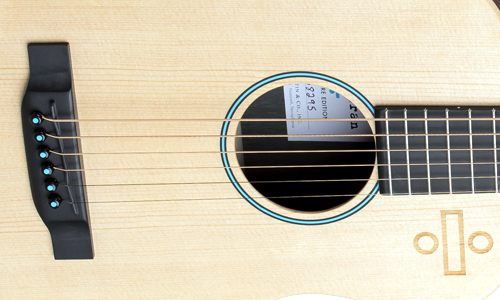 History Revisited
Model America 1
In 1906, three years after Henry Ford sold his first Model A automobile, Martin Guitars created their own Model America. Built for a Mr. Daniel Schuyler of San Diego, CA, it resembled an 0-28 with a unique bridge and some other tweaks of Schuyler's own patented design. Only two were ever made.
And now, 111, years later, Martin is putting out another Model America and from its number designation, it may not be another century before we see a follow up. This first edition is based on the popular D-18, but is made entirely from products sourced within the United States of America, including sycamore back and sides, Adirondack spruce top and scalloped forward-shifted braces, cherry neck, black walnut bridge and fingerboard. Even the Sperzel tuners are made in the USA.
List Price: $3,499
Photo Not Yet Available
SS-00L Art Deco 2017
The NAMM Show Special is always very special indeed, and only available to Martin dealers who make a personal appearance to order guitars at Martin's NAMM Show booth.
For Summer NAMM is a stunning slope shoulder 00L size guitar beautified in a Art Deco motif, built in partnership with one of my all-time favorite indie luthiers, Bruce Petros.
List Price: $7,499

Standard Series Acoustic – Electrics
After the Winter NAMM introduction of a new collection of cutaway acoustic-electric models into the revitalized Standard Series, comes non-cutaway versions of basically the same models, and more!
And for the first time, all of these guitars can be ordered with a choice of electronics between the Fishman Aura VT Enhance Duel-Source with a soundboard transducer or L. R. Baggs Anthem Duel-Source with an internal microphone.
The D-35E, GP-18E, GP35-E, GPC16-E, OM-18E, OM-35E will all be welcome additions to the Martin Catalog. And yes you read that right. Martin has FINALLY introduced an OM-18 without a cutaway into the Standard series for the first time ever!


The OM-28E and GPC-28E are conspicuously absent.
I inquired and was informed by Tim Teel, Martin's Director of Instrument Design, that the decision to use the same styling as the new D-28 2017 was made late into the cycle of new models, and they are not going to be ready for the Nashville show.
Expect an official release later this year. The 00-28 introduced in January will also be revamped to have the same look as the D-28 2017
Latest Americana Series
GPC-16E – This Grand Performance-sized entrant into the Americana 16 Series was originally scheduled for Winter NAMM this past January, but was likewise held in reserve.
The series focuses on domestic American tonewoods. So the shallow body DC-16E is made from sycamore, the OMC-16E is made from cherry, and this new GPC has a back and sides of Hawaiian koa wood under a satin finish, with a Sitka spruce top, scalloped forward-shifted braces, like the GPC-18E, and the red, white, and silver trim exclusive to the 16 Series, along with Fishman Matrix VT Enhance NT2 electronics.
List Price: $2,999
X Marks the Spot
The X Series expands with the 0X2MAE

Made too look similar to the Martin 15 Series instruments, this affordable 0-size guitar will be great for travel or home use.
List Price: $729
Related Reading:
The Dick Boak Interviews Part One – the how and why of the d-boak Inside Out guitar