Marty Stuart, Roseanne Cash, Laurence Juber to perform for their friend Dick Boak
Dick Boak and his friend Steve Miller host a benefit concert at the State Theatre in Easton, Pennsylvania will the the site of the event. In the spirit of Dick's fabulous retirement concert comes a sequel to be savored in the imagination before it arrives, and in the memories it will leave behind for years to come.
Last time, the concert was in celebration of Dick Boak's retirement from Martin Guitar, where he spent 35 years making it a better place for making better guitars. But a deep freeze left one Marty Stuart snowbound and unable to attend. This time around, Marty Stuart and His Fabulous Superlatives will be headlining, along with other fine heavy hitters.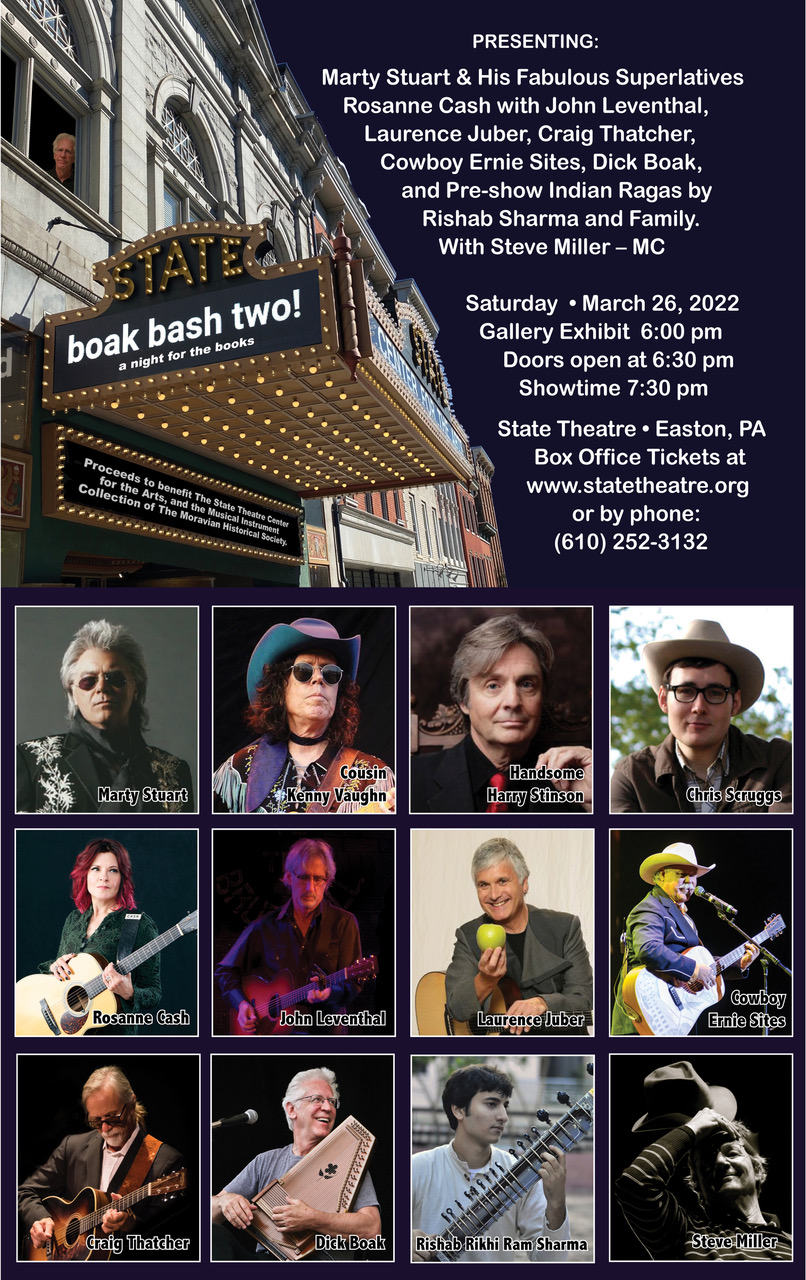 Tickets
All tickets are being handled by the State Theatre Box Office. Tickets to State Theatre Members (only) go on sale on Wednesday, December 1st. Tickets to the Public go on sale a week later on Wednesday, December 8th.
If you want to jump on the opportunity, you can become a member of the theatre for $75.00 ($55.00 for Seniors 65 and older). Tickets can be ordered online (depending upon your member or non-member status) at www.statetheatre.org or by calling the Box Office at (610) 252-3132.
Purchasing a membership in the theatre allows you to purchase up to six tickets prior to ticket sales to the public. The maximum number of tickets per purchaser is six. Ticket holders must be fully vaccinated for Covid-19 and show proof of vaccination in order to be admitted into the theatre.
Performer participation is subject to last minute changes.
Charitable Support
Proceeds from Boak Bash Two will equally benefit:
The Musical Instrument Collection of the Moravian Historical Society in Nazareth, PA. Link: www.moravianhistory.org
The State Theatre Center for the Arts, Easton, PA. Link: www.statetheatre.org
Both are 501c3 charitable organizations.