The appetite is whetted by news of new 2016 Martins.
C.F. Martin & Co. revealed some of the new models slated for release at the Winter NAMM show later this month, in the form of Limited Editions and the latest members of their Authentic Series of meticulous vintage guitar recreations.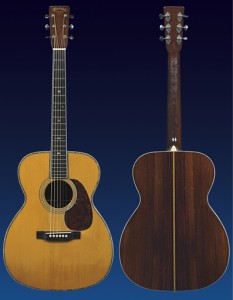 Topping the list is the 000-42 Authentic 1939, a replication of this guitar, which the Martin Museum purchased at Christie's auction house in 2008.
As with most Authentics, it features Madagascar rosewood, rather than the endangered Brazilian rosewood used in the 1930s. With a street price just over $9,000 it is a good deal less than what a one-off Custom Shop order would run that has similar specs. And many thousands of dollars less than a Brazilian rosewood version would have cost. A 12-fret 00-18A 1931 is coming out as well.
The Ditson 222 100th Anniversary is released in celebration of the 100th birthday of the Dreadnought design, which was originally made for the Ditson musical department stores.
This is a modern interpretation, retaining the mahogany back and sides and cosmetic looks, while having a torrefied Sitka spruce top and a 1-3/4" modified V neck. So it is quite similar to the D-18V model of the 1990s, only with the Vintage Tone System top.
Speaking of birthdays, the D-28 John Lennon 75th Anniversary guitar is a commemorative model made in cooperation with Lennon's widow, Yoko Ono, marking the influential musician's 75th birthday. it has peace signs inlaid around the soundhole, and other unique inlay work, and is made from Madagascar rosewood. It has traditional straight braces, like Lennon's 60s D-28, but a modern Modified Low Oval neck profile with the Performing Artist Taper.
The Custom Shop Series is offering the CS-OM True North-16, made from highly figured koa and wooden marquetry with a compass motif. It has hide glue construction and should be of similar high quality as the previous CS Series guitars.
There has been no mention of what will be new for NAMM in terms of a "show special", or the Standard and PA Series, et al. But they will be debuting their new on-board electronics, the VT Enhance. Made in partnership with Fishman Electronics, for the first time Martins are being offered with a bridge plate transducer, that gets blended with the signal of an under saddle pickup.
Higher-end Martins will also get a built in Aura imaging filter, which helps a guitar sound more like it is coming through a good microphone than an electronic pickup.
See the New 2016 Martins HERE
More Info About the New Aura-VT/Matrix-VT Enhance system HERE