Martin Modern Deluxe Series Breaks New Ground for 2019
 Debuting at Winter NAMM – Four New Models: D-28 Modern Deluxe, D-18 Modern Deluxe, OM-28 Modern Deluxe, 000-28 Modern Deluxe
Combining modern takes on vintage Martins with ultra-modern design specs, Martins newly announced Modern Deluxe Series breaks new ground by offering revved up versions of their Standard Series models with features previously only available on select Limited Editions.
VTS Top and Bracing
With the same tonewoods for the back, sides and top of the Standard Series, these Modern Deluxe Series models get Sitka spruce soundboards that have the extra benefit of Martin's Vintage Tone System, their propriety torrefaction treatment, that adds considerable depth to the voice of a brand new guitar, making it sound "opened up" right out of the box.
Unlike Standard Series Martins, these new models get top bracing made from Adirondack spruce with the VTS treatment. They are shaped with Golden Era style scalloping that removes more wood with angles different from the Standard Series scalloped bracing, allowing the stiffer Adirondack spruce extra flexibility and responsiveness while having greater stiffness along and across the grain compared to Sitka braces.
This is a feature I have longed for on Sitka-topped Martins, particularly on the short-scale 000s. And while I was aware this was approaching release, I did not know they were treating these Adirondack spruce braces with the Vintage Tone System! That had been reserved exclusively for the Authentic Series of high-priced vintage Martin recreations.
Another vintage Martin feature is the use of natural protein glues, which bond with and more deeply into the wood, for joinery even better than what is on most Martin guitars. This is also a new feature for Martin, as this glue is different from the traditional Hide Glue they use on Authentic Series instruments. This new glue is derived from fish protein primarily, and is already being used elsewhere in the high-end guitar making industry.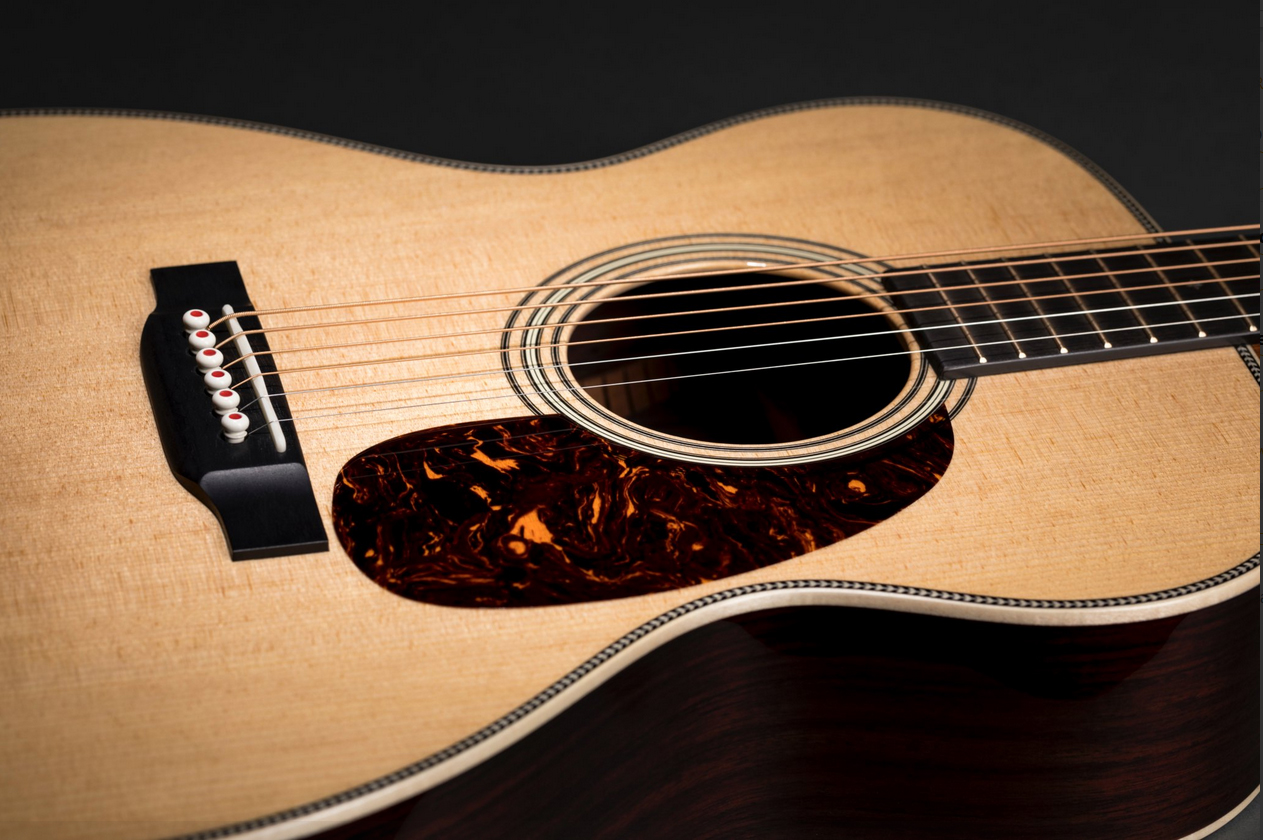 Modern Metals
For the first time, Martin is using three ultra-modern Limited Edition specifications as standard features. A titanium neck rod supports the neck with greater strength than a steel rod, but with much less weight. And an ultra-light carbon fiber bridge plate, made from layers of wood and carbon fiber pressed together, contributes to an overall instrument weight closer to a vintage Martin, while reputedly increasing volume, as well. So too do the Liquidmetal bridge pins, which I have found to noticeably increase fundamental sustain.
New Look Appointments
The Style 28 instruments have flamed European maple binding, heel cap, and end piece, while Style 18 gets Indian rosewood. All of the Modern Deluxe Series instruments get gold frets, and the fret markers and script logos are made of colorful abalone, while the 18s also get gold bridge pins with red dots. The Style 28 bridge pins are treated to look like vintage red dot pins made of bleached white bone.
The prototypes I have seen all have matching gold Waverly tuners. But the published spec sheets do not mention this, so the brand may be subject to change by the time they get to the NAMM show, which opens Thursday, January 24.
New Neck Shape
The new Vintage Deluxe neck profile is publicly referred to as "slightly skewed."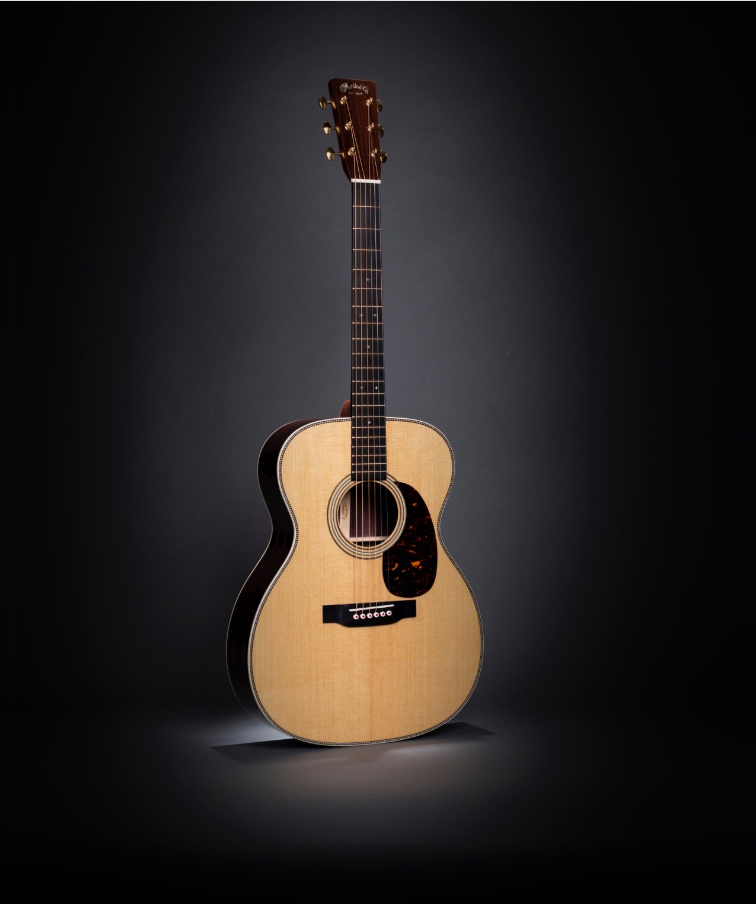 Rather than having the apex of the carved profile running straight and directly at the center of the neck, with identical shaping on either side, this new neck shape is slightly asymmetrical, to fit the shape of the human hand in a more-natural way.
Or rather, it is a new neck shape inspired by old Martin neck shapes from the 1920s and 1930s. It is something discovered in 2014, and I happened to be visiting my friends in the Martin Custom Shop offices the moment that discovery was made.
Martin purchased at auction a priceless 1930 OM-45 Deluxe, and they were beginning to investigate it for their upcoming Authentic Series version of that rarest of vintage Martin guitars. After spending some 30 minutes with that mouthwatering masterpiece, I had remarked that they should use that very neck shape for every OM they made from that day forward, as it was marvelously comfortable.
So began the discussion of why and what made that neck different from other necks. It seemed to my hand that the apex of that V neck wasn't directly centered, so the mass and grade of the slope on the bass (thumb) side and the treble (fingers) side were slightly different. But it was quite subtle and difficult to tell for certain.
So, they had an employee fetch a proprietary gadget and took a convex mold from a section of the neck.
To everyone's surprise, I was correct. But no one was prepared for just how asymmetrical the factory workers had shaped necks at that important time in the Company's history. But once we saw the mold it became quite obvious when in the hand. A 1931 OM-28 was sent for, and it had an even more extreme difference between the two slopes of the barrel, while having a similarly "skewed" apex.
Martin applied this new knowledge in their making of the OM-45 Deluxe Authentic 1930. But to date, that $99,999.00 wonderment has been the only modern Martin to take advantage of this discovery – despite my repeated lobbying to the contrary.
Now, at long last, they have applied that knowledge in the creation of the new Modern Deluxe Series, which feature the new neck shape they are calling the Vintage Deluxe profile. Most interesting to me is the fact they are using it in combination with their modern High Performance Taper, which narrows the width of the fretboard faster than on traditional Martin necks, giving the entire neck a faster, sleeker feel.
The only new model that does not get the High Performance Taper is the OM-28, which has the Standard Taper, meaning it measures 2-1/4″ wide at the 12th fret, like actual vintage Martin OMs!
And so the instruments in Martin's oh so Modern Deluxe Series combine vintage Martin aspects with modern day know how and high-tech advancements in a most exciting way.

Exclusive Reviews of the Martin Deluxe Series models will appear in these pages, once I am permitted to post them.