Happy Spring to Readers of One Man's Guitar!
In February and March of 2023 we had visitors from 117 places around the globe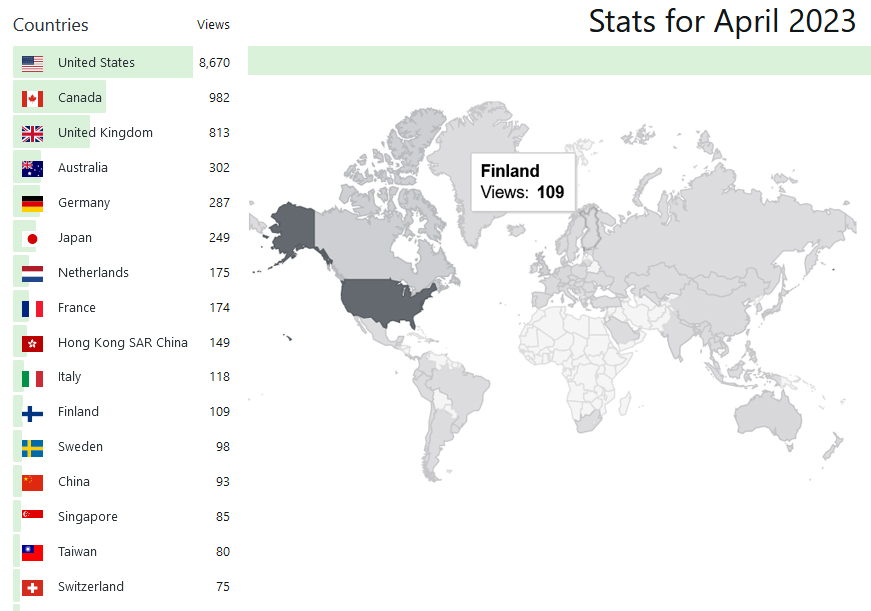 Andorra, Albania, American Samoa, Angola, Argentina, Armenia, Aruba, Australia, Austria, Azerbaijan, Bahamas, Bahrain, Bangladesh, Barbados, Belarus, Belgium, Bermuda, Bosnia & Herzegovina, Brazil, Bulgaria, Canada, Chile, China, Columbia, Congo, Costa Rica, Côte d'Ivoire, Croatia, Cyprus, Czehica, Denmark, Dominican Republic, Ecuador, El Salvador, Estonia, Faroe Islands, Finland, France, French Polynesia, Georgia, Germany, Greece, Greenland, Guatemala, Guernsey, Hong Kong, Hungary, Iceland, India, Indonesia, Iraq, Ireland, Isle of Man, Israel, Italy, Japan, Jersey, Kazakhstan, Kenya, Kosovo, Kuwait, Laos, Latvia, Lebanon, Lithuania, Luxembourg, Macao, Malaysia, Maldives, Mauritius, Mexico, Moldova, Mongolia, Morocco, Myanmar, Nepal, Netherlands, New Zealand, Nigeria, North Macedonia, Norway, Oman, Papua New Guinea, Panama, Peru, Philippines, Poland, Portugal, Puerto Rico, Qatar, Réunion, Romania, Russia, Saudi Arabia, Serbia, Singapore, Slovakia, Slovenia, South Africa, South Korea, Spain, Sri Lanka, Sweden, Switzerland, Taiwan, Thailand, Timor-Leste, Trinidad & Tobago, Turkey, Ukraine, United Arab Emirates, United Kingdom, United States, U. S. Virgin Islands, Uruguay, Uzbekistan, Venezuela, Vietnam, and one mysterious stranger from Unknown Region.
Thank you for your interest in One Man's Guitar!