New York Youth Symphony Jazz Orchestra Swinging
with guest artist Stefon Harris
The Appel Room, Lincoln Center's site for large Jazz concerts, is actually housed inside Time Warner Center, overlooking Columbus Circle. And when I say overlooking, the performers stand before a steep amphitheater, with an enormous wall of framed glass at their back. As the sun sets on 59th Street and Central Park, the city lights provide a ceaseless kaleidoscope of color and motion.
But those exquisite surroundings were upstaged yet again by the red blooded Jazz brought to life before our eyes by the superb musicianship in the New York Youth Symphony's Jazz Orchestra, with Director Matt Holman conducting. Featuring a richly textured new work by composer Nate Kimball and a spellbinding performance by special guest, vibraphonist Stefon Harris.

The theme for this season's final Jazz concert was "Feelin' the Vibes", featuring well-loved music popularized by the great vibraphonists like Lionel Hampton, Cal Tjader, Terry Gibbs, and Milt Jackson. And four compositions by Mr. Harris.
The night kicked off with Benny Goodman's Don't Be That Way from 1935, a big band extravaganza with popping horns that lit a fire under every seat in the place. Matt Holman's arrangement of Joao Donato's Sabor from 1962 added some Latin spice to the mix, and then Milt Jackson's Bag's Groove from 1958 stirred things into a smooth concoction with an inner city edge, that went down easy and then shook things up until the whole room was jumping, before cooling way down at the end, leaving a tingling, revitalized spirit.
That was quite a three tune warm up, which set the bar rather high for Mr. Kimball's Karma, the commissioned piece of music performed with the composer sitting in the front row, near the piano.
A graduate of the Downbeat Award-winning Jazz program at the University of Nevada at Las Vegas, Kimball continues his postgraduate studies as a composer, while performing with his own modern-day big band. And Karma was indeed modern, fresh and inventive.
Starting out with layers of syncopation in the reeds and percussion, punctuated by brassy swells, it evolved into a complex and witty piece. With a feint towards Gil Evans, it sailed off into new territory, continuing to surprise throughout, as crescendos melted away into a solo from a lonesome sax or sprightly guitar. And time and again the horns joined forces to weave a rich and textured tapestry, as a backdrop to whatever strain was rising to the forefront. His work utterly satisfying, Mr. Kimball stood for an extended and much deserved ovation.
After this modern gem, we were returned to Jazz's heyday, with a version of Moonglow, from 1933, one of those timeless tunes I never grow tired of hearing. But this was not the floating dreamboat of guitarist George Barnes or the original foxtrot by his pal, fiddler Joe Venuti. Conductor Holman chose instead hornman Al Cohn's arrangement as a springboard to something right out of a 1930s burlesque hall. The drive of muted speakeasy trumpets and an evocative bump and grind rhythm section set the saucy mood. But it was the slinky trombones that got so low down and dirty I thought they'd summon the ghost of Gypsy Rose Lee right then and there.
Part way through Moonglow I noticed an unusual tightness in the corners of my cheekbones. I then realized I had been grinning to such a wide extent it was becoming painful, but I just couldn't stop it.
It was a terrific first half, and ended on an even higher note thanks to Hamp's Boogie Woogie, an uptown jitterbug from 1944, with Lionel Hampton's vibes conjured up on Billy Ruegger's guitar.
One of the most interesting aspects of the evening was the fact the first half was dedicated to vibraphonists, while the lead parts intended for vibes were transferred to other instruments. Ruegger and his 1955 Gibson ES-175 were called upon time and again for solos across the evening, and rose above and beyond the occasion each and every time.
But then, solos were offered up all around, with pianist Jacob Gelber and drummer Fred Griggs standing out when they weren't providing the backbone for everyone else to stand upon, and special mention goes out to the phenom on bass, Nick Dunston.
Each and every member of the horns had solos, which varied wonderfully, and they all made the most of them. From the highest cutting edge of the trumpets and flugelhorns blown by Joe Gullace, Krystopher Williams, Dustin Beardsley and Andrew Digrius, to the wonderful wallow from Lauren Wood's baritone sax, the muscled altos hoisted by Adrian Condis, and Ryan Park-Chan who was presented with this year's Director's Award for Commitment and Achievement, to the wailing tenors taken to task by Sam Torres and Luca Provenzano, and those gliding, barking bones punched out into the audience by Chris Misch, Dan Simms, Spencer Randle and Jack Noble, the entire ensemble was excellent, and the solos of each rose like flares off the roiling surface of the musical sun that lit up the Appel room from start to finish.
And that was only up to the intermission.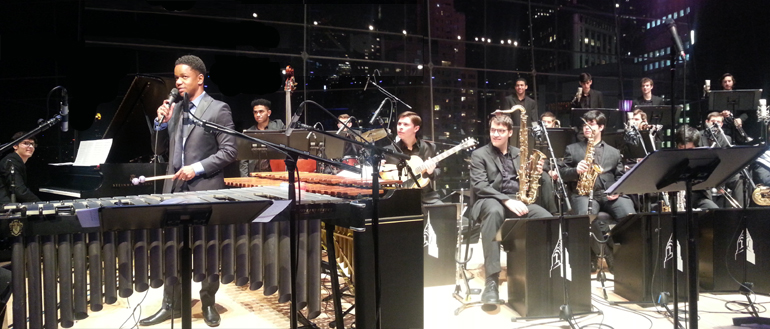 The second half opened with the introduction of Stefon Harris, an award winning composer and front man for his own ensemble, Blackout, who have earned four Grammy nominations.
The first number was a warm and buoyant rendition of Hoagy Carmichael's The Nearness of You followed by four Stefon Harris compositions. Harris said he choose the name Blues for Denial for the work commissioned by Jazz at Lincoln Center in tribute to Milt Jackson and Lionel Hampton, because it's hard to play.
He then proceeded to ask the audience for a starting note. Settling on two that were hummed, he began to improvise, at times accompanied by his own voice, sometimes laughing, sometimes scatting along with the notes ringing off the vibes. Rising in tempo and complexity, he came to an abrupt halt, letting the chimes of the last exhilarating run sustain out into the ether before the band joined in for a bopping hothouse of mile-a-minute Jazz.
Part acrobat, part magician, Harris enveloped himself in the round and ringing tones from his vibraphone, only to switch to the woody plunk and rolls of a marimba. But whether his mallets were hammering away at metal or rosewood, or stretching wide to play both at once, he coaxed out melody and raised cacophony like a shaman communing with his spirit guides.
The second Harris composition was a joyful excerpt from a 2007 concert-length suit he calls Dancing Moon, Laughing Stars, commissioned for the 150th anniversary of the Unitarian Church, beautifully arranged for the orchestra by Matt Holman.
Harris confided that it happened to be his 14th wedding anniversary, but then assured the audience that he and his wife had already been celebrating for two weeks, one day for each year, so we wouldn't worry about him getting in trouble for being truant. And then the orchestra joined him for Let's Take a Trip to the Sky, written for his wife in 2012. This expansive composition proved transportive. I cannot tell you where my mind traveled to with the soundtrack provided by Harris' mallets and Holman's young musicians, but it was a mellow, unhurried place of sweet breezes and cool waters. I was loathe to leave it, until I heard the next tune.
I think my favorite piece was the last. The Velvet Couch has an infectious funky 70s groove punctuated by big, brassy phrasing, pulsing bass runs, and a hip-swinging melody that could have been the theme from some mod caper movie with a cast including James Coburn, Sidney Poitier, and Raquel Welch.
And then, they chose to end the evening as it started, with Benny Goodman, as Harris, Holman, and the orchestra returned for an encore and lit up the Appel room one final time with a jet-fueled rendition of Flyin' Home.
As Stefon Harris put it, supporting an organization such as the New York Youth Symphony Jazz Orchestra is vitally important, "celebrating creativity, celebrating diversity, celebrating tolerance, all these incredible values we hope to instill in our society. It is not just about making great musicians. It is about providing opportunities for people to dream really big."
And while it is a good and important thing to provide opportunity for our youth to learn, and grow and enrich our culture and society, this is also wonderful entertainment. I mean, come on! World-class big band Jazz, at Lincoln Center, for $20? This is an extraordinary value, and spectacular music, performed spectacularly. So keep on the lookout for their next concert.
It is a wonderful way to spend an evening. Or for that matter an afternoon.
And this coming Sunday afternoon, is the New York Youth Symphony Spring Concert at Carnegie Hall, at 2 PM. And the tickets are also only $20!
So bring the kids, as you will rarely get a chance to take them to Carnegie Hall at those prices for the thrilling experience of a full classical orchestra, live and in person. And if you don't have kids, borrow some. Or at least bring a friend. They will be impressed.
And that is one man's word on…
Lincoln Center Jazz with Stefon Harris and the New York Youth Symphony Jazz Orchestra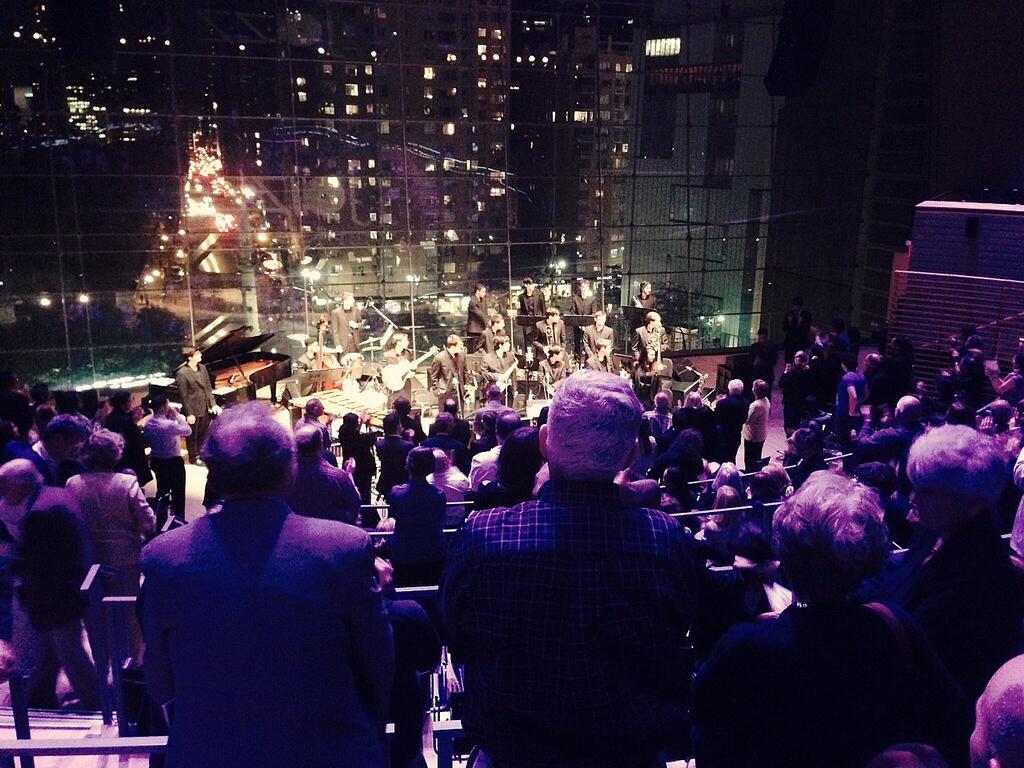 Related Links:
Other posts of interest:
Review of the McCrindle Concert at Carnegie Hall
Laurence Juber and Martin Guitars at the Metropolitan Museum of Art