D.B.S reunites for the first time in 24 years
Friday night, May 23, a group of veteran professional writers will gather in Brooklyn, where they will be rocking out at Freddy's bar, on 5th Avenue in the South Slope. The occasion is the reunion gig of a most unusual band from 1980s New York, Dondi's Bloody Sputum, a send up of all things Punk, in parody, in satire, but also in homage, and always with suitable irreverence.
Ten years after the Sex Pistols sucker punched the queen, and the Dead Boys had spit on, well just about everyone, the music world was still reeling from the smack down that Punk had provided. When who should appear but Dondi's Bloody Sputum, the band that chose a nice little orphan for their namesake, and then beat the snot out of him. Their name refers to the newspaper comic strip about the kind of goody-two-shoes that would have suffered habitual schoolyard beatings in real life, even after surrendering his lunch money.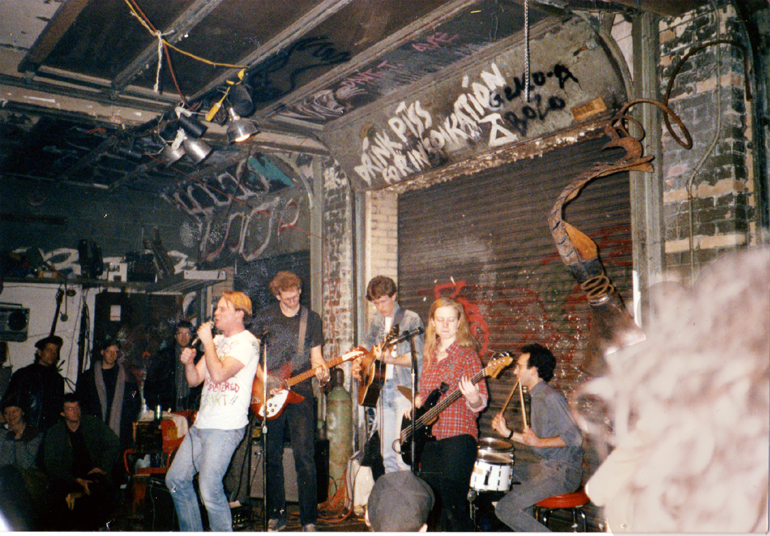 The same year that Spinal Tap took the mickey out of hard rock, D.B.S. put a skewer through the heart of Punk. Here were not pimply toughs from a city ghetto, vomiting songs about throwing bricks in Brixton. The members of D.B.S met at university in sleepy Athens, Ohio, and after graduation, they reconvened in Queens. There, they wrote songs, mostly thrashing head-bangers about the tribulations facing middle-class white kids from comfortable homes, with titles like "I'm Thinking of Trying a Croissan'wich," "Martin Sheen Sweats Well," and "Dogs Like Cheese."
They were not your everyday safety pin pierced Punk songs. Others include the eerie ode to food poisoning, Sushi is My Krytonite.
Be suspicious of rolled up fishes
Avoid places that don't use dishes
Sushi is my Kryptonite
Sushi is my crypt tonight
And then there's the rocker Rodeo Clown.
I've got a friend
His name is Bim
He works down at the Square Gar-den
He only works about three weeks a year
Heardin' them steers when the rodeo's here
He's got the dumbest fuckin' job in town
He's a rodeo clown
Many of the songs are indeed quite funny, but they are also clever in the way they captured the blistering essence of Punk music, often mixing the raw edge of the Stooges with the finesse of the Minute Men. This is not surprising, considering the artistic background of every member of D.B.S., all of whom went on to critical acclaim as a writer of weightier material.
Then and Now
| | |
| --- | --- |
|  Silent "Phil" Noir |  Mark Drop |
|  Hugh Bryss |  Henry Tenney |
|  Patty Melt |  Jane Young |
|  Steve Shape |  Steve Spiegel |
Back in the day, Mark Drop and Steve Spiegel (aka guitarist Silent "Phil" Noir and drummer Steve Shape) were sharing a house in Astoria, earnestly trying to sell scripts to popular sitcoms like Moonlightening. Their big break came with the Arsenio Hall Show, which took them to L.A. in 1989. Both men live there today with their respective families, after long careers spent writing popular shows for television, as well as for Disney theme parks and cruise ships.
Under that same roof was found acting student Henry Tenney (singer Hugh Bryss), who went on to appear in plays and on TV. He also spent some years as head writer for VH-1's Pop-up Video, and today he writes mainly for foodie television, featuring celebs like Bobby Flay and Mo Rocca.
The acting work of Jane Young (bassist Kitty Head) was seen on stage, TV and film, and she had several of her own plays produced in New York City. Young later received her post grad degree in creative writing at Sarah Lawrence, and has since shifted her focus to screenplays and short stories.
And Trey Kay (guitarist Big Mike) performed with NYC improv troupes before becoming a long-time contributor to Public Radio. A Spencer fellow, and Peabody award-winning journalist, Kay recently produced the documentary The Long Game: Texas' Ongoing Battle for the Direction of the Classroom, and is now developing a new show, This is the Thing, with host Alec Baldwin.
Kay was unable to attend rehearsals for the reunion, due to his busy schedule. But it is rumored he will return to New York to witness the gig.
With only two rehearsals after 24 years apart, the edges may be even rougher for their first reunion gig than they were at their actual first gig in a Brooklyn loft 30 years ago.  None the less, those fortunate to have seen D.B.S. performing at rock spots like the Gas Station in the East Village, will be happily meeting up at Freddy's backroom, this Friday, to relive those haymaking nights under halogen lights.
Those who have never heard D.B.S. will be in for a rare treat.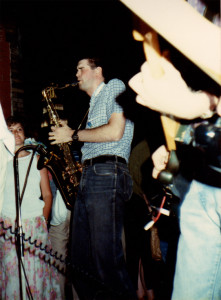 The band recorded no albums. However, some rehearsal studio bootlegs have surfaced from time to time, and they include cuts featuring the saxophone of Matt Wickline, an old friend of the band.
No stranger to satire and parody, Wickline won his first Emmys writing for David Letterman, before heading west to develop popular shows like In Living Color and Martin, as well as his own critically acclaimed cult hit The Clinic, co-written by Wickline, D.B.S. guitarist Mark Drop, and the late Sandy Frank. It also featured D.B.S. front man Henry Tenney as the troubled son of the stodgy doctor played by Adam West.
Inquiries as to whether Wickline might attend the D.B.S reunion received the following reply: "Piss off, you stupid git, before I clobber til you slobber."
And you too can curl your lip into a sneer, don a torn t-shirt, and get your Punk on, with D.B.S. this Friday night at 9 PM.
Freddy's is found at 627 5th Ave, Brooklyn, between 17th and 18th street, R train to Prospect Ave, walk one block up the slope.
— Len Berger, Berlin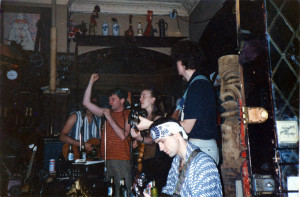 Guest writer Len Berger (foreground) was lead guitarist for the Cheese Beads, a 1990s speed lounge act that included three former members of Dondi's Bloody Sputum.