Inspired by Dame Darcy's Meat Cake Bible, "Wax Wolf" by Henry Tenney and your humble Spoon
Hank showed up with some lyrics and they fit surprisingly well with the music I had been flirting with just before he arrived
Video by Dame Darcy
Literature Inspiring Artists
Bushwick Book Club, the brainchild of the amazing Susan Hwang, features artists who create works after reading various pieces of literature.
Now taking place in cities from Seattle to Sweden, the local host chooses a different book for each show, and invites a select group of artists to read it and create music, or dance, or visual art inspired by it.
No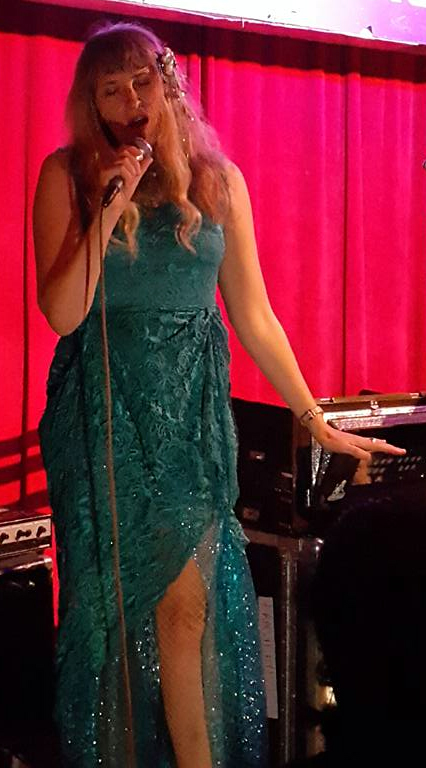 rmally it is a novel, or play. But in this case it was the collective issues of Meat Cake, the macabre world created by post-feminist visionary cartoonist Dame Darcy.
A renaissance woman of many talents, Darcy's 2016 tome Meat Cake Bible includes all 17 issues of Meat Cake (published by Fantagraphics from 1993 to 2008), and includes stories from the unpublished 18th issue.
An Idaho native and bi-coastal bi-continent performer, the author was in town for the Brooklyn Book Fair, and I was quite excited to find her waiting for us at Barbes, on 9th Street in Park Slope, where Bushwick Book Club was convening.
She performed some eerily beautiful music to close the evening. And she told me she recently had a screenplay based on Meat Cake optioned, and she was soon to leave for the Coast to begin the process of having it made into a movie.
The Return of Hanknspoon
TV writer Henry Tenney and I have worked together since our college days. He was one of my original roommates in this apartment building, back before the flood, a member of the Soho theater company I ran in the 1990s, and has been the front man for two bands I started, the Cheese Beads and the Highland Shatners.
And it was Hank who first started calling me Spoon, the name that eventually stuck when it comes to my musical persona.
This was our second collaboration writing a song for Bushwick Book Club, the previous song being created from Galápagos by Kurt Vonnegut. He also sang backing vocals on the tune I composed for the Book Club show based around Tennessee Williams' Cat on a Hot Tin Roof.
The next Bushwick Book Club performance will also take place at Barbes, October 10th. The book will be Light on Life, by B. K. S. Iyengar, the so-called Michelangelo of Yoga.