Since 1977 the Cornelia Street Cafe has enriched the cultural life of New York City.
For almost 40 years, this West Village mecca has provided delicious food and the unique, inspiring performance of music and the spoken word.
And it is currently proving as impressive and delightful an experience as ever, if not more so.
The Bill
Stopping by for an excellent meal, I learned about their summer Solo Fest, starting this week.
Each evening will feature solo performers, beginning with Amy Stiller on Wednesday, July 13, in "Just Think," a semi-autobiographical journey of the only non-famous member of a very famous family.
 All Solofest offerings are at 6 PM and cost $10, which goes to the artist, plus a $10 food or drink minimum.
That is a spectacularly great price for the chance to see Arturo O'Farrill, the multi-Grammy-winning composer and leader of the Afro Latin Jazz Orchestra, playing alone on the baby grand piano in an intimate setting. As he will on Friday, July 15.
And on Tuesday, July 19, the cafe's own Robin Hirsch will present "The Whole Word Passes Through" with tales of the many fascinating people, both famous and obscure, who have crossed the threshold of the Cornelia Street Cafe.
This former Oxford, Fulbright, and English-Speaking Union Scholar never disappoints when it comes to his prose or his extemporaneous storytelling.
The festival runs through July 27, with music, comedy, theater, and political satire. See the cafe's official website for the full line up and the many other performances taking place this summer.
 The Food
There isn't an item on the menu I cannot recommend. But my favorites include the kale caesar salad, with just the right amount of avocado and grape tomatoes; the smoked salmon plate with toasted bread, chopped red onion, herb cream cheese, and large capers on the stem; and the richly luscious sea scallops, when they have them.
My go-to entree has been the crusted salmon, which is always excellent. But I only recently had the chicken breast for the first time. Was I ever missing out? It is so tender and juicy and flavorful that it may make you rethink ordering more exotic fare when dining out around New York City. It really is that good.
 The Wine
Mr. Hirsch is understandably proud of the wine list, which offers some interesting and quite reasonably priced selections from around the globe, many of which you are unlikely to taste elsewhere.
I am a new and enthusiastic fan of the Skyline Red, from Idaho, of all places. This blend of several grape varieties is velvety to the point of buttery, with plump dark berries, and integrated oak that is spread throughout, rather than just providing the fruit bowl.
There is also the Cafe's own label, which appears on a refreshing chardonnay of grape skins, with orchard fruits ripening over time, and on a juicy plum of a pinot noir, both with nicely mild oak and extremely moreish.
And just last night I had a very interesting white wine from France – Perle Bleue, made with a grape used for Cognac and Armagnac. I am not by nature a white wine drinker, but this was extraordinary. Not sweet, but not particularly dry, it had a wisp of sea salt on the nose, and arrived on the palate like an ocean wave, with a vibrant splash that quickly subsided into a relaxing, lingering finish. Itself moreish, but in a curiously enigmatic way.
I cannot speak much to the beers. When people ask me if I am a beer snob, my reply of "Beer is an English word for something made in England by Englishman," usually shuts down the conversation rather quickly.
But the cafe currently has Bell's Two Hearted Ale on tap. This Michigan brew is one of best beers in America, with a medium body that is dry yet malty and buttressed by a crisp hoppy edge that remains firm but not overbearing. So it is on par with an English IPA and therefore not the face-puckering astringent grapefruit juice typical of American craft brewing.
The Spirit
But I of all people would be remiss if I did not mention they have some nice Cognac brandy available, which is reminiscent of typical cafe digestifs in France – grounded and pleasant at a decent price. And they also have Brenne, the French single malt whisky.
Made with French barely in French stills in the Cognac region, Brenne is aged in new oak from the Limousin forest, and finished in casks that had previously aged Cognac.
A pure malt spirit of high quality, it is hard to believe it is a scant 7 years old. The telltale toasted marshmallow and wood spice of French oak are further enriched with the orange zest, white pepper, and maraschino cherries of the cognac finishing.
Its youth is revealed by the bubble gum vanillins and lactones on the nose, and the relatively quick finish. However, single malt this young would normally be a blend of various casks, to cover up the rougher edges of immature spirit and smooth out the uncouth tannins. Brenne is bottled as single cask whisky! – astonishing, since it shows none of the harshness normally experienced in younger malts.
If you haven't already figured it out, the Cornelia Street Cafe is a veritable jewelry box of sensual pleasures and sensational Jazz, poetry, and other artistic expression. It is well worth the time if you are in Greenwich Village, and well worth the effort to get there if you are not.
Open every day except Christmas Day, with 700 shows a year.
But don't just take my word for it. Here is what Trip Advisor has to say on the cafe.
And that is one man's word on…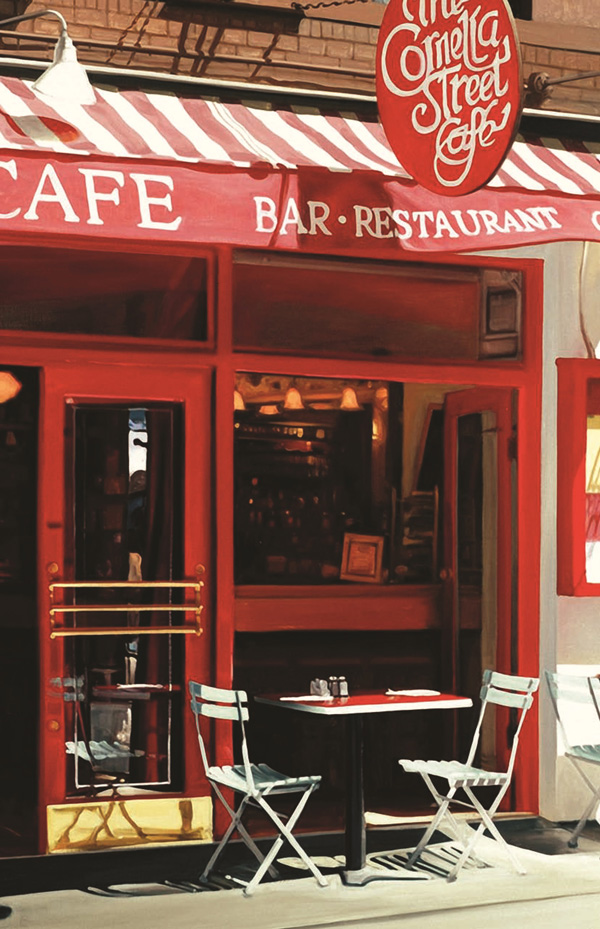 Painting by Stephen Magsig