Newsweek provides historical perspective on the impact of Thursday's devastating explosion and fire in New York City
A wonderful "obituary" of the block that has been decimated by Thursday's gas explosion
It housed a mayoral residence in the 1850s, reputedly a well-known speakeasy at the end of the Yiddish Broadway era, and of course the gear fab, retro kitsch and clothing store that was Love Saves the Day, which moved out of town in 2009.
"To see no building where there was a building was heartbreaking," says (LSD's owner Richard ) Herson, 68. "That was like the heart of the East Village, and I know it's going to affect a lot of people."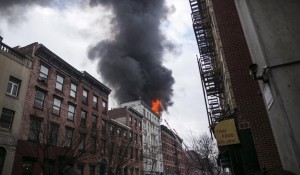 http://www.newsweek.com/slice-new-york-city-history-goes-smoke-317484
Thanks to Naomi Rosenblatt of Heliotrope Books for the link!