An after-hours reception was held at the Metropolitan Museum of Art last night, where an invited group of some 60 guests were treated to a private viewing of the exhibit Early American Guitars: the Instruments of C.F. Martin, which opened to the public earlier that day.
The exhibit is located in the museum's André Mertens Galleries for Musical Instruments, Gallery 684, now through December 7, 2014.
Trained in the Vienna style of guitar making championed by Johann Stauffer, Christian Frederick Martin emigrated from Saxony to New York City in 1833, where he set up business on Hudson Street, near the present location of the Holland Tunnel. By the 1840s he had moved to Nazareth, Pennsylvania, where his great-great-great-grandson, C.F. Martin IV currently serves as C.E.O. of the family business, one of the oldest in the USA. In time, C.F. Sr. experimented his way to inventing a guitar design that was uniquely American, and which evolved directly into almost every flattop steel-string acoustic guitar seen today.
Historic Display
This exhibition features the largest collection of Martin's work ever put on public display, culled from private collections and Martin Guitar's own museum, to augment instruments already at the Met. While Martins made before the Civil War are extremely rare, present are some of the most visually exquisite examples, many with ornate inlay and decoration, as well as the most historically significant, including the earliest known guitar to feature the X-brace pattern supporting the soundboard, ubiquitous among modern guitars, and the earliest guitar yet discovered that bears Martin's signature. Also included in the exhibit of thirty-five instruments are some made by other lesser known luthiers from America, as well as Austro-German and Spanish guitars with designs that influenced Martin's earlier development.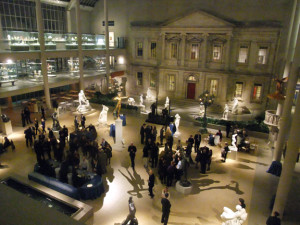 In addition to select museum supporters, in attendance was Kerry Keane of Christie's, guitarists Woody Mann and Craig Thatcher, veteran dealers in Martins and other guitars such as Stan Jay of Mandolin Brothers, Steve Uhrick of Musurgia, Fred Oster of Vintage Instruments, Buzzy Levine of Lark St. Music, Jim Bollman of the Music Emporium, and Matt Umanov of Umanov Guitars, along with luthiers Rudy Pensa, Steven Kovacik, and David LaPlante. It was LaPlante whose detective work recognized and established the likely influence upon Martin by builders of the Cadiz style of Spanish guitars, which evolved parallel to the Viennese style. His findings make up a key chapter in the new book that has come out in conjunction with the exhibit.
Published by Hal Leonard Books, Inventing the American Guitar: The Pre-Civil War Innovations of C.F. Martin and His Contemporaries is comprised of beautiful photography, and essays by several experts in nineteenth-century musical instruments. It also features a concise and most excellent forward by the Met's own Jayson Kerr Dobney, Associate Curator in the Department of Musical Instruments. Peter Szego, the mastermind behind the book, was also present for the viewing and reception. An in-depth review of the book is slated for later this month at onemanz.com.
Mystery Solved
During a chat with Chris Martin, he revealed to me that he had spent much of his life wondering how and why his illustrious ancestor made the leap from the Stauffer-style parlor guitars to his own unique design that gave rise to modern American guitars. It was only when the book project and exhibit came together that it became clear it was actually a three-point process. He began with Viennese guitars, started making Spanish guitars to appeal to a broader range of customers, and ultimately combined them with his innovative bracing patterns to arrive at the design that would instigate the evolution toward today's steel-string guitars.
"Now I understand why he used a fake Spanish foot!" Chris said, after thinking about the implications. "You know, he would put a Spanish foot inside the guitar, even though he was using a dovetail neck joint. So he would put in a fake one that didn't do anything. I guess because people who liked Spanish guitars probably wanted to see that feature."
 

Woody Mann and Matt Umanov

 

Martin Executives with
C.F. Martin IV and Peter Szego
(center two figures)

 

Nyke van Wyk and
Craig Thatcher
 Music with Mustard Seed and Cornichons
Martins of that era sported gut strings and were played by concert artists and discerning amateurs to perform classical music. Today, steel-string Martins are the premier choice of acoustic guitars for players of bluegrass, country, folk, and rock n roll. Modern Martins are represented in the exhibit by the 1939 000-42 that Eric Clapton used in his trendsetting performance on MTV-Unplugged, on loan from the Rock n Roll Hall of Fame. Another seen last night was found in the hands of Craig Thatcher, who performed on an Eric Clapton signature model, while the guests enjoyed the latter part of the evening conversing over a lavish offering of crudité, smoked salmon and local farm cheeses.
Additional Events
There will be a series of concerts in conjunction with the exhibit by recording artists like Rosanne Cash, and Laurence Juber, as well as free live performances in the museum's Charles Engelhard Court throughout the year. In addition, at least two educational programs are currently scheduled: How Did They Do That?; Early American Guitars will take place on March 8 and 9; and a Sunday at the Met presentation is set for March 16.
Acknowledgement
A very special thank you to Dick Boak, Head of Artist Relations at C.F. Martin & Co., for the invitation, and everything else he has ever done since the day he was caught taking scrap wood out of a Martin dumpster and given a job at the factory.
For more information on Early American Guitars: the Instruments of C.F. Martin go to:
Photo Gallery from exhibit, for those who cannot make it to NYC to see it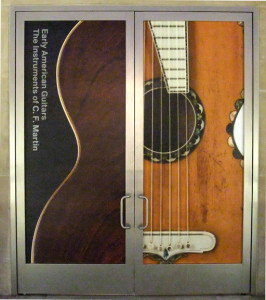 Related Reading:
Impressionists, Fashion and Modernity at the Metropolitan Museum of Art – a review
Martin Authentic Series – detailed reviews of exacting replicas of vintage pre-war Martins