Guitars by Randall Kramer continue to increase in popularity, as the luthier debuts two beautiful examples this weekend, at the Woodstock Invitational Luthiers Showcase.
Kramer, a California luthier known to his friends as Sparky, was visiting one of his customers in New York City last night, on his way to the big guitar show. So, I stopped by for a chat, and a look at these new and delightful musical instruments, made with some very interesting woods and design features.
Big Skye, Big Tone

(recorded on an iPhone)
First up, an example of his Big Sky model, reminiscent of a Gibson L-00 in shape, but 4" deep, with appointments that reminded me of the cowboy guitars from the pre-wear era, complete with white tuner buttons, ivoroid binding for the neck and body, and even for the inside of the sound hole ala the Larson Brothers.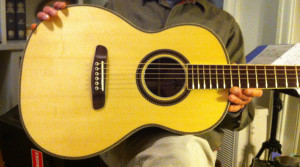 This particular Big Skye is made with highly figured mango wood, a relatively low density tonewood that could be comparable to walnut or perhaps mahogany, but looked like a reddish relative of koa crossed with sandy fiddle back maple gone a bit haywire. The neck is one piece of solid mahogany (he often uses book matched two-piece necks) and the fingerboard is made from reddish-brown cocobolo.
The top is high quality Italian alpine spruce with some lovely book matched rays but otherwise with that ultra-tight, creamy look. Brazilian rosewood was used for the bridge and some trim, like in the rosette, which also features a stunning double ring of rope purfling. The same is used for the sides and back strip. It looks like typical half-herringbone rope from the 1920s, until I took a good look and noticed the detailed marquetry that made it look more like something from a tapestry or mosaic tile work. Kramer said the extra width made the purfling very difficult to bend, so this may be the only Kramer you can buy with this particular inlay.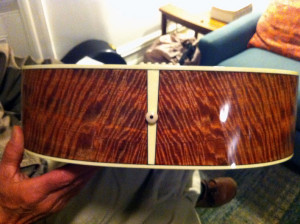 The guitar sounded huge for such a small size. It invited one to play with the absolutely lightest touch they could and reap the rewarded of such lovely tone, amazing response, and marvelous projection. But it had no issue with being attacked, and effortlessly turned into a blues machine.
While the overall voice might fit somewhere in the walnut or the warmer Koa side of things, it was unique, and oh so appealing. The trebles were really solid, with that fat ring one hears in the best maple L-00s, like a sonic glint off of bright, silvery chrome, but it had an undertone behind that, which came out of a midrange and bass that was notably warmer than maple and, again, had a more walnut or mahogany sort of richness.
As leaping as the trebles were, there was a wonderful relationship going on between the bass and midrange, and for a relatively small guitar, the low E string was never lost, but matched the powerful trebles quite nicely.
Great Basin, Great Harmonics
Second guitar was even more eye-popping. Kramer's Great Basin model is a small jumbo of about OM depth, and a lower bout a bit less than 16" wide. And this one is made with wonderfully wild Myrtle wood for the back and sides. No photo could do justice to the 3-D landscaping rising in curly waves across the book matched back. And for that matter the stripes on the curly maple neck also had a three-dimensional depth to them and looked like something on the moving hide of some exotic beast.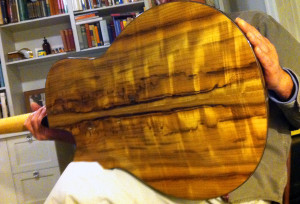 The top is made from Port Orford cedar, with spruce-like grain lines, and lush with cross silking, which Kramer looks for as a sign of perfectly quartersawn wood. Jet black ebony is used for the bridge, fingerboard and headstock faceplate. And Brazilian rosewood is used for the binding, the center of the rosette and the back of the headstock, which also features Gotoh 510, open back tuners. A fancy, leafy vine of silvery pearl inlay graced the headstock and more of the same surfaces across the the middle of the fingerboard.
This guitar had a pronounced bottom E string and a very strong treble. The midrange fit in between the two and carried well into the room due to the nice separation between each fundamental coming off the various strings. It sounded pretty and sophisticated, good for jazzy playing and lead runs.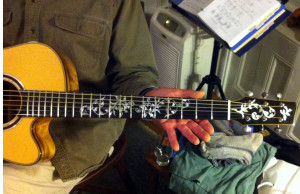 It was on the bright and sunny side of the tonal tree, and reminded me a bit of Tasmanian blackwood, only with a warmer bass, which was probably aided by the Oregon cedar used for the top. This particular cedar species (Chamaecyparis lawsoniana) comes from the valleys of the Klamath Mountains in southern Oregon and Northern California. It does not sound nearly as soft and diffuse as red cedar tops and more closely resembles spruce in looks, while having a bit more warmth and cedar-ish glow in the voice than Sitka.
The most marvelous harmonics sparkled when they were summoned by the clear, chimey fundamentals. But when I actually voiced harmonics they were breathtaking in their bejeweled clarity and fullness. People who love to play false harmonics up the neck could spend all day with this lovely lady and never tire of the charming conversation. Would that Chet Atkins had gotten his harmonic hands on this gorgeous guitar!
And that is one man's word on…