Author Jim Washburn opens the Martin archives to all, with Martin's Dick Boak.
"A scrapbook of treasures from the World's foremost acoustic guitar maker"
Thus reads the subtitle of this new hardcover book, published by Hal Leonard. And while it concerns treasures to be sure, "scrapbook" hardly does the work justice.
This delightful and engaging volume is a time capsule of Americana. It spans from the same year Andrew Jackson became the first President of the United States to ride a locomotive, and a certain Saxon immigrant arrived in New York Harbor with his young family, all the way to the present day, where that immigrant's great, great, great grandson is nearing retirement as Chairman of one of America's oldest family businesses, respected around the world for the product synonymous with quality and excellence, which they call America's guitar.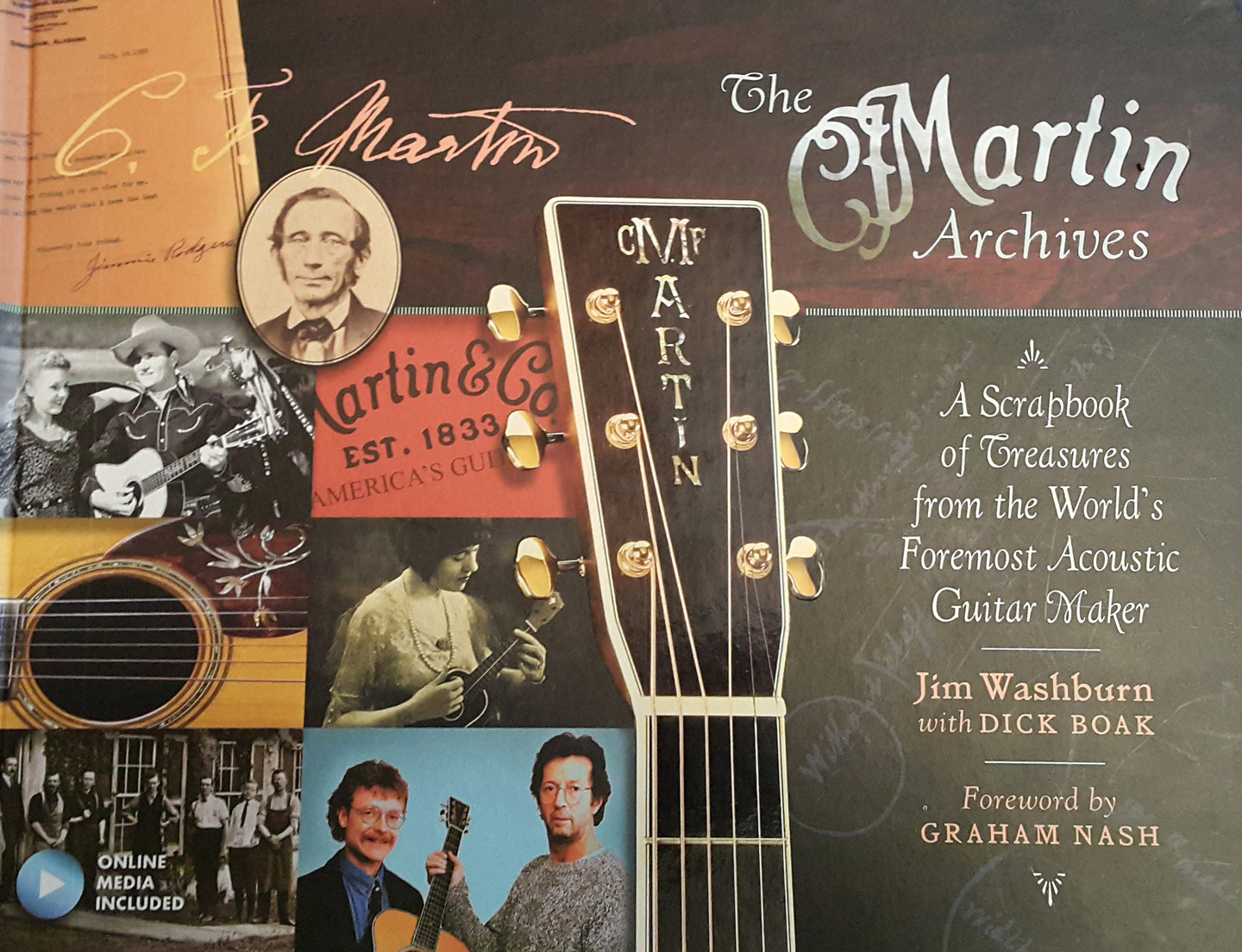 The original C. F. Martin emigrated from Europe on a wooden sailing ship in 1833, and opened his shop in New York City, before moving a few years later to the German-speaking community in and around Nazareth, PA. There he appropriated details from the Viennese and Spanish schools of luthiery to ultimately invent the American guitar. And in Nazareth, PA his decedents invented the designs we now think of as the modern acoustic guitar.
The company boasted 7 employees at the turn of the twentieth century. They were barely producing some three-hundred instruments a year. One hundred years later over 500 employees worked for Martin, and they just announced the completion of their two-millionth guitar this very week.
Printed on high-quality gloss paper and filled with unique photographs, including some of historical correspondence, The Martin Archives is less about the guitars made at the Martin factory than it is the people who made and sold them across the decades of three centuries, and the players who made music with those same instruments.
Some of those players are among the top superstars of their era. Others are from the common citizenry whose identity was lost to the passing years, except for a letter or photograph featuring their beloved Martin guitar or mandolin, luckily preserved in some box or envelope among the helter-skelter archives once littering the attic of the old Martin factory, and only recently set in order by people working at the new factory, like Dick Boak. His many jobs throughout the Martin organization have culminated with his current position as the company's archivist.
Also included are two frameable posters from Martin's past and a series of large, decorative envelopes affixed between the book's pages, which contain some fascinating swag.
When I first heard about these special features I imagined them as quaint novelties, similar to the "collectables" that come with a special edition DVD or video game.
Instead, they provided the reader an opportunity to handle some of the rare materials available only to researches with special access to the actual Martin archives, or at least they are meticulous facsimiles.
From an 1850s paycheck, to a 1960s retail marketing tag, great effort and craftsmanship was used to create these repro relics, and their inclusion allows a tactile immersion into the tale that unfolds from and about The Martin Archives.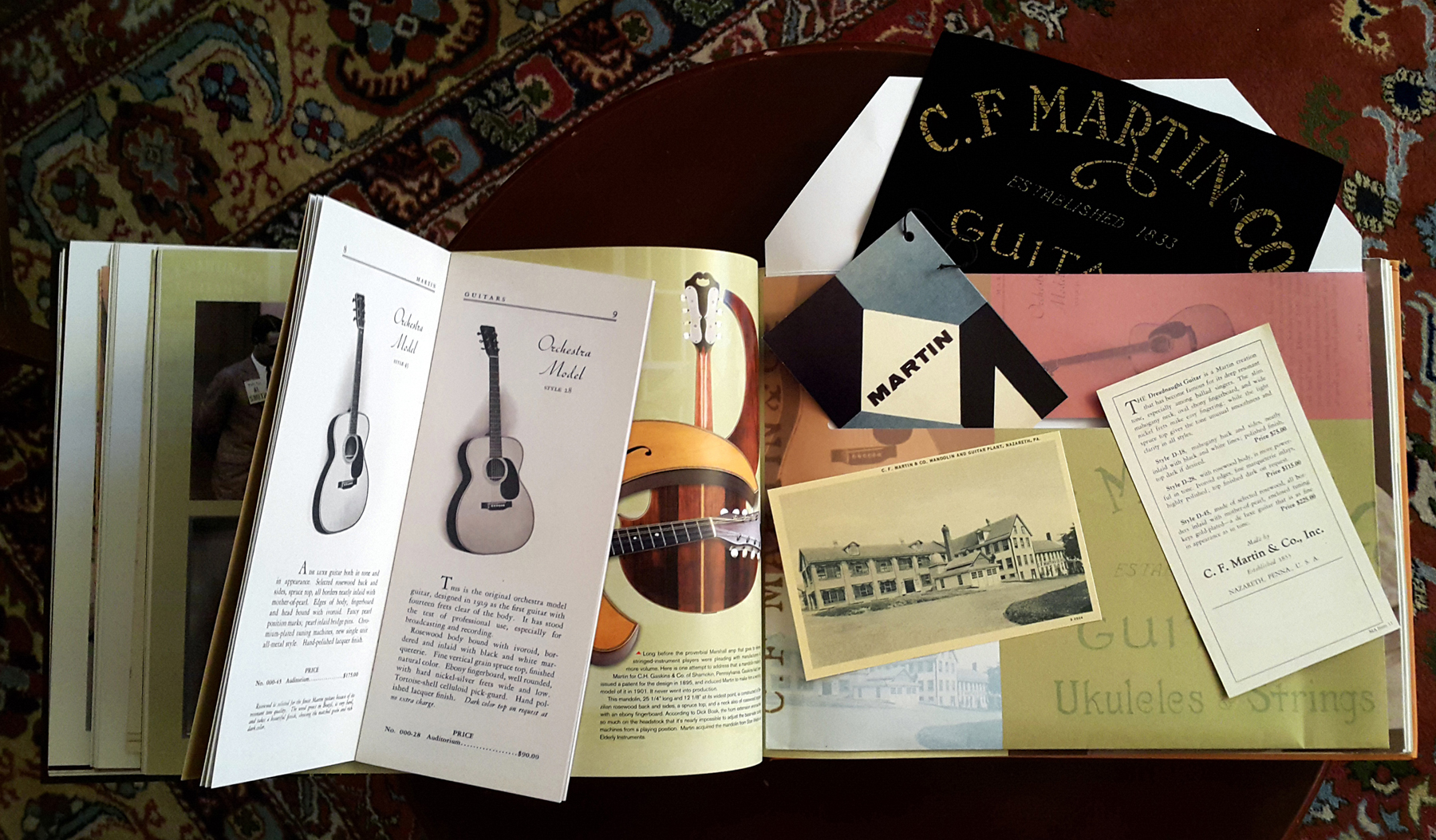 Among my favorites is the miniature version of the silk banner Martin's dealers displayed on their shop wall during the early twentieth century. And then there is the complete copy of Martin's catalog from 1929 and 1936, with beautiful hand drawn illustrations and a description of each model for sale from just before and just after Martin introduced their Orchestra Models, the first modern flattop acoustic guitars made with 14-fret necks and bracing expressly for steel strings.
All in all, these archival reproductions allow an evocative time traveler's tour that could not be obtained through written copy alone.
But it is the entertaining and informative text that brings it all to life.
The affectionate forward was written by folk-rock icon Graham Nash. The preface is by Dick Boak, with an additional message by C. F. Martin IV. And then the author takes over. Jim Washburn weaves a captivating tapestry of a company's fabled history, sewn with precious gems mined from the Martin archives and the broader American saga they illuminate.
Frequently, Washburn provides the historical context of American society contemporary to various items and events preserved within the Martin archives. For example, as Christian Fredrick Martin Sr. opened his business in New York City, a 24 year old Abraham Lincoln was serving his country as postmaster in the little Illinois prairie town of New Salem.
And when nineteenth-century guitar teacher Justin Minor Holland typed a letter to Martin from his job in the New Orleans Customs House, few people had access to such newfangled machines as a typewriter, made obvious by a letter written with a pencil some decades later, from Country Music legend Maybelle Carter.
Washburn's prose flows over 100 pages with a conversational tone that reveals his genuine respect and affection for the subject matter. And sprinkled throughout is a sense of humor that had me chuckling aloud, as when he comments on a photo of a Martin Guitar parade float from 1940, by saying "Yes, it looks a little like a dog's head pushing through a cake's frosting, but this wasn't the Rose Bowl."
But as the author states in his acknowledgements, if it weren't for Martin's current archivist there wouldn't be any Martin archives to mine for such treasures, so Washburn could write about them. In effect he is putting into flowing prose the mine and mind of Dick Boak.
Boak was groomed for the position when he first joined the company and became a sort of archivist protégé to the revered inlay artist Mike Longworth, whose tenure at Martin resulted in the very first book ever written about a guitar company, back in the 1970s. Boak recently co-authored a greatly expanded version of Longworth's book, with Richard Johnston of Gryphon Stringed Instruments in Palo Alto, CA, who was also co-author of a very good history of the Martin Company with Jim Washburn.
And now Washburn and Boak have teamed up to produce this wonderful offering, which gives a healthy taste of the immense amount of discoveries made within the Martin archives by modern researches like Canadian Greig Hutton, who continues to digitize and investigate thousands of pages of ledgers and letters, business documents, photographs, and all sorts of practical memorabilia.
Like the letter from the early 1900s recently discovered, which revealed exactly how Martin achieved the gloss finish on their guitars at that time. It confirmed once and for all the rumored practice of having a high gloss finish on the top of the line guitars made with fancy pearl trim, and a gloss finish of a lesser sheen on guitars made with less-expensive styling, which Martin now calls Vintage Gloss as they apply it to certain guitars in their Authentic Series of exacting vintage Martin guitar reproductions. And they are using the same technique to achieve it as explained in the letter.
That is just one example of the arcane knowledge that had all been stowed away and frozen in time, but is finally making its way out into the wider world, where scholarship continues to improve our understanding of what actually went on inside the Martin Company across the decades.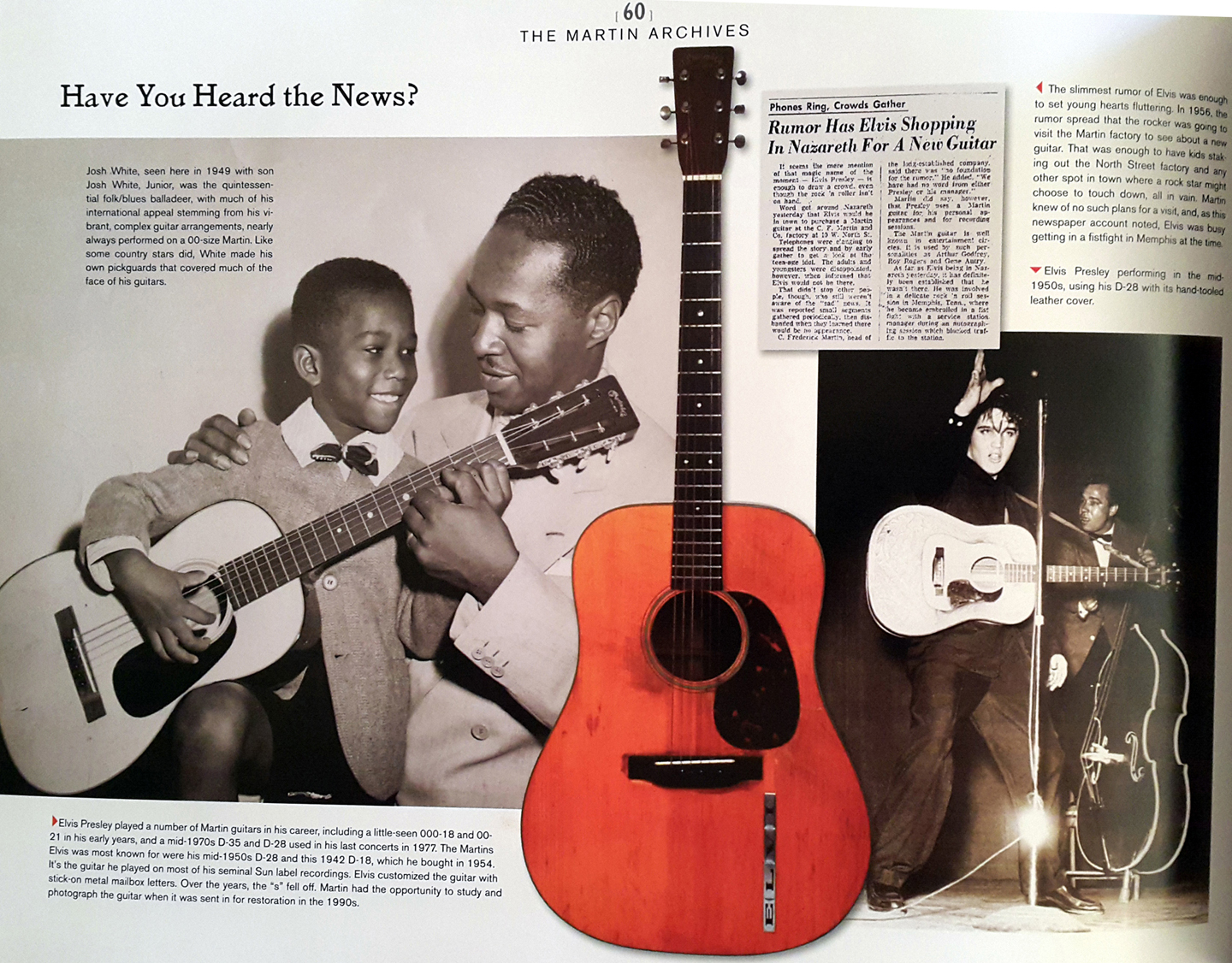 But the humanity that produced the archival content comes through it all, to lead the reader through the years, as Martin goes from a rural and rustic artisan's workshop to an influential company impacting the worldwide musical instrument markets, and the living Martins and their employees are born, grow old, and die, to be mourned and revered by further generations.
Yet always represented are the people who play and love their Martin-made instruments, including soldiers who survived the cataclysm of America's greatest wars and took comfort in music made on Martin guitars. And others who wooed and won their true love with the help of a serenading Martin guitar – the only thing guitars were good for, according to some snooty nineteenth-century critics of the instrument.
And of course there are the kings and queens of popular music, from the Father of Country Music to the King of Rock n Roll, to the youthful platinum-selling recording artists of today and whatever their music will be referred to a hundred years from now.
This book and the Martin archives it concerns aren't just the story of one of America's oldest family-owned companies, or the family that invented the modern acoustic guitar. It includes the story of 183 years of other American families, and the individual stories of countless people whose lives made up the living nation from 1833 to the present day, each one having some connection or contact with C. F. Martin & Co., makers of America's guitar.
If you are lucky enough to have received a gift card this holiday season from one of your own family members, to spend on anything you wish, The Martin Archives should prove a most enjoyable volume for you, or anyone who has an interest in history, Americana, popular music, and of course acoustic guitars.
But for those with an affinity for Martin guitars in particular, it is indeed a treasure trove deep and rich, lovingly written, entertaining and engrossing to read, linking the illustrious past with the vibrant present and promising future, and enlightening for even the most seasoned fan of Martin lore and Martin's continuing legacy.
While this review may be too late for Santa to deliver a few copies of The Martin Archives on his rounds, Chanukah is just getting started, and the Twelve Days of Christmas don't end until January 5th. The enjoyment found within its pages will last much longer, regardless of when you read it.
That is one man's word on…
The Martin Archives by Jim Washburn with Dick Boak