Two Days of New Martin Guitars
My exclusive look into no fewer than twenty-four new Martin models released for Winter NAMM
2016 Martins reviewed at One Man's Guitar
More than double the typical January offering of new Martin guitars for our listening pleasure
Thursday, January 21, 2016, the Winter NAMM Show opened in Anaheim, California. And while Martin dealers converged on that sunny clime to place their orders for these budding beauties, I made my annual pilgrimage to chilly Nazareth, PA, home of C. F. Martin & Co., est. 1833.
There, I could actually hear what these new Martins sound like, far from the white noise of the vast trade show floor.
I arrived early in the morning, but had to wait until NAMM opened its doors out in California before Martin would reveal anything. That gave me time to have my customary lunch with Tim Teel, Director of Instrument Design at CFM, and Michael Dickinson, Martin's intrepid, globe-trekking, jungle-conquering wood buyer.
I had a lot of questions for both, and heard some interesting, entertaining, and at times surprising answers. Many will be recounted in my reviews of the 2016 new Martin guitars, which will appear here starting this week, and for many weeks to come.
In the mean time, you may enjoy the sneak preview videos at the bottom of this report.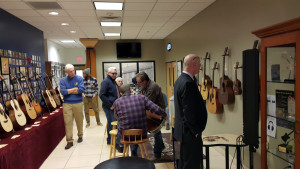 Martin Guitar factory tour-takers check out the new models.
While tis true Martin goes to NAMM with what they feel is the better of the two production prototypes, the runners up are still very special instruments made by one of the oldest family-owned businesses in the USA, with the brand all other acoustic guitars are compared to. And it is a privilege and quite a treat to be able to get my hands and ears into the same room with them.
Well, most of them, anyway. The number of 2016 models required that I stay overnight and come back on Friday. And even then I couldn't see everything. I would have been back on Monday, but the blizzard sent me home before my work was done.
There are so many new Martins that they didn't have room to display them all. But once I was behind closed doors, an extra case or three was located and opened so that I might share the contents with my loyal readers, as time goes by.
New Guitars of Accustomed Excellence
As expected, the two new members in the Authentic Series of meticulous vintage Martin reproductions are exquisite. So too is the newest member of the Custom Shop Series, the Limited Editions, and the NAMM Show Special guitars. And I expect to focus on reviewing most of those instruments first and foremost.
But it is the wonderful additions to the Standard Series, 17 Series, and 15 Series that will be selling far and away the most new Martin guitars to the most guitarists, and making them all very happy indeed.
And when I say new Martin guitars, I do mean brand spanking new Martin guitars.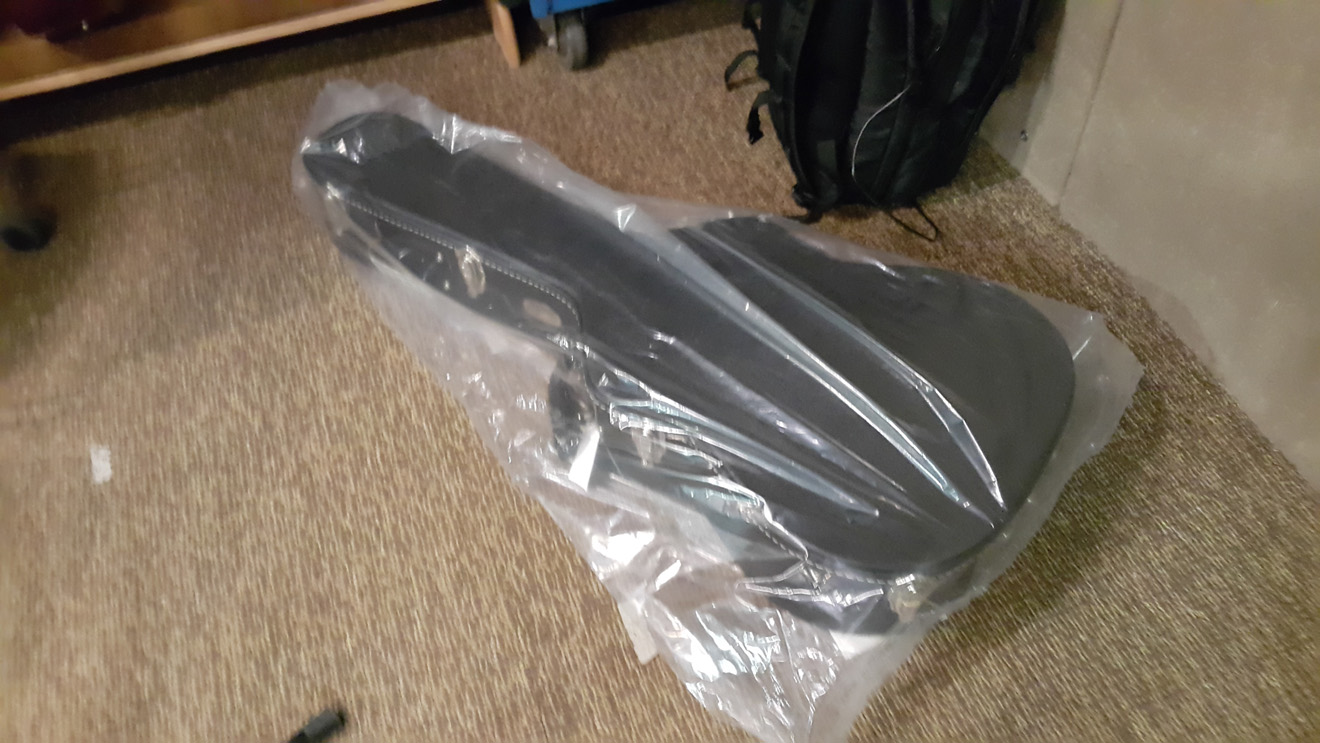 .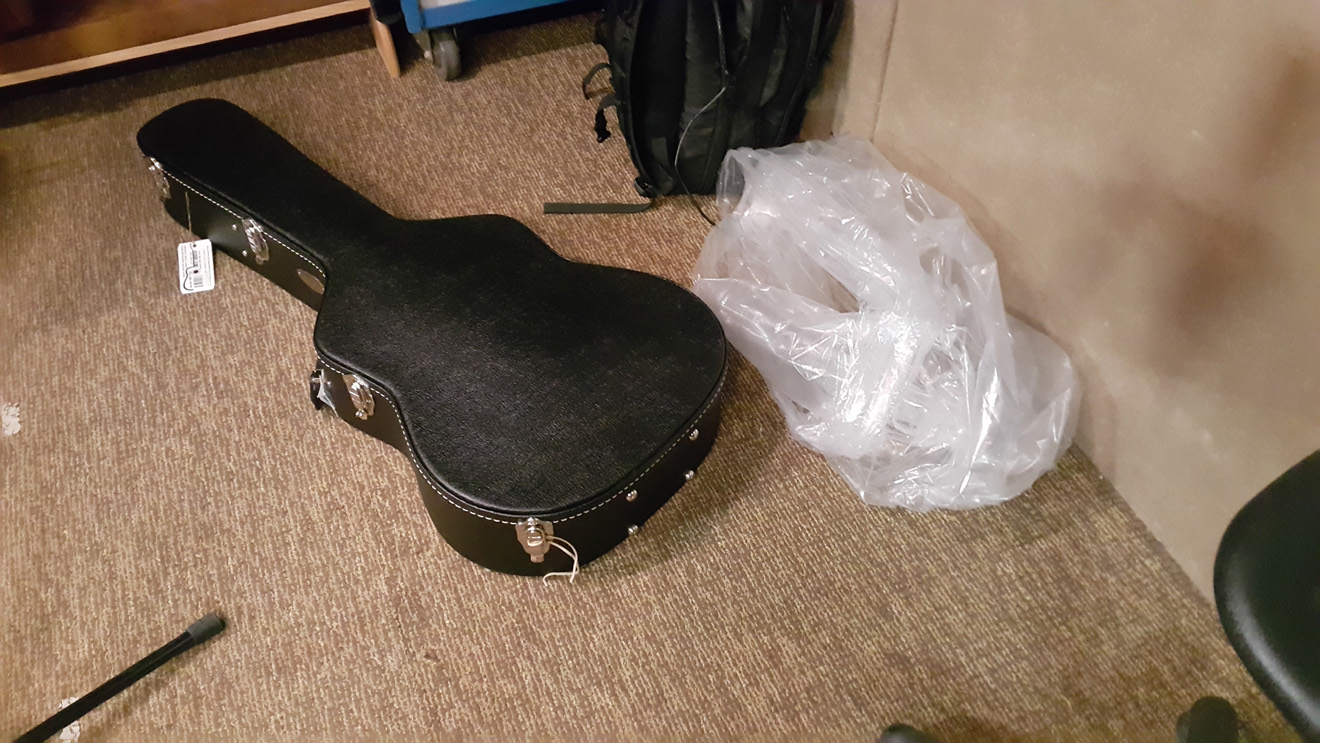 .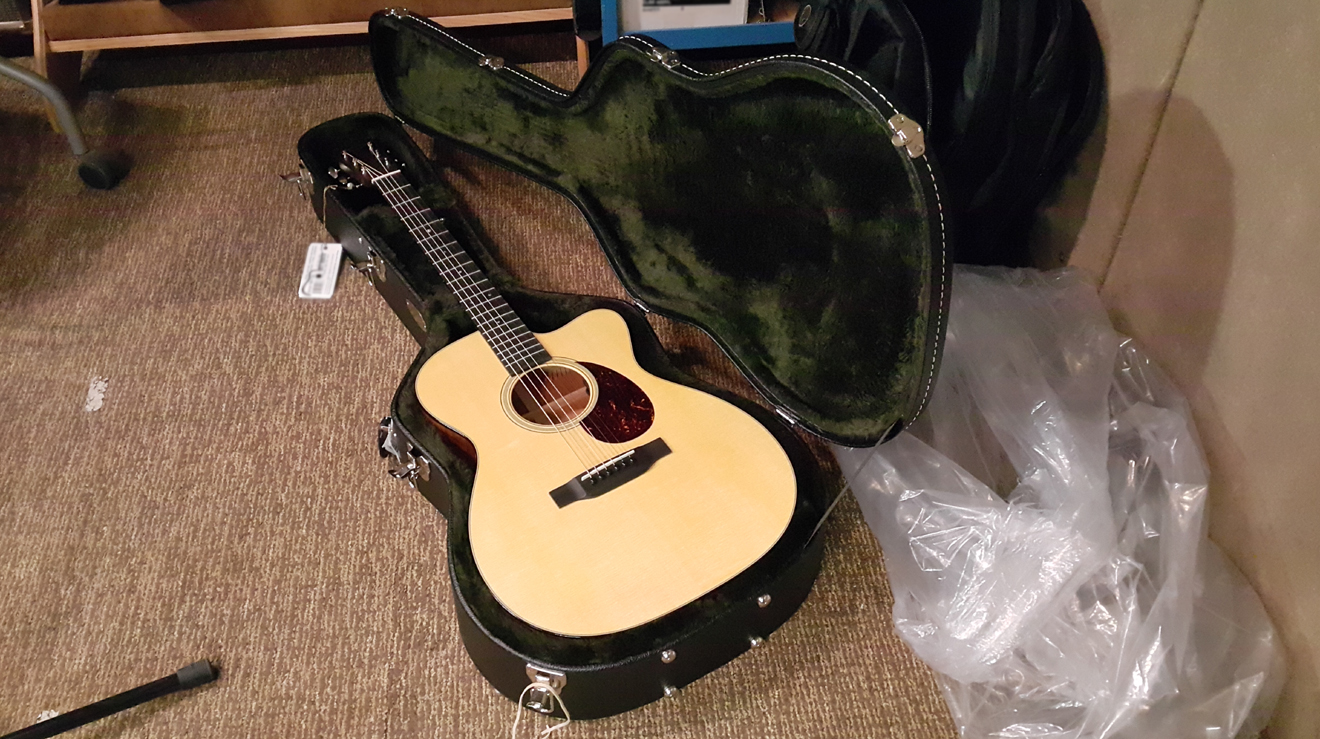 .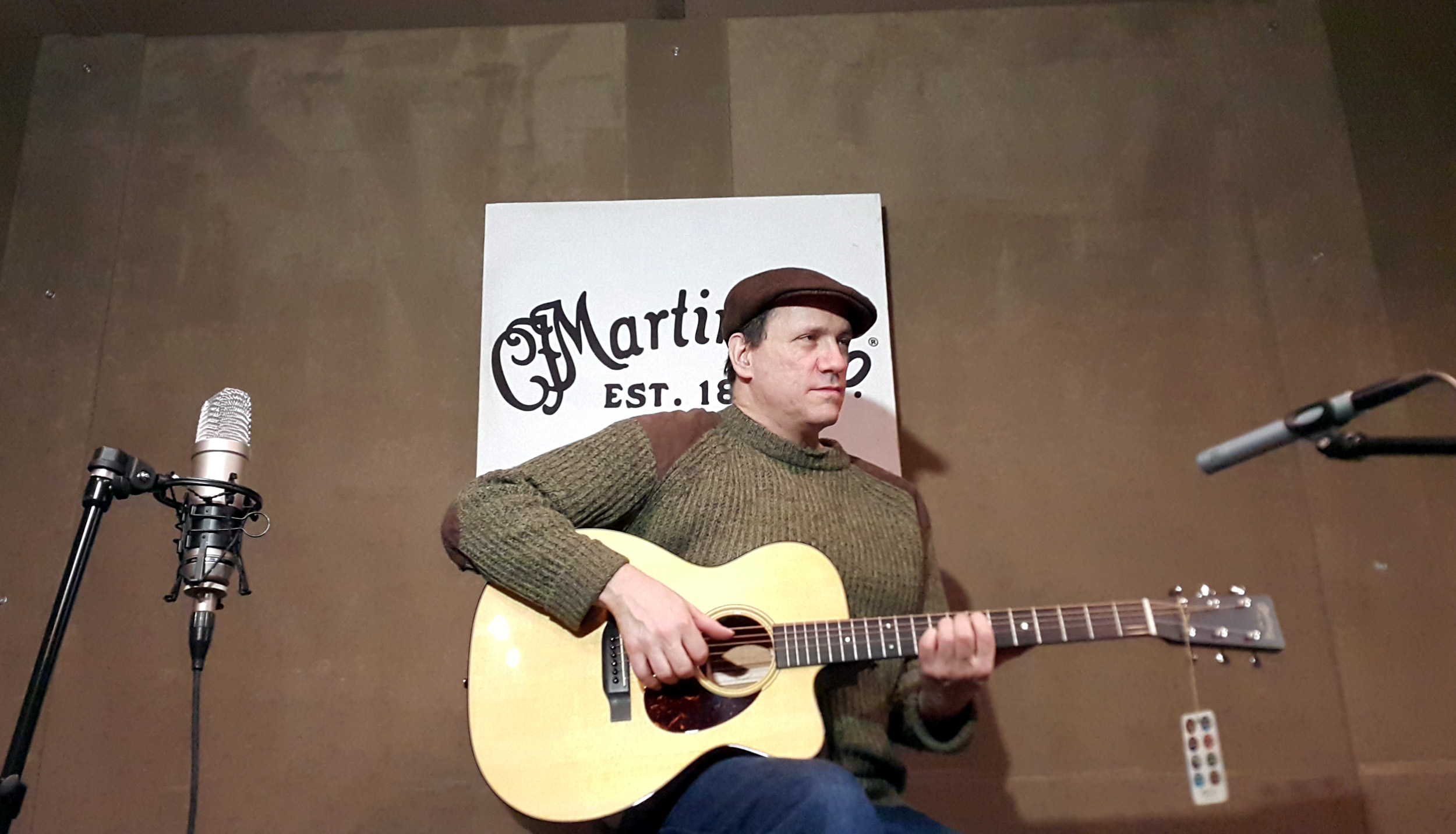 The Standard Reaffirmed
The OMC-18E pictured above is the first OM made in Style 18 to appear in Martin's main product line since 1933.
OM stands for Orchestra Model, which refers to the body size and its 14 frets free from the body design, invented by Martin in 1929. It revolutionized the acoustic guitar world as the first 14-fret flattop designed especially for steel strings.
The C and the E in this new model name stand for the Cutaway on the treble side and the on-board Electronics. The 18 stands for Style 18, which includes a back and sides made from mahogany.
A mahogany OM in the Standard Series fleet of ship-of-the-line, professional-level guitars is a clear sign that Martin's focus is returning to the core of what they have always done best.
As they reaffirm a commitment to the quality of construction and the classic designs that made Martins legendary, they have also declared a decided commitment to contemporary professional guitarists and semi-professional guitarists who perform regularly in halls, theaters, clubs, and outdoor festivals, as well as those amateur enthusiasts who wish to play the same kind of guitar the pros do.
There are nine new models in the Standard Series. All of them are acoustic-electric guitars with a cutaway body for access to the uppermost treble frets. But unlike other acoustic-electric cutaway Martins, these guitars are all made exactly like the other Standard Series models.
Each has the same all-solid wood construction and the same world-class materials, and the same traditional hand-fitted dovetail neck joint that C. F. Martin Sr. used since he first apprenticed as a luthier in Vienna in the 1820s.
Getting Back to the Future Basics
There are three body sizes amongst the new nine; a traditional Martin Orchestra Model, a traditional Martin Dreadnought, and for the first time in the Standard Series, a Grand Performance body size, which was inspired by the "small jumbo" models invented elsewhere in recent decades. In fact, Martin's GP is almost identical to Taylor's Size 14. But with various differences in overall construction, the two do not sound all that similar, especially where the new Standard Series GPC models are concerned.
Each of these sizes is available with a back and sides of genuine South American mahogany via Standard Style 18, which recently underwent a makeover to more resemble Style 18 of the 1930s. And they are available in East Indian rosewood via Style 28 and Style 35, both of which had their current specs codified in the late 1960s.
Each has Martin's modern High Performance neck, which is sleeker and has a narrower fingerboard and string spacing than vintage Martins.
And each has an improved version of Fishman's VT electronics, which stands for the Volume and Tone controls that are hidden just inside the lip of the sound hole. Or I should say an "enhanced" version, since it is called the VT Enhance.
There is now a third control for an innovative soundboard transducer that gets blended into the signal of the undersaddle pickup for a more three-dimensional sound that also amplifies percussive techniques, as when a guitarist taps on the top or fingerboard. And each model has a Fishman Aura microphone image built into the preamp, which uses complex engineering to make the plugged-in guitar sound more like an unplugged acoustic heard through a high-quality microphone.
All of this is achievable without a guitarist needing to read a manual or do more on stage than plug in the guitar before they start playing music.
The three OMs are made with ultra-responsive scalloped 1/4″ braces that, in combination with a long-scale neck, define an OM, which otherwise has the same body size as a Martin 000.
The Dreadnought and Grand Performance versions have the same bracing as the Standard D-18, D-28, and D-35, respectively.
This means the DC-18E and GPC-18E have scalloped 5/16″ bracing, the DC-28E and GPC-28E have non-scalloped 5/16″ bracing, and the DC-35E and GPC-35E have non-scalloped 1/4″ bracing. So not only do they sport a different look from the other styles, they sound differently, with unique responsiveness and dynamics.
The published spec sheet of the GPC-35E said the model has 5/16″ braces. I mentioned this to the guys from R&D, and they assured me that it is a typo, which should be changed to 1/4″ eventually.
These nine new C-E models in Style 18, 28, and 35, means that Martin has planted their banner firmly in the Standard Series, and it points to a future where they stand by their refreshed commitment to professional guitarists who want classic Martin guitars augmented by the progressive features of a fast, modern neck that is matched to a cutaway body, and excellent on-board electronics that are simple to use.
And yet, they are but nine of twenty-four new models to appear in the Martin catalog for 2016.
17 Series Time Machine
Martin has a history of resurrecting styles from the past with new and different specs. During the 1920s and '30s, Style 17 consisted of lower-priced mahogany Martins made with mahogany tops. But bygone versions of Style 17 had spruce tops.
Martin has combined the two ideas to offer all-solid wood Martins with Sitka spruce tops that have a bare bones construction and aesthetic, to achieve an affordable price. After a couple of years trying this out, they have given the 17s a makeover and the new ones should prove mighty popular.
The large D-17 and 12-fret 000-17S remain with their reddish sunburst look. But they now have six siblings, consisting of three smaller body sizes new to the 17 Series, in two brand new cosmetic packages.
There is a 12-fret 00 with a solid headstock (!), which is adorably little but amazingly loud and barky. There is also the 14-fret slope-shouldered 00 size (now called the 00L for "Larger") that debuted on the popular CEO-7 model. And there is a traditional short-scale, 14-fret 000.
Each of the new sizes is available in either Black Smoke, with an all-black body and white trim, or Whiskey Sunset, which has a lighter, oranger color scheme compared to the CEO-7 or the earlier 17s. Each has the same High Performance Neck and corresponding string spacing found on the new Standard Series models.
These are delightful guitars, made very light in weight, with solid Sitka spruce tops and a back and sides of "solid mahogany" (Martin's code words for members of the mahogany family that are not from South or Central America.) And they have an ultra-light finish, like barely a micron, and no pore filler, so they feel like an old guitar to the touch, not just in terms of weight or looks.
Clearly the goal here is to resurrect the well-loved budget guitars from the Depression Era, that could be obtained through mail order catalogs from all sorts of makers and brands, back when Martin was focused only on radio stars and classical concert professionals, so that even their least expensive model was exclusive. And today's C. F. Martin & Co. has done a surprisingly good job! These are the kind of "People's Martin" that Woody Guthrie would have loved.
Each guitar, the 00-17S, 00L-17, and 000-17, has its own dynamics and personality. The 12-fretter sounds the most old-timey. The 00L with a shape similar to Gibson's Size L has the most straightforward and punchy voice. And the tone of the 000 is the most spread out and complex overall. The whole 17 Series makeover is remarkably successful in concept and execution.
15 Forward
The 15 Series has long been the home of "best bang for the buck" Martins, with a construction of solid mahogany for the back, sides, top, and neck, and simple appointments and bracing that allow Martin to keep the prices down and offer a lot of tone for the money. Like the 17s, modern 15s have benefited greatly by the development of Martin's Simple Dovetail Neck Joint, which is a vast improvement in terms of tone compared to its predecessor.
But unlike those throwback 17s, this year's 15 Series offerings are cutaway acoustic-electrics, the DC-15E and OMC-15E, with the Fishman VT Enhance system.
It is not unusual to attend a night of gigs at a New York City venue and see a Martin from the 15 Series. But with the emergence of these new C-15E models? I believe it will become even more common place.
The OMC-15E I played was absolutely lovely and the model is priced to sell very well indeed. But don't just take my word for it. Give it a listen in the sampler video below.
Regrets
I will confess to some heartbreak beyond not playing all the models, or getting good photos of some I did play. It turns out my video camera was going in and out of focus during several recording sessions. I had turned the overhead lights up as high as they would go, and I think the glare may have confused the sensor on the camera.
And the Martin factory is booming these days, literally. There was more factory noise that got into the relatively soundproof room than ever before, which required me to use some noise reduction on the audio mix. This squelched some of the detail within the voice of each guitar, especially in the bottom end. As such, the guitars in the videos below sound more alike than they actually are in person.
But it was still a worthwhile endeavor, and I have a great deal I can write about for many weeks ahead, even if the videos will not be as polished as in previous years.
And that is one man's word on…
Two Days of New Martin Guitars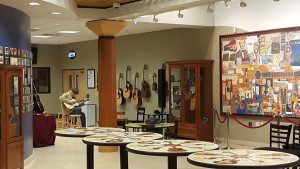 This lucky guy has all the new Martins to himself.
Reviews of individual guitars will be posted throughout 2016 and links will appear here, and elsewhere at One Man's Guitar.
Here are the Sampler Videos of the 2016 new Martin guitars
~