Martin Wows NAMM 2020 with the Ultramodern SC-13E
The first 13-fret Martin model offers ergonomic versatility in a beautiful, cutting edge acoustic-electric guitar
SC-13E specs include: New 13-fret asymmetrical S body size with deep scoop cutaway; fine koa veneer back and sides over solid Khaya core; solid Sitka spruce top; unique asymmetrical Tone Tension X-bracing with partial scalloping; new heel-less Sure Align neck with new asymmetrical ergonomic Velocity profile; solid ebony fingerboard with High Performance Taper; new solid ebony sloped belly bridge with 2-5/32" string spacing; new Road Series Style 13 appointments unique to this model; faux tortoise asymmetrical teardrop pickguard; chrome Grover open back tuners; Fishman MX-T electronics with onboard tuner. Comes with a waterproof, plush-lined gig bag.




"Not your grandad's Martin, the SC-13E is an ultramodern acoustic-electric guitar of tremendous versatility and unmatched player comfort. Its advanced ergonomic design is ideal for extended playing sessions, and its innovative shape and bracing create a satisfying tonal balance that is good for countless musical styles."


January 15, 2020 (Revised July, 2020)
At three o'clock today, Pacific Standard Time, C. F. Martin & Co. unveiled to the public the SC-13E. With its revolutionary asymmetrical S size, deep angular Cutaway, and the attractive updated Style 13 appointments, this acoustic-Electric guitar introduces to the world the first new Martin-invented body size in 86 years.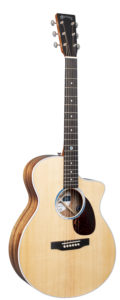 While other recent  models have bodies that were inspired by older designs reaching back to the 1930s, Martin's S body size is the basis for a truly original, ultramodern twenty-first century acoustic guitar with the versatile playability of an electric guitar. It is paired to a fast, comfortable neck with access to the entire fretboard, thanks to its incredible new technology that eliminates the heel from where the neck meets the body.
The SC-13E offers electric guitarists an acoustic guitar that works seamlessly with all of their complex stage gear. Its singular shape and defined unplugged voice will appeal to acoustic purists as well, because of how effortless it is to play for extended periods of time, while providing excellent balance in tone and weight distribution.
Martin has introduced this new body size in Style 13, with a price point accessible to any working musician, and construction features that achieve pleasing unplugged tone while helping reduce the sort of high-volume amplification issues inherent in most acoustic guitars. Its stunning good looks include Celestial blue inlay as part of the top trim, the avant-garde Aperture sound hole rosette, and the matching bullseye position marker at the 12th fret, as well as some seriously gorgeous tonewoods.
The back and sides feature primo Hawaiian koa, laid down as a fine veneer. Photographs can't do justice to the 3D holographic tapestries of grain, woven from hues of pepper-flecked cinnamon, honey, and amber, with glinting rays of golden thread that sparkle from under a crystal-clear, high gloss finish. Breathtaking!
Beneath the veneer is an interior core of solid Khaya ivorensis from West Africa, which is nearer to tropical American mahogany in hardness and specific gravity than other African wood. That is why furniture makers have called it African mahogany for centuries, and why luthiers have used it for many years to make acoustic guitars, electric guitars, and classical guitars. This building technique was also used to make the original Road Series Martins and returned on the Style 12 koa models this past year. It allows for great looking wood on the outside, while having a Khaya core for strength and stability.
The SC-13E's soundboard is solid Sitka spruce from the Pacific Northwest. And on a top this wide it is nicely flexible and resonant. But some of that has to do with the special bracing that was developed for this specific body.
New Martin for the New Decade
Fred Greene, Martin's Vice President of Product Management, wanted an asymmetrical production model for some time now. According to various Martin insiders, the development team explored fresh concepts and back burner experiments that had simmered in the R&D department for years, to arrive at the prototype stage.
Many elements that made it to the final version of this exciting guitar are new to the general public, including the name. For the first time in Martin model history, the S signifies the actual body shape, rather than it being an initial, as in D for Dreadnought, or J for Jumbo.
Tim Teel, Manager of Instrument Design, said the naming was as simple as noticing the S apparent in the fluid curves he kept sketching during early brainstorming. As he put it, "In the end, I feel the S stands for whatever the player decides it stands for, on a personal level. Maybe it will stand for Stage, or Studio, or Stadium, or Solo, or Sexy, or Shredder. It is such a versatile musical instrument; it will earn every one of those designations, and more."
The S could also stand for the Serious versatility that will earn many fans among rock and jazz players who wish to perform on an acoustic guitar without compromising their technique and style. A broader spectrum of guitarists will embrace its comfy contours, which are unique from all other Martin body sizes or anyone else's body sizes for that matter. It feels right at home in the lap, resting on either knee. And it's superbly conducive to playing standing up, with a strap button installed on the bass shoulder, so the hand remains unhindered in the upper frets. The many Martin firsts making up the SC-13E can be seen from stem to stern and everywhere in between. Others are hidden inside.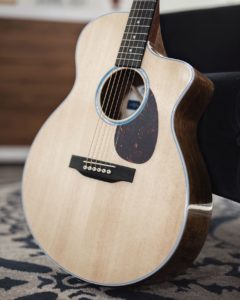 It is fitting that the SC-13E was released in the Style 13, atop the affordable Road Series. This is Martin's first 13-fret model. Rameen Shayega, International Design Manager, said that most every aspect of this project was informed by the needs and feedback of a great many guitarists. "One of the first elements we focused on was the position of the neck joint. We split the difference between Martin's original 12-fret designs and the later 14-fret designs more prevalent today, to make it extra-comfortable for more guitar players."
Guitars with thirteen frets free from the body existed before and after Martin introduced the first modern 14-fret acoustic guitars in 1930, the fabled Orchestra Models that transformed steel-string guitar design ever afterwards. However, this 13-freter is anything but a throwback to the old days. It is all about playing thoroughly-modern lead guitar, something Shayega does very well indeed.
Guitars with 13-frets free from the body existed before and after Martin introduced the first modern 14-fret acoustic guitars in 1930, the fabled Orchestra Models that transformed steel-string guitar design ever afterwards. Martin also tried out 13-fret guitars back in the day, but as one-offs, never as an actual catalog model. However, this 13-fret guitar is anything but a throwback to the old days. It is all about playing thoroughly-modern lead guitar.
Placing the shoulder at the 13th fret moves the far end of the fingerboard closer to the guitar's body, making the 25.4" long-scale neck feel more like a short-scale neck, while retaining the potential energy in long-scale string tension. The roomy cutaway starts at the 17th fret and slants downward, so all 20 frets are within easy reach. The distance between the highest frets remains unchanged, so the fingers do not encounter the traffic jams found on a short-scale guitar, a persuasive selling point for those who need a cutaway as often as I.
The 13-fret neck is a major factor in the comfortable feel of what is not exactly a small instrument. The full length is 40-1/2" (same to Size D,) while the body length is 20-3/8" (a smidgen longer than Size M.) At its widest it measures 15-1/2" (closer to Size GP than OM.) The roomy cutaway starts at the 17th fret and slants downward, so all 20 frets are within easy reach. The asymmetrical silhouette shifts the bass side toward the neck and the treble side toward the lower bout. This means less of the sound chamber's cubic volume is eliminated by the cutaway, while making the body seem shorter than it actually is.
Since it has the same shallow side depth as a 14-fret 00 and 000, 4-1/8"at the deepest point, cubic volume is as important to tone production as the body shape is to player comfort. The SC-13E's ratio of body depth to top width adheres to the best Martin traditions, even on such a non-traditional Martin guitar.
And then there is that astonishing physical poise. Unlike typical acoustic guitars, the overall weight is centered directly on the neck joint. It hangs from a strap perfectly balanced between the headstock and the end block. As a result, the potential for full-fledged Elvis dancing and Van Halen fretboard tapping is through the roof.
The basic shape came together rather quickly during the evolution of this new Martin model. It was the details surrounding the bracing and neck that took a lot of experimentation.
A New Neck for the New Martin
The select hardwood neck is attached to the body by the trademarked Sure Align neck joint, which is a noteworthy departure from previous Martin luthiery. Where the shoulders meet the neck, the conventional obstacle of a heel is replaced by a radical concave scoop, for truly unfettered access to the entire fretboard. In other words, it is an electric guitar neck that actually works on an acoustic guitar – a holy grail for many musicians.
The wooden neck block is meticulously sculpted from solid African sipo to accommodate the 4mm two-way adjustable neck rod and the components of the Sure Align mechanism, fashioned from a lightweight alloy. The wooden neck has an embedded metal shaft that fits onto the neck block's movable metal tongue. Adjustments are made after loosening two bolts, one of which is accessed by way of a small decorative port on the back (requiring a long slender tool designed to reach all the way up to the neck joint.)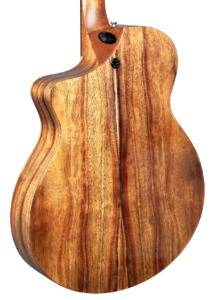 A guitar technician can raise or lower the action within official Martin specs by replacing a prefabricated shim in the dedicated slot just beneath the fingerboard. Micro-adjustments to the intonation can be made without loosening the bolts, via an Allen wrench inserted into a small slot on the treble side of the truss rod, something that could be done at home by the owner if they are accustom to traditional neck rod adjustments. Although, I should point out, Martin recommends all neck setups be done by a trained professional.
The strings on the SC-13E are set for "ultra-low" by default, compared to the old-timey Martin action I am used to hammering away at. But then even the traditional Martins are sold with lower action than I normally prefer. But a variety of shim sizes are available for players who prefer their strings farther from the frets.
The SC-13E ships with Custom Light gauge strings that have a .11 treble e string, making this new Martin respond and perform very much like an electric guitar. But that is not a bad thing. It provides a relaxed playing experience that is fun and rewarding, with full-step Jimi Hendrix bends and waggling Yngwie Malmsteen vibrato that simply cannot be accomplished with heavier gauges.
This modern marvel of a neck must be experienced to fully appreciate its virtues. And yet, for all its ground-breaking specifications, this futuristic cutaway acoustic-electric guitar has an important feature found on the best vintage Martins from the pre-war era – the thumb's side of the neck is shaped differently than the side used by the fingers.
A New Profile for the New Neck
In 2014, as Martin was preparing to create the Authentic Series model based on their priceless 1930 OM-45 Deluxe, I was in the Custom Shop office the moment they discovered the unexpected secret of that incredibly comfortable vintage neck. Essentially, that vintage V profile is skewed, so the apex doesn't run straight up the center, but drifts off-center, keeping the V in the trough of the cupped hand as it advances up the frets.
They did a good job replicating the carving on that extremely limited edition Authentic model. But it wasn't until this time last year that they applied the same principal to the shaping of the new Vintage Deluxe neck profile, exclusive to the models in Martin's new Modern Deluxe Series.
Now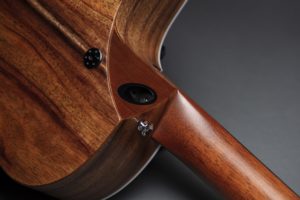 , Tim Teel and company have used a similar concept to create the advanced neck shape debuting on the SC-13E. It is not an attempt to replicate the feel of a vintage Martin. Rather, it is the Martin neck of the future, with no V to it at all and shaped more like the Low Profile used on the OM John Mayer model, yet it has its own distinctive skewing.
Tim Teel calls it the "Velocity Profile" and described it as "an asymmetrical barrel that twists in a helical manner to move ergonomically with your hand in all playing positions." In my own words, I don't have to fight the neck to play the guitar. It adjusts to what I want to do, rather than forcing me to adjust to it. From the 1st fret, where the hand is angled outside of the wrist, to higher positions where the hand is in-line with the wrist and turned parallel to the floor, the Velocity Profile remains an absolute joy to hold.
And by having no heel, that easy handling extends to where the neck meets the body and beyond. Chord shapes and note runs can be achieved above the 12th position without having to contort the hand or distort the strings, and the tone along with them.
I expect many players encountering the SC-13E in a guitar shop may not even notice the subtle way its neck adjusts to their playing. But that is the point; the neck shouldn't be noticed. And in this case, the neck is so kind to the fretting hand that the guitar practically plays itself.
The depth of the solid ebony fingerboard is identical to that found on the Authentic Series instruments. In combination with the shallow profile behind the fretboard, the neck transmits physical energy so well it feels alive and humming with living music. It also has the High-Performance Taper of most contemporary Martins. So, it begins with a roomy 1-3/4" width at the nut and measures a slender 2-1/8" at the 12th fret, a scant 3/8" that enhances the sleek electric guitar feeling.
Speaking of solid ebony, the sloped belly bridge is another new element. Both low and smooth, it is free from the usual interior edges that can dig into the hand when it's resting on the bridge or palm-muting the strings.
A New Bracing Pattern for the New Body
Rather than expecting this futuristic body to function with the classic X-bracing that C. F. Martin Sr. invented in the 1840s, Teel's team accepted the challenge of crafting a new system called Tone Tension X-bracing, developed to get the most tone out of the new sound chamber.
It bodes very well for C. F. Martin & Co. that they have such inventive minds at work above those veteran and very skilled hands, and executive management in the upper offices who are bold enough to let their designers go where no Martin has gone before.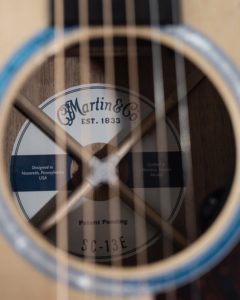 For one thing, the back has its own X brace visible through the sound hole – another Martin first. Under the top there are 1/4" tone bars and a 5/16" X brace. The bass side of the X is shorter because of the body shape, and it is not scalloped like the treble side, but has a new kind of carving to increase the bass response. That much is obvious by how the bass E string is never overwhelmed by the other wound strings. They all sound with identical volume and projection. I cannot remember playing an acoustic guitar where the string to string balance was this even.
The acoustic voice of this guitar is not as robust as traditional Martins. It's not as meaty in the bottom end, and the unwound trebles do not take to heavy-handed picking as much as I would like. However, I could say as much for any acoustic guitar on the market being offered in the price range of Martin's Road Series. Any such criticism is made in comparison to high-end Martins from the Authentic, Modern Deluxe, and Standard Series.
To my ear, the tonal spectrum and dynamics are closer to a short-scale 14-fret 00 from the Standard Series than a long-scale OM. How much of that is due to low action and Custom Light strings, how much is due to the new design features, and how much is due to the Road Series construction level, I cannot say. But like other Road Series instruments, once I adjusted my attack to a relaxed and lighter touch, the guitar responded with clear fundamental notes and some quick body reflection not very different from Martins made with solid koa back and sides.
I will break my usual silence about Martin Research and Development topics long enough to say I have played multiple prototypes from the SC project, including those with more-expensive levels of tonewood and trim. The future may hold good things for those who are interested in a guitar with this neck and body shape that will be built with the goal of providing the best unplugged, acoustic tone Martin can offer with the SC body size. And I may be at the front of the line to acquire the first SC sold with Standard Series woods and construction features, should such things come to pass.
As for the SC-13E, I know for a fact it does increase in power and volume when it is set up for light or medium gauge strings. But they would not have the elastic bending ability required by the electric guitarists who make up its immediate target audience.
This model was aimed at giving musicians the opportunity to unplug their solid body electric and put the same cable in a Martin acoustic guitar without adjusting one piece of gear, and then play it through the same pedals and amp and PA and not miss a beat, with the same playability – and all for the cost of professional-level electric guitars, which sell for about half the price of a Standard Series Martin.
A New Versatility for New Music
The versatility of this new musical instrument will overcome many guitarists' reservations about it seeming so different from the Martins they are used to playing. In fact, a young bluegrass phenom of growing reputation was visiting the Martin factory before the SC-13E was released, and absolutely loved playing it.
And playing is what it is all about – playing for long sessions without the fatigue that can set in with conventional guitars. That is why many people will put down cash on the barrelhead for the SC-13E, including those who have as many repetitive stress issues and old football injuries as I. But many more will appreciate its worth as an electrified stage and recording instrument. It simply excels in that capacity.
When plugged in, it can sound downright huge, or lovely and delicate, since volume and bass can be enhanced from one console or another. All acoustic guitar music can be performed on the SC-13E straight out of the box. One just employs a lighter touch. But it also handles anything an electric guitar can do. Digging in with a flatpick produces the snappy bark and twang of a Telecaster. Run it through distortion, overdrive, delay, or flange pedals and you just might be amazed at the righteous results. Lay off the gas pedal and settle into a nice groove, and it sounds as pretty as any acoustic-electric guitar out there.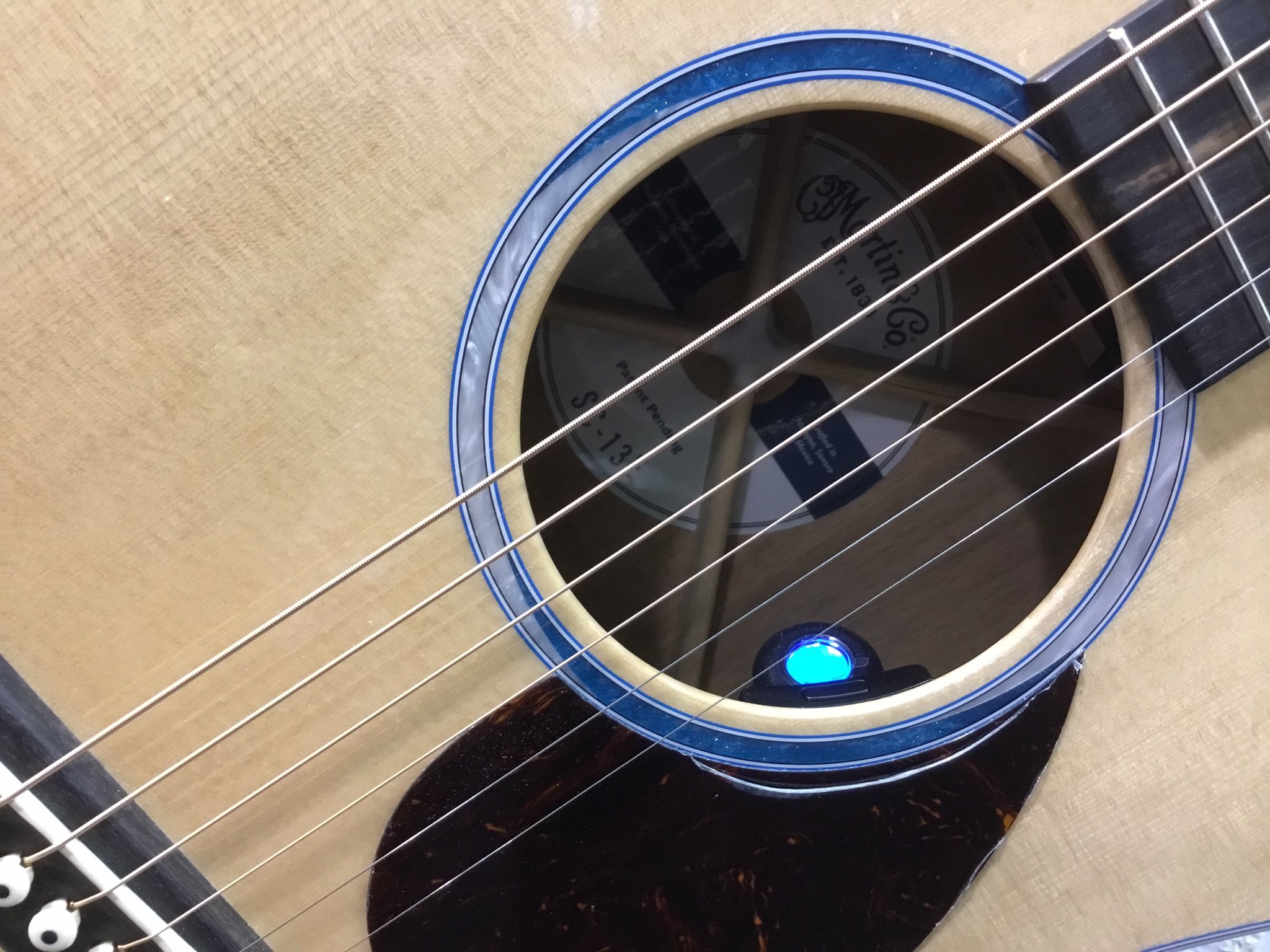 The Fishman MX-T pickup system includes an on-board tuner, hidden inside the sound hole, across from the volume and tone wheels. And that makes for one terrific plug-and-play stage and touring guitar, for not a lot of money. And therein lays the brilliance of Martin introducing this new body size and neck in the Road Series. It is obtainable within modest budgets, while being a relative bargain for those with deeper treasure chests.
The SC-13E will appeal to younger players shopping in price points below Martin's Standard Series. Owners of high-priced acoustic guitars who will add an SC-13E to their herd because it is such an exceptional instrument had for such a reasonable price. And avid public performers will love this uncommonly versatile axe they can play in clubs and bars, or take on tour in place of their expensive heirloom instruments. And that is precisely what Martin's Road Series guitars were intended for all along.
My personal custom shop Martin "000C-21 TSP" guitar was also designed with comfort and playability in mind. This is why it has a short-scale neck. But there are times when I wish it has the larger voice and more powerful dynamics of a long-scale guitar. And I would so love the kind of asymmetrical skew to the neck shape on the Modern Deluxe models or that 1930 OM I love so much.
I have been imagining something along the lines of a long-scale mahogany custom with a Sitka top to serve as the TSP's companion. But now the SC-13E has given me a lot more to consider. The 13-fret design and totally free cutaway, along with the new neck profile, well, it adds up to a very attractive offering to be sure.
Not your grandad's Martin, the SC-13E is an ultramodern acoustic-electric guitar of tremendous versatility and unmatched player comfort. Its advanced ergonomic design is ideal for extended playing sessions, and its innovative shape and bracing create a satisfying tonal balance that is good for countless musical styles. There is little wonder it has created so much buzz and that its popularity grows as guitarists learn firsthand how it lives up to its reputation.
I am very pleased with how this project turned out. And I am sure my Django Reinhardt-Fats Waller-Irving Berlin-Duke Ellington-Chuck Berry-Merle Travis-Bob Dylan-Beatles-Stones-Dead-Neil Young-John Prine-David Bowie-Elvis Costello-Leo Kottke-R.E.M-Joan Armatrading-Tom Waits-Townes Van Zandt-Laurence Juber playing self would be very happy to keep on fingerpicking and flatpicking an acoustic-electric guitar as ergonomically comfortable and musically versatile as this new Martin SC-13E. I can only imagine how the acoustic/electric hybrid emulators of John Mayer, Keith Urban, Jason Isbell, Alex G., and Courtney Barnett will love this Swiss army knife of a new Martin.
And that is one man's word on…
The Martin SC-13E
List Price: $1,899.00
Call your Martin dealer to find out their best price!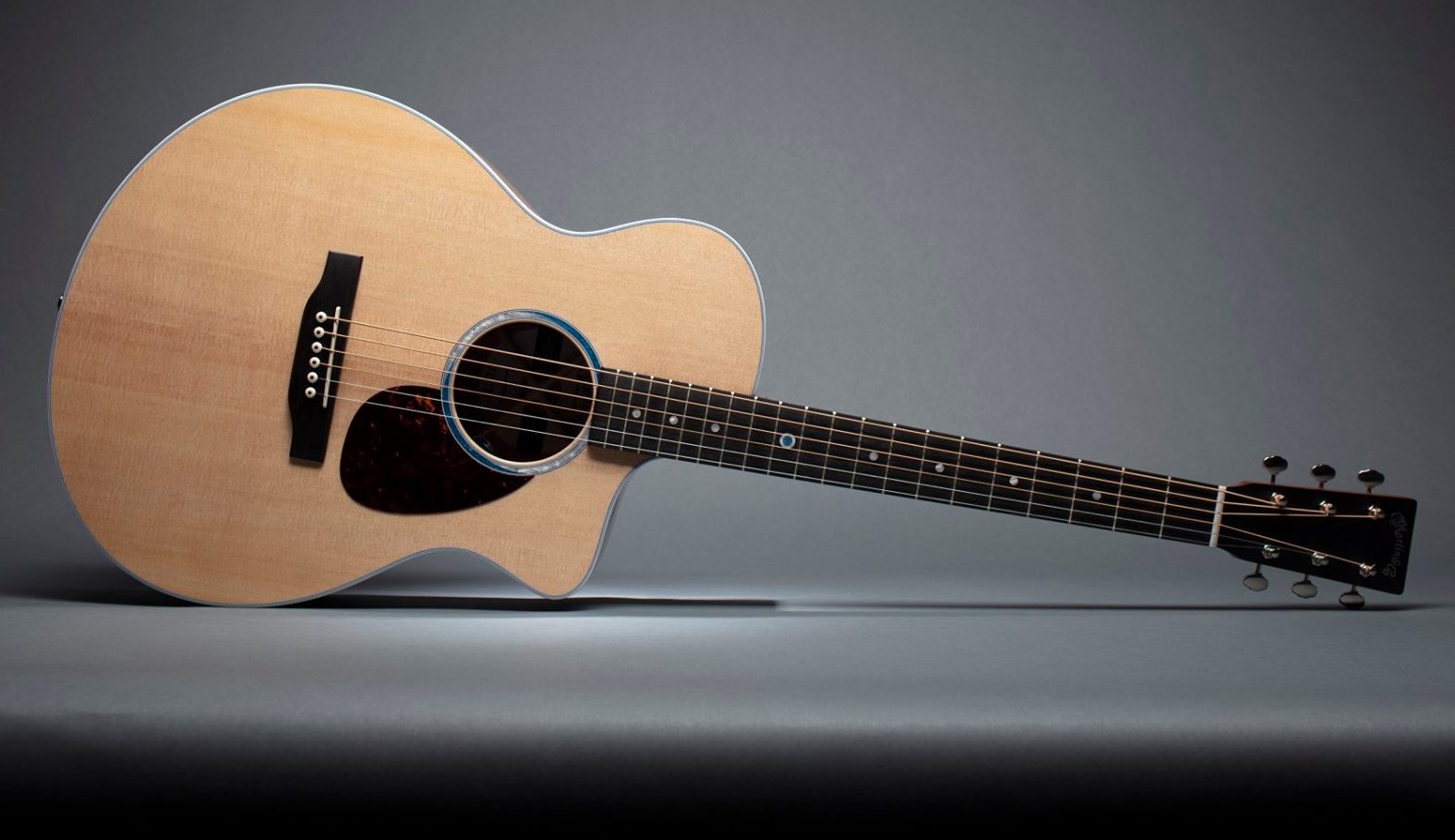 Note: FYI We didn't have much time. I just plugged in and said, "That's sounds ok. Let's try it." We thought the audio was ruined by electrical interference, but it actually recorded OK. So you can hear how 'acoustic' the plugged-in tone of this guitar is through a Fishman Loudbox Artist amplifier.

courtesy of maurysmusic.com
Martin on Martin
Jason Ahner of Martin Guitars and your humble Spoon discuss this new Martin.