Moabi makes its Martin debut on the SS-00L41-16
An opulent 14-fret slope shoulder guitar with an operatic voice

Specs for the SS-00L41-16 include: Grand Concert body size; solid tonewoods throughout, including moabi back and sides, Adirondack spruce top with Vintage Tone System torrefaction; short-scale American mahogany neck with carbon fiber support rod, Modified Low Oval profile, 1-3/4″ at the nut, 2-1/8″ at 12th fret; ebony fingerboard; ebony pyramid bridge with 2-5/32″ string spacing; liquid metal bridge pins; bone nut and saddle; carbon fiber and torrefied Adirondack spruce bridge plate; scalloped 1/4″ Adirondack bracing; Style 41 pearl trim with unique diamond fret markers; nickel tuners with string-specific ratios and skeletonized buttons.

"Everything from the prodigious volume, bottom end presence, responsive playability, expansive depth, and projecting definition are remarkable for a short-scale guitar with a body smaller than a 000 or OM."
Watch in 1080p Hi-Def for best sound.
Unique, Ornate, and Tuneful
The Martin SS-00L41-16 is the Show Special, made in the 00L size, with Style 41 abalone pearl trim, for Summer NAMM 2016.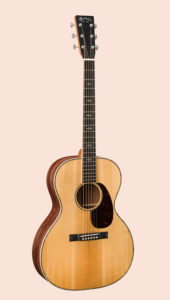 The royal treatment has now been given to Martin's newest body size, the slope shoulder 14-fret 00. Ornate diamond inlays grace the fingerboard, set off by the jewel-like chrome tuning machines, each with its own gear ratio for the particular string. Gorgeous color flashes from the rainbow of abalone pearl used for the SS-00L41-16's headstock logo, adjoined double-ring rosette, and the Style 41 purfling inlaid around the top, trimmed with flamed European maple binding that also frames the natural figuring and sandstone hues of the moabi back and sides.
I forgot to mention in my first draft of this review, the side markers on the neck are abalone dots. While that may seem like a frilly luxury item for a guitar that will spend its time in an elegant living room, they actually make a profound difference when trying to see fingerboard positions in dim or colored stage lighting when performing in concert. Just one more attention to detail in this very special NAMM Show Special.
And even more time and care went into the structural design that makes the SS-00L41-16 sound even lovelier than it looks.
This model has been made available to Martin dealers who personally attended Summer NAMM and ordered it at the Martin pavilion. The run has been limited to 30 guitars in total.
With each strum, the SS-00L41-16 projects defined notes and a crystalline ring, with colorful high end overtones that brighten up the room like the cheerful smile of a pretty woman. So pretty in fact, at first I didn't notice the personality of substance and strength, glowing with good-natured warmth from the inner depths.
When combining picking and strumming, the fundamental notes report with succinct identity and solid sustain, while spawning auras of undertone that swell in size and density in proportion to the thickness of the string.
During alternate-thumb fingerpicking, this curvy yet comfortable little guitar has enviable balance across the strings, except when the bottom E string comes forward as bidden, to achieve the steady throb of a choral baritone, while never overshadowing those pure, precise treble notes that leap forward into the room, and up into the high harmonics. And yet, they remain rooted down in the overall voice, like glints and glimmers viewed from the midst of a clear pool.
And all of it flies out of this lightweight Grand Concert size guitar with surprising volume and projection, even by Martin standards.
While not sounding like any Martin guitar I have encountered before, it has an overall personality that offers a combination of the pure fundamentals, complex sympathetics, and especially that pronounced presence in the low-midrange undertone, which my ear associates with the best guitars Martin has ever produced.
Futuristic Old School
Tim Teel, Director of Instrument Design at C. F. Martin & Co., said this guitar was years in the making.
"I wanted to design a guitar that would have a small body, but made to be as powerful and toneful as possible. I love the 00L guitars, so we started with that."
Martin's 00L size is rather retro in its shape and the sound it produces. It has the same depth to the sides as their traditional 00 and 000, but the slope-shouldered shape increases the size of the sound chamber, which beefs up the bottom end, compared to Martin's traditional 14-fret 00, while making the trebles seem more precise and arid by comparison.
The design was inspired by the Gibson L Size from the 1930s. But Martin's version has little in common with its forerunner when it comes to tone. However, this particular model has a bit more of that vintage Gibson thing going on, in its open-spaced tone, even if it has considerable more sustain down inside the undertone.
But then, the SS-00L41-16 isn't quite like other Martins.
This limited edition guitar uses the 00L size as part of a unique amalgamation of construction techniques and materials. It is the first 00L model made with hot hide glue throughout, and with Martin's proprietary Vintage Tone System of wood torrefaction. And it is the very first Martin ever with an innovative bridge plate made from carbon fiber and spruce, in combination with the carbon fiber neck rod.
It is also the first Martin guitar made from the wood of the moabi, a tree from Equatorial Africa prized locally for the cooking oil made from the seeds of its fruit, and by European furniture makers fond of its russet earth tone shading and the grain patterns seen in its heartwood.
Moooooo-abi, Whoa Whoa Whoa Whoa
Michael Dickinson is Martin's current procurer of exotic and non-traditional woods, and among those who have circumnavigated the globe in search of the makings of Martin guitars, from Alaska to the Amazon, and from the foothills of the Himalayas to the tributaries of the Congo and the Mungo. He has suffered countless injections, from inoculations and mosquitoes, to the painfully venomous bite of tropical spiders, all in the hopes of finding great tonewood. So he was as surprised as anyone when he discovered the moabi used for this Show Special at a local American sawmill, where it had languished undisturbed for years, at the bottom of a pond.
So, technically it is "sinker" moabi, although not like the sinker mahogany that spent 300 years underwater. According to Dickinson, "The sawmill stored the log in a pond on their property, to help preserve it. And the sawmill owner said, if we want the other 1/2 of the log, we better start building him a guitar."
What looked attractive enough to be used on a Martin guitar was acquired for sound testing. It passed with flying colors, which can be heard in those sparkling trebles. So much so, it was tagged by CEO C. F. Martin IV to be reserved for some special future project. Ultimately, that same moabi became the SS-00L41-16.
Since Moabi is seldom seen on acoustic guitars, there isn't much out there to compare to this new Martin.
Based on the tone of this lone example, I will say it compares somewhat with koa. But that is only because it has colorful chime up top and a presence and complexity underneath that sounds differently than mahogany and rosewood, without ever getting as dark in the bottom end as any of them. The warmth glowing beneath the fundamentals is not as thick and weighty as heard from other tonewoods, but it swells with nice, substantive body all its own. Like koa, it really is its own thing and the more I heard it, the more I liked it.
Click on Photos to Enlarge
Very Intelligent Design
Some luthiers claim moabi sounds similar to maple. Typically, that is a polite way of saying a wood sounds overly bright, with little in the way of complexity, and with quick decay of all but the most fundamental tone.
If that is accurate, Martin has found ways to wring out every bit of warmth, complexity, and presence from the midrange and bass, without the use of a top made from something like cedar, or the softer spruces.
This guitar has an Adirondack spruce top, which provides crisp, dry definition and extended headroom, bringing out the details of what reflects from the tonewood behind it. And while the trebles do have the clarity and brightness of maple, there is so much more going on down inside the voice that the Adi top is amplifying.
The slope shoulder body helps to be sure. But it is only one element amongst a confederacy across the full length of the instrument that has joined to accomplish this uniquely impressive voice. The lightweight tuning machines, the hand-fitted dovetail neck joint, the hide glue, narrow pyramid bridge, and 1/4″ scalloped bracing all contribute to making the SS-00L41-16 a notably light and responsive guitar. But it is also surprisingly potent. It does not sound like a small guitar. And that is due in part to some special features brought together for the first time.
Carbon Fiber
Martin had been experimenting with bridge plates, for a future Custom Shop project. And according to Tim Teel, they found that taking a piece of torrefied Adirondack spruce and fusing it between very thin plates of carbon fiber proved to be "lighter in weight than maple, and when you tap on it, it has this really great ring!"
Martin tried this futuristic bridge plate in various sizes with different biases. As Teel put it, "We found a particular bias layout that just sounded so good! So we tested a guitar with that bridge plate shape. When we put in this new carbon fiber and torrefied spruce bridge plate, the volume went up nearly 4db."
There were plenty of skeptics, including Michael Dickinson, who said, "I told Tim he was freakin' crazy! But you know, he was right; it really worked." So, they decided to put it on the SS-00L41-16.
In addition to the bridge plate, the neck has a carbon fiber rod that weighs less than the mahogany that it replaces. For that matter, it weighs less than ebony rods used in many priceless vintage Martins, which required a V shape, or a thickness to the overall neck that some compare to a baseball bat. And yet the carbon fiber rod is so strong it can be placed in a neck that has the sleek, fast feel of an electric guitar, made with Martin's Modified Low Oval profile and their High Performance Taper. It is a non-adjustable rod, because it will never need adjusting.
Finishing Touches
Tim Teel went on to say they had already spent some years playing around with finishes. "You know we used to have a hand-applied urethane finish? Now we have this new finish, which is sort of like a resin from a tree that gets rubbed in and hardens.
It penetrates into the wood while leaving a protective layer on top. When we were doing our testing we found it allows the guitar to vibrate more, so there is a little more fullness than a lacquer finish.
We built a guitar for Ed Sheeran in the Custom Shop, made in Size 0, in all koa. We used this finish, and that thing sounded awesome! I was so impressed with that guitar. So we used it on the Show Special."
I got the full scoop on this from Nate Hoffman of Martin's Research and Development department. The former manager of the Finishing Department, Hoffman discovered the product, made by a company that markets environmentally-responsible paint and plaster, which he prefers to call "a treatment rather than a finish."
It is all natural and very "green." Made from tree sap and nut and seed oils, some refined and some not, it is applied in a glycerine base that keeps it in a liquid state while it is rubbed in by hand. When it is left to dry, the base evaporates, leaving behind a "candy coating" of hard, smooth sap.
The molecules of the seed oils are so small they penetrate down into the wood deeper than anything like a French polish lacquer, yet allowing the wood to breathe and vibrate much more freely. In fact, Hoffman was looking specifically for a penetrative finish like French polish, but one that wouldn't be so "thick and clumpy on the outside of the guitar."
He succeeded. It protects the wood, but it is much thinner on the surface than even the thin finish that gets sprayed on the new 17 Series guitars. I must say, the moabi back and sides are so alive, I could feel them vibrating when someone nearby was speaking to me.
This treatment has already appeared on the D. Jr. models, as well as on some necks of lower-priced Martins, because it causes very little friction and provides a nice, silky feel for the fretting hand. They have since developed a process that allows them to use it on high end guitars, this latest Show Special being the first.
Liquid Metal
In addition, this is the second NAMM Show Special to feature "liquid metal" bridge pins, that glisten like little globes of mercury. These pins further increase volume by measurable amounts, and contribute to the impressive sustain heard as notes are voiced and left to ring.
The SS-00L41-16 I played has what I call perfect sustain, where a fundamental note from a played string sustains with such steady strength, it is impossible to tell where it starts to fade, and where the sympathetic harmonics it triggers from other strings arise and take over.
These pins are currently too expensive to produce in mass, but Tim Teel hopes they can tool up to make them available for general use, and possibly have them for sale through the Martin's 1833 Shop. As it stands now, you might be able to get them added to your upcoming Custom Shop Martin guitar. So inquire through your Martin dealer if you are interested.
VTS Difference
Martin's proprietary method of torrefying wood is called the Vintage Tone System, because it was immediately apparent that it enhanced the voice of a new guitar with a depth and openness similar to what was only previously heard in Martins that had been played in for decades.
The SS-00L41-16 is a very good example of the VTS effect, as it has a quite noticeable three-dimensional quality to the voice. A Martin with a VTS soundboard like this one makes other good guitars sound shallow, like two dimensional scenery on a narrow stage, compared to the virtual reality of the VTS tonescape.
Where most new guitars project outward, while the resonance and sustain expand like ripples on the surface of a pond, the VTS voice has none of the prohibitive surface tension. This guitar sounds effortlessly open, with the most projecting fundamental note also reaching all the way down, deep within the voice, and the resonating sympathetics quaver and warble as they expand in all directions – rather than just across the surface of the voice. It really does sound, in this regard at least, like a much, much older Martin that has been well played-in. Just one more reason the guitar sounds so much larger than it looks.
Mission Accomplished
A stated goal in the concept and design of the SS-00L41-16 was the creation of a small body Martin with a big voice. And they have managed to do that very well indeed. Everything from the prodigious volume, bottom end presence, responsive playability, expansive depth, and projecting definition are remarkable for a short-scale guitar with a body smaller than a 000 or OM.
While we may never see moabi on another Martin, the ultra-thin finish, liquid metal bridge pins, and futuristic bridge plate will likely show up on future special models. But none of them will be quite like this one.
And that is one man's word on…
The Martin SS-00L41-16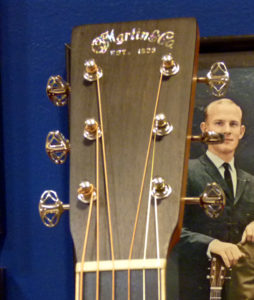 More Photos HERE
Related Reading:
Martin CEO-7 Review, the first 00L
Official Spec Sheet
Model:  SS-00L41-16
Construction:  Dovetail Neck Joint – Hide Glue Construction
Body Size:  00-14 Fret Slope Shoulder
Top Material:  Adirondack Spruce with VTS
Top Detail:  N/A
Rosette:  Abalone with Multi-Stripe
Bracing Pattern:  X Brace
Brace Shape:  Scalloped
Brace Material:  Adirondack Spruce
Brace Size:  1/4″
Back Material:  Moabi
Back Detail:  N/A
Back Purfling/Strip:  Style 45 Golden Era with Black Stripe
Side Material:  Moabi
Side Detail:  N/A
Endpiece:  European Flamed Maple
Endpiece Inlay:  Multi-Stripe
Binding:  European Flamed Maple
Top Inlay Material:  Abalone with Multi-Stripe
Side Inlay Material:  Multi-Stripe
Back Inlay Material:  Multi-Stripe
Neck Material:  Genuine Mahogany
Neck Shape:  Modified Low Oval
Neck Taper:  High Performance Taper
Plek:  No
Nut Material:  Bone
Headstock Shape:  Solid with Square Taper
Headplate Material:  Ebony
Headplate Detail:  N/A
Headplate Logo Style:  Stylized Script Inlay
Headplate Binding Material:  N/A
Heelcap:  European Flamed Maple with Multi-Stripe
Fingerboard Material:  Ebony
Scale Length:  24.9″
Neck Joins Body At:  14th Fret
Number of Frets Total:  20
Fingerboard Width at Nut:  1 3/4"
Fingerboard Width at 12th Fret:  2 1/8"
Fingerboard Inlay Material:  Abalone with Mother of Pearl
Fingerboard Inlay Style:  Custom Inlay
Fingerboard Binding Material:  Flamed Maple
Side Dots:  Abalone
Back and Side Finish:  Hand Rubbed
Back and Sides Color:  N/A
Finish Top:  Hand Rubbed warmth
Top Color:  N/A
Finish Neck:  Hand Rubbed
Neck Color:  N/A
Bridge Material:  Ebony
Bridge Style:  Modern Pyramid – Drop in Saddle
Bridge String Spacing:  2 5/32″
Saddle:  Compensated Bone
Saddle Radius:  16″
Tuning Machines:  Ratio Nickel Open Gear
Recommended Strings:  SP Lifespan 92/8 Phosphor Bronze Light (MSP7100)
Knob:  Skeletonized Butterbean
Bridge Pin Material:  Liquid Metal
Bridge Pin Dots:  N/A
Pickguard:  Faux Tortoise
Pickguard Inlay:  N/A
Case:  Ply Hardshell
Label:  Signed by CFM IV – Numbered in Sequence with Total
Electronics:  Not Available
Left Handed Availability:  Yes