A commemorative limited edition, the HD-35 CFM IV 60th was sixty years in the making.
2015 marks the 50th anniversary of the Martin D-35. It also marks the 60th anniversary of the current Mr. Martin. And these two events have led to the creation of a unique guitar, the HD-35 CFM IV 60th, honoring the very successful career of Chief Executive Officer, Christian Fredrick Martin IV on the occasion of his 60th Birthday.
Specs include: Dreadnought body size; Indian siris sides and three-piece back with Indian rosewood center wedge; European spruce top with Martin's Vintage Tone System; abalone herringbone purfling and Infinity Hexagon Outline fret markers; scalloped 1/4″ Adirondack spruce top braces; ebony fingerboard and bridge; grained ivoroid body and neck binding; mahogany neck with modified low oval profile and Performing Artist taper, 1-3/4" at nut and 2-1/8" at 12th fret; 2-3/16" string spacing; ebony headstock faceplate with abalone Martin logo and CFM IV's birth date in mother of pearl; nickel waffle-back tuners; limited to 60 instruments
"The treble strings give off the tinkling chime of a music box, while the midrange notes stand firm and defined over a built-in reverb echoing from within…It is a voice of depth, color and definition, conjured out of a very interesting combination of woods and craftsmanship."
Commemorative Edition
The Martin HD-35 CFM IV 60th has very special Herringbone trim around the very special top of this very special Dreadnought size guitar, made in a very special version of Style 35.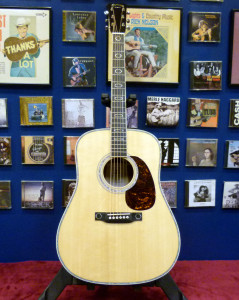 Like the guitars of the popular CEO series, each conceived by CFM IV, this guitar combines classic Martin designs, with progressive features like their modern High Performance neck, and a body made from tonewood that fits with Chris Martin's personal commitment toward responsible management of the planet's natural resources. All of it arrayed with his favorite upscale appointments, harkening back to some of the most impressive limited edition guitars from Mr. Martin's tenure as the current head of one of America's oldest family businesses.
The European spruce top was treated with an exclusive version of Martin's Vintage Tone System, and is matched with tonewoods from the Indian subcontinent to create a luminous voice of marvelous depth and beautiful overtones. It is a sound most worthy of the stunning high-end embellishments, each reflecting Chris Martin's commitment to forward-thinking concepts while bolstering the company's reputation of quality and tradition.
This limited edition will consist of 60 instruments.
Pearly Wonder
Mr. Martin's admiration for the craftsmanship required of intricate pearl marquetry is here represented by dazzling herringbone of high-color abalone shell inlaid around the top, and set off by a lustrous sound hole rosette made of the same natural wonderment. The Martin guitar company began to offer artist signature models soon after CFM IV became an officer of the family business, and one of the first signature models was created with abalone herringbone for country music legend Marty Stuart. No photo can do justice to the glinting rainbow that wraps itself around the top of this bejeweled guitar.
Among Chris Martin's favorite cosmetic embellishments are the Infinity hexagons, consisting of a slender abalone outline with a hollow center. He has encouraged their inclusion on certain models over the years, so it is not surprising to find them here inlaid on the inky ebony fretboard and bridge of a guitar commemorating his lengthy contribution to the Martin legacy. The same can be said for the C.F. Martin & Co. script logo, yet another abalone rainbow, set into a jet black faceplate of glossy polished ebony.
But for all its looks of pearly luster, the splendor of the HD-35 CFM IV 60th birthday guitar is increased dramatically once a guitarist begins to play the instrument and is soon immersed in a glittering fountain of beautiful tone.
The treble strings give off the tinkling chime of a music box, while the midrange notes stand firm and defined over a built-in reverb echoing from within, while a creamy smooth aura swells up to connect the highs and mids, even as the well-lit undertone from the bottom end never over-shadows or muddies up the details. It is a voice of depth, color and definition, conjured out of a very interesting combination of woods and craftsmanship.
Tonewood Harmony
Since its debut in 1965, Style 35 is known for its iconic three-piece back on a typically rosewood body. This CFM IV model retains the Indian rosewood for the back's center wedge, but the sides and outer back panels are made of gorgeous siris, a species from the forests of northern India. The wood grows throughout southern Asia and as far into the tropics as Sri Lanka, where its traditional name is Ceylon rosewood. Typically lighter in color, it has dark streaks and flecks throughout the grain similar to rosewood, and sometimes its heartwood can look exactly like it. But it is not actually a member of the rosewood family.
Depending on the figuring and cut, it can seem almost a combination of mahogany grain with rosewood detail, and might be mistaken for a relative of koa or Asian blackwoods. The siris on the particular guitar I reviewed at first resembled a walnut or figured mahogany. But under closer scrutiny, there are so many hues and bands and ripples and peppering going on that it looked like the stripped and speckled fur of some exotic jungle cat. Aesthetically, it works very well with the fine herringbone back strips inlaid between the siris and the chocolate rosewood center wedge.
Siris is denser than rosewood and produces even longer sustain, while the overall tonal pallet reminds me of walnut, providing an open midrange with considerable harmonic overtones reaching into the highest trebles, yet without so much complex busyness heard from rosewoods. And the bottom end is nicely warm without being woofy, and it has a more complex undertone than mahogany, but without rosewood's darker shadows.
It would be hard to quantify just how much sonic influence the rosewood center wedge imparts. But the firm yet succulent throb from the bass string has a lot to do with the unique bracing found in the HD-35 design.
All D-35s have a dreadnought body with lighter than normal bracing. The three-piece back is ribbed with 000 braces, meaning the two braces nearest the neck block are 1/4″ in width, and the rest are 5/16". The wide dreadnought soundboard is supported by slender 1/4″ 00 bracing, which means the top is more flexible than other Martin dreadnoughts, so it responds quicker and with greater agility. But only the HD-35 design has the scalloped 1/4″ braces, like on an OM, which further increases responsiveness while also increasing dynamic resonance.
Click on Photos to Enlarge
Topped for Sensitivity
While this HD-35 doesn't have the dark and smoky undertone typical of that model, nor the woofiness that comes with it, it does get a booster shot of a different kind of tonal coloring and complexity from a soundboard of European spruce, itself enhanced by an application of Martin's Vintage Tone System typically reserved exclusively for the Authentic Series of vintage Martin reproductions. Known inside Martin as "M1" VTS, this special edition, along with the new D12-35 50th Anniversary model, are the first commercially available Martins built with a European spruce top that received this special VTS treatment.
My insider sources tell me that when Martin specifies spruce as "European" it usually means it was purchased from a merchant in Switzerland, but may in fact have been sourced from any of the nations where Alpine spruce grows. And like all Alpine spruce, it has that distinct hammer-on-anvil ping to the fundamental notes ringing off the steel strings, along with a wash of tone glowing behind the top voice with a creamy smoothness that fills out strummed chords and permeates throughout extended picking patterns. And since siris as a drier kind of woody quality than other tonewoods, the Alpine pastel glow effect fills in some of that open space between the defined fundamentals and the sympathetic undertone.
And all of this – the responsive dynamics, the angelic harmonics, the pure and singing fundamentals and the illuminated undertone – is wonderfully heightened by the Vintage Tone System.
M1 Torrefaction
The VTS is Martin's proprietary version of treating wood with extreme heat and pressure, changing the cellular structure until it takes on the physical properties and behavior of wood that has seasoned for many years, even centuries.
The M1 version of the VTS it is a perfected, focused treatment that, according to Martin, results in a spruce top with physical properties closely resembling wood 70 to 100 years in age. And the maple bridge plate on this instrument received the treatment as well.
The sound of this siris HD-35 provides a marvelous example of how a torrefied top can increase a guitar's responsiveness right out of the box. And by that I mean in terms of how easily it reacts to picking hand attack and fretting hand nuance, but also in terms of much more depth and resonance in the overall voice.
Adding a little vibrato to a fretted string will wring out a bit more sustain and add a subtle wavering to the pitch. But on a new top, the effect sort of skips across the surface, like a flat stone on a pound. With a VTS top that little bit of vibrato is succulent with tone, as if it has no resistance to stifle it. So it not only sends ripples across the surface, but way down inside the voice as well.
And that same effect happens all over the place with the HD-35 CFM IV 60th, from strummed chords to half-step string bends, to notes that ring out with wonderful Martin purity, which are at times so colorful and palpably plump they almost seem to take corporeal shape in midair, like the glowing plasma of the flame atop a candle.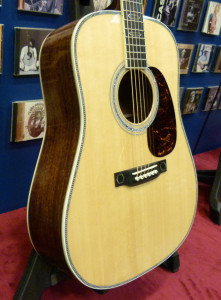 As great as a new Martin can sound, a new Martin with VTS makes a non-VTS voice seem two-dimensional, like a sonic map limited to north, south, east, west, compared to the three-dimensional tonescape relief that the VTS produces, with marvelously expressive dynamics. And the unusual combination of the siris definition and sustain with the colorful warmth of the European spruce, and the Indian rosewood center wedge provide a unique sonic medium for the VTS to sculpt.
With some of that smoky rosewood undertone stripped away from the HD-35 design, the inside of the voice has wonderful definition, with the harmonic elements hovering in the undertone perceived clearly rather than mushing together. And the top has been "opened up" by the VTS so it all mingles and resonates with the effortless freedom normally heard only in guitars that have seasoned and been played in for many years.
I will never claim that torrefied spruce makes a new guitar sound just like a prewar Martin or any other vintage guitar. But I will say it does effect changes to the voice and dynamics of a new guitar that make it behave and sound more like older guitars, in certain ways. And I will also say that this particular model may be the best poster child yet for the positive effects of torrefaction on a new guitar.
This very special limited edition has the body and bones of the HD-35, adorned with abalone and mother of pearl and featuring tonewoods of beauty and unique tonal properties, and a top of European spruce enhanced with Martin's exclusive M1 torrefaction. My only disappointment from this guitar is the fact only 60 individuals will be allowed to own one.
And that is one man's word on…
The Martin HD-35 CFM IV 60th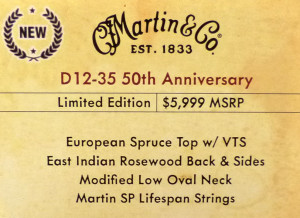 More Photos HERE
Related Reading:
Torrefaction and its use in guitar making
Official Spec Sheet
Model:   HD-35 CFM IV 60th
Construction:   Dovetail Neck Joint
Body Size:   D-14 Fret
Top:   Solid European Spruce w/VTS
Rosette:   Style 45
Top Bracing Pattern:   Standard "X" Scalloped
Top Braces:   Solid Adirondack Spruce 1/4"
Back Material:   Solid Siris Wings w/East Indian Rosewood Wedge
Back Purfling:   Style 35 Fine Herringbone
Side Material:   Solid Siris
Endpiece:   Grained Ivoroid
Endpiece Inlay:   Black/White Boltaron
Binding:   Grained Ivoroid
Top Inlay Style:   Herringbone Pearl
Side Inlay:   Multiple Black/White Boltaron
Back Inlay:   Black/White Boltaron
Neck Material:   Solid Genuine Mahogany
Neck Shape:   Modified Low Oval w/Performing Artist Taper
Nut Material:   Bone
Headstock:   Solid/Square Taper
Headplate:   Solid Black Ebony/CFM Logo and Birth Date in MOP
Heelcap:   Grained Ivoroid
Fingerboard Material:   Solid Black Ebony
Scale Length:   25.4"
Number of Frets Clear:   14
Number of Frets Total:   20
Fingerboard Width at Nut:   1-3/4"
Fingerboard Width at 12th Fret:   2-1/8"
Fingerboard Position Inlays:   Infinity Hexagon Outline
Fingerboard Binding:   Grained Ivoroid
Finish Back & Sides:   Polished Gloss
Finish Top:   Polished Gloss
Finish Neck:   Polished Gloss
Bridge Material:   Solid Black Ebony
Bridge Style:   Modern Belly w/Infinity Hexagon Outline
Bridge String Spacing:   2-3/16"
Saddle:   16" Radius/Compensated/Bone
Tuning Machines:   Nickel Waffle Back Enclosed w/Oval Buttons
Bridge & End Pins:   White w/Black Dots
Pickguard:   Tortoise Color
Case:   545E Geib Style
Interior Label:   60th Birthday Paper Label Signed by CFM IV Numbered in Sequence w/Total