A big, bright and shiny Grand J12-16GTE graces Martin's 16 Series
The latest Martin to sport their largest body is a 12-string that gives mahogany lovers something to sing about.
Specs for the Grand J12-16GTE include: Grand Jumbo body size with 17" lower bout; solid mahogany back and sides; solid Sitka spruce top; graduated scalloped braces; Richlite fingerboard and bridge; one piece, solid wood neck; 1-13/16" width at nut, 2-1/4" at 12th fret, 2-5/16" string spacing; Performing Artist profile; satin finish body, with a gloss top; D-Tar Wave Length Multi-Source electronics
Big Sound for a Modest Price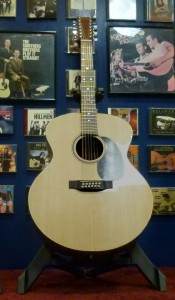 The Martin Grand J12-16GTE is a Grand Jumbo 12-string made in Style 16, with a Gloss Top and on-board Electronic amplification. The Grand Jumbo size is the largest guitar body ever made by Martin. It has only recently joined the catalog and its creation was inspired by the classic Guild 12-strings of the 1960s. Grand J 12s have a pretty, popping voice that fills up a room with ease and adds jangly high-end harmony to any solo act, as well as providing considerable pizazz to ensembles or a jam session. At this price point, the new Grand J offers more tone per dollar than any other 12-string currently available from Martin.
Being made in modern Style 16, it has minimal appointments, with no purfling inlaid on the back, sides or top. But it does have a nice white-on-black herringbone rosette around the sound hole that ties in nicely with the black bridge and fingerboard. And on the whole, it has a woody simplicity that puts the focus on the mahogany back and sides, and the Sitka spruce top, busy with woven cross grain.
I have always been a fan of Sitka on mahogany and it works well with this extra-large body. There are all the bright and clear chimes one could desire coming off the trebles and harmony strings. And there is a nice definition in the bass, without all the smoke clouds that can gather under the low end of a rosewood guitar with a large bottom end. I was at once reminded of Leo Kottke's "bigger than life" sound that he gets out of his own jumbo mahogany/Sitka 12-strings.
At first I was thinking it lacked a bit in the bass, until I heard someone else play it while I sat out front. It actually has ample bass response, without overdoing it. And then we plugged in the guitar and played it through a nice acoustic guitar amp. There is a lot of wow factor in that amplified voice! We did not have much time to experiment, so we just set it to 50/50 between the pickup and the mini-mic residing just inside the sound hole, near the bridge. The D-Tar Wave Length Multi-Source system is pretty easy to use, but can be dialed in with precision.
| | | | |
| --- | --- | --- | --- |
|   |   |   |   |
|  D-Tar Wave Length Mic |  Solid mahogany back |  17 inches of solid Sitka |  12-string tuners |
Starting in 2013, Style 16 Martins are made with the new "simplified dovetail neck joint", which looks sort of like a miniature bow tie when seen from above before the fingerboard is put in place. The new joint provides a better connection between neck, neck block and body than the mortise and tenon joint it is replacing. And this Grand Jumbo has special scalloped braces, which are graduated to allow support where that big top needs it most, while allowing for optimum resonance where it counts.
When you add to all that the comfortable neck, this easily affordable Martin 12-string should sell well. In the same price range there is also the GPC12PA4, which is made from sapele, a species of African wood that looks similar to mahogany, but has a drier, less robust tone. The GPC has the advantages that come with a smaller body that is quite comfy but still has a good size sound chamber, a cutaway for high fret access, and an on-board tuner in the on-board controls. But for me, the GJ12-16 wins out.
In the acoustic voice department it has that big bottom end that comes from the Grand Jumbo body made from genuine mahogany. And when it comes to playing plugged in, it has an actual microphone that can be dialed in for a more "acoustic" sound. So if one doesn't need those highest-most frets and has a stature large enough to handle the largest guitar made by Martin, I think this new 16 Series 12-string is worth the slight increase in price, over its PA4 brethren.
List Price: $1999.00
Call your Martin dealer for the real price.
And that is one man's word on…
The Martin Grand J12-16GTE
Read more about C.F. Martin & Co. HERE
Read our primer about Martin Model Designations and Naming Conventions HERE
The official spec sheet can be found HERE.