Small in stature, the D Jr. 2 Sapele is big in voice
A fully-realized instrument of solid tonewoods in a smaller dreadnought body
D Jr. 2 Sapele specs include: Dreadnought Junior body size; solid sapele top, back, and sides; scalloped 1/4" Sikta spruce bracing; Richlite fingerboard and bridge; corian nut and Tusq saddle; select hardwood neck with unique C shape profile, 24" scale, 1-3/4" at nut, 2-1/8" at 12th fret, 2-5/32" string spacing; hand rubbed oil finish. D Jr. 2E models come with Fishman's Sonitone pickup system with discrete controls inside the sound hole.
"A little dreadnought, but a real guitar, the sapele topped version looks beautiful in terms of its coppery sheen and banded grain, while sounding lovely, with shimmery trebles and warm and mellow lows, and at a very good price for a guitar built with solid tonewood back, sides, and top."
Little Big Dread
Martin's D Jr. 2 Sapele and D Jr. 2E Sapele offer a smaller version of their legendary Dreadnought design, made in the innovative D Junior size, with the melodious tone of a hardwood top. The 2nd D Jr. model on the market has a soundboard of sapele to go along with its sapele back and sides, and comes with or without on-board electronics.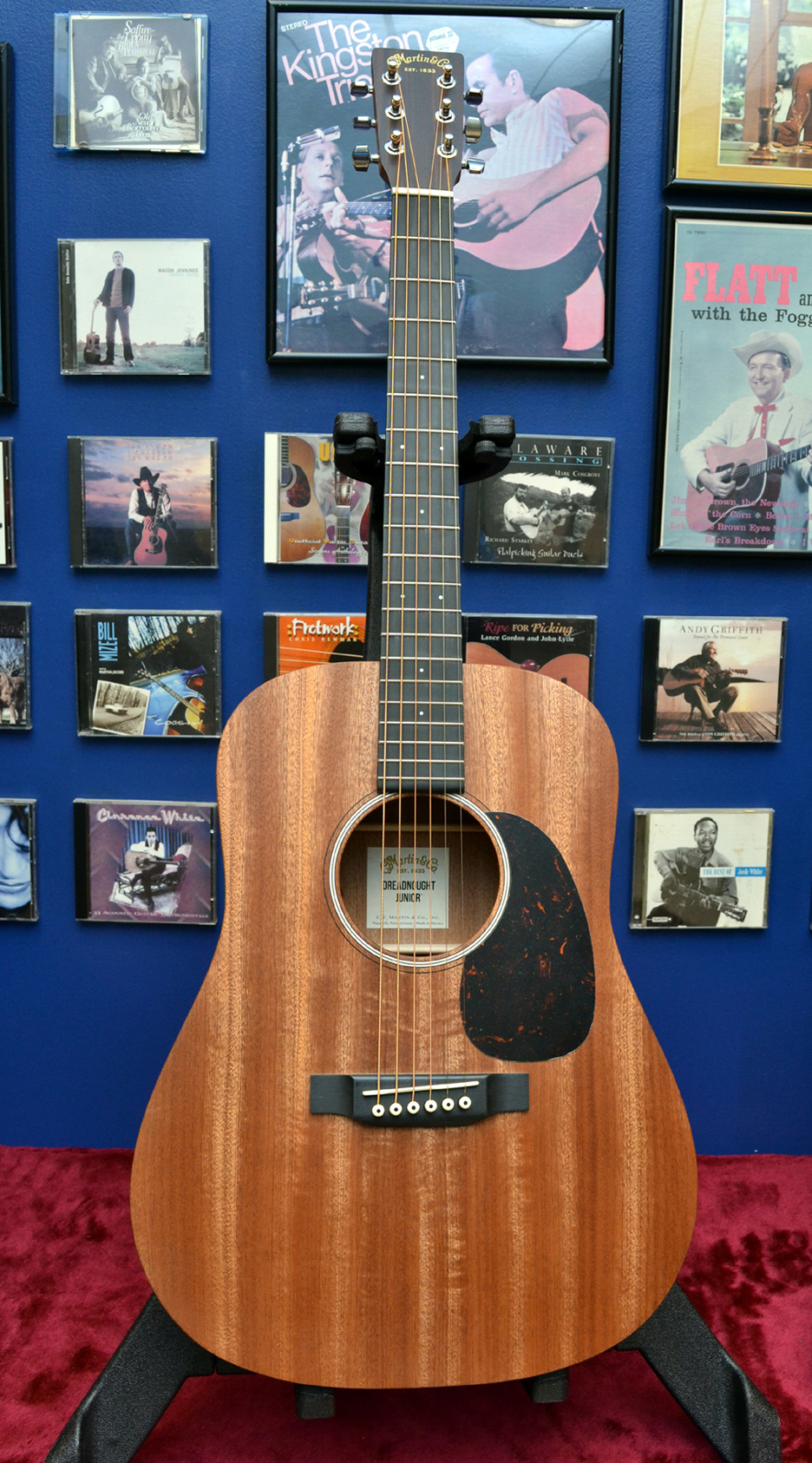 Sapele is one of several species of African mahogany utilized in guitarmaking. And when any type of mahogany is used for the soundboard, the guitar has a particular quality to its voice that my ear always hears as "sweet".
The same instrument with a spruce top will have greater volume and vibrancy in terms of brightness and clarity. But with a mahogany top comes an ethereal and woody presence spread throughout its rounder voice, and very pretty chimes that are warmer in the lows and fatter in the highs, as well as considerable sustain in both the fundamental notes and their sympathetic harmonics.
The sapele-topped version of the D Jr. sounds delightful. There is so much personality in its shimmering voice. There is really nothing small about it, even if it does not have the overbearing boom to its bottom end heard from a full-size dreadnought. But once the E version is plugged in, it can do anything on stage a larger guitar can.
As much as I was impressed by the original D Jr., I like the sapele version even more so.
In general, the tone of the D Jr. 2 is similar to the 15 Series of all-mahogany instruments. But since it comes with a Richlite fingerboard and bridge, and Mortise and Tenon neck joint, the Junior Series models have more in common with Martin's more-affordable Road Series instruments. And it is a lot of guitar for the money.
Martin's Rameen Shayegan likes to call the Junior bracing "super-charged" because "it consists entirely of 1/4 scalloped braces made of Sitka spruce, with the main X brace matched with two tone bars, each with two peaks" like on larger dreadnoughts, and two A-frame braces above the sound hole, which abut the neck block, but do not tuck into or under it.
Having light, flexible bracing allows the top to vibrate more freely, which is especially important when the top is made with hardwood like Sapele. Hardwood tops take a good while to break in and open up, but this bracing makes the D Jr. 2 and 2 E sound very good right off the factory shelf.
The finish is also pretty special, so much so that it has appeared on an up-scale NAMM Show Special and a Custom Shop size 0 guitar built for Ed Sheeran. Environmentally friendly, it is made from seed oils and tree sap. Hand rubbed and left to dry, its glycerin base evaporates, leaving a thin but protective coating, smooth yet hard and with a nice glossy sheen. It allows the tone wood to "breathe" and resonate freely, and yet it penetrates the molecular structure of the wood better than the "French polish" finishing used on Classical guitars.
Even the innovative thin finish on the light and lively 17 Series instruments does not achieve as light and yet as protective a finish that helps the D Jr. models sing as loud and lovely as they do.
The solid wood of the neck has a shape unique to the Jr. Series, with a 24" scale to the strings. This is 0.9" shorter than Martin's traditional short-scale necks. The taper of the fingerboard from 1-3/4" at nut to 2-1/8" at the 12th fret is the same as their High Performance neck, which has a Modified Low Oval profile. But I think the special shaping required of the extra-short scale might be even more comfortable, although the two profiles are pretty similar.
Click on Photos to Enlarge
Reimagined and Perfected
It has been a few years since Martin's Director of Instrument Design, Tim Teel, showed me a Research and Development instrument he was hoping would make it through the vetting process and into production. It was of course a dreadnought imagined in a smaller size and it hangs on the wall near his desk to this day. During R & D testing, he altered the shape subtly, which achieved a better sound than just shrinking down the exact shape of a full-size dreadnought.
I thought it was a brilliant concept well executed. It was a fun-filled travel and leisure guitar, but a fully realized musical instrument that felt comfortable to play, while sounding and looking very nice indeed. It was notably lighter in the hand and more responsive and projecting than the Size 7 guitars Martin made in the 1980s.
Those instruments had the same construction as their Standard D-28 (rosewood) and D-37 (koa) and were meant to be a 7/8 size dreadnought. They were interesting, but didn't sell well enough to last. This was due in part to their being somewhat constrained in terms of sound production, from the standard construction techniques used at that time, and their voices never quite justified the high price tag for what was seen as a niche instrument. The D Jr. design addressed both of those issues, by being lightly constructed for a more open and expressive sound offered at a price that makes it a practical addition to a guitarist's stable, rather than an expensive novelty.
Martin's D Jr. debuted at the 2015 Winter NAMM show and was an immediate game changer when it came to an instrument with a dreadnought shape made in a smaller size suitable for a "travel guitar." Unlike similar guitars on the market, the D Jr. puts the money where it matters most, in its back, sides, and top made of solid, world-class tonewoods, creating the sound chamber of a 14-fret dreadnought at around the same size of Martin's classic 12-fret 0 guitars.
A little dreadnought, but a real guitar, the sapele topped version looks beautiful in terms of its coppery sheen and banded grain, while sounding lovely, with shimmery trebles and warm and mellow lows, and at a very good price for a guitar built with solid tonewood back, sides, and top.
And that is one man's word on…
The Martin D Jr. 2 Sapele and D Jr. 2E Sapele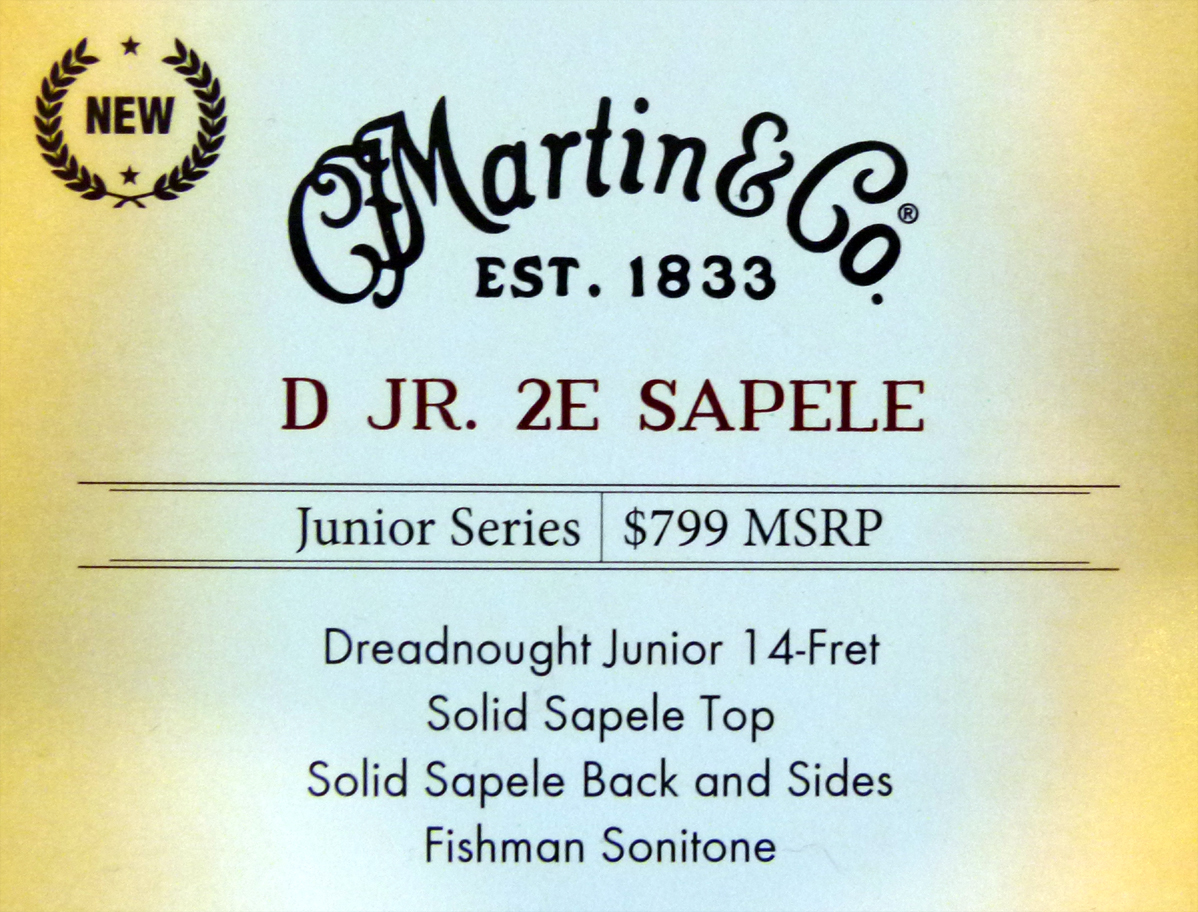 More Photos HERE
Related Reading:
Martin GPC-15 Review (soon)
Official Spec Sheet:
Model:  D Jr. 2 Sapele and D Jr. 2E Sapele
Construction:  Mortise & Tenon Neck Joint
Body Size:  D Junior-14 Fret
Top Material:  Sapele
Top Detail:  None
Rosette:  Multi-Stripe
Bracing Pattern:  X Brace
Brace Shape:  Scalloped
Brace Material:  Sitka Spruce
Brace Size:  1/4″
Back Material:  Sapele
Back Detail:  None
Back Purfling/Strip:  N/A
Side Material:  Sapele
Side Detail:  None
Endpiece:  N/A
Endpiece Inlay:  N/A
Binding:  N/A
Top Inlay Material:  N/A
Side Inlay Material:  N/A
Back Inlay Material:  None
Neck Material:  Select Hardwood
Neck Shape:  Dreadnought Junior
Neck Taper:  High Performance Taper
Plek:  Yes
Nut Material:  White Corian
Headstock Shape:  Solid with Dreadnought Junior Taper
Headplate Material:  Rosewood HPL
Headplate Detail:  N/A
Headplate Logo Style:  Script Ink
Headplate Binding Material:  None
Heelcap:  N/A
Fingerboard Material:  FSC® Certified Richlite
Scale Length:  24"
Neck Joins Body At:  14th Fret
Number of Frets Total:  20
Fingerboard Width at Nut:  1 3/4"
Fingerboard Width at 12th Fret:  2 1/8"
Fingerboard Inlay Material:  White Plastic
Fingerboard Inlay Style:  Dots
Fingerboard Binding Material:  N/A
Side Dots:  White
Back and Side Finish:  Hand Rubbed
Back and Sides Color:  None
Finish Top:  Hand Rubbed
Top Color:  None
Finish Neck:  Hand Rubbed
Neck Color:  None
Bridge Material:  FSC® Certified Richlite
Bridge Style:  Junior Style Belly
Bridge String Spacing:  2 5/32″
Saddle:  Compensated White Tusq
Saddle Radius:  16″
Tuning Machines:  Chrome Enclosed Gear
Recommended Strings:  SP Lifespan 92/8 Phosphor Bronze Medium (MSP7200)
Knob:  Small
Bridge Pin Material:  White Plastic
Bridge Pin Dots:  Black Plastic
Pickguard:  Faux Tortoise
Pickguard Inlay:  None
Case:  Soft Gig Bag
Label:  Paper Label
Electronics:  Fishman Sonitone (on D Jr. E and 2E Sapele models only)
Left Handed Availability:  Yes