The woody jewel of Martin's 2016 fleet, the D-1 Authentic 1931 is a magnificent dreadnought for the ages
A classic reborn at its birth
Specs include: 12-fret Dreadnought body; all-solid wood construction; South American mahogany back and sides; VTS torrefied Adirondack spruce top with VTS torrefied bracing and bridge plate; mahogany neck with vintage V profile unique to this model; 1-7/8″ at nut, 2-5/16″ at 12th fret; Brazilian rosewood fingerboard and bridge; bone nut and glued-in long saddle with 2-3/8″ string spacing; Ditson-style 9-ply rosette and 2-ply top purfling; black binding; faux tortoise shell pickguard; abalone dot fret markers; slotted headstock with Brazilian rosewood face plate; traditional Martin brand on back of headstock; relic tuners with brass side mounts

"The D-1A feels exactly like a pre-war Martin. It's astounding in just how light it is. And it's astounding in its sounding so very marvelous."
watch in 1080p HD for best sound
Historic Recreation

With a voice bigger than life from a body light as a feather, the D-1 Authentic 1931 is a close and faithful resurrection of the Martin's original Dreadnought prototype #1, made for the Authentic Series of vintage Martin reproductions, from an original D-1 built in 1931. It was the precursor to the legendary D-18.
Each model in Martin's Authentic Series is created from a specific vintage Martin guitar. The D-1A 1931 is based on the very first Martin model built in the revolutionary dreadnought size that went on to dominate the acoustic guitar world ever since. Just like how this new 12-fret mahogany dreadnought is going to dominate every room and every jam session where its canon of a voice is unleashed.
But what a beautiful canon it is!
The combination of purity and strength heard from the unwound trebles is thrilling, as notes soar from the sound hole like missiles rocketing over the horizon. The solid shot from the A and D strings' midrange fundamentals report with the authority of a baby grand piano. The bass is cavernous and the meaty sustain of the low E string hugs the edge of a ringing chord like thunderclouds skirting a sunny valley. And the whole voice has a huge inner space echoing with an entirely natural resonance that made me feel like I was wearing recording studio headphones to hear the retro spring reverb effects added by the engineer.
Only, this sound was engineered entirely by the craftsman and craftswomen in Martin's Custom Shop with woodworking tools, light and reflective South American Mahogany, and a seriously excellent soundboard made of VTS torrefied Adirondack spruce.
Authentic and Torreiffic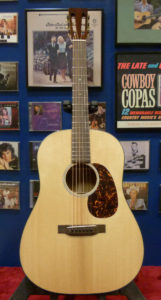 The vintage Martins chosen as the source material for Authentic Series models undergo famously rigorous examination, including X-rays and a CAT scan, to insure precise placement of the bracing and so forth.
According to Jeff Allen, the Custom Shop manager, "the layout of the bracing pattern duplicates the donor guitar perfectly." As with all Authentic Series instruments, the tone bars are shaped as closely as possible to how Martin carved them back in the day. The bridge plate is reproduced in the exact size and shape as the original, and it's "tucked" under the main X-brace, so the bridge plate transfers mechanical energy directly at the center of the tone bars before they transmit it across the entire soundboard. That is a feature only available on the Authentics.
Hot hide glue is used for all joinery. Martin's "thin finish package" is applied to equal the thickness of a vintage Martin, and buffed to the same sheen as they did in the pre-war years. The thin, responsive top is also sanded to vintage Martin specifications and the neck is carved by hand, to approximate the one on the specific vintage Martin it is based on.
This particular neck has that miraculous shaping used in the 1920s and early '30s that makes a 1-7/8" neck feel surprisingly comfortable and easy to play, even if it is still a handful for someone used to narrower, shallower necks. Likewise, the 2-3/8" string spacing helps the fretting fingers feel less crammed together. But when fingerpicking, it makes for a wide reach when accessing both E strings at the same time.
It also has an ebony support rod in the neck, making the overall guitar that much lighter in weight, when playing the instrument, and in terms of picking it up or carrying it, or just holding it for any length of time. The D-1 A feels exactly like a pre-war Martin. It's astounding in just how light it is. And it's astounding in its sounding so very marvelous.
And while much of that voice is the result of all that "authentic" construction and top shelf tonewoods, it is helped out into the room by Martin's proprietary Vintage Tone System of wood torrefaction. Also, exclusive to the Authentic Series, the spruce bracing and maple bridge plate are likewise torrefied.
Martin's VTS uses modern science and engineering for a proprietary application of the ancient process of torrefying wood. High heat and air pressure is used to alter the molecular structure of the spruce until it resembles that of wood that had seasoned for decades or even centuries. You can read more about torrefaction HERE.
The important point is, a torrefied top allows the spruce to process tone-producing energy more easily, which makes a guitar sound much less tight and constrained when it is brand new. To some ears it can make a modern guitar sound more like an old guitar. As such, buying this guitar is not the same as taking a time machine to 1931 and buying a brand new D-1, because it will never have that brand new guitar tightness to its voice. But that is by no means a bad thing.
Adirondack spruce takes longer to break in than other woods as it is. I liken the sound of new Adirondack tops to a stone skipping across a lake, benefiting little from the depths beneath. The tone of a Martin with VTS Adirondack spruce breaks through that surface tension, to sound in all directions. And the resulting resonance doesn't just spread outward from a wide but shallow lunching point, it radiates in 360 degrees of full 3D-HD tone.
What a guitarist plays on the strings is immediately transformed into marvelously unrestricted, spacious, resonating tone in a way that seems effortless.
While torrefaction is not a perfect replacement for 85 years of natural aging and generations of guitarists playing-in an instrument, it helps get the potential out of a meticulous vintage Martin reproduction today, rather than having to wait years for the top to break in and open up.
The D-1A 1931 is the new poster child for the VTS effect on Adirondack spruce, as far as I am concerned. Its voice is glorious right out of the box, and certainly does justice to this modern recreation of the very first Martin dreadnought.
First of a Kind
2016 is without a doubt the Year of the Dreadnought, as it marks the 100th anniversary of that revolutionary guitar design. It was in 1916 that C.F. Martin & Co. first received orders from an important client, the Ditson department stores, for an especially bassy instrument requiring a body that was much wider and deeper than Martin's largest size, their 000.
At that time, the First World War was raging across the sea, where British "dreadnaught" battleships ruled the waves as the largest naval vessels ever seen, or heard once their enormous canons boomed into life. The Mr. Martin of that era nicknamed the new design "dreadnought" because it was bigger in size and boomier in voice than any guitar that had come before it.
By 1931 the Great Depression had torpedoed the Ditson Company. So, Martin was free to offer a dreadnought under their own brand name for the first time. They called it the D-1. And they made two of them. And then they made a version in rosewood, which they called the D-2. This fateful pair of designs were then given some cosmetic tweaks and renamed the D-18 and D-28.
The rest is nothing less than the history of Country, Folk, and Rock n Roll music, since they were all intertwined with the history of the Martin D size and its considerable influence on popular music, as well as on all future guitar design that followed in the enormous wake of the first dreadnoughts.
There may be some people out there who feel the world has already had its fill of 12-fret mahogany dreadnoughts. But they will have another think coming if they are ever fortunate enough to get a D-1A 1931 anywhere near their hands and ears. We are indeed fortunate that Martin was able to obtain one of the original D-1 guitars in such miraculously good enough shape that an Authentic Series reproduction was possible.
Click on Photos to Enlarge
 Hog Heaven's Pantheon

I gotta say – I love me some 12-fret mahogany dreads.
I never met a D-18VS I didn't like, although some of them were particularly great, having Sitka spruce tops with all kinds of righteous personality. My favorite belonged to a late friend. It had a sunburst top and was just so alive and responsive, even before he put an accidental sound port in the side with the corner of his kitchen table.
Fred Oster of Vintage Instruments in Philadelphia used to order what was once the closest thing to a D-1 available. It was basically a 12-fret version of the D-18 Golden Era, in terms of the Adirondack spruce top and GE scalloped bracing, etc. And they were among the best big-bodied fingerpicking guitars I ever played. I would have bought one if my high school football-mangled thumb allowed me to handle a 1-7/8" neck on a daily basis.
That was before Martin came out with their Ditson 111 model and the 333 that followed it. They offered a similar take on a mahogany 12-fretter with an Adirondack spruce top, and more vintage-esque features than the Vintage Series could offer, as well as cosmetic appointments similar to the pre-1920s dreadnoughts built for the Ditson department store chain.
And then there came the CS-D18-12. This Custom Shop Series limited edition was inspired by a Ditson dreadnought from the late 1920s, and featured a back and sides made with 400 year old sinker mahogany from Belize. It had even more vintage specs, like a steel t-bar neck rod, hot hide glue construction, and Martin's thin finish package, which was brand new at the time. And it otherwise had GE style scalloping to the braces under the Adirondack spruce top, and a smallish 1-3/4" CS Series neck.
And as this progression of vintage-style 12-fret mahogany dreadnoughts appeared, each one got nearer to reproducing the genuine article, in various respects.
Well, I think it is fair to say that Martin has finally got there. It is unlikely another guitar will be built at Martin or anywhere else that will get as close to owning a brand new D-1 from 1931 or the D-18 built between 1931 and the change to the 14-fret design in 1934, with the VTS top kick starting the tone – certainly not for the very good price of a D-1 Authentic 1931.
Large and Lovely
One of the big cats of the tropical American mahogany jungle, the D-1A 1931 is amazingly agile, strong, and powerful, yet it purrs when caressed, effortlessly – if loudly.
Playing solo, it is like having a sideman on an upright bass viol, pleasantly throbbing along to the chords or picking patterns, and providing a wonderful undertone cushion to buoy the clean, clear Adirondack chime ringing off the top end.
Adirondack spruce on a mahogany guitar can often sound a bit too bone dry and crisp to my ears, as the notes fire out and off of that super-stiff top. But the VTS treatment lets so much character and strength get out of this brand new Martin model and into the room, where it fills the ears and heart with pure woody tone.
With its own heart opened wide like welcoming arms, it invites the player into that spacious voice, where a guitarist may just want to remain for hours on end.
And that is one man's word on…
The Martin D-1 Authentic 1931
List Price: $6,999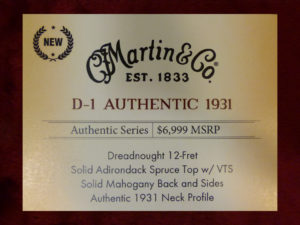 More Photos HERE
Related Reading:
Martin 00-18 Authentic 1931 Review
~
Official Spec Sheet
Model:  D-1 Authentic 1931
Construction:  Dovetail Neck Joint – Hide Glue Construction
Body Size:  D-12 Fret
Top Material:  Adirondack Spruce with VTS
Top Detail:  N/A
Rosette:  Multi-Stripe
Bracing Pattern:  Authentic 1931 X Brace
Brace Shape:  Scalloped
Brace Material:  Adirondack Spruce with VTS
Brace Size:  5/16″
Back Material:  Genuine Mahogany
Back Detail:  N/A
Back Purfling/Strip:  N/A
Side Material:  Genuine Mahogany
Side Detail:  N/A
Endpiece:  Brazilian Rosewood
Endpiece Inlay:  N/A
Binding:  Black
Top Inlay Material:  Multi-Stripe
Side Inlay Material:  N/A
Back Inlay Material:  N/A
Neck Material:  Genuine Mahogany
Neck Shape:  Authentic 1931
Neck Taper:  Standard Taper
Plek:  No
Nut Material:  Bone
Headstock Shape:  Slotted with 1931 Taper
Headplate Material:  Brazilian Rosewood
Headplate Detail:  N/A
Headplate Logo Style:  Stamped on Back of Headstock
Headplate Binding Material:  N/A
Heelcap:  Ebony
Fingerboard Material:  Brazilian Rosewood
Scale Length:  25.4″
Neck Joins Body At:  12th Fret
Number of Frets Total:  19
Fingerboard Width at Nut:  1 7/8"
Fingerboard Width at 12th Fret:  2 5/16"
Fingerboard Inlay Material:  Abalone
Fingerboard Inlay Style:  Authentic 1931 Style 18 Dots
Fingerboard Binding Material:  N/A
Side Dots:  Grained Ivoroid
Back and Side Finish:  Vintage Gloss
Back and Sides Color:  Dark Mahogany
Finish Top:  Vintage Gloss
Top Color:  Clear
Finish Neck:  Vintage Gloss
Neck Color:  Dark Mahogany
Bridge Material:  Brazilian Rosewood
Bridge Style:  Authentic Belly – Glue in Long Saddle
Bridge String Spacing:  2 3/8"
Saddle:  Bone
Saddle Radius:  16″
Tuning Machines:  Golden Age Relic Brass Side Mount
Recommended Strings:  SP Lifespan 92/8 Phosphor Bronze Medium (MSP7200)
Knob:  Cream
Bridge Pin Material:  Black Plastic
Bridge Pin Dots:  N/A
Pickguard:  Faux Tortoise
Pickguard Inlay:  N/A
Case:  Ply Hardshell
Label:  N/A
Electronics:  Not Available
Left Handed Availability:  Yes
~