Guatemalan rosewood debuts on Martin's first non-cutaway Grand Performance body, the CS-GP-14
The Custom Shop Series continues its record of unique instruments that marry classic Martin quality and construction with modern innovation and experimentation.
CS-GP-14 Specs include: Solid woods throughout; Grand Performance size; hide glue construction; Guatemalan rosewood sides and 3-piece back with a cocobolo center wedge; torrefied European spruce top with scalloped 5/16″ Golden Era style Adirondack spruce braces; cocobolo body and neck binding; one-piece mahogany neck with dovetail neck joint; Performing Artist neck shape, 1-3/4″ at nut, 2-1/8″ width at 12th fret; ebony fingerboard and bridge with 2-3/16″ string spacing; Fishman VT Aura on-board pickup system
July Brought the Summer NAMM show to Nashville and C.F. Martin & Co. brought to NAMM the CS-GP-14, which translates as a guitar made by the Custom Shop in the Grand Performance body size and available for dealer purchase only in 2014.
It is a versatile instrument of the highest order, with an expansive dynamic range of clear and present fundamentals, surrounded by complex rosewood sympathetics, a full but open undertone, and a forthright over-reaching ring thanks to the torrefied European spruce top, and all laid out with exceptional balance across the six strings. And the CS-GP-14 is presented in woody aesthetics that demands attention and commands a respectable price tag – but one that would have an extra digit at the front end, had this guitar been ordered by a private individual as a one-off Custom Shop creation.
Variations on a Theme
Martin's CS-GP-14 follows on the success of the smaller CS-00S-14, a 12-fret grand concert size instrument that debuted at Winter NAMM out in Anaheim, California. Together with the CS-OM-13 of last year, these three recent CS models represent a guitar triumvirate with related cosmetic styling, but with each in a different size and having their own unique combination of traditional luthiery, including elements shared with vintage Martins, and innovative features representing the research and development of cutting edge technological advancements in modern guitar making.
All three guitars have fingerboard inlays unlike any other Martins, with a reddish-orange centerpiece of reconstituted stone surrounded by a hollow diamond made from solid Mother of Pearl, along with related appointments that give the instrument an ornate look without overdoing things.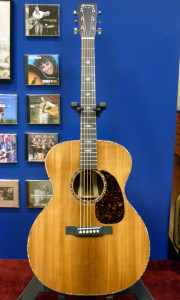 The CS-GP-14 also has the same lighter build as the other two, tweaked to achieve the most responsive voice and dynamics obtainable while allowing for a wide range of playing styles and levels of attack. As a result, this guitar does not have quite the throaty power of other Martins made in this size from the PA Series.
While looking like no other Martins before it, the construction and dynamics are more along the lines of what this size could achieve if it had existed in the pre-war years and was then resurrected as part of Martin's Golden Era series or Authentic series of vintage reproductions. So it takes to strumming, Rock chords and flatpicking well; it just responds best under a more civilized hand. In exchange, the player gets a guitar that glows and soars during fingerpicking or lighter, more nuanced flatpicking, beyond what the Standard and PA Series Martins tend to offer.
For those familiar with other Martins, I would say the power, attack ceiling, and response to a lighter touch fall between the ultralight CS-OM-13 and the more muscular OM-28 Marquis. I would have loved to play it with medium gauge strings, just too see how far I could push the top.
Most Traditionally Futuristic
Hide Glue
Like other CS models, the CS-GP-14 is made with hide glue construction throughout, just like Martins built prior to 1966. Hide glue was reintroduced with the advent of the Authentic series of exacting vintage reproductions, and is otherwise available as a premium option from the Custom Shop.
In practical terms, the use of hide glue is more time-intensive, and therefore more expensive in terms of paid man hours. But once it sets, hide glue provides a superior joining of wood to wood that facilitates better transference of the resonant energy that is ultimately converted into the sound waves emanating from the instruments. The difference is subtle and at times ethereal and hard to quantify subjectively, but it is recognized by enough players and builders to be considered a most desirable option.
Hide glue is most crucial when it comes to a hand-fitted dovetail neck joint, as found on most traditional Martins in the higher price ranges, which is also a feature on all guitars in the Custom Shop series. That is where the majority of neck energy makes its way into the body of the guitar. But other places where hide glue matters most is the bridge plate and the top braces. And the CS-GP-14 has an usual combination of top braces that are laid out in the "Standard X" positioning codified sometime in the late 50s, but scalloped in the Golden Era style, which means more wood is removed to achieve greater flexibility in the brace, leading to more "openness" of tone.
While its sister models in the CS series also have that bracing, the CS-GP-14 offers some genuine firsts in Martin guitar history.
Complete Performance
This is the first Martin made in the Grand Performance size without a cutaway on the treble side. The GP debuted in 2010 as part of the new Performing Artist series of modern acoustic-electrics, and was only the second truly new body size introduced since before World War II, the Grand Jumbo having debuted the year before. But where the Grand Jumbo was designed as the largest body offering the largest sound around, the Grand Performance was designed with versatility in mind. It falls between the classic dreadnought with its beefy bass and punchy trebles, preferred by flatpickers and strummers, and the balanced but smaller Orchestra Model with its in-line equalization that brings the midrange up and out into the room, preferred by many fingerstylists.
With a rounder shape and tighter waist than a dreadnought, it appears more like a bigger OM, made with a larger top, but also with deeper sides. In fact it is what much of the industry would call a mini-jumbo, and it bares resemblance to others of that ilk, for example, the guitars popularized by small-shop luthiers like James Olson. But now that I see the body size without a cutaway, I was struck by how much the feminine shape made me think of the super jumbo behemoths created by the Larson Brothers in the 1940s, only with smaller dimensions.
Performing Artist Series Neck
The CS-GP-14 is the first Custom Shop series model to feature the Performing Artist shape on the one-piece, solid mahogany neck and ebony fingerboard. Other Martins have been converted to what is called the Performing Artist taper of the fingerboard, but they do not tend to also get the Performing Artist shape to the neck profile itself.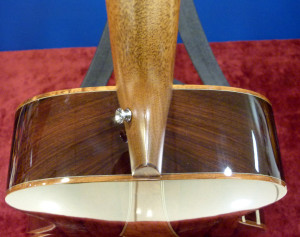 The PA taper is sleeker than traditional Martins, so that it starts with 1-3/4" width at the nut, but is only 2-1/8" at the 12th fret, just like older Martins made with a 1-11/16" nut width. And it is matched to a string spacing of 2-3/16, splitting the difference between the 2-1/8" of the modern dreadnoughts and 000s, et al, and the 2-1/4" spacing used on the Standard Series OMs. Again, versatility in mind and achieved with setting the specs between the modern strummer guitars and the fingerstyle OMs.
As stated, many otherwise traditional Martins in the Standard series have been converted over to the Performing Artist taper and string spacing, and it is expected that most, if not all, will be eventually. But they tend to have a modified low oval shape to the neck profile, considerably shallower than the modified V neck often used previously.
The CS-GP-14 has same profile as the actual PA series guitars, which is even lower and less oval, and much more like something found on those Olsons mentioned above, without being quite that flat or shallow. This makes it one of very few Martins made with a traditional dovetail neck joint that also has this neck shape.
I prefer it to the modified low oval version for comfort, but in either case the Performing Artist neck and the High Performance neck are sleek and fast and the neck itself remains much less massive as you move into the uppermost friends, making it more like an electric guitar neck in this respect than something found on a Martin acoustic guitar in any previous era.
Carbon Fiber Neck Reinforcement
A significant aspect of this particular neck is found in the carbon fiber rod inside it. Martin introduced their version of this futuristic feature of high-end luthiery on the CS-00S-14. Where that model had a vintage style modified V neck, carbon fiber rods are typically employed to achieve shallower, faster necks, like the one on the CS-GP-14.
The Martin carbon fiber rod was invented from the ground up specifically for guitar necks. It is non-adjustable, because there will never be a need to adjust it. It is more rigid than steel, and I tried my hardest to bend it, as have many brawnier lads than I. Yet it is lighter in weight than the wood it replaced, allowing guitars to resonate all the more during even the softest playing.
Guatemalan Rosewood
Another first for the CS-GP-14, and perhaps an "only time ever" feature, is found in a back and sides made from rare Guatemalan rosewood. Only enough was acquired to make this limited edition of 50 guitars.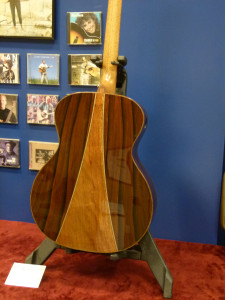 I was informed about this particular wood purchase in 2013 and was told it would be seeing the light of day this summer. It was a long time to sit on the news and wonder just what exactly might this rosewood turn out to be like. Would it be a true rosewood like Honduras rosewood, and possibly even the same species, just from a different microclimate? Or would it be more like the "Mexican rosewood" used on some classical guitars, but is not a true member of the rosewood family?
This one example bears little resemblance to Honduras rosewood in looks. It has wide banding of large grain and a color pallet running from blacks and dark browns toward darker brick reds, and therefore reminded me of the more interesting Madagascar rosewood guitar backs, as well as some of the more ornate made from cocobolo – or dare I say it, Brazilian rosewood.
When it came to tone, again from this one example, it was darker and thicker in terms of the lows and low mids than is typical for Honduras rosewood, and the trebles may be a bit fatter in terms of fundamental notes than Madagascar. And I found it comparable to some cocobolo guitars. But then, as it happens, this guitar has a three-piece back, and the center wedge is made from cocobolo, as is all the binding on the body and neck – albeit a much lighter and less figured variety, which makes the Guatemalan rosewood all that much more striking. But still, the cocobolo center wedge must provide some sonic influence on what is a very warm, complex and lovely voice.
Torrefied European Spruce
While it is impossible to isolate the tonal properties of Guatemalan rosewood from the influence of the cocobolo center wedge, it is highly likely a major reason for the exceptional depth and open quality to the voice of this brand new guitar is due to the fact the spruce used for the top has undergone the process known as torrefication.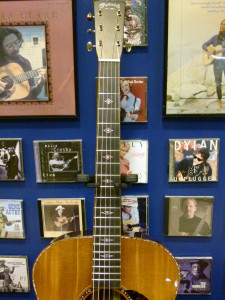 Basically, the spruce was treated with high heat in a way that "artificially ages" it, enhancing the responsiveness of a new guitar top and greatly improving the sound of a new guitar "right out of the box." To read more about torrefied tops, please go HERE.
This top is made from Certified European Spruce. This is a designation Martin uses on spruce that is certainly the species known as Alpine spruce, but the wood broker that sold it to Martin was unable to verify the exact country of origin. In any case, it has the same kind of precise treble chime, round lows and that creamy warm glow under the popping midrange top notes that makes European spruce sound to my ear like a cross between Engelmann and Adirondack. And it works very well in cahoots with the rosewood back and sides, and the deep tonal well that comes with the larger, deeper body.
Fishman Aura VT Pickup System
The owner of a CS-GP-14 will have no trouble hearing the rosewoody details flavoring that torrefied spruce tone, thanks to the sound port built into the bass-side shoulder. It is a feature almost never seen on a Martin and it certainly helped me hear the guitar better while I played it in the busy lobby of the Martin factory. And things got a lot louder, when I plugged in and turned it up!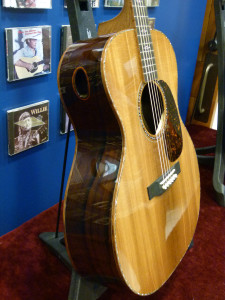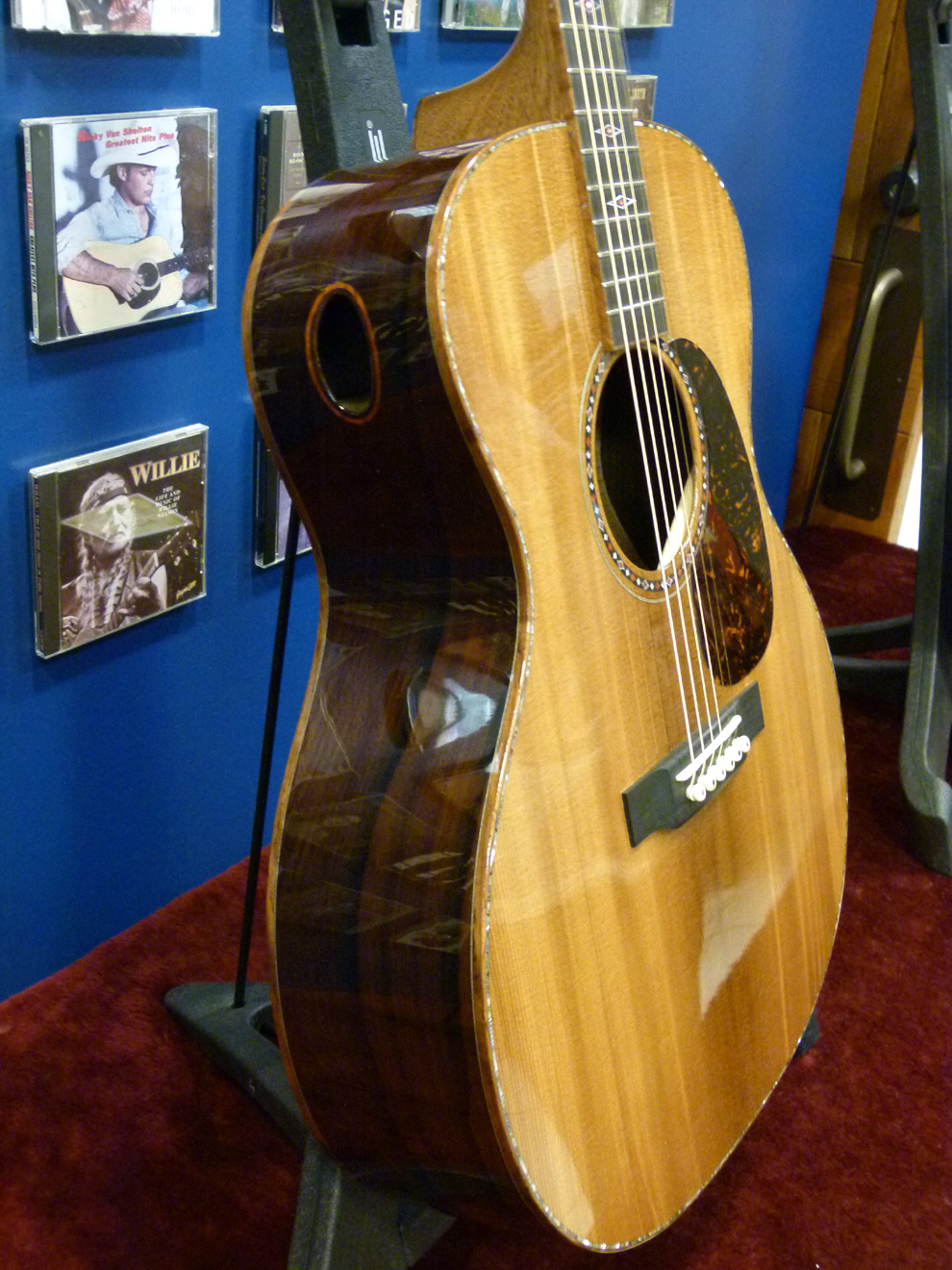 As with the 00 released in January, the CS-GP-14 has the latest in Aura amplification technology from Fishman Transducers. The Aura system provides an astonishingly accurate reproduction of the sound this model of guitar would make if it were being amplified by a high-end microphone. And this particular "VT" version has an Aura microphone image preselected and pre-blended. All the player has to do is plug in, and adjust the volume control hidden just under the lip of the sound hole, where they also find a mid-range "scoop" control.
It does not have the extra bells and whistles that come with the larger, more invasive Aura F1 system, like an on-board tuner and phase switch, etc. But it does an amazing job.
I was playing the guitar as someone turned the volume up and down on the Fishman SA220 tower, so we could compare the two voices. It really does sound like the same voice of the acoustic guitar itself, only louder and with more bottom end presence when turned up real high. That was a VERY impressive demo.
Limited Availability
I was very much sold on the idea of the new CS-GP-14 and if I could I would happily own one. Since they are only making 50, and I suspect we will not see many of them on the used market ever, I will have to miss out.
There is some irony here. I knew they were introducing Guatemalan rosewood. I knew they were doing a new GP, although I did not know the two facts would be connected in the same guitar. And I have been hoping they would come out with a GP that had an Aura pickup system installed. But I really must have a cutaway for the purposes I have in mind. Sigh.
I know there are many players who just do not need a cutaway or like the looks of them on a high-end guitar, and this is one humdinger of a high-end, non-cutaway Martin.
I think it likely we will be seeing more non-cutaway GPs in the future. But none of them will be made with Guatemalan rosewood and a cocobolo center wedge, a torrefied European spruce top, GE bracing in the Standard X position, a carbon fiber rod in a Performing Artist neck made from genuine mahogany with a dovetail neck joint, and hide glue construction throughout.
And that my friends, makes the 50 examples CS-GP-14 very special indeed.
And that is one man's word on…
The Martin CS-GP-14
List Price – $8499 – call your Martin dealer for the real price!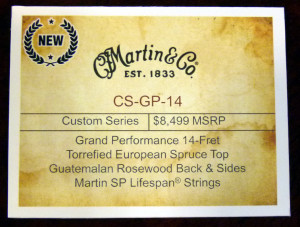 Other Martin Guitar Reviews:
Reviews of other Custom Shop Series Martins
Official Spec Sheet
Construction:    Mahogany Blocks/Dovetail Neck Joint – Hide Glue
Body Size:    Grand Performance 14 Fret Non-Cutaway
Top:    Torrefied Certified European Spruce
Rosette:    2 Ring – Concave Diamond Design – Orange/Red Spiney Reconstituted Stone/Solid MOP
Top Bracing Pattern:    Standard "X" Scalloped (Golden Era Style)
Top Braces:    Solid Adirondack Spruce 5/16"
Back Material:    Solid Guatemalan Rosewood w/ Figured Cocobolo Wedge
Back Purfling:    Style 35 w/ Black Fiber Strips
Side Material:    Solid Guatemalan Rosewood w/ Cocobolo Sound Port Rosette Ring
Endpiece:    Solid Figured Cocobolo
Endpiece Inlay:    none
Binding:    Solid Figured Cocobolo
Top Inlay Style:    none
Side Inlay:    Black/Maple/Black Fiber
Back Inlay:    Black/Maple/Black Fiber
Neck Material:    Solid Genuine Mahogany
Neck Shape:    Performing Artist Profile – Carbon Fiber Truss Rod
Nut Material:    Bone
Headstock:    Solid/Diamond/Square Taper
Headplate:    Solid Black Ebony w/ Large Old Style Silver Decal
Heelcap:    Solid Figured Cocobolo w/ Black/Maple/Black Fiber Inlay
Fingerboard Material:    Solid Black Ebony
Scale Length:    25.4"
Number of Frets Clear:    14
Number of Frets Total:    20
Fingerboard Width at Nut:    1-3/4"
Fingerboard Width at 12th Fret:    2-1/8"
Fingerboard Position Inlays:    Concave Diamond Design – Orange/Red Spiney Recon Stone/Solid MOP
Fingerboard Binding:    Solid Cocobolo
Finish Back & Sides:    Polished Gloss
Finish Top:    Polished Gloss
Finish Neck:    Satin
Bridge Material:    Solid Black Ebony
Bridge Style:    Modified 30's Style
Bridge String Spacing:    2-3/16"
Saddle:    16" Radius/Compensated/White Tusq
Tuning Machines:    Nickel Grand Tuners w/ Butterbean Buttons
Recommended Strings:    Martin SP Lifespan Phosphor Bronze Light Gauge (MSP 7100)
Bridge & End Pins:    Bone w/ Paua Pearl Dots
Pickguard:    Delmar Tortoise Color
Case:    Geib Style – Custom Shop
Interior Label:    none
Electronics:    Fishman Aura VT
Other Options:    Available left-handed at no additional charge
Other Comments:    All prices & specifications are subject to change without notice