Custom Shop creativity exudes from the new Martin CS-00041-15
A Limited Edition of 75 Instruments
The Martin
CS-00041-15

is made by the

C

ustom

S

hop, in the

000

size, with Style

41

appointments, and produced only in 20

15

.

Specs include: Construction of all solid wood, with hide glue throughout; Auditorium body size; Cocobolo back and sides; Martin Vintage Tone System torrefied Adirondack spruce top; scalloped 1/4″ Adirondack spruce bracing; short-scale, one-piece mahogany neck with dovetail neck joint, modified low oval profile and Performing Artist taper; ebony fingerboard with 1-3/4″ width at nut, 2-1/8″ at 12th fret, Ebony '30s style belly bridge with 2-3/16″ string spacing; bone nut and compensated drop-in saddle; Style 41 appointments with high color abalone top trim, Style 45 abalone sound hole rosette; mahogany and abalone fingerboard markers unique to CS-00041-15; Indian rosewood and mahogany ribbon inlay on back and headstock; flamed koa wood binding on body and neck; high gloss finish; open back Grand tuners with koa buttons

Watch on YouTube in Full HD 1080 for best sound
Custom Shop Chops
The Custom Shop series is the brainchild of Fred Greene, Martin's Chief Product Officer. Its primary concept is to combine elements of established Martin designs with non-traditional materials, progressive technology, and aesthetics that likewise entwine classic and contemporary features, to realize unique musical instruments of the highest caliber. This year's offering, the CS-00041-15 embodies the very essence of this concept, and it is perhaps the most successful at realizing Greene's vision of Martins that in every respect match the most exclusive of boutique guitars, if not surpass them.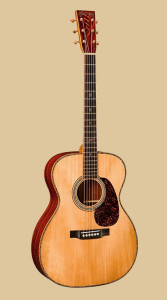 Here is a short-scale 000 with 1/4″ bracing scalloped in the manner of the Golden Era/Marquis series, like the 000-18GE and 000-42 Marquis, two of my favorite Martins, both now retired from the catalog. Having thinner, lighter, OM-style bracing counters the reduction in string tension that comes with a short-scale neck. This liberates the voice so that it sounds more like an expansive long-scale Orchestra Model than a typical punchy short-scale 000. And yet, this guitar does not sound exactly like any other OM or 000.
There is a rich throb in the bass that is a bit fuller and more pronounced than typical for an Auditorium size Martin. At the other end, the treble lifts out from the voice, pristine and with thinner fundamental notes reminiscent of the old 000s and OMs of the 1930s. Framed between them, the focused notes of the midrange solidify like firm little gems. But during extended playing, the resonant undertone permeates up around the midrange, smoothing it out, as heard in other modern rosewood Martins with this body shape. And just like its voice, the feel and looks of the 00041-15 offer the sort of never-found-together-before array of facets that has come to epitomize the CS guitars.
Cozy and Kinetic Cocobolo
This guitar has hide glue construction and a build that is lighter overall than even the guitars of the Authentic series. It is therefore that much more responsive to vibration and less tolerant of being over-driven. But being made with a back and sides of dense cocobolo, it has a marvelous presence glowing out from deep down within the voice, even when played most tenderly. The usual cocobolo heaviness has been shaved away by the lighter build, so it never sounds nor feels too thick or muffled, yet still it contributes much in the way of bottom-end warmth and harmonic complexity.
I will go so far to say that this is my favorite of any cocobolo guitar I have yet experienced. While there are some grand examples that exploit the thunderous power in this particularly dense and tuneful species of rosewood, never have I encountered a guitar that takes the intense coloring and ample rosewood warmth inherent to cocobolo and refines it, or massages it to the point that it relaxes and opens up in such a nuanced and ethereal way. This prototype sounds like it was made of Brazilian rosewood, more than any other cocobolo guitar I know of. There is more light and definition down in the depths, even though the shadowy recesses retain some of that cocobolo murk and mystery.
If they all sound this good, they won't stay in shops for long.
Open and Accessible Adirondack
Some of that refinement is likely due to the clarity and chime of the Adirondack spruce soundboard, which has itself been opened up by the revolutionary Vintage Tone System, or VTS, Martin's propriety version of wood torrefaction. An ancient technique applied through modern science, torrefaction uses natural processes of high heat in a low oxygen setting to alter the molecular structure of a spruce top until it behaves, and sounds, like wood that had been seasoned for decades.
Read more about torrefaction and its use in modern luthiery HERE.
This model received what Martin refers to as their M2 level of the VTS treatment, which results in a change to the color of the spruce, from the extreme heat used to effect the desired transformation of the wood. Normally white, new Adirondack spruce becomes more the shade of creamery butter after the treatment, glimpsed through streaks and wide patches in various shades of golden brown, not unlike a piece of toasted bread.
The specific visual alteration is a natural byproduct unique to the individual guitar. No other instrument will have the exact same shading and banding patterns seen on this or any other torrefied top.
From previous experience, I know that a guitar with a torrefied soundboard has an increased high end chime. The bottom end is more open and expansive as well, and the whole voice and personality of the guitar is more alive and three-dimensional from the get go. And all those telltale qualities are immediately apparent in this lightly-built, cocobolo/Adirondack 000.
While the GE bracing may have been scalloped in exactly the way that would coax from this exact spruce top the wonderful treble clarity and pronounced bass response heard in this guitar, and conjure the perceived depth, definition, and presence out of the cocobolo undertone, I believe that, along with other factors in its construction, the VTS treatment is certainly involved and is perhaps a significant conspirator in why it sounds the way it does.
The responsiveness and tone are magical.
Photos: Maury's Music
Tranquil and Transcendent

There is something decidedly tranquil about playing this guitar, because it asks so little of the guitarist. The CS-00041-15 comes alive under a gentle touch and spreads out its abundant aura of warm, woody resonance, to cushion and promote a clear singing voice, which at times is so free of friction the notes levitate over a cavernous inner space, often spawning a shimmering radiance of harmonic overtones so charming I found it spellbinding.
Just playing the notes of a basic C chord over and over becomes a fountain of beautiful music. It is fun, it is lively, it is nimble and expressive, translating into tone the touch of the guitarist, as if it were reading their thoughts or was connected to their pulse and breathing.
Sensitive and Satisfying

With such dynamic response, it prefers to be played in a less stressful manner than many modern acoustics – even less than the new OM-28 Authentic 1931, and certainly less than I typically prefer when it comes to broad versatility. But it does not require much in the way of attack to provide plenty of guitar. It projects the top notes very well, and I was able to get a nicely resonant palm-muted thump and whomp out of the bottom end without much exertion at all – surprising really, considering the sensitive dynamics of the top and the relatively shallow body depth.
Even if this could never be my only guitar, due to its required lighter touch and my broad requirements as a musician, it is so good at what it does best that I truly wish I could afford the indulgence of owning one.
The CS-00041-15 is an instrument of tone production as finely tuned as a Swiss watch, and it can be ridden rather than driven, like a precision sports car that changes gears so smoothly it goes unnoticed, providing the clutch is engaged at just the right RPM. But unlike other finesse guitars, it sacrifices nothing in terms of bass response, projection, or character when played at the level where it is happiest, and it leads the player to that very place in a most pleasurable way.
The reward for easing off from my habitual taut attack was so satisfying during extended melodies or improvised harmonic exploration, that I found it effortless to return over and over to the heart of "the zone," where notes sprout and bloom like tulips opening in fast-motion close-ups of rich colors, and sympathetics glint and waver, like sunlit ripples breeze-driven across deep, clear waters.
A Fast and Even Higher Performance Neck
Part of the easy going feeling experienced here has to do with the short-scale neck that places the frets a tad closer together than on a long-scale guitar, adding up to less stretching of the fingers, particularly in the upper frets. And there is less tension in the strings, so they bend and waggle with less effort, but still have considerable influence upon fluctuations in tone, thanks to the sensitive build.
But this is also Martin's high performance neck, which combines a modified low oval profile with the Performing Artist taper to the fingerboard, allowing for a 1-3/4" width at the nut while keeping a more slender width higher up the frets than found on traditional 1-3/4" Martin necks.
And this neck houses a carbon fiber support rod that actually weighs less than the mahogany it replaced. Not only is this space-age truss rod stronger than steel, it reduces the weight of the instrument, while returning a sense of balance that is focused on the solid mahogany neck block and traditional, hand-fitted dovetail neck joint, very much like the pre-war Martins.
I do believe I like the short-scale version of the new Martin neck more than the long-scale variety, even though I found the requisite 2-3/16" string spacing had me frequently missing strings with either hand. But that has a lot to do with the fact the short-scale neck on my main Martin is wider and has 2-5/16" string spacing. I assume I would adjust to the new spacing easily enough.
Luster and Luxury
The neck is finished in a full high gloss, just like the body of this decorative highly-functioning instrument. And while the abalone trim and rosette stand out from the torrefied spruce top, it is the special wooden marquetry that sets the CS-00041-15 apart from even the other CS models.
Cocobolo can have a color pallet ranging from sunburnt orange to claret reds to blackish purple. This cocobolo is of reddish-orange brick, contrasted by deep black striping. And the back has some of those wonderful patterns seen in various rosewoods that resemble draped or folded fabrics. But falling down along the center of this cocobolo back is the most wonderful marquetry of cocao brown Indian rosewood and blonde mahogany, inlaid to look like the shaded and highlighted sides of two large, intertwining ribbons.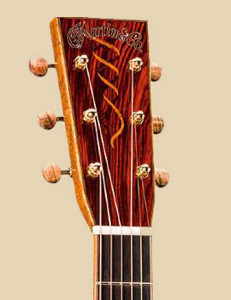 The same woods are used to create a miniature version on the cocobolo face plate of the headstock, crowned with the script C.F. Martin & Co. logo, inlaid in dark Indian rosewood (?) and outlined in mother of pearl. The fret markers extend this theme of exotic wood and shining shell, with ornate figure-8 ribbons made of milk chocolate mahogany, argent mother of pearl, and colorful abalone.
The mahogany neck is stained in the same dark blonde hue as seen on the other CS models, which is tied to the overreaching aesthetic by the blonde mahogany ribbons, and the slightly blonder binding of highly-flamed Hawaiian koa wood on the body and neck.
The tuning machines are open-back Grands made by Schaller that have oval koa buttons, looking similar to vintage butterbean tuners. But thankfully they don't have a concave button with a lip that hurts my fingers when I squeeze it.
It is an attractive and non-traditional motif that all comes together very nicely. No gathering of musicians will feature another guitar that looks quite like it, unless it is one of the seventy-five instruments in this limited edition.
Each and every year I remark that certain guitarists will be put off by the non-traditional aesthetic styling of the CS models, while others will be drawn to them, or even compelled to purchase one, for the exact same reason. But no CS model since the woody understatement of the CS-21-11 has won me over like the CS-00041-15.
The total package, with its exquisite marquetry of wooden ribbons on the back and headstock, in combination with the toasty torrefied top and koa trim is simply terrific. And while I might have enjoyed seeing this same guitar done with wooden purfling around the top and rosette similar to the ribbons, the Style 41 abalone inlay is dazzling in person, when set in and around all that wonderful wood.
Inspiring and Immersive

This new 000 is indeed a worthy sibling to the other light and responsive CS models, the CS-OM-13, CS-00S-14, and CS-GP-14, as well as the dreadnought size CS-D18-12 and CS-21-11. And it would make a delightful companion for the powerhouse thoroughbred cocobolo stallion that is the CS-D28-12.
Like those first three mentioned, the lighter construction shifts the dynamics of this 000 very much away from a serious attack. It can be played with some muscle, perhaps better than the others, like with a flat pick in a rock n roll sort of way. But it will not respond to heavy-handed notes with the kind of strength and solidity as something like a 000-28 Eric Clapton model or a Standard Series OM. In fact, it has the exact opposite dynamics of the old Standard series 000s, which came into their own when strummed with great power, but were rather withdrawn and closed up during lighter fingerpicking.
The CS-00041-15 sounds very nice across a wide range of styles and levels of attack. But it absolutely loves to breathe and blossom during fluid fingerstyle playing.
And when I played moodier pieces, or put it into DADGAD tuning, the sweeping chords and rolling picking patterns projected an immersive, three-dimensional tonescape, which took the palpable form of some sort of undercroft, like a flooded wine cellar in an old castle. As if I was blindfolded and the sound was radiating off the features in the imagined space like sonar, it displayed to my mind the vaulted ceilings of stone or brick, lit with torches that hinted at deeper recesses in shadowy alcoves of barrels and wooden shelving. All of it reflected in the wavering knee-deep liquid that flooded the dark floor of damp wood.
That sonic space was created by the extensive boundaries put out from the deep, throbbing bass and high, focused trebles, with the complex harmonics spreading out in arcs overhead, and in the warm, woody drone of the undertone. And I still hear that tonescape every time I put on headphones and listen to the recording I made of the CS-00041-15.
So yeah, it's a pretty nice guitar. I guess. If you like that sort of thing.
And that is one man's word on…
The Martin CS-00041-15
List price: $9,999. Ask your Martin dealer for the real price.

Also
CS-D41-15 – the larger cousin released in July 2015.
And
Other CS Series Martins Reviewed at One Man's Guitar
~
Official Spec Sheet
Model: CS-00041-15
Construction: Dovetail Neck Joint – Hide Glue
Body Size: 000-14 Fret
Top: VTS Solid Adirondack Spruce
Rosette: Style 45
Top Bracing Pattern: Standard "X" Scalloped – Golden Era Style
Top Braces: Solid Adirondack Spruce 1/4″
Back Material: Solid Cocobolo
Back Purfling: none
Side Material: Solid Cocobolo
Endpiece: Highly Flamed Koa
Endpiece Inlay: Black/Maple/Black Fiber
Binding: Highly Flamed Koa
Top Inlay Style: Style 41 – Abalone Pearl with Black/Maple/Black Fiber
Side Inlay: Black/Maple/Black Fiber
Back Inlay: B/M/B Fiber and Multi-Piece E I Rosewood and Genuine Mahogany Tapered Ribbon Inlay
Neck Material: Genuine Mahogany w/ Carbon Fiber Truss Rod
Neck Shape: Modified Low Oval w/ PA Taper
Nut Material: Bone
Headstock: Solid/Long Diamond/Square Taper
Headplate: Solid Cocobolo w/ Multi-Piece E I Rosewood and Genuine Mahogany Tapered Ribbon Inlay
Heelcap: Highly Flamed Koa
Fingerboard Material: Solid Black Ebony
Scale Length: 24.9″
Number of Frets Clear: 14
Number of Frets Total: 20
Fingerboard Width at Nut: 1-3/4″
Fingerboard Width at 12th Fret: 2-1/8″
Fingerboard Position Inlays: Ribbon/Concave Square Design w/ Abalone MOP and Genuine Mahogany
Fingerboard Binding: Highly Flamed Koa
Finish Back & Sides: Polished Gloss
Finish Top: Polished Gloss
Finish Neck: Polished Gloss
Bridge Material: Solid Black Ebony
Bridge Style: Modified 30's Style w/ Drop-In Saddle
Bridge String Spacing: 2-3/16″
Saddle: 16″ Radius/Compensated/Bone
Tuning Machines: Gold Grand Tuners w/ Oval Flamed Koa Buttons
Recommended Strings: Martin SP Lifespan Phosphor Bronze Light Gauge (MSP7100)
Bridge & End Pins: Bone w/ Paua Pearl Dots
Pickguard: Delmar Tortoise Color
Case: Geib Style – Custom Shop
Interior Label: Paper Label Numbered in Sequence w/ Total of 75
Electronics: none
Other Options: Available left-handed at no additional charge
Other Comments: All prices & specifications are subject to change without notice
~