The Compass to a Koa Wonderland is Found in Martin's 2016 CS-OM
Elegant marquetry graces a classic Martin Orchestra Model from the Custom Shop
CS-OM True North-16 specs include: Top Shelf all-solid wood construction, including exceptionally-figured koa back and sides, a master grade Adirondack spruce top with 1/4" Adirondack spruce braces and high color paua shell purfling; unique True North motif with marquetry of a compass rose on the back in flamed Claro Walnut, flamed jarrah and waterfall bubinga with paua pearl accents; genuine mahogany High Performance neck with high gloss finish, Modified Low Oval profile, High Performance taper to the ebony fingerboard with four-point star outline fret markers; ebony bridge with 2-5/32" string spacing; ebony binding on body, neck, headstock; waterfall bubinga rosette with outline star inlay; high color paua pearl top and rosette purfling; ebony headstock face plate with figured koa "parchment" and compass rose, C.F. Martin script logo in paua pearl.
"I love how the True North's crystalline lens of Adirondack spruce etches such fine detail into the warm koa undertone and shimmery high harmonics, as they sustain, fluctuate, and slowly fade, with each undulating glimmer as languid as lamplight on a tropical lagoon."
~

Course Set for Killer Koa
The CS-OM True North-16 is Martin's Custom Shop Series Orchestra Model with the True North motif, available only in 2016. It is a limited edition of 50 instruments. But I predict that almost every Martin dealer who buys one will eventually call up to see if they could possibly get another.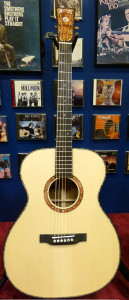 I am tempted to launch into just how superb this guitar is in terms of sound, feel, and playability. But it is so obviously a beautiful piece of the luthier's craft just to gaze upon, I must first address its many visual enchantments in detail, before trying to express its excellence as a music making machine.
Frankly, I am a traditionalist, especially when it comes to acoustic guitars. And the CS Series is very much about guitars that reach outside the accepted Martin paradigm when it comes to aesthetics, even if it is also about making the best musical instruments possible, with the full capacity of Martin resources and expertise utilized to maximum effect.
Few knowledgeable people would have seen this guitar in a glass case with backing mirrors at some ritzy guitar shop and thought it could be a Martin, until they noticed the Martin logo on the headstock.
When I first saw photos of the guitar, I said to myself, "Nice but not for me. Here is another finely engineered luxury model in the CS Series. It will almost certainly have a lovely voice and super-sensitive response worthy of a virtuoso fingerstylist. Yes, it has gorgeous woods and uniquely handsome, finely crafted inlay and appointments, which will impress lovers of great wood, while appealing to those who want to see this kind of price tag come with glittering pearl. But I can tell it really isn't my cup of luthiery. No, not Mr. Understated Style 28 and Style 18, and perhaps a bit of Style 42 for formal wear so long as there aren't too many snowflakes. Besides, it will be geared toward sensitive dynamics so it couldn't possibly get along well with my Visigoth playing style."
And then I went to the Martin factory to review the 2016 prototypes. There I found out the CS-OM True North-16 is the Best in Show for Martin's Winter NAMM offerings. And that is saying a lot, considering how special the two Authentic Series guitars are, not to mention the other limited editions. All of which will be reviewed in the coming weeks.
Exquisitely Beautiful
I shall try to refrain from drenching this review with various forms of "exquisite" and "beautiful." But the Martin CS-OM True North-16 is exquisite and beautiful at every level, and in each respect or way that a guitar could be assessed and declared as such.

No photo can capture the holographic phenomena scattered throughout the highly figured Hawaiian koa wood used for the back on the guitar I played. And the marquetry of the large compass rose, inlaid on that back, is a work of fine art.
It suggests a cross, and yet it looks like a dagger. Each pointed blade of the compass is made with striped highlights of flamed jarrah wood, set alongside Claro walnut of dark cocoa brown. Together they give off their own 3D effect, as if one could take hold of each blade, or spin like a propeller the four smaller prongs that reach out at oblique angles from behind the larger cross.
And yet the color scheme keeps the marquetry from upstaging the koa, which has its own unusually high contrast between darker shadowy patches, almost a forest green in certain light, and the typical koa ambers and butterscotch and peppery grain. It all blends beautifully together. The rays and rippling waves within the koa seem to radiate from the compass rose, turning the entire back into a unified field, like a heraldic banner made of wood rather than fabric.
I won't say this bests the billowing ribbon marquetry of the CS-00041-15 and CS-D41-15 models. Rather, the technique and concept have been set in another direction and embedded as part of a different but holistic motif. Personally, I think it is glorious.
The traditional ring that unites the four prongs of the compass rose is made of waterfall bubinga, trimmed along the edges with sunny, reflective pearl. And inside the ring are small, four-pointed stars that echo the points of the compass, each one made of thin strands of pearl creating an outline, with a center of koa showing through.
Wondrous Wood Well Worked
That same pearl-trimmed, star-filled bubinga ring is used for the soundhole rosette inlaid on one of the most impressive Adirondack spruce tops I have ever seen. While there is some slight color variation in the French vanilla hue, it has evenly spaced grain lines all the way across the top. And it is lacy with legions of cross ripples marching over every milometer. While Martin gospel preaches that wood is graded for looks only, both of those physical features have long been associated with exceptionally good tone production.
The diamond-like stars are also used as fret markers, and their concave sides make the four points stand out, like a depiction of a "twinkle" that works very well on the jet black ebony fingerboard.
The body, fingerboard, and headstock are bound in shiny black ebony. And the faceplate of the headstock is also ebony. Yet it is nearly covered with a detailed marquetry of koa, designed to look like a frayed piece of a parchment map, or perhaps a nautical chart, replete with curling edges. And on it is a smaller, simpler compass rose, fashioned partly from wood and partly with faint pastel pearl, so as not to outdo the flowing C. F. Martin & Co. logo just above it, spelled out in similar pearl.
All this pearl accent work is made from ghostly iridescent paua shell. But the Style 41 purfling, that frames the creamery butter top of Adirondack spruce, is made of high-color green paua, which is quite rare. It is the kind of pearl that is intricately busy with glimmering facets and crinkly reflective flakes, reminding me at once of the rosette on a priceless vintage Martin I recently played.
But no vintage Martin or any kind of normal abalone has this kind of emerald green and aquamarine, meshed with sapphire blues and deep ruby red, in such density and arresting richness of color. And when the light is not reflecting colors, the pearl appears dark silver with black figuring, rather than the bleached out whites of typical abalone shell.
Paua is a Maori word for certain sea snails native only to New Zealand. Of them, the shell of the black footed paua can have the most intense green and blue colors found in the natural world. Much like the figuring in the koa, no photo can do this stuff justice. And once you see this model in person, you will most certainly agree.
Click on Photos to Enlarge
Resounding Sound
First of all, as a musical instrument, this is an excellent OM. It has clear, open fundamental notes and a broad dynamic range, alive with multi-layered resonance that makes the inner space of the overall voice seem larger than should possibly fit inside a guitar with these dimensions.
Since revolutionizing the music world in 1930 as the first 14-fret, flattop steel-string guitar, Martin's Orchestra Model design has been known for its unique array of string to string balance, abnormally good projection, and a resonant, open voice. The combination of long-scale string tension passing through a small bridge plate to a top and sound chamber of this particular size was magical when it came to tone production.
And while the original OMs were lightly-built and extremely responsive, and therefore perform best under a more restrained hand, the modern Martin OMs were a bit sturdier. They have more horsepower as a result, even if they sacrificed some of that responsive handling and legendary finesse.
This guitar bridges both types of Martin OMs in a way I have not previously encountered.
The first CS Series OM was made very much to equal and surpass the most finely tuned boutique fingerstyle guitars in the world, when it came to nuanced sensitivity and extra-light construction – going beyond vintage OMs or their Authentic Series doppelgangers to reach remarkable levels of delicate response while retaining purity of tone. But that meant it did not hold up as well under a more powerful attack. The CS-00041-15 enriched and strengthened the tone and dynamics, but retained the alignment of response over power, due to the physical effects of a short-scale neck.
Wonderfully resonant, the CS-OM True North-16 is delightfully complex in its detailed tonality, and yet it has an expansive dynamic range beyond most ultra-responsive guitars. It reacts to the slightest variation in attack and string manipulation, but does not shy away when a guitarist digs in. It effortlessly exchanges delicacy for vigor, serious energy for full-bodied tone. How dey do dat??
Well I know a bit about how this was achieved. But I am not allowed to tell you. And other efforts/explorations/techniques that went into this guitar are bona fide trade secrets I am not privy to, beyond vague allusions and an occasional enthusiastic slip of the tongue. Let's just say they got it right. And that becomes apparent less than five minutes with this guitar in a player's hands.
There is a warm muffin of koa bass swelling out from the bottom end; rich, round and quite delicious. It has plump midrange notes as well, to the point that I almost thought this guitar was topped with European Alpine spruce, at first strum. That furry koala warmth softens the stark edges of typical Adirondack definition and thickens up the fundamentals and their resonant undertone.
The unwound treble notes are effortlessly pure. Slender and glimmering when caressed, but turning assertive with a solid ring when struck. And as the fundamental notes leap out, they cue the tenors and sopranos in a choir of angelic harmonics that wells up behind the strums and picking patterns. It is slow to rise and to retire, so it does not upstage the main notes off the strings. But whenever a guitarist stops playing, the resonance of the undertone and high harmonics expand into the room, overtaking the top notes that politely recede into the depths, maintaining their tonal signature a long ways down.
I love how chords ring out with Adirondack clarity and sheen, like a rapid sunrise, and then bloom with the colors of that slower koa complexity, like a forest waking up into the daylight.
I love how there is such a layering to the sympathetic resonance, as if humid mists wafted in varying depths and directions, illuminated by a glowing sunset. It is a splendid version of that classic wavering resonance at the center of "the Martin sound."
I love how the True North's crystalline lens of Adirondack spruce etches such details into the undertone strata and overreaching harmonics of that fluctuating voice. And how the koa's warm, colorful sustain fills it all in before it fades, with each undulating glimmer as languid as lamplight on a tropical lagoon.
And I really love how the rich, round bottom bass string never loses out to the A string in alternate-thumb picking patterns, unlike most modern OMs. That particular feature is reminiscent of the three OM models in the Authentic Series of exacting vintage Martin replicas. This CS-OM blossoms under a light touch, but then excels under a commanding hand with a firm attack, even more than the OM-28 Authentic 1931.
The Best of the Best
That "authentic" low E string dynamic should not come as too big a surprise. The top bracing on all 50 instruments was carved by the same craftsman who spends much of his life in the Martin factory scalloping braces on the Authentics.
That is not to say this guitar has "Authentic Series bracing." It does not.
The bridge plate is not tucked under the X brace and there was no conscious intent for this Custom Shop Series guitar to be braced like an Authentic. But the same veteran hands were at work with the same tools. And the same expert eye and attention to detail has been put to use creating a most-influential component of this exquisite (there I said it) guitar.
But one special feature this guitar does have in common with the Authentics is the Adirondack spruce soundboard. It has been sanded down beyond modern Martin specs to the same thickness used in the Authentic Series. And that helps account for the breathtaking reflective resonance in the heart of the voice, where volleys of sound waves ricochet back and forth between that quick-ping Adirondack and the colorfully complex koa.
But it gets better. And by better I mean best.
This limited edition of 50 guitars has the best Adirondack spruce Martin could put on it.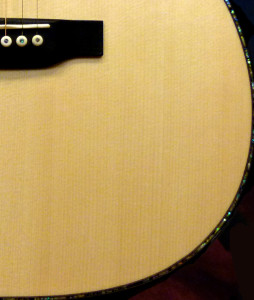 This is not Martin's top grade spruce. This is "master grade" that, I was told, "doesn't get put on guitars." These are tops that have been seasoning in Martin's reserve of select, irreplaceable wood for many years. To my knowledge the only Martin model in modern times that have tops from this particular stack of Adirondack spruce is the $100,000 OM-45 Deluxe Authentic 1930, which debuted at this time last year.
They only made 11 of those guitars, plus the two production prototypes. There are 50 individual tops available to the public on a CS-OM Truth North-16. Each one of them was chosen by the designer of this limited edition, after going through every set in the stack. And that designer is Jeff Allen, Manager of Martin's Custom Shop.
This is Personal
Following the stellar success of the boldly beautiful CS-00041-15, Allen was himself emboldened to embark on a project that would continue the precedent set within the CS Series for boutique-worthy musical instruments that offered truly custom designs, with a soul and sound that absolutely fit with and added to the Martin legacy. It is nothing less than the legacy that gave rise to the American acoustic guitar and shaped its evolution more than any other single source, influence, or entity.
Allen knew he wanted to include wooden marquetry of a different design from the "ribbon guitars" from 2015. The idea of a compass rose was hit upon early in the process and everything evolved and revolved around that.
Inspiration was drawn from all sorts of traditional compass rose imagery, including a decorative compass rose with an actual true north orientation, found in the home décor of a particularly gifted woodworker, Martin's Director of Instrument Design, Tim Teel.
Teel and Allen put their heads together throughout the R&D phase, where everything from the weight and density of certain woods, to types of bracing, finishes, and aesthetic embellishment were explored, tried out, rejected and retried in other combinations.
Jeff Allen loves great guitars and he wanted the CS-OM True North-16 to be a great guitar in all respects. Every piece of wood that went into these 50 instruments passed through his own hands and met with his ardent scrutiny.
As with the master grade Adirondack spruce tops, he selected each of the 50 koa sets, which was quite a task onto itself. He wanted all 50 future owners of this limited edition to feel their personal guitar had exceptionally-figured koa every bit as good or better as the floor model introduced at the 2016 NAMM show.
Allen oversaw the creation of this OM to the smallest detail. Particularly elegant, to my eye, is the delicate purfling of black and white lines delineating the edge between the ebony fingerboard and its the ebony binding. The same purfling traces the binding on the body and the headstock.
Another loving touch is seen in the stars on the bubinga ring at the center of the back. The ring appears to pass behind the large blades but in front of the four smaller oblique spikes. And where it passes over a spike, the empty center of each star reveals not the koa top, but a tiny section of jarrah and walnut, adding to the three-dimensional illusion of the astounding marquetry.
Even the high gloss finish was a matter of debate and customization. It is between 4 and 5 mils, making it not quite as thin as the finish on the OM-45 Deluxe Authentic 1930, but still a bit thinner than that found on an OM-42 from Martin's core range. And that too helps improve the resonance and responsiveness. But is also makes that new Martin High Performance Neck feel really great and glassy. And that is pretty darn classy.
Such visible examples barely give a glimpse into the attention to detail that Jeff Allen and his Custom Shop team strove to achieve and perfect as they designed and realized this one-of-a-kind Martin OM made with such naturally beautiful koa and naturally perfect Adirondack spruce.
Well, fortunately it is one of fifty Martin OMs in this edition. So there is still a decent chance you could own one. But I wouldn't think t0o long before calling your Martin dealer!
And that is one man's word on…
The Martin CS-OM True North-16
List price $12,999.00
Call your Martin dealer to find out their best price!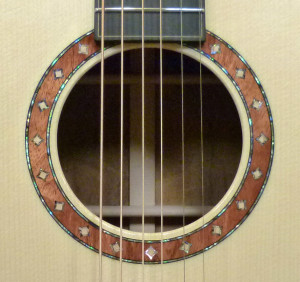 More Photos HERE
Related Reading:
2016 Martin Guitars: An Overview
Martin 000-42 Authentic 1939 Review
Martin's High Performance Neck: A Clarification
2015 Martin Guitar Reviews Recap
Official Spec Sheet
Model: CS-OM True North-16
Construction: Dovetail Neck Joint – Hide Glue Construction
Body Size: 000-14 Fret
Top Material: Adirondack Spruce
Top Detail: N/A
Rosette: Custom Inlay
Bracing Pattern: X Brace
Brace Shape: Scalloped
Brace Material: Adirondack Spruce
Brace Size: 1/4″
Back Material: Koa
Back Detail: Exceptionally Figured
Back Purfling/Strip: Custom
Side Material: Koa
Side Detail: Exceptionally Figured
Endpiece: Ebony
Endpiece Inlay: Multi-Stripe
Binding: Ebony
Top Inlay Material: Abalone with Multi-Stripe
Side Inlay Material: Multi-Stripe
Back Inlay Material: Multi-Stripe
Neck Material: Genuine Mahogany
Neck Shape: Modified Low Oval
Neck Taper: High Performance Taper
Nut Material: Bone
Headstock Shape: Solid with Square Taper, Diamond and Square Corners
Headplate Material: Ebony
Headplate Detail: N/A
Headplate Logo Style: Custom Inlay
Headplate Binding Material: Ebony with Multi-Stripe
Heelcap: Ebony with Multi-Stripe
Fingerboard Material: Ebony
Scale Length: 25.4″
Neck Joins Body At: 14th Fret
Number of Frets Total: 20
Fingerboard Width at Nut: 1 3/4"
Fingerboard Width at 12th Fret: 2 1/8"
Fingerboard Inlay Material: Abalone
Fingerboard Inlay Style: Concave Square Outline
Fingerboard Binding Material: Ebony with Multi-Stripe
Side Dots: Grained Ivoroid
Back and Side Finish: Gloss
Back and Sides Color: N/A
Finish Top: Gloss
Top Color: Clear
Finish Neck: Gloss
Neck Color: N/A
Bridge Material: Ebony
Bridge Style: Modern Belly – Drop in Saddle
Bridge String Spacing: 2 5/32″
Saddle: Compensated Bone
Saddle Radius: 16″
Tuning Machines: Gold Open Gear
Recommended Strings: SP Lifespan 92/8 Phosphor Bronze Light (MSP7100)
Knob: Koa
Bridge Pin Material: Bone
Bridge Pin Dots: Abalone
Pickguard: N/A

1 Comment