An elegant powerhouse with responsive finesse and hearty dynamics, the Martin CS-D41-15 showcases Indian rosewood and Sitka spruce as the top-tier tonewoods they are.
The Martin
CS-D41-15

is made in the

C

ustom

S

hop, with a

D

readnought body size, in a unique version of Style

41

, and available to Martin dealers only in 20

15

.

Specs include: All sold wood construction; Indian rosewood back and sides; VTS torrefied Sitka spruce top; Style 41 abalone top trim and rosette; Adirondack spruce bracing with Golden Era style scalloping; flamed mahogany bindings; flamed cedar neck with a modified low oval profile and Performing Artist taper, 1-3/4" at the nut, 2-1/8" at the 12th fret; 2-13/16" string spacing; ebony fretboard and bridge; bone nut, saddle, and bridge pins; tapered ribbon marquetry inlaid on the back and headstock made from cocobolo and mahogany; ribbon fingerboard markers in mahogany, abalone, and mother of pearl; open back Grand tuners with flamed koa buttons.

"Few if any Indian/Sitka dreadnoughts are as alive and dynamic and tuneful as the CS-D41-15."
Boutique Beauty

Bindings of richly figured wood running alongside high-color abalone purfling. The undulating curves of exquisite marquetry in exotic timbers of auburn and gold, tumbling down the chestnut and coffee complexion of the tropical rosewood back, or intertwined with the luminous pearl dressing a flawless jet black ebony fretboard. Quartersawn spruce of close, consistent grain tessellated with rippling cross grain and laced with threads of glimmering medullary rays. That description would seem to fit the sort of boutique guitar only made by small exclusive luthier shops.
And so it does; as this latest release from the insular environment of Martin's Custom Shop was created by a small team of dedicated craftsmen and woman to take its place among the finest examples of handmade luthiery in the twenty-first century.
But for all its beautiful woods and exquisite inlay, that doesn't really hit home until one picks up this surprisingly light of weight rosewood dreadnought and makes music with it.
Even Better Than Expected
As I got to know the new CS-D41-15 prototype, I became more and more impressed with how it plays and how it sounds.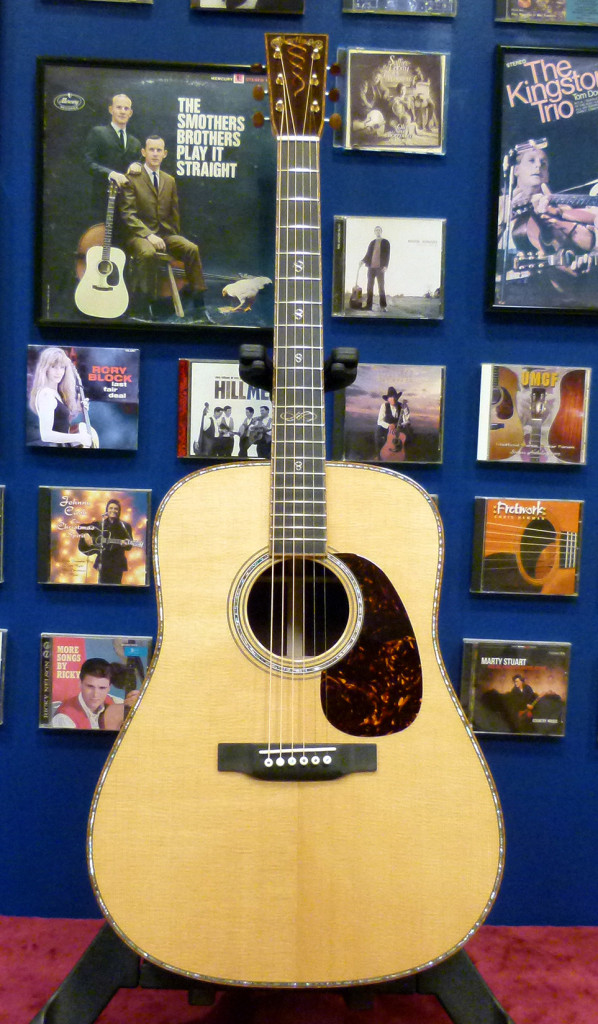 I was surprised by how much lighter it lay in the hands than the smaller Martin model I had been testing moments before. I was immediately struck by how alert and alive it was at the first strum, and how clear and expressive and musical it becomes when lightly finessed with a flat pick. And then I was most pleased in the response that came from digging in and playing it harder, and then harder still, and then as hard as I could. It changes gears effortlessly, and the voice increases in depth and projection until it hits overdrive, when it turns throaty in the best of ways, with a warm burly hum from the bottom end, while the chimes across the highs flash ever fuller, lighting up the room like a quartz lamp.
And when it comes to fingerpicking, the primary notes sing suspended in the room, atop an open and spacious undertone, allowing for effortless expression, and projection ever-clear across all six strings. But down inside that undertone is a colorful "presence" conjured into the air between that tropical rosewood and singing North American spruce, adding up to an overall voice of sophistication and complexity.
It is a very impressive addition to that very impressive collection of CS guitars. The series was the brainchild of Fred Greene, Martin's Chief Product Officer, who oversaw the entire process from the drawing board to the final prototypes – until quite recently.
I ran into Fred in the Martin factory lobby, moments after I finished my first look at the new guitars making their debut at the Summer NAMM show that morning. I congratulated him on the success of the CS-D41-15 model. "I had nothing to do with this one." he said. This was all Jeff." referring to Jeff Allen, General Manager of the Custom Shop.
"That is why I brought him to Martin; I knew he could handle the job and he would design guitars this good, once he got up to speed."
I think it is safe to say he got up to speed indeed. The future of the Martin Custom Shop is in very good hands, and that figure of speech can be used literally for every member of Allen's Custom Shop team that I have met, since their hands do the actual building.
Getting the Most Out of Tonewood
When I first learned they expected to put out a larger companion of the awesome CS-00041-15 released in January, I was given the impression it would be made from the same Cocobolo and Adirondack spruce tonewood combination. I was surprised to see this new dreadnought had Indian rosewood for the back and sides and a top made from torrefied Sitka spruce.
Someone mentioned something about Jeff Allen's desire to keep the price down on this particular model. But when I asked Jeff, he made it clear that he chose the woods because he liked how they sounded.
As he put it, "I am only interested in building guitars I absolutely love… The reason the coco went is because I wasn't happy with the test example for the D version. Once I felt I had everything correct, we built 3, and all of them sound great. To be honest, the M1 torrefied top, non-torrefied adi bracing, and super light/dry cedar neck made the difference."
It is true the CS-D41-15 has a retail price $1,000 less than its cocobolo 000 counterpart. But it is by no means any less of a guitar; it is all aces when it comes to personality and tone.
Crazy Good
I am delighted by how alive and out there the voice is, with such a clear singing ring at the slightest bit of coaxing from the player. But what really does it for me is how it still responds to power playing with a powerful voice while retaining that wonderfully colorful definition in the fundamentals and harmonics, with increased meatiness on the bottom end, and a good dose of that "smoky Martin rosewood undertone" that made me fall in love with Martins in the first place.
What makes it unique to my ear is the fact it has leaner beef in the bass and that rosewood smoke is less murky in the undertone than something like an HD-28V. It is more in the vein of two of my favorite Martin models, the CS-21-11 and the D-21 Special.
And like those two special dreads, it has a lot of vintage vibe, when it comes to the overall dynamics, and how the guitar feels and plays light and open, but stayed with me as I increased the attack and injected more and more might into the strings, and how the guitar ate it up and converted it into power, volume, and meaty tone, yet with all the sophisticated shimmer and sparkle I expect in a high-end Martin with dense abalone shell inlaid around the edge of the soundboard. But that extra umph during power playing makes it beefier than the CS-21-11, while the extra complexity across the harmonics sets it apart from the D-21 Special.
But like those two finesse dreadnoughts, it is just so alert and nimble when fingerpicked. After I finished a buoyant passage of fingerstyle playing, where the three-dimensional voice practically laughed like a sunlit mountain brook, the microphone picked up my spontaneous audible response.
"This is crazy good," I am heard to say, as if I just came up for air in the midst of a delicious steak at a four-star restaurant.
And like the fare at the world's best eateries, the expensive damask or glided candelabra may add to the experience, but those stars are earned by the meat and potatoes. And just as most good restaurants can offer quality beef and fresh vegetables, most guitar makers offer Indian rosewood dreadnoughts with Sitka spruce tops. It is what the master chef and master craftsman does with them that make all the difference.
(click images to enlarge)
The Richer Cousin
Like the 21-11 and 21 Special, the CS-D41-15 comes to life under a light touch, with precise definition and notable separation between the fundamental notes, and a more spacious undertone that allows the top notes to stand out when fingerpicked, in terms of clarity and projection and in terms of harmonic resonance surrounding rather than swamping the primary voice.
All three are rosewood dreadnoughts made with cedar necks. A cedar neck has maybe half the weight of a mahogany neck and that lightens up the whole guitar even when the body has a typical Martin build, and it contributes to an airy, more open sound. But the CS-D41-15 neck is unique and in more than just looks. The story behind it is as interesting as the tiger stripe grain running all over it.
The necks used for this limited edition were discovered in the acclimation room, where they had sat for at least ten years. To understand how such a thing is possible, one must realize this so-called room is a giant warehouse filled by rows upon rows of towering shelves, where Martin's milled wood is slowly seasoned in a carefully controlled environment. When Jeff Allen was made aware of the necks, he felt they were far too beautiful not to put on a guitar worthy of them.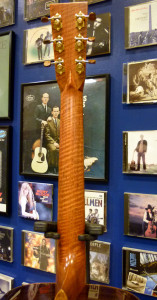 So we are talking about some exceptionally seasoned cedar necks that were then reshaped into Martin's high performance neck, which combines a modified low oval profile with the PA taper originally designed for their Performing Artist series of modern, acoustic-electric guitars. This profile/taper combo has become so popular it is now used on most new models in the Standard Series, along with many special editions.
No one at Martin today recalls just when the cedar was acquired or what the necks were originally intended for. All that is known is the channel cut for the neck's support rod was in a larger, non-traditional size. I heard no less than four theories on the subject the day I was at the factory to review the new Martins. But I will stick with Jeff Allen's account, since it sticks to the facts.
"The cedar necks had been acclimating in our room for a decade. I was looking for something really striking that would complement the flame binding I wanted on this guitar – almost look like the same wood.
When I came across these cedar necks, I quickly learned we'd need to create a rod to be able to use them. So Aaron (van Why) in the Mill did some measuring and made a rod that fit exactly and performed like a modern rod. Once we tested it, I decided to use the old cedar necks for this limited run.
The CS model shown in Nashville (at NAMM) has a new steel 2-way rod, uniquely sized and shaped to accommodate the channel that was cut into these necks. The wood machined amazingly well, because they sat so long in a perfect environment and had a chance to really stabilize. They look fantastic!"
The entire instrument looks fantastic, with its high color pearl trim and flamed wood binding and accents, and of course the breathtaking wooden marquetry that achieves the illusion of three-dimensional ribbons curling down the back.
But it is the three-dimensional tonal landscape down inside the voice of the guitar that I find most impressive. It shows how build and expertise can wring detail out of the lush tonal color palette of Indian rosewood, and what torrefaction can do for Sitka spruce.
VTS Difference
Martin's Vintage Tone System is a proprietary method of treating young wood with high heat in a low oxygen environment under high pressure, which alters the molecular structure until it mimics wood that is decades or even centuries old. Read more about Martin's VTS and the wider world of torrefaction HERE.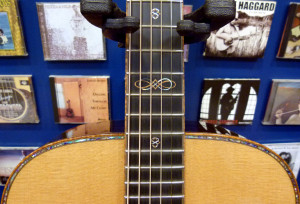 In practical terms, I most notice an increase in the echoy resonance ringing off the high end of a guitar with a VTS top, a greater 3D depth and definition down inside the voice, and when it comes to Sitka, it has a slightly drier, more open undertone and an increased, altered chime that really does make it sound "broken in" right out of the box, and more like an older guitar.
It definitely sounds "different," and to some people something new and different is perceived as a negative. But I have been very impressed with the VTS Martins I have played thus far, and there is a lot of extra, well, everything going on in the voice of this new Custom Shop series offering. And the VTS top is likely at the heart of it all.
In this era of alternative rosewoods, it is good to be reminded of what fine guitars can be created with the Indian/Sitka tonewood combination. After all, it is Martin's choice for the D-45. Few if any Indian/Sitka dreadnoughts are as alive and dynamic and tuneful as the CS-D41-15, however. It serves as a finer example of how the construction techniques developed by Fred Greene and his team elevate the CS guitars to a strata of truly wonderful musical instruments.
A Lot of Wow for the Price

Tim Teel, Head of Instrument Design, stopped by to say hello when I was recording the guitar and the first thing out of my mouth was, "How does Martin build so much wow into a guitar like this?" He just laughed and appeared pleased I was so pleased with it.
The CS-D41-15 is a best of all worlds guitar. A dreadnought with the response and precision of a boutique fingerstyle guitar, the sculpted depth and wide-ranging dynamics reminiscent of a vintage D-28, and the succulent fundamental tone of Indian rosewood and Sitka spruce enriched by the advanced Vintage Tone System of wood torrefaction, dressed in inlay of beautiful wood and colorful pearl.
Like all of CS series guitars, it consists of a combination of traditional Martin design and progressive boutique styling. It has its own unique appointments, while sharing others with its CS siblings, like Fred Greene's blondish CS neck toner. But in this case, the tiger stripping is a darker burnt sienna that ties in well with the mahogany binding and VTS toasted top. It really does look "fantastic."
It has such an impressive voice with terrific dynamic range for such a light and responsive feel, I wonder if Martin shouldn't consider a series of guitars made from affordable, sustainable tonewoods like VTS Sitka spruce and Indian rosewood, with minimal trim while also getting some of the vintage building techniques reserved for the Authentic series and CS series. But in the meantime, this limited edition offers a tremendous amount of guitar at very reasonable price, considering its elegant, luxury appointments.
And that is one man's world on…
Martin CS-D41-15
List Price: $8,999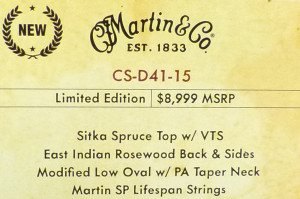 Related Reading:
Reviews of other Custom Shop Series Martins
Supplemental Video
Here is guitarist Rick McKlay demonstrating the clear and ringing CS-D41-15 as some friends from the Unofficial Martin Guitar Forum check out the new Martins earlier this month during Martinfest.
Official Spec Sheet
Model:   CS-D41-15
Construction:   Dovetail Neck Joint
Body Size:   D-14 Fret
Top:   Solid Sitka Spruce w/ VTS
Rosette:   Style 45
Top Bracing Pattern:   Standard "X" Scalloped – Golden Era Style
Top Braces:   Solid Adirondack Spruce 5/16"
Back Material:   Solid East Indian Rosewood
Back Purfling:   none
Side Material:   Solid East Indian Rosewood
Endpiece:   Flamed Mahogany
Endpiece Inlay:   Black/Maple/Black Fiber
Binding:   Flamed Mahogany
Top Inlay Style:   Style 41 – Abalone Pearl with Black/Maple/Black Fiber
Side Inlay:   Black/Maple/Black Fiber
Back Inlay:   B/M/B Fiber and Multi-Piece Cocobolo and Flamed Mahogany Tapered Ribbon Inlay
Neck Material:   Flamed Cedar
Neck Shape:   Modified Low Oval w/PA Taper
Nut Material:   Bone
Headstock:   Solid/Square Taper
Headplate:   Solid East Indian Rosewood w/ Multi-Piece Cocobolo and Flamed Mahogany Tapered Ribbon Inlay
Heelcap:   Flamed Mahogany
Fingerboard Material:   Solid Black Ebony
Scale Length:   25.4"
Number of Frets Clear:   14
Number of Frets Total:   20
Fingerboard Width at Nut:   1-3/4"
Fingerboard Width at 12th Fret:   2-1/8"
Fingerboard Position Inlays:   Ribbon/Concave Square Design w/ Abalone MOP and Genuine Mahogany
Fingerboard Binding:   Flamed Mahogany
Finish Back & Sides:   Polished Gloss
Finish Top:   Polished Gloss
Finish Neck:   Satin
Bridge Material:   Solid Black Ebony
Bridge Style:   Modern Belly
Bridge String Spacing:   2-3/16"
Saddle:   16" Radius/Compensated/Bone
Tuning Machines:   Gold Grand Tuners w/Oval Flamed Koa Buttons
Recommended Strings:   Martin SP Lifespan Phosphor Bronze Medium Gauge (MSP7200)
Bridge & End Pins:   Bone w/Paua Pearl Dots
Pickguard:   Tortoise Color
Case:   Geib Style – Custom Shop
Interior Label:   none
Electronics:   none
Other Options:   Available left-handed at no additional charge
Other Comments:   All prices & specifications are subject to change without notice