Martin makes a humdinger dreadnought in their CS-Bluegrass-16
Modern Martin playability meets classic herringbone tone
CS-Bluegrass-16 specs include: All-solid woods with hide glue construction throughout; Guatemalan rosewood back and sides; Adirondack spruce top with Vintage Tone System torrefaction, antique toner and fine herringbone purfling, large sound hole, forward-shifted scalloped 5/16" VTS bracing; mahogany High Performance Neck with Modified Low Oval profile, ebony fingerboard with 1-3/4" width at nut and 2-1/8" at 12th fret, white dot position markers; ebony bridge with 2-5/32" string spacing; chrome open back butter bean tuners
"There is something charming to the chime ringing off the unwound treble strings, supported by a palpable cushion of rosewood undertone welling up from the bottom end, where the bassiest string is plump and succulent. Overall, this is a guitar of power and personality."
Big Bold Beauty
C. F. Martin & Co. celebrated 2016 as the Year of the Dreadnought, marking a century since Martin invented the large body designs that revolutionized and then came to dominate the musical genres most reliant on flattop acoustic guitars.
The last in a series of 2016 Martin dreadnoughts is a limited edition from the Custom Shop Series, inspired by and paying tribute to the genre of Bluegrass music, which is as American in its roots and sound as the Martin guitars played by the most famous Bluegrass musicians of all time.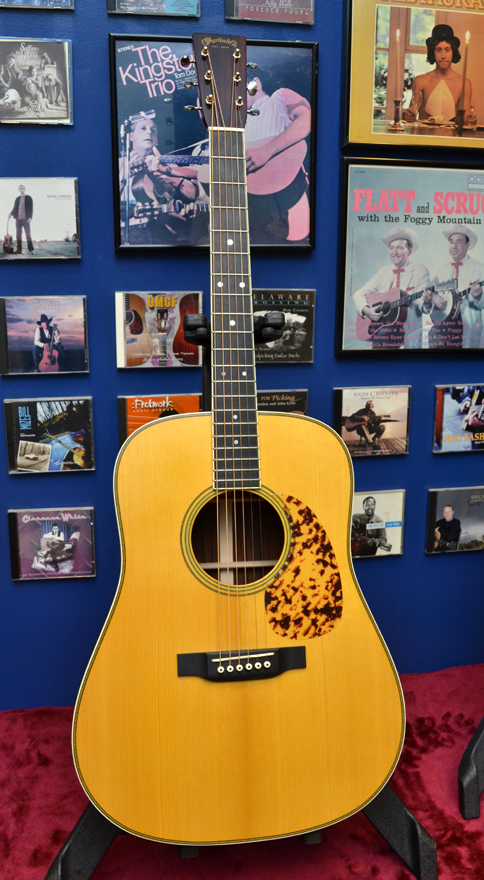 Custom Shop Manager Jeff Allen designed the CS-Bluegrass-16 with the latest generation of Bluegrass pickers in mind, but it sounds magnificent regardless of what kind of music it is used for. And the people who will appreciate it most are those who love the sound of a fine guitar made out of rosewood.
The combination of Guatemalan rosewood backing a torrefied Adirondack spruce soundboard produces substantial fundamental notes, with wound strings both fat and firm, and solid unwound trebles that stand up and out from the indulgently warm rosewood voice, with its bottom end depths of inky richness, and a cavernous and echoing undertone billowing with a colorful midrange "presence" that is the hallmark of a classic Martin guitar.
This is a big, bold, beautiful dreadnought of considerable strength and vigor, with tremendous volume and projection. I love the churning power in a sweeping strum. I love the echoing resonance spreading out into the room and reaching all the way down into the darkest corners of that Vintage Tone System voice. And I love how a sustained note picked from the b or e string parts that smoky rosewood undertone like a tracer bullet, and the way it reports with such clear authority, and then melds back into the woody warmth just as it conjures harmonic overtones that rise up like ghosts to take its place.
Classic Tones from a New Bone
Guatemalan rosewood is pretty new to Martin guitars, but it shares a lot of tonal properties with the now rare and nearly impossible to get Brazilian rosewood, especially when it comes to that presence filling up the undertone, and the strength and coloring of the unwound treble strings. In fact, the specific CS-Bluegrass-16 I played immediately brought to my mind the late '30s herringbone D-28 played by Neil Young, which has a darker, rounder, woodier tone than the drier, brighter sound of his 1960s D-45.
But, with its larger sound hole, leopard print pickguard, and bound fretboard, the 'bone this guitar was most inspired by is the 1935 D-28 owned by megastar Bluegrass flatpicker Tony Rice.
Rice purchased his guitar in 1975, having played it backstage 15 years earlier when it belonged to the legendary Clarence White. But it was the guitar's tone, not its celebrity owner that made it so special. And part of that big, wide open Martin voice was due to the big, wide open sound hole, which had been carved out to over four inches in diameter.
It remains uncertain just who did it or why, possibly because part of the edge broke off and someone cut out the rest to make a uniform circle. But it has been proven many times since that the voice of a big-bodied guitar becomes even bigger and bolder with a larger sound hole, as heard from Martin's own LSV models of the 1990s. And the same holds true with this very impressive CS-Bluegrass-16.
Click on photos to enlarge
To help with the vintage 'bone looks, the top has Martin's new Antique toner, with a shading that comes in between their Vintage toner, seen on the 000-28 Eric Clapton model, and their Aging toner as seen on their GE/Marquis models. It is likely we shall be seeing more of this new toner in the future.
Rice's guitar has a fretboard that overhangs the sound hole. But replicating that feature has no practical purpose, and Jeff Allen feels this new CS model looks better with the fretboard ending before the sound hole, like on other Martins. And while the jet black ebony fretboard is bound in grained ivoroid, similar to the White/Rice D-28, it has large mother of pearl dots found on the punchy D-28 canons from the 1950s and the bassy D-35s from the 1960s. That too was a practical consideration, since many players do not have Tony Rice's talent for navigating across a blank fretboard.
Another feature shared with prewar Martins played by people like Neil Young and Tony Rice is the forward-shifted bracing, which has the main X brace set farther up the top than other guitars, allowing the bottom bout to flex more easily, resulting in a boomier, bassier voice. And both the Adirondack spruce top and the scalloped Adirondack bracing supporting it have been treated with Martin's Vintage Tone System of advanced torrefaction technology, which allows the brand new top to behave and sound more like wood that has seasoned for decades. Read more about torrefaction and Martin's VTS HERE.
While Martin's VTS is used on the soundboards of a variety of models, the VTS bracing is reserved for the Authentic Series of hardcore vintage Martin reproductions. So this CS-Bluegrass-16 has the exclusive combination of VTS top and bracing on a guitar with the modern High Performance Neck rather than the fat V necks of bygone days, and the large sound hole as well.
Heavy Duty
Guatemalan rosewood is quite dense and, frankly, when I first picked up the CS-Bluegrass-16 after playing the mahogany D-1 Authentic 1931, it felt like an anvil. But there was an HD-28 in the same room, which showed me the CS-Bluegrass-16 is on par with other modern rosewood Martins, when it comes to weight. And it certainly has a heavyweight sound.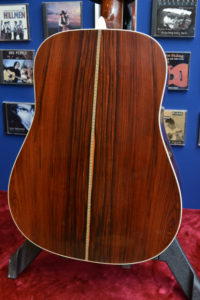 I believe this compares most directly to the D-28 Marquis, in terms of the fudgy richness to the bottom end and the headroom and chime of the Adirondack spruce. But the VTS and large soundhole add a lot to the resonance and sheer volume. Also, the Guatemalan rosewood enhances its own darker rosewood tone with a greater complexity than Indian rosewood, if not quite as colorfully as Brazilian.
I know some purists will lament that this guitar wasn't made with a big, wide V neck. But they have plenty of options to choose from already in various vintage reissues. The High Performance neck gives this guitar the kind of width and profile preferred by a majority of the guitar-buying public, who now can have some of their own bad to the bone Martin rosewood tone without sacrificing modern Martin playability.
It is indeed effortless to play. The least amount of encouragement across the strings ignites a resonant voice with chords full of warmth, yet with considerable clarity in the individual notes. There is something charming to the chime ringing off the unwound treble strings, supported by a palpable cushion of rosewood undertone welling up from the bottom end, where the bassiest string is plump and succulent. Overall, this is a guitar of power and personality. Play nicely and it will play nice back. But it is a lot like having a pet lion. It doesn't take much to get a roar out of it and it ain't for the faint of heart.
And that is one man's word on…
Martin CS Bluegrass 2016
List Price $7,999. Ask your Martin dealer for their real price!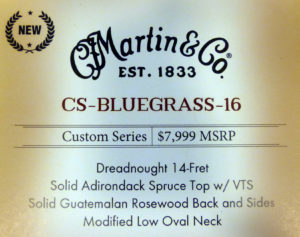 More photos HERE
Other reading:
Other Custom Shop Series Martin Reviews
Torrefaction and its use in luthiery
~