From the Custom Shop comes the first Martin made in Honduras rosewood, the CS-00S-14
Torrefied spruce and carbon fiber are among the exciting facets in this marriage of classic and contemporary design, never before seen on a Martin
*** The guitar we knew about for sale has been sold ***
Specifications include: Hide glue construction throughout; 12-fret 00 body size; solid Honduras rosewood back and sides; solid torrefied Swiss spruce top; 1/4″ scalloped Adirondack braces; solid ebony headstock plate, fingerboard, and bridge; 2-5/16" string spacing; short-scale 1-13/16" mahogany neck with dovetail neck joint and slotted headstock; non-adjustable carbon fiber neck rod; solid Cocobolo binding and heel cap; Style 42 abalone purfling; unique concave diamond fingerboard markers, and an ornate rosette with small diamonds; bone nut and Tusq saddle to go along with the new Fishman Aura VT on-board pickup system
Remember to watch it on YouTube in Hi-Def for best sound
Little, Lovely, Limited
Among the most impressive guitars debuting at the Winter NAMM show in Anaheim, California was the one built by a very small team in the Martin Custom Shop, in the 00 size with the Standard 12-fret body shape, and available only in 2014, called sensibly enough, the CS-00S-14. This ornate fingerstyle guitar takes strumming well and has a unique tonal pallet from woody warmth to chimey brightness, great balance, ample volume, and impressive fundamental sustain.
I was hoping we might see a 12-fret 00 among the latest entrants of the Authentic Series, perhaps a bargain of a 00-21, or the loftier 00-40 or 00-42, among the most prized Martins from between the wars. Instead we got the amazing 12-fret 000-21K Authentic 1921, which is a mighty fine guitar all on its own. But no petite powerhouse 00 for me.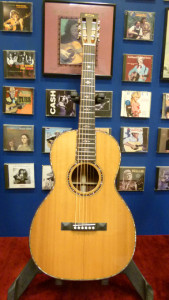 But lo! And behold, the popularity of last year's CS-OM-13 provided inspiration for designer Fred Greene and his workshop elves to come up with their second and much more daring non-Dreadnought as this year's entrant to the Custom Shop Series. It is none other than a 12-fret 00-42, but one which comes with the kind of uniqueness we expect from the CS limited editions. And as rewarding as these models have been to date, the CS-00S-14 could be the best one yet.
The guitar is indeed a light-in-the-lap 00 slothead. It has the traditional balance and projection that made it the favorite size of F.H. Martin, who ran the company during the first half of the twentieth century, its most inventive period since the years that led up to C.F. Martin Sr. inventing the modern American guitar sometime around 1840.
But this 00 has so many new features for a Martin I am unsure where to begin! Perhaps with the most noticeable feature that has appeared on guitars for many years, but never on a Martin.
The Other Rosewood
Honduras rosewood is renowned as being a more than acceptable replacement for the protected and now absurdly expensive Brazilian rosewood. And like Madagascar rosewood, some prefer its tone over all other rosewoods. But it is not often encountered. Although Martin once milled the wood for marimba makers back in the day when Dick Boak was running the sawmill, he told me, "The trees usually do not produce wood large enough to make traditional guitar backs of normal size, certainly not in the numbers Martin needed." The CS-00S-14 is the very first Martin model to feature this exotic tonewood. And they acquired just enough sets to complete a scant 114 guitars.
To look at, its color pallet runs from gold to brown, and from the small handful of Honduras rosewood guitars I have played, its tonal pallet is clear and bright, with some dryness and a nice complexity across the low end of the voice, but without much in the way of somber undertones typical of something like Indian rosewood. And that description does seem to fit this new Martin as well. But the use of European spruce for the soundboard helps flesh out the voice, adding welcomed warmth under that bright Honduras sunshine.
Have You Been Torrefied?
The top on this guitar is Swiss spruce, which has appeared on a few other special edition Martins. But this spruce is different. It has undergone torrefication. This is a new use for an ancient technique that treats wood with extremely high heat, which changes the interior structure. Originally used as a sort of weatherproofing, it was recently discovered that the microscopic cell structure of new wood that has been torrefied greatly resembles wood hundreds of years old. And it appears to behave in the same manner, basically aging and breaking in a guitar top before it was even glued onto the instrument. (For more about torrefication, go HERE.)
Martin is not the first instrument maker to use torrefied spruce tops, as it can be found on French violins from two centuries ago, and more recently on guitars by small shop builders, like wood charmer Dana Bourgeois. But this is the first Martin to feature a torrefied top, which guitar sellers can't wait to market as providing a newly made guitar sounding just like a vintage Martin from the days of legend and yore. Regardless of the fanciful associations, I have to say, this is one special musical instrument, that is charming to hear, beautiful to look upon, and a great deal of fun to play.
 

Honduras Rosewood

 
Torrefied Swiss Spruce
(click to enlarge photos)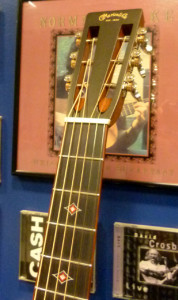 Unique Appointments
An Old Timey Future
Although the CS-00S-14 does not feature the thinner woods and thin finish of the Authentic Series, it is remarkably light in the hand, even with a pickup and preamp on-board. There are three particular reasons it is closer to a vintage Martin in weight, resonance, and responsiveness. It has 1/4" Golden Era style bracing, which means they are using deeper slopes when scalloping, which also reach farther along the length of each strut to almost the very center. So there is less mass, and more flexibility. Secondly, the torrefied spruce actually weighs less than normal spruce. The cell structure remains intact, but the cell interiors have lost matter, resulting in less weight without shrinking. But the coolest reason is the new support rod in the neck, made of carbon fiber.
On Tim Teel's desk is a section of the rod, which was designed from the ground up specifically for guitar necks. It is hollow and about as light as a chicken bone. He says the first thing everyone does is try to bend it. They cannot. I could not. I remain amazed that something that light could be that strong.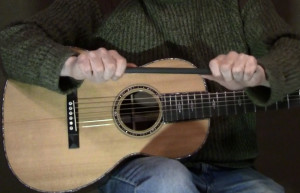 There are other guitars made out there with neck reinforcement involving carbon fiber rods of one sort or another. I do not know how many use the traditional dovetail neck joint, responsible in part for the classic sound of traditional, high-end Martins. But this is the first Martin with such a rod, and it is non-adjustable. But the point is, it is so unyieldingly rigid there will never be anything to adjust.
The rod reduces the overall weight of the instrument considerably. And yet, it seems to transfer string energy through the neck as well as a steel rod if not better, as there is a pronounced resonance easily noticed.
Tone and Playability
If this guitar is anything, it is resonant. It comes alive with the lightest touch, and it feels alive. Gliding up the strings, or playing around with different pressure or hammer-ons or sweeping chords, and the neck and body quiver as if the instrument enjoyed being played. And it sounds like it finds great joy in singing, from the warmth glowing out of the bottom end and a low E string impressive for this body size, a fatness to the midrange strings that reaches down like a pillar into the echoing cellar below the top voice, and trebles with a distinct chime that leaps out, with a vintage-like openness directly under them, but reflecting harmonics off the mid range, like the surface of a mirrored pond disturbed by the sound waves firing off the crystalline fundamental notes. It is a sophisticated voice, with lots of layers, but one that has a lot of open air in the treble, and a good deal of woody flavor emanating from the mids, which are buoyed by the undertone glow from the bass.
There are many interesting facets at work here. The rosewood has properties that remind me of its cousin from off Western Africa. Only, it has a different kind of ring up top, which is somehow more like crystal chimes than the silver bells of Madagascar. It's like more wood comes through somehow. And it also has some hints of darkness among the complex lows, which may be more complex than Madagascar's, if not as dark. But maybe it is just "warmth" that is increased by the European spruce.
European spruce varies based on microclimate, but it all has pretty much the same characteristics. Swiss spruce, in my limited experience, sounds somewhere between Italian and Carpathian. It has less of that pastel glow to the undertone than Italian, that reminds me of Engelmann spruce from the Pacific Northwest. But there is still enough there that the low sympathetic harmonics merge during extended picking patterns. Like Italian, the top notes are rather steely, with greater definition than Engelmann. But like Carpathian, the Swiss fundamentals are similar to Adirondack spruce, in how they stand up and out from the soft focus undertone, more so than Italian spruce. And on this guitar, the unwound trebles ring clearly, precise at first, but with a fat bloom when played lightly and left to resonate. They pop out when struck with more vigor, even as they trigger a lot of subtle yet complex sympathetics from the other registers.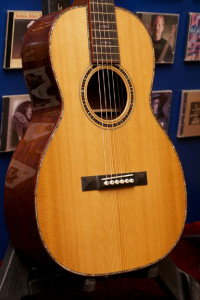 This Swiss spruce is torrefied, and I am not sure what that is responsible for in the voice, but it does sound almost as dry as Adirondack at times, and there is so much going on in terms of the echoy sympathetic response down inside the body, that it really does sound like it is already broken in, even though it is brand new. And there is that 3D openness under the top end, like looking through glass into a well-lit basement – very "vintage" – matched with that old wooden box thing you get in the mid range of a 12-fret guitar, and a low E string that never gets lost, just like a good 12-fret 00 should have. Along with some lovely shimmering qualities off the high harmonics that likewise echo during sustained chords, which do go on and on.
And that leads to the fact there is this unusual sustaining property to the initial fundamental notes. Like when picking out an arpeggio; as the notes of the chord are played, they stay up at that initial volume for just a touch longer than normal, and as they drop off and fade into the harmonics, they do it a touch slower. I am talking fractions of seconds here, but it is still quite noticeable. And when it comes to the resonating sustain triggered by the fundamentals, it may not be longer than similar guitars, but it remains quite present and hanging in space while it lasts.
While some of the strength in the sustain could be laid on the torrefied spruce, I think the real suspect here is the carbon fiber neck rod. Other builders have been using them for years, either as extra support or like here, when it is the only support. I do not know if they are known for increased sustain, but something is causing it. And since the old Martins made before 1930 had an ebony rod in necks shallower than those made in the 14-fret era, but are also known for their lively voice and nice sustain, I guess the old adage about needing a massive neck for a big voice has more to do with power, than ring or sustain. After all that new 000-28K Authentic 1921 has no neck rod at all, and it sounds wonderful.
But that is another thing the 28K and this CS guitar share with Martins from previous eras, they are sensitive to touch and react to harder playing differently from other modern guitars. The unwound strings of this 00 get snappy pretty quickly, which is partly due to the short-scale neck, but also the light build. It actually makes it seem even more like a pre-war 00 as a result, since those lightly built guitars also get pretty snappy when played hard on the treble strings. And to be fair, when I shot the video I had only a few minutes to get to know this guitar, right after playing some big boy dreadnoughts. So it was difficult for me to corral my attack into where the CS-00s-14 wanted to be played.
This 12-fret 00 shares the same dimensions and neck as the 00-28VS, but makes that Standard Series guitar seem like an armor plated tank. The CS is one of those breathe on it and it sounds pretty guitars. But the video shows it takes to a flatpick very easily, even if I was laying off from the attack I might use with a larger guitar.
It is also one of those guitars you can get lost in, just seeing how much reflective echo and shimmer you conjure with various chord voicing. But you may not want to keep your eyes closed for too long. It just looks too nice to not gaze upon all that lovely rosewood, cocobolo binding, ebony, and the colorful inlays.
Luxury Appointments and Exclusive Electronics
While this guitar has the high-color abalone inlay of Style 42 around the edge of the top and fingerboard, it has diamond inlays on the fretboard similar to those on the CS-OM-13, but with different dimensions. They have solid mother of pearl for the edges, and red and orange material for the center pieces that are made from reconstituted semi-precious stones. But for me the best part is the rosette, which has a chain of tiny diamonds, made with the same colors as the fretboard markers. It is a design that Fred Greene and his team came up with, but there is something about it that makes it look like a rosette one could have seen on ornate instruments from the Renaissance or other previous eras.
And you can feel confident sharing the beauty of this instrument before an audience, as the new Fishman Aura VT on-board pickup system is magnificent. This streamlined version offers the best plug and play sound available on a Martin. It comes with one specially chosen Aura "image" that simulates the sound of the CS-00S-14 being played through a high-priced microphone. The player has access to a volume control and tone sweep dial, hidden in the sound hole just above the low E string. It is my hope this new, simpler Aura set up may someday become standard equipment on all basic acoustic/electric Martins, at least on the Standard Series and above.
As with all Custom Shop Series Martins, the list price of $8,999 is about half what it would be if someone had convinced the Custom Shop to make this guitar for them as a custom order. And if you call your local Martin dealer and find out what the real price is, you may just decide this incredibly responsive 12-fret 00 made with Honduras rosewood back and sides, a torrefied Swiss spruce top, Cocobolo bindings, in a unique version of Style 42, and with a light of weight, on-board pickup system featuring the Aura technology is too good a deal to pass up.
And that is one man's word on…
The Martin CS-00S-14

photo: MaurysMusic.com
More Photos HERE
Other Martins reviewed at One Man's Guitar include:
Reviews of other Custom Shop Series Martins
Authentic Series – in-depth reviews of all of them
Official  CS-00S-14Spec Sheet
Construction: Mahogany Blocks/Dovetail Neck Joint – Hide Glue Construction
Body Size: 00-12 Fret
Top: Torrefied Swiss Spruce
Rosette: 3 Ring
Top Bracing Pattern: Standard "X" Scalloped (Golden Era Style)
Top Braces: Solid Adirondack Spruce 1/4"
Back Material: Solid Honduras Rosewood
Back Purfling: Style 45 – Golden Era
Side Material: Solid Honduras Rosewood
Endpiece: Solid Cocobolo
Endpiece Inlay: Black/Maple/Black Fiber
Binding: Solid Cocobolo
Top Inlay Style: Style 42
Side Inlay: none
Back Inlay: Black/Maple/Black Fiber
Neck Material: Solid Genuine Mahogany
Neck Shape: Modified V
Nut Material: Bone
Headstock: Slotted/Square Slots/Diamond/Square Taper
Headplate: Solid Black Ebony
Heelcap: Solid Cocobolo
Fingerboard Material: Solid Black Ebony
Scale Length: 24.9"
Number of Frets Clear: 12
Number of Frets Total: 19
Fingerboard Width at Nut: 1-13/16"
Fingerboard Width at 12th Fret: 2-5/16"
Fingerboard Position Inlays: Concave Diamond Design – Orange/Red Spiney Recon Stone/Solid MOP
Fingerboard Binding: Solid Cocobolo
Finish Back & Sides: Polished Gloss
Finish Top: Polished Gloss
Finish Neck: Satin
Bridge Material: Solid Black Ebony
Bridge Style: Pyramid w/ Drop-In Saddle
Bridge String Spacing: 2-5/16"
Saddle: 16" Radius/Compensated/White Tusq
Tuning Machines: Nickel Grand Tuners w/ Butterbean Buttons
Recommended Strings: Martins SP Lifespan Phosphor Bronze Light Gauge (MSP 7100)
Bridge & End Pins: Bone w/ Paua Pearl Dots
Pickguard: none
Case: Geib Style – Custom Shop
Interior Label: none
Electronics: Fishman Aura VT