Designed by C.F. Martin IV, the CEO-7 offers a unique variety of vintage guitar specs
A print version of this review appeared in the September 2014 issue of The Tone Quest Report.
CEO-7 Specs Include: Grand concert body size with sloped shoulders; all solid wood construction with mahogany* back and sides, ebony fingerboard and bridge, Adirondack spruce top with Autumn Sunset burst finish; 1-3/4″ Golden Era style modified V mahogany neck; 1/4″ scalloped braces; bone nut and short saddle; white binding and matching tuner buttons; hand-fitted dovetail neck joint.
"… the CEO-7 is the Golden Era Series reissue of a pre-war Martin that never existed."
* This model is now made with cipo mahogany from West Africa. According to sources inside Martin, the switch occurred during a recent shortage of South American mahogany, and the change is likely to be permanent. That being said, the cipo example I played in mid-October 2015 is arguably the best sounding CEO-7 I have found thus far.
A Martin from an Alternate Universe
The CEO-7 is a lovely little guitar with a comfortable short-scale neck, yet with ample volume and projection. It has the versatility found in 14 frets free from the body, but with round shoulders similar to a classical design, offering some of that deep and resonant bottom end typically heard in traditional 12-fret guitars.
That sloped-shoulder shape to the upper bout results in the extra sonic depth under the bass and lower mid-range. The actual dimensions are 14.764″ width at the lower bout, 8.635″ at the waist, and 10.589″ at the upper bout. With a body length of 19.428″ the overall size of the CEO-7 is somewhere between Martin's 14-fret 000 and their 12-fret 00. It has the 4-1/8″ depth shared by the 14-fret 00 and 000.

Plump and Juicy
The voice has a plump boom to it that is not exactly the same sound that comes from the standard 12-fret Martins. It is not the same voice heard from the deep body 00 design used on the Women in Music models, nor is it the same type of sound heard from the Norman Blake models, which had a 14-fret 000 body shape matched to a 12-fret neck. For that matter, it is not exactly like any Martin I have heard before. In fact, the CEO-7 actually has a shape and cosmetics that suggest a Gibson L00, and yet, it still sounds like a Martin, and an impressive one at that.
When it came down to it, the whole time I was playing the guitar I kept feeling like the CEO-7 is the Golden Era Series reissue of a pre-war Martin that never existed. One might say it seems like it came from an alternate universe where Martin had been copying Gibson designs from the 1930s, rather than the other way around. But just as Gibson's square-shoulder dreadnoughts like the Dove, Hummingbird, and Gospel sound little like a Martin D-18, the CEO-7 may have a certain trebley ring thing that reminds me of an L-00, but it also has a resonance and sustain unlike any Gibson I have heard.
Old Time Sensibilities
The vintage vibe can be seen in the narrow straight bridge and open back tuners. It can be felt in the cheeky V neck and 2-5/16″ string spacing. And it can be heard in the precise fundamentals, clear chime, and open undertone that come from Adirondack spruce backed by scalloped braces, amplifying and reflecting dry, woody mahogany tone. But while it has that open "wooden box" sound typical of small, mahogany Martins, it is like someone turned up the bass. It has a certain throb that swells out from the wound strings, which isn't usually heard from a 14-fret 00-18 or 000-18.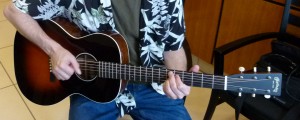 According to Chris Martin, this new model "is a tribute to a time when flat top steel string acoustic guitar design was evolving very quickly…the market was very competitive as demand for fourteen fret neck instruments was rapidly growing. At that time the Dreadnought was not yet the dominant shape and the smaller tight-waisted models influenced by the parlor guitars of the prior century were still quite popular."
In 1900 the 00 was the largest of Martin guitar sizes. In 30 years it went from top dog to being the choice for petite ladies and traveling troubadours who needed something small enough to stow on a train rack, or on their own back. It has remained popular with touring bluesmen and female singer-songwriters ever since.
Gibson's L-size guitars first appeared in 1926. The Gibson naming convention here is the opposite of Martin's. The letter L refers to the physical dimensions (which evolved over time,) while the numbers 00, 0, 1, 2 refer to the cosmetic trim and price point. The L00 itself has an overall shape and size that comes in between Martin's 14-fret 00 and 000.
And while smaller guitars have never seen modern sales numbers enjoyed by the dreadnoughts and jumbos, Mr. Martin felt it was time for a smaller model in the CEO series. And it was further decided to include a most-traditional Martin feature on a CEO for the very first time, a hand-fitted dovetail neck joint.
Martin's dovetail neck joint has a wide V-shape tenon compared to other modern neck joints, which sets tightly into the matching mortise, carved out of a solid mahogany block. The fit requires precision craftsmanship that can only be achieved by hand tools and keen expert eyes. It is so exact that a dovetail Martin can be strung up and played in perfect intonation without any glue in the joint. But most important, the wide V connection allows for considerable transference of resonant energy between the neck, neck block and the body of the guitar. You just do not have a vintage-style Martin or Gibson without it.
Every time someone claims they can't discern the difference that comes with a dovetail neck joint, I think to myself they need to have their hearing tested. In any event, just as the ratio of balance to boom in the CEO-7 is unique among Martins, its overall voice has that fine violin purity in the trebles, along with the wavering, marrying sympathetics, and a presence glowing out around the fundamental notes that all add up to classic Martin tone.
Otherwise, it shares many other features with guitars in Martin's Vintage Series and the Golden Era series. It has 1/4″ scalloped top braces identical to the 00-18V, but made from Adirondack spruce like those on the GEs. Other Golden Era specs include the cloth reinforcement strips on the mahogany sides, and a short-scale neck with 1-3/4″ width at the nut, and a modified V profile carved a bit rounder, or cheekier, so it has the shape and feel of the 000-18GE and 000-42 Marquis. Overall, it is a collection of specs found on tried and tested examples of Martin's vintage reissue fleet, but never seen in this exact combination before now.
~:~
~:~
The CEO Designs
Every so often Chris Martin designs a new limited edition. Named CEO and numbered in order of their release, these guitars combined traditional Martin elements with non-traditional features, as a way of showcasing new trends and materiel. Examples include a 12-fret dreadnought made out of solid African sapele, and a 14-fret dreadnought made from laminated Macassar ebony. Mr. Martin's most recent ideas have reversed that trend, to offer traditional materials in designs that step outside the Martin box, or at least round off its edges.
The CEO-6 paid homage to the classic designs of Martin's number one rival, Gibson, with a 14-fret mahogany sloped shoulder dreadnought that greatly resembled Gibson's J-45, complete with a Gibson-esque sunburst top and slanted headstock logo. But aside from looks, the guitar had little to resemble a Gibson when it came to tone. Martin continued this slope-shouldered theme in a smaller body, with the release of the CEO-7.
Evolution of the Species from Divergent Ancestors
I spent a good half an hour with an early prototype of the CEO-7, several months before its debut. At the time it looked like they were making a Martin clone of the Gibson L00. If I closed my eyes and traced the outline with my hand, I could swear it was a Gibson. However, on closer inspection, it had the shallower 4-1/8″ depth of a 14-fret Martin 00, and the silhouette was slightly more symmetrical than an actual prewar L00. But it did have a Gibsonish sunburst finish, like the CEO-6.
When I strummed a G chord, the voice said "Martin," even more than the CEO-6 that came before it. So I was not surprised when the model appeared at the Summer NAMM show with some cosmetic makeover, combining Gibson and Martin looks into one guitar, but with all the important structural features still in place that made that early prototype so memorable.
The latest version retained the black faceplate on the front of the headstock, but gone was the slanted logo. In its stead is a vintage Martin script logo used on guitars in the Authentic Series. While it still has white, Gibsony tuner buttons and pale ivoroid binding, and no purfling on the back, it has a transparent Martin toner, so the lovely mahogany grain is seen clearly. And the jet black ebony fingerboard has the descending "long pattern" dots of a vintage Martin 00-18. But for all its interesting looks, what makes the guitar such a success is how it feels and how it sounds, thanks to the dimensions of the neck, the combination of tonewoods, the dovetail neck joint, and that new slope shoulder body shape.
A New Voice in the Martin Choir
While the looks may be too different for some Martin fans, others may be attracted to the CEO-7 for just that reason. And while the voice may have the extra umph in the bottom end some folks always wished a small mahogany Martin could possess, others may find the voice a bit too boxy or boomy for their tastes. It is surely a different kind of Martin, but it remains more Martin than anything else.
One of the most curious aspects of this guitar is how pronounced that boom is under the three mid-range strings to the ear of the player, but how different that sounds to someone in front of the guitar. Not unlike how a dreadnought tends to sound more ferociously bassy to the player than to his audience, this CEO-7 made me question the wisdom of this new body size, at first.
When I play the guitar, the D string, and to a lesser extent the G and A strings sound quite wolfy. Basically, they are perceived as unfocused and boomy, and downright distorted in my ears if I strike them too hard. But when I hear someone else playing the same instrument, viola! The mid-range sounds full yet defined. The fundamental note from the string is clear, even as it nestles in a buoyant cushion of undertone, like a dumpling in rich broth. And the lowest strings were right there with the mids. It has impressive balance, even as those low notes swell, not unlike a 12-fret dreadnought only in a smaller package. And boy, does it like open tunings! A dropped D bass string has the strong and meaty guts of a middleweight prizefighter.
It is often said that a Martin OM sounds more impressive to the listener than the player. I think that holds true for this new slope-shoulder 00 as well. It loses nothing in the punchy mids found in typical 14-fret Martin 00s. If anything, they are given a booster shot and a bassy escort, and the clear trebles are only improved by that warm, full presence humming just below them.
Tempting the Martin Faithful
After I had completed my day reviewing the new Martins slated for Summer NAMM, I enjoyed a leisurely hour sitting in the lobby of the Martin factory, playing the new CEO-7 prototype. And I must say that extra dimension under the lows really grew on me, and I relished how it was set off by those thin, pure fundamentals in the treble, with that open mahogany tone bubble spreading out around them.
What made it so new and interesting, to my ear, was the unique relationship between the fundamental notes, the high harmonics over them, and the woody undertone below, with that pregnant low spot under the center of the wound strings. What made it so Martin was how each of those elements sustained after a chord, or rolled over – and over and over – during picking patterns.
It just goes to show that Martin can make a guitar that looks like a Gibson, but it will never have that abrupt, reflective thunk of a low E string, or those flick-a-flick Bob Dylan/Cat Stevens fundamental strums, or that drop off a cliff decay below the trebles. And being more of a Martin man in my aural druthers, I do not see this as a bad thing.
The voice kept making me want to strum cowboy campfire songs, or move into open tunings to cry out some old timey fingerstyle blues. Seeing that I am a traditionalist, I really didn't expect to like this guitar nearly as much as I do. Then again, there is something so traditional about the CEO-7, despite its unusual newness.
But perhaps the most surprising thing about this special edition Martin remains the price. At a list price of $2,999, Martins newest mahogany 00 with the slope shoulders has more Golden Era Series features than the 00-18V, including an Adirondack spruce top, for $600 less than the 18V. And it is $1,750 less than the list price of the 000-18GE. Talk to your dealer about the real price. You may find it too good to pass up.
The model has proved so successful that dealers have a hard time keeping them in stock. But don't worry, there is no termination date. Martin will make CEO-7s as long as people keep buying them.
Not that this means you will like the CEO-7. I am sure it is not for everyone. I must confess, I have never been a sunburst kind of guy, and this Autumn Sunset burst is quite similar to many seen on 1930s Gibsons and Kalamazoos – and that is just not my cup of spruce. But if Martin ever wants to offer this exact same guitar with a plain top and a cutaway, I may be the first person in line to buy it.
Then again, shaded tops have started to grow on me. And this is such a successful guitar design, I could learn to love that deep, dark fingerprint magnet called Autumn Sunset.
And that is one man's word on…
Martin's CEO-7
Extra Extra!! Read All About It!!! Martin released the CEO-7 to the Custom Shop as a baseline model in August 2014, and now they are starting to show up around the country.
Here is our exclusive video of the amazing cocobolo Custom CEO-7, courtesy of Mandolin Brothers in New York City.
Wonderfully sensitive dynamics, rich and complex; vibrant, open, expansive tone; spectacular woods and I just LOVE the retro yet totally new look.
Read more about C.F. Martin & Co. HERE
Read our primer about Martin Model Designations and Naming Conventions HERE
You may also be interested in these other small-bodied fingerstyle Martins:
CS-00041-15 – Cocobolo and Torrefied Adirondack spruce
OM-28 Authentic 1931 – Madagascar rosewood and Torrefied Adirondack Spruce
Other Martins reviewed at One Man's Guitar include:
CEO-9 – like the CEO-7 but with curly mango back, sides, and top!
CEO-8.2 and 8.2E – mahogany and VTS European spruce Grand J
CEO-8 – CFM4's homage to the Gibson SJ-200
Authentic Series – in-depth reviews of all of them
~:~
~:~
The official spec sheet can be found HERE.