The first Martin OM made in modern times with truly authentic pre-war specs and construction techniques, the OM-18 Authentic 1933 seems to have stepped out of a time machine.
Specs include: hide glue construction; all solid woods including mahogany back, sides, neck; Adirondack spruce top with faded amberburst shading; ebony neck rod, fingerboard, 1933 style belly bridge, bridge pins; nut and glued in long saddle of bone*; 2-3/8″ string spacing; hand-carved replica V neck; Authentic style scalloped bracing with period-correct 5/16″ X brace and 1/4″ tone bars; many historically "authentic" details
* Bone replaced fossilized ivory in 2014.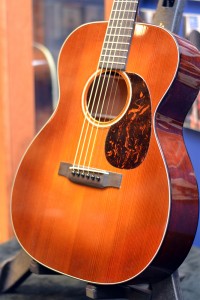 This new OM-18A 1933 is the first OM made with Martin's Authentic Series specs and hide glue. And boy, is it a doozy! I played the prototype at the factory in January, when it was about as new as new can be. The Adirondack spruce top was extremely stiff, yet the voice already exhibited great depth, particularly in the mid-range. For all its light construction, it had a big voice, with that famous OM projection so that the lightest playing produced enormous amounts of tone. With mahogany for the back and sides, the OM-18 Authentic 1933 sounded clear and full at the same time. And it can be played at full throttle without wigging out, it just gets louder and more powerful.
I played an example of the production run some months later, over at Maury's Music, in Coaldale, Pennsylvania. In fact, I was the first person to play it right out of the box it came in. It is like taking a time machine back to 1933 and getting your hands on a brand new OM-18, made the year C.F. Martin and Co. celebrated their 100th anniversary and were busy setting the gold standard that all acoustic guitars have been compared to ever since.
Even though it was just as new as the prototype, it was noticeably more awake and lively. Where the prototype felt light, but not as light as I expected, or as light as I remembered the many vintage OM-18s I have played, this new one felt every bit as light as a 30s OM-18. Where the prototype felt stiff and the strings felt tight and difficult to bend without notable effort, this new one was effortless to play and the slightest change in string pressure or bend sent resonating quivers through the tonal spectrum. I thought to myself, "Now this really is the OM-18 of old brought back to life." It has everything that made the original Orchestra Model design the stuff of legend.
A Legacy of Firsts
The first modern acoustic guitars appeared in the 1930 Martin catalog, named the Orchestra Model to appeal to dance orchestras. They were the very first 14-fret guitars made by Martin, and the first Martins designed expressly for steel strings.
The OM models were renamed the 000 at the start of 1934, to fit into Martin's traditional naming convention. A few months later they were converted to thicker bracing and the short string scale used on the smaller 0 and 00 sizes, which changed their dynamics and sound ever after.
Martin eventually brought back the OM design, beginning in 1969 but not in earnest until the 1990s, with traditional OM specs that included a long-scale, 1-3/4″ neck and a small, maple bridge plate. And they used narrow 1/4″ scalloped braces in an effort to create dynamics and resonance similar to the old OMs, while still employing modern wood thicknesses and construction techniques.
Whether people at the factory forgot about it, or never noticed, the original OMs actually had a center X brace that was 5/16″, surrounded by 1/4″ tone bars. The OM-18A 1933 is first Martin OM since the early 30s to have this specific feature.
The two previous mahogany OM models made in the modern era were the OM-18V 1933 from the Vintage Series, and the OM-18GE 1930 of the Golden Era Series. Both had 1/4″ scalloped braces. But while the GE had a lighter build overall and more wood removed from the braces, the OM-18V had the same build as the Standard Series Martins, with the exception of a V neck and wider string space.
The OM-18V had great power and resonance; standing up to the most ferocious attack. But it lacked the open, ethereal undertone of a vintage guitar, and was not nearly as responsive when played with a light touch. The OM-18GE was extremely responsive to nuanced playing, and was quite open-sounding, but it had thinner fundamentals compared to other OMs, particularly in the trebles, and the top was easily over-driven when put under serious attack.
The First Authentic OM
This new OM-18A from the Authentic Series may have the lightest build of all, with thinner woods and thinner finish than any Martin OM made since World War II. But its 5/16″ X-brace bars are thicker than either of those other OM-18s, while keeping with 1/4″ bracing throughout the rest of the top. To my ear, that stiffer center gives it a more focused punch straight out of the sound hole, reminiscent of a traditional 14-fret 000. But with the thinner 1/4″ bracing spread out around the top, it also has a more-open resonance that expands in all directions, just like an OM should. The sustain of the fundamental notes is stunning, again more like a 000 than many modern OMs, which tend to have fundamentals that fade into the resonant undertone. But there is still so much presence to the expansive glow of the sympathetics under and around the fundamental notes that the voice has OM written all over it.
The OM-18A 1933 just seems to come with the Goldilocks' "just right" combination of responsive dynamics, fat fundamentals with righteous sustain and a focused punch out of the sound hole, surrounded by that expansive OM openness, and genuinely impressive projection, power and attack ceiling.
While the bass was restrained, and the strings seemed notably tight, due to the newness of the stiff Adirondack top, the prototype had all the earmarks of developing into a beautiful monster of a mahogany OM. The ones I have played since showed the production version has arrived tweaked to mahogany OM perfection. And I must confess to feeling a slight thrill at the thought that the guitar sounds worse right now than it ever will again.
With the period-correct 2-3/8″ string spacing and a 1-3/4″ neck that has a noticeable V profile, there is ample space for fingerstylists, while some players may find it a bit wide for comfort when thumb-fretting up the neck. However, I am extremely picky about necks, due to old injuries, and I found no issues with this neck. After sampling many examples of the inventory at Maury's Music, the OM-18 Authentic 1933 was my choice to while away an hour of spare time. I never experienced anything along the line of discomfort I often feel when playing V necks.
And this particular model comes with a shaded top. Martin used that cosmetic feature during the Depression era on a higher percentage of guitars built in Style 18 than other styles. And this version is purposely faded out some, so it closely resembles the 80-year-old OM-18 shade tops, which you may be lucky to find on sale a bit under $30,000.
Is owning the new OM-18 Authentic the same as having a 1933 OM-18? Nope. No one can take a new guitar and infuse 80 years of "playing in." But I have to say, this is about as close as you will get to buying a brand new 1933 OM-18 in 1933, and certainly for the price!
List price: $6,499
But don't let that fool you, I suggest you give your favorite dealer a call to find out what a good deal these wonderful OMs really are, in terms of street money, and just how long it will take for Martin's Custom Shop to build yours.
And that is one man's word on…
The Martin OM-18 Authentic 1933
Read more about C.F. Martin & Co. HERE
Other reading:
Read our primer about Martin Model Designations and Naming Conventions HERE
Here is a video shot at the Martin factory the day the model was released to the public in January, 2013.
It was shot with a camcorder. In the future, we hope to offer video of this model and others from the Authentic Series. Starting in 2014, most of our on-site videos offer the same kind of hi-def audio we use for our in-house videos.
Do you own a Martin OM-18 Authentic 1933?
Have you played one?
We'd love to read your opinion and thoughts!