The S may be for Special, but Martin's new D-45S Authentic 1936 is Awesome
A bigger than life guitar worth its hefty price tag
D-45S Authentic 1936 specs include: Extra-wide 14-fret dreadnought body; highest-grade solid woods throughout including Brazilian rosewood back and sides, 1-3/4″ mahogany neck with period correct T-bar support, ebony fingerboard and bridge with long, fossilized ivory saddle, Adirondack spruce top with Authentic Series scalloped braces, forward-shifted X brace, tucked bridge plate; high-color abalone pearl inlay on all edges of the top, side, back; Old Style 45 snowflake fingerboard markers, ornate, gold tuning buttons
Note: this review is from the very first year of Martin's Authentic Series instruments. This model is currently made with Martin's Vintage Tone System of torrefied soundboards and bracing.
A Tale of Two Authentics
Two years ago, Martin made a small number of the  D-45 Authentic 1942, replicating the D-45 housed in the Martin Museum, with genuine Brazilian rosewood for the back and sides, and featuring over 900 separate pieces of abalone shell inlay, including hexagon fingerboard markers. Having played the old "holy grail" on multiple occasions, I can say without a doubt, Martin did a spectacular job in creating the 45 Authentic. In some ways I liked it even better than that insanely expensive antique. And yet, as impressive as those guitars were, some folks said they wished the fingerboard had the elaborate snowflakes, diamonds and cats eye inlays of earlier D-45 examples, while others said they wished it had the bigger, fatter 1-3/4″ neck that Martin used until 1938. Enter the D-45S Authentic 1936.
Voila! This year, Martin offered an equally exacting replica of an even rarer D-45S from 1936, which not only has the snowflakes and a bigger neck, but is actually a bigger D-45!
Special is an Understatement
Prior to the 1960s, an S appearing on the model's neck block stamp didn't indicate the 12-fret "Standard" body shape, as it does today. Rather, the S stood for "Special Order", and it was used on certain Martins that deviated notably from the norm. In this case, the customer ordered a 14-fret D-45 with a top and back that were 16-1/4″ wide. This new D-45SA 1936 is an exact copy of that guitar.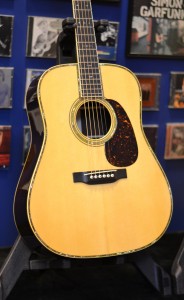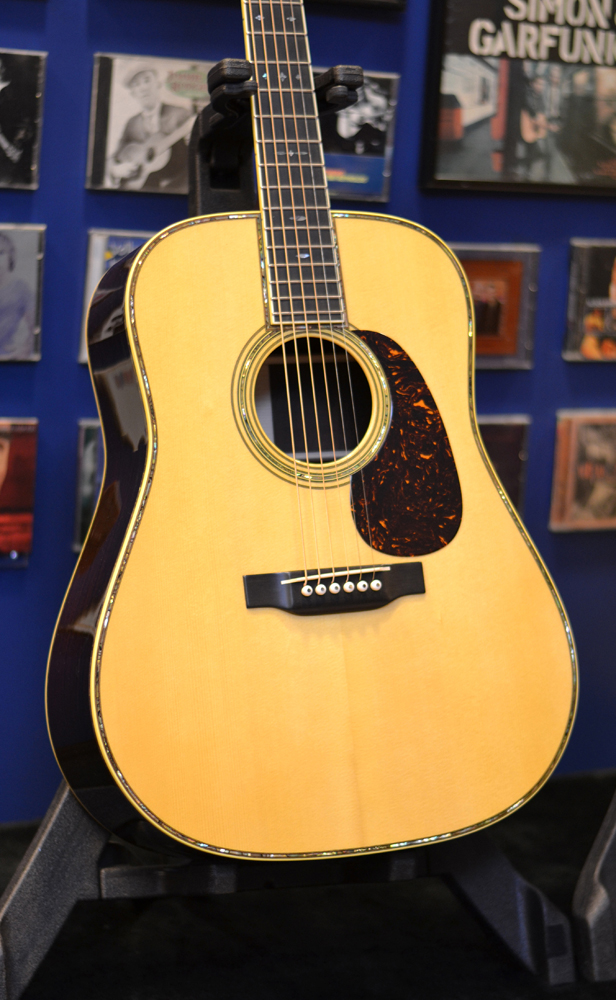 And when I say exact copy, I mean they took that priceless guitar and had it X-Rayed and then they put it under the CAT scan machine at the Smithsonian Institute. One will have to be a mighty fine nitpicker to find fault with the exactitude of this recreation.
I must confess, I didn't even notice the body was larger while I was playing the guitar. I was too busy being enthralled by the gigantic sound that came out of it. The bass can only be described as sonorous. It is like the toreador from the opera Carmen, accompanied by a chorus of bass viols, while standing in an empty amphitheater. And that tremendous presence in the low end melts into the entire voice, so even the bright, ringing trebles sound extra rich with delicious, high-calorie fat. The sustain is marvelous, the harmonics thrilling. This guitar provides a sumptuous feast just playing the basic cowboy chords. Add in some harmonic drone strings, or Jazz chords, and you also get to have Christmas pudding while sitting before the tree in all its trimmings.
Jewel Box of Tone
To my ear, the hallmark tonal signature of a D-45 can be summed up in the word "shimmer." There always seems to be an extra resonant shimmer, or sparkle, or jangle, or bright timbre or whatever you want to call it, riding across the highs of a D-45, that I simply do not hear, or hear as fully, in other rosewood Martins. And with the succulent complexity of Brazilian rosewood, focused and amplified by the highly reflective Adirondack spruce, with every edge of the thin, flexible top, sides and back routed even thinner to make way for strips of dense, solid abalone shell inlay, and the support of spruce braces carved in the Authentic manner, well, the D-45 mojo, complexity and shimmer found in the brand new prototype I played at the Martin factory was, in a word, awesome.
The Best and the Biggest
The top had super tight grain with tons of tight cross grain as well, especially by Adirondack standards. So it felt like there was 80% of the guitar's tone still trapped inside that new body. And even then, I had to hold back on my attack because the guitar was just SO LOUD! I would love to see how this guitar breaks in and opens up over time. Sigh. The few folks with pockets deep enough to own one of these beauties will not be disappointed.
Aside from the price tag, the one drawback to this guitar, for me, is the neck. It is a dead ringer for the necks Martin was putting on guitars in 1935 and 1936, known to many as "the baseball bat." I suppose I would be fine with it, if I never played above the 5th fret. But I cannot remember the last time I played a guitar with as much girth in the upper frets as this one. They refererence the size of the neck based upon the "barrel." If the D-45SA 1936 was a rifle it would need wheels and a recoil. Fortunately, Martin also makes the D-45 Authentic 1942, for those of deeper pockets who prefer 1-11/16″ necks with sleeker profiles.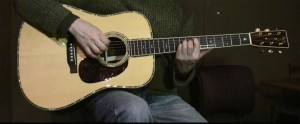 Then again, many people believe you need a big neck to get the biggest sound, and this guitar has a voice bigger than Texas and just about as audacious. I have played examples of them all, from the D-100 to the Celtic Knot, to the Stephen Stills. There just hasn't been a modern-day pearly Martin with a sound this big. So I am sure someone will be more than happy to play in their own Home Run Derby with that baseball bat neck.
Both of the Authentic D-45 examples available today are supreme examples of Martin guitars. They are different enough in terms of looks and feel that I could see one having a hard time choosing between them, just as I could see someone owning both of them and not feeling they were redundant. The extra-large D-45S Authentic 1936 does indeed come with stellar tone in an extra-large voice. That alone may be enough for some players to accept the extra effort required of that extra-large neck.
Not many readers will ever get to see one of these, let alone afford one. But I present this review for educational purposes, and to offer the opportunity that some might be inspired to knuckle down and put their nose to the grindstone, and become the kind of self-made man who actually can afford to buy one. I feel I owe it, to society. You can thank me when you invite me over to play your D-45SA 1936.
List price: $59,999
Call your Martin dealer for the actual price.
And that is one man's word on…
The Martin D-45S Authentic 1936
Read more about C.F. Martin & Co. HERE
Read our primer about Martin Model Designations and Naming Conventions HERE
The official spec sheet can be found HERE