Our review gets to the heart of the heart of Martin's Authentic Series: The D-28 Authentic 1941
D-28 Authentic 1941 specs include: 14-fret dreadnought body; made in vintage Style 28 with solid woods throughout, including Madagascar rosewood back and sides, Adirondack spruce top, ebony bridge and fingerboard, mahogany neck with a hand-carved vintage V profile, 1-11/16″ width, and period correct T-bar reinforcement; fine herringbone top trim; diamonds and squares fingerboard markers; glued-in long saddle of fossilized ivory; Authentic Series scalloped braces; rear-shifted X brace; tucked bridge plate; hot hide glue construction
A D-28 Like Back in the Day
There are many fine steel-string acoustic guitars available around the world. Most of them are, to a greater or lesser extent, imitations of the instruments designed and created in the 1930s and 1940s at C.F. Martin & Co., in Nazareth, Pennsylvania. To many, these priceless instruments represent the Stradivarius of acoustic guitars. And now, the guitars offered in Martin's Authentic Series are made more like pre-war Martins than any Martin since the 1st Marine Division invaded Guadalcanal.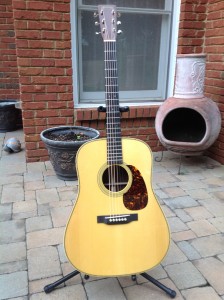 The flagship of this mighty musical force is the D-28 Authentic 1941. It is an exacting replication of a specific 1941 D-28 residing in the Martin Museum, which was subjected to every quantitative test imaginable, including high resolution imaging technology, thanks to the CAT scan machine of the Smithsonian Institute. The result is a guitar that goes way beyond the normal nod to vintage Martins, as it really is like something out of a time capsule.
That being said, it should be pointed out that new Authentic Series guitars made in Style 28 feature a back and sides of Madagascar rosewood, rather than Brazilian rosewood, the endangered species used at Martin until 1969. While Brazilian harvested in earlier eras is still available, using some of Martin's dwindling, legal stash would add many thousands of dollars to the list price.
While it is a bit drier and chimier, Madagascar rosewood makes an excellent choice for the exquisite 28s in the Authentic Series, and manages to keep the price of an otherwise vintage Martin clone well within the purse of the common musician.
And what a clone it is! In my opinion, the two examples of the D-28A 1941 I have had in my hands so far are some of the most tonally impressive modern-day, 14-fret dreadnoughts I have ever played.
Vital Signs
Tone, dynamics and playability matter most to me when judging a guitar. This guitar gets top marks in all three areas.
When it comes to tone, it had me at the first strum, because of its ringing purity, impressive depth, effortless volume, and its expansive, open, room-filling presence. As vintage guitar collector and show organizer Gary Burnette likes to say, "A great guitar doesn't need two years or twenty years to sound great. It sounds great right out of the box." That description fits this D-28 Authentic 1941 perfectly. This isn't just a good vintage D-28 reissue; it's a great guitar.
When it comes to dynamics, it sounds lovely when played with a very light touch. The clear and pretty ring of the barely-picked notes provides as much Wow Factor as the thrilling power that leaps from the sound hole when played full out. Having been built with a thinner back, sides and top than other modern Martins, as well as sporting a period-correct T-bar for the neck reinforcement, it feels light in the hand and on the lap. It also has a thinner headstock, a thinner ebony fingerboard, and thinner wings on the ebony bridge. Even the finish is thinner than modern Martins.
It is an entertainment onto itself to test how lightly it can be played and how, even in its infancy, the guitar already breathes and rings with such woody life and glittering beauty, and how it reacts to the slightest waggle of a resonating string.
One does not need to dig in, or attack it – but they can do exactly that. And that is one of the Holy Grail check marks; it responds so well to a nuanced touch, yet it can be driven beyond the limits of most responsive guitars, only to ask, "Is that all you got?" Even with a brand new and very stiff Adirondack spruce top, it has such wonderful depth, and loves to ride full throttle under a heavy hand. I shudder to think how much that will increase when the top starts to break in and both the attack ceiling and that enormous cellar of three-dimensional tonal space expands even further.
But then, that really does start to read like the description of a pre-war Martin – finely tuned dynamics that respond to the player's slightest nuance, with enormous power and headroom, and almost mystical in how huge its tonal landscape. Did I mention it is a great guitar?
Playability is different from one musician to the next. I found this guitar surprisingly comfortable for having a vintage feel to the neck, so much so that it goes virtually unnoticed while playing. The shape is carved to be as close as possible to that found on the guitar it was modeled from. I would say this is a classic example of a Martin dreadnought neck from this era. It does not have the baseball bat bulk of the necks from the mid-30s, and it doesn't have that pointy, boney, skinny feeling of the necks from the mid-50s. While the width is 1-11/16" at the nut, it never feels cramped. The V is of moderate dimensions, being neither too pointed nor too fat.
People who dislike V necks may be surprised at how nice it feels. Those who lament that this guitar does not have a 1-3/4" neck may be more surprised at how this particular Authentic neck still has some mass to it, so the fretting hand doesn't collapse on itself down in the first position.
| | | | |
| --- | --- | --- | --- |
|   |   |   |   |
|  Adirondack spruce |  Vintage ebony bridge |  Authentic logo |  Waverly tuners |
Attention to the Smallest Detail
On the outside, the D-28A 1941 has the appearance of a classic 'bone D-28, with fine herringbone trim around the edge of the top, diamonds and squares fingerboard markers made from solid abalone shell, a long, glued-in saddle made from fossilized ivory, which to my ear helps new Adirondack spruce sound a bit warmer and a bit less brittle than cow bone saddles, and the entire body has been finished with a toner that makes even the grained ivoroid binding appear to be over 70 years old.
On the inside, there are found the bones of the 'bone. Those ribs might fool a forensic expert specializing in vintage Martins, as each of the Authentic Series guitars have Adirondack spruce bracing virtually identical to pre-war Martins. Each has back braces of the same height, tone bars with the same scalloping angles, and a unique X brace of the correct size, carving and specific position corresponding to the exact year and model of the vintage Martin it is based upon. And not only is the maple bridge plate tucked in under the X brace, a practice Martin abandoned in the late 1940s, this one has been meticulously shaped to resemble the exact bridge plate on the 1941 D-28 in the Martin Museum.
Rear-Shifted Bracing
Sometime in the late 1930s, Martin moved back the X brace on 14-fret dreadnoughts from the forwarded-shifted position. No one knows exactly when or why. But we do know that the placement of the X brace under the top, in relation to the sound hole, has a great deal to do with a guitar's voice and what sort of bass response it provides, which also influences the mid-range and treble. All other things being equal, forward-shifted bracing tends to produce a lot of boom and woof in the low end of a dreadnought. Set the X brace back a half an inch or so, and the top vibrates differently. There is a decrease in that thick and powerful umph coming out from the bottom of the voice, but in exchange one gains greater definition to the fundamental notes across all six strings.
The X brace position in 1941 was even farther back than modern dreadnoughts. It is a very good placement for a guitar with flexible scalloped braces on such a thin top. It has great depth in the bass, but the lowest notes remain nicely defined. The A string is meaty, and the low E string still has plenty of boom, but both stand out from all that resonant, glowing tone emanating from underneath them. The voice is drenched with overtones, without being swamped by them. And the sustain of the high harmonics triggered by the fundamentals is breathtaking.
A Lot of D-28 for the Money
I can completely understand if someone buys and loves a D-28 Marquis, with its forward-shifted braces, 1-3/4" modified V neck, and dark, lush sound that comes from Indian rosewood back and sides, especially at a price about $1,500 less than this new Martin, after dealer discounts. It is itself a fine guitar.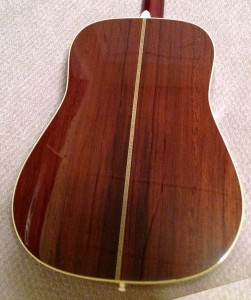 The Marquis is a monster of a guitar, no doubt. The Authentic is, well, more Authentic. It has a more open basement under the top voice. It has more chime and is less dark and somber, which can be accounted for by the Madagascar rosewood compared to the Indian rosewood. But compared to the D-28 Marquis Madagascar, the Authentic has a more open barn door and deeper inner-space. It just sounds HUGE, but so open, even when played lightly. And it does not require as much muscle to get the top going once a player decides to dig in.
A major difference for me is the neck. The Marquis is 1-3/4″ with a Modified V profile that has a meaty, round barrel due to the 1930s neck heel, which influences the shape all way down the neck. And it has 2-5/16″ string spacing.
Necks will always be a matter of personal preference. Because of the difference in width, it is not comparing apples to apples, but I find the Marquis neck just too fat for my comfort, even if I like wider string spacing for fingerpicking.
I can certainly understand why someone would prefer the now-discontinued D-28A 1937, with its Brazilian rosewood back and sides, forward-shifted braces, and its big-barrel 1-3/4" neck – if they could find one, and had twenty or thirty grand to spend. But even that guitar didn't benefit from the recent scientific investigations into the minute details of how they really made them in the 1930s. I do not remember the D-28 Golden Era or the D-28A 1937 being this lightly built, with a top this lively right out of the box.
In any case, with a street price just over $5,000, the D-28A 1941 is an incredible bargain, considering what a spectacular guitar one is getting for their money. The only seller of an actual 1941 D-28 I can find on the open market is asking $85,000 sight unseen.
If you throw out all the comparisons to pre-war Martins you are still left with an extremely responsive, powerful, beautiful, resonant, colorful, chimey dreadnought made from Madagascar rosewood and Adirondack spruce that can go toe to toe with any rosewood dreadnought made today.
It should be no secret to anyone that I have a personal preference for Martin guitars and those made in the Martin style. I am even more in favor of the very best examples. So, in case my opinion of the D-28A 1941 hasn't been made clear, I will say this. If I didn't recently acquire a neckless 1966 D-28 with a crushed side and had it restored to pre-war specs by the retired Martin employees now running Brothers Music Shop, in Wind Gap, PA, I would have bought a D-28A 1941 the day I played the prototype. And I may end up with one eventually anyway. It really is that good a rosewood dreadnought.
Conclusion
The Martin D-28 is the most copied guitar in history. Martin alone has no fewer than 10 different versions of the D-28 available in their current catalog, with varying prices and levels of vintage appointments.
Many luthiers from small workshops to major manufacturers have come out with their own take on the D-28, and many include the specs they think matter most when trying to capture some of that legendary vintage vibe, sound and feel that made pre-war Martins so famous.
Well, this is Martin's own attempt to make a D-28 as close to how they made them back in the day, as realistically possible. And they have done an amazing job, especially considering the relatively low price tag. Yes, Brazilian rosewood would have been very nice. But it simply would have put these guitars out of sight.
The D-28 1941 Authentic is not a collectable museum piece to be locked in a closet to protect the investment required to own one. It is an exquisite, yet practical musical instrument that can and shall be played, recorded and enjoyed.
They are made in the Martin Custom Shop, by a specially-trained team. So Martin cannot roll them off the line like the guitars from the Standard Series. But as they start to get out into guitar shops, I expect to see many players putting up for sale as many guitars as it takes to cover the cost of their new D-28A 1941.
List Price $7,900
Call your Martin dealer for actual price!
And that is one man's word on…
The Martin D-28 Authentic 1941
Read more about C.F. Martin & Co. HERE
Read our primer about Martin Model Designations and Naming Conventions HERE
The official spec sheet can be found HERE