Even by Authentic standards, the D-28 Authentic 1931 takes things to the very origins of the D-28.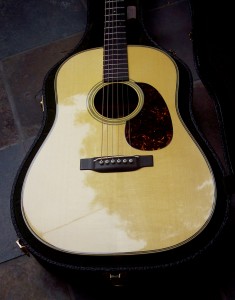 In fact, it is a replica of the very first D-28, which was given the serial number 48326 back in 1931. That instrument was recently purchased at Christie's for the Martin Museum, during a public auction of guitars owned by Richard Gere. Almost immediately, Martin put it under the microscope of scrutiny, not to mention the CAT scan of the Smithsonian Institute, and used the results to create the D-28 Authentic 1931.
Specs Include: Hot hide glue construction; standard dreadnought shape; 1-7/8″ 12-fret vintage replica V neck of solid mahogany; period-correct ebony neck rod, fingerboard and bridge; Madagascar rosewood back and sides; Adirondack spruce top; Authentic Series scalloped braces with 1931 D X-brace position; fossilized ivory nut and glued-in long saddle; short-pattern diamonds and squares fretboard markers in solid abalone shell; wood fiber inlay including herringbone top purfling; thinner high gloss finish than modern Martins; slotted headstock; period-correct Martin brand stamp on back of headstock.
Big Boned but a Terrific Dancer
The D-28 Authentic 1931 is a big guitar that has a big voice, yet it is agile and graceful and truly a thing of beauty. It has a lot of air and open space inside that expansive tone bubble that effortlessly glows out around the guitarist as a strummed chord is left to swell and waver. The trebles are fat but pure, the bass is robust and warm as a bearskin coat, and the mid-range stays up front in a way 14-fret dreads never quite manage. I was holding back on my attack when strumming and flatpicking, as I recorded the example video. Even though the camcorder has an on-board compressor, at times the power and projection in that 12-fretter voice swamped the stereo mic.
A "standard" 12-fret Martin design has an elongated upper bout that reaches farther up the neck, not unlike a classical guitar. Although the 14-fret "orchestra model" Martins of the mid-1930s set the trend for modern, steel-string guitars, and have been copied by most every guitar manufacturer, that design has the upper bout squashed down to expose extra frets on the neck. As a result, 12-fret Martins have a fuller sound compared to their 14-fret counterparts, regardless of the body size.
When it comes to the dreadnoughts, the 12-fretters have a balance across all six strings, which makes them different from most other large guitars. There is no drop off as one sweeps across the A, D and G string. But there is a deep and expansive cavern of resonance underneath them. And that holds true for the D-28A 1931. Fingerpicking patterns are strong, well defined and ring clearly off the strings, at all levels of attack. The overall voice is that of a super-sized fingerpicker, one that also strums with great power and flatpicks like it's hooked up to a stereo PA.
Lighter than one might guess a rosewood guitar can be, it produces an enormous amount of rich, yet open tone with little effort, but loves to be strummed hard as well. Having played the "Gere guitar" on different occasions, I can say the prototype of the D-28A 1931 actually has more horsepower under the hood. And it has perfect intonation up the neck, something pre-war Martins never quite achieve.
But it is also quite different from other 12-fret Martin rosewood dreads, which are typically heavier, and sound it. As with all the new Authentics, efforts to make them as close to originals as possible include a top, back and sides that are all thinner than Martin has used on previous vintage reissues, and the high gloss finish is thinner as well. If you are familiar with some of the vintage-esque mahogany 12-fretters that Martin has put out in recent years, like the Ditson 111, or the CS-D-18-12, and wished they would make a rosewood version with that ultra-light build and the open, sensitive dynamics that comes along with it – well, they have finally done so.
Vintage Vibes
During the First World War, the Ditson department store commissioned Martin to build an extra-large instrument that could hold down the bottom end in guitar ensembles, which were springing up during the Hawaiian music craze that was sweeping the nation. The result was the world's very first slope-shouldered dreadnought.
Although they initially used the American spelling "dreadnaught," the name came from the largest class of British battleships, which ruled the waves in those bygone days. And not without good reason. This new 12-fret behemoth dwarfed Martin's traditional sizes, and put out a roar more like a battleship's 12-inch guns then had ever been heard from the sound hole of a guitar.
When Ditson was scuttled and sank beneath the waves of the Great Depression, Martin decided to build the dreadnought size under their own brand. The mahogany D-1 and rosewood D-2 appeared in 1931 as "experimental models." A D-2 was played by Arkie the Arkansas Woodchooper, a star entertainer on NBC's National Barn Dance. But before Martin's proto-dreads entered general production they were renamed the D-18 and D-28. One of each was made in 1931. The rest is history.
And history as been made yet again, as the very first D-28 sold out the door has found its way back to Martin and they chose it as the model for the new 12-fret D-28 Authentic.
One would be hard pressed to find a new guitar with as much vintage vibe as this one. With an ebony neck rod and shallow V neck, it feels like the body weighs more than the neck, and the body feels like it weighs hardly anything at all. Open, woody, somber in the lows, sunny in the highs, with a forecast for days of happy music-making to come, you will indeed be the envy of your neighbors if you have this brand new Studebaker of a vintage replica parked in your living room.
Every Check Mark on the List
Hyperbole aside, this really does have it all, in terms of vintage specs, if you can get by with only 12-frets clear of the neck. I love the wood fiber inlay on the body, which I assume is maple and ebony, although the dark stuff may be maple dyed black. In either case, the blonde stuff will age and darken right along with the spruce top. I love the fact it has thinner woods for the back, sides, and top, and a thinner finish than modern Martins. I love the extra-thin wings on the bridge. I love the thinner slotted headstock with no decal, and the fact the C.F. Martin & Co. brand is stamped in the back of the neck, with the same stamp that was used in the 1930s. And although I cannot see it, I love the fact that each Martin Authentic has had the maple bridge plate under the top meticulously shaped to replicate the one found on the specific pre-war Martin used as the model.
Sure, it would be great if these were made with Brazilian rosewood. But they would be so expensive Martin would have ended up recreating museum pieces with other museum pieces, which a very few people could afford to buy and actually play without fear of harming their investment.
The combination of Madagascar rosewood and Adirondack spruce is one of my all-time favorites. Madagascar is notably similar to Brazilian rosewood in looks and sound. It has that lush, rosewood bottom end, even if it tends to be a bit less thick or warm than Brazilian. And the high end tends to be a bit more clear and chimey than other rosewoods, but that is by no means a detriment.
Adirondack spruce is very stiff on the long grain and the cross grain, but as it breaks in and opens up, it offers spectacular headroom, so a player can really dig in. In terms of tone, it is highly reflective, and transparent, so it accentuates the sound of the tonewood rather than adding much in the way of filters. And it really brings out the bells and chimes of Madagascar, while allowing the detail of the sympathetic undertone and harmonic overtones to be heard with great clarity and definition.
Frankly, I think this combination of top and tonewood works very well with the standard dreadnought body size. This guitar is plenty dark down in the cellar and plenty fat across the mids. Other available rosewoods probably would have been so woofy there would be a considerable loss in terms of 3-D definition in the undertone. And the Madi-Adi ring thing on this model is at times breathtaking.
When it comes to vintage authentication, the 1-7/8″ neck was certainly required. And that is going to give many people pause, even if Martin always used that spacing on the 12-fret dreads up through Peter, Paul and Mary and beyond. But in the age of sleek electric guitar necks on acoustics, some players may feel this instrument is less a dreadnought than an aircraft carrier. But once their hands land on that wide ebony deck, they may just be pleasantly surprised.
The 1-7/8″ neck is rather shallow compared to other vintage necks, and carved so it does not feel as wide as it really is. But lest there be any doubt, it remains a handful for all but players with long fingers. I believe most will find it worth the extra effort, as they simply will never find this mammoth rosewood voice with its stellar tone anywhere else.
List price: $8,499
And that is one man's word on…
The Martin D-28 Authentic 1931
All photos courtesy of "James O", the lucky owner of a fine D-28A 1931.
Read more about C.F. Martin & Co. HERE
Read our primer about Martin Model Designations and Naming Conventions HERE