Martin's Legendary Pre-War Banjo Killer Lives Again in the D-18 Authentic 1939
The classic mahogany dreadnought now with rear-shifted braces
D-18 Authentic 1939 specs include: 14-fret dreadnought body; made in vintage Style 18 with solid woods throughout, including mahogany back and sides, Adirondack spruce top, ebony bridge and fingerboard, mahogany neck with a hand-carved vintage V profile, 1-11/16″ width, and period correct T-bar reinforcement; solid abalone dot fingerboard markers; glued-in long saddle of fossilized ivory; Authentic Series scalloped braces; rear-shifted X brace; tucked bridge plate; hot hide glue construction
A Beautiful 'Hog
The first thing I noticed about the D-18 Authentic 1939 was the weightless sensation when I picked it up. Even by mahogany standards, this is an ultra-light guitar. But it is anything but a lightweight. With clear ringing trebles and a robust, yet open bottom end, this D-18 Authentic fills a room like Sinatra, and it can purr, shine or belt out a tune with similar ease. The bass is woody and spacious. Notes off the mid-range strings and unwound trebles are bright and sunny, with a purity that is both pretty and strong. And the tonal space under the fundamental voice is so clear and roomy that it seems to defy the laws of physics. It is like the interior is far larger than could possibly fit inside a guitar. And, boy, does it power up when pressed to it.
All of the new guitars in Martin's Authentic Series are virtual replicas of a specific guitar housed in the Martin Museum, and in this case it is a 1939 D-18 considered among the finest specimens still in existence. Everything down to the thickness of the ebony used for the fingerboard and bridge, and the precise size and shaping of the bridge plate has been painstakingly reproduced by a specially trained team of builders in the Martin Custom Shop.
More Authentic Than Ever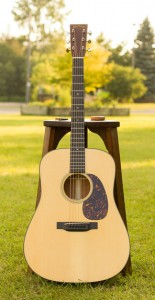 The top is made from the same species of spruce and of the same grade found on the D-18s from Martin's pre-war Golden Era. The extra definition and chime provided by Adirondack spruce takes that dry, hollow log effect in a mahogany guitar and brings it into pristine, focused and ringing clarity. But unlike other vintage D-18 reissues, the top on this model is sanded down to actual pre-war thickness, and so is the mahogany used for the back and sides. When you bring into account the Authentic style scalloped braces and shallow back braces, all held together by traditional hide glue, and you got yourself a seriously responsive and resonant D-18.
Is this what a brand new D-18 would have sounded like right off the line back in 1939? It is impossible to say. But if they were this good, it goes a long way toward explaining why the small, set in its way Martin Guitar Company shifted their whole line of guitars to 14-fret designs in 1934, and why the new dreadnought size quickly rose to dominate the landscape of popular music ever since.
A great many guitar builders of reputation have tried their hand at making a close replica of the pre-war D-18. And while there is no way to build into a guitar 70 years of playing and aging and drying out though the natural course of time, one will not find a better starting point to begin the process. No mahogany dreadnought in history had specs as close to the original D-18 it was based upon.
The major differences from pre-war D-18s include the use of Madagascar rosewood for the headstock faceplate, rather than the now-endangered Brazilian rosewood, and the use of fossilized ivory for the nut and saddle, which to my ear adds a bit of warmth or presence, compared to bone saddles, while reducing some of the brittleness or shrillness that comes with a brand new Adirondack spruce top and takes some "playing in" to dissipate.
Rear-Shifted Braces
The light build on this mahogany/Adirondack dreadnought is reinforced by rear-shifted braces, with the main X brace placed a bit farther back than on modern Martins. This helps add to the openness of the voice, and reduces the rumble in the bass, so the bottom notes retain great definition while the highs have all the cutting power a Bluegrass flatpicker could hope for. Martin has made a few modern rosewood dreadnoughts with rear-shifted bracing, but this is only the second D-18 with scalloped bracing in the pre-1960 X brace position, the other being the D-18 Del McCoury signature model.
The D-18A 1937, now retired, had forward-shifted braces, and was famous for sounding a bit darker and warmer than other mahogany/Adirondack dreads – almost rosewoody in that respect. The D-18A 1939 prototype I played at the factory did not share that attribute. It still had a powerful bottom E string, but overall it was very clear and clean in its mahogany-ness, bright, dry, and chimey, with great definition in the fundamentals and a Windex-clear openness underneath. How much of that difference is due to the specific guitars, and how much could be assigned to things like forward-shifted braces vs. rear-shifted braces is anyone's guess.
 
 
 

 Ebony bridge with thinned wings

photos: A. Lane

 Madagascar rosewood trim

 Adirondack spruce
The Smallest Authentic Neck

Of all the Authentics made to date, this one has the smallest neck by far, in terms of how lean it is in the profile down near the headstock. It is rounder than its new D-28A counterpart, with noticeable cheeks where it meets the fingerboard, but it is shallower, with less of a V, so my hand engulfed the 1-11/16″ neck, and the strings felt closer together as a result.
In the old days, the neck you ended up with depended upon which of several workman had carved it. They used steel plate templates just like today, but they also used their own judgement to decide what was comfortable, or a good fit to the hand. This is more like a modern neck than a typical pre-war neck, at least below the 5th fret. It does gain some girth in the upper reaches, due to the period-correct shape of the neck's heel, but nothing I would call too thick.
Players who passed on the older D-18 Authentic 1937 because of its prodigious neck barrel and wider string spacing may find this neck much more to their liking. Those who find it too narrow or shallow, and hope Martin will come out with a version that sports a vintage 1-3/4″ neck, while retaining the reduced price of the new D-18A, well, you may just get your wish – eventually. I can say no more.
As Traditional As They Come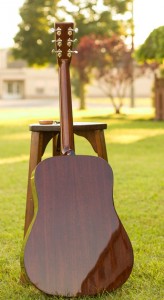 Few guitars have as impressive a tradition as the D-18. It outsold the other dreadnoughts during Martin's Golden Era of the 1930s, and it has found its way into the hands of working musicians ever since.
Whether you are listening to Brownie McGhee singing the Blues, or Kris Kristofferson singing about Bobby McGee singing the Blues, you are hearing a D-18 laying down the rhythm. The folk music of Simon and Garfunkel, Donovan, and Gordon Lightfoot featured the D-18, as did the Rock n Roll of Elvis Presley, Jerry Garcia, and Kurt Cobain. And when it came to Mountain Music, Old Time, and Bluegrass, the D-18 has reigned supreme, especially among the hot-handed pickers. It is said that even the immortal Clarence White, who is famous for his D-28, actually recorded his solos with a D-18, and for good reason. The defined ring of the D-18 just cuts through a mix of instruments so well, and that makes the model ideal when recording or for live performance, while also having fewer feedback issues compared to overtone-heavy guitars made from rosewood.
But then, you may find that a D-18 this good will sound best right there on your living room sofa. And since you won't be spending the king's ransom required to buy a real 1939 D-18, you will be able to take yours to a local jam session without too much in the way of worry. However, at such a reasonable price for such an exacting replica of a pre-war D-18, don't be too surprised if your D-18 Authentic 1939 isn't the only one at the party.
List Price:  $6,749
Call your Martin dealer for the real price.
And that is one man's word on…
The Martin D-18 Authentic 1939
Read more about C.F. Martin & Co. HERE
Read our primer about Martin Model Designations and Naming Conventions HERE
The official spec sheet can be seen HERE.