Martin's 000-28K Authentic 1921 recreates a one-of-a-kind classic.

Aesthetic beauty, effortless playability, and charming tonality make this koa 12-fretter a big success
Specs include: hot hide glue construction throughout, 12-fret 000 Auditorium size, solid highly flamed koa for the back, sides and top, Authentic series Adirondack spruce bracing, tucked bridge plate, one-piece solid mahogany neck with a slotted headstock and gentle vintage V profile, 1-7/8" width at nut, 2-5/16" string spacing, ebony fingerboard and straight pyramid bridge, in vintage Style 28 including herringbone top trim, grained ivoroid binding, short pattern diamonds and squares fingerboard markers, bone nut and saddle, Martin logo stamped on back of headstock.
NOTE: This model now comes with a semi-gloss finish, due to the recent discovery of documents confirming how Martin finished their guitars in the pre-war years. Only guitars in Style 40, 42, and 45 received what is now known as a high gloss finish. The semi-gloss is the same formula, only buffed to a milder sheen.
Examples of this and other Authentic series models are still available in the full high gloss finish at various Martin dealers.
Gettin' It Right
When Martin unveiled their revamped Authentic Series this time last year, each of the new models were an immediate sensation. These 'as close as we can make 'em to the old days' Martins are meticulous recreations of specific guitars residing in Martin's own museum, and they are everything people hoped they would be. So there was considerable speculation and anticipation regarding what additions might be made to the series in 2014. The 000-28K Authentic 1921 was a most pleasant surprise.
An all-koa 12-fret 000 from the twenties was not atop anyone's list. That is, until they actually get their hands on an example of the new 000-28K Authentic 1921, when they marvel at the majestic and melodious music it makes. With its stunning good looks and its warm, plump bass notes, strong mid-range, and pure and ringing trebles, it was declared again and again the most impressive of the impressive crop of 2014 Martins by those who had a chance to play them all.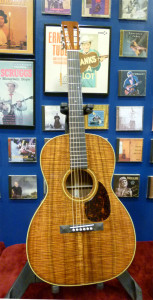 But there is another reason the 000-28K wasn't on anyone's radar. Most people never knew such a guitar existed.
Mike Longworth wrote the first history of the Martin Guitar Company, and his brief stanza relating to koa guitars states, "Between 1917 and 1935, Martin made 3,997 koa wood guitars from size 5 to 000." Longworth then lists the 0-18K and the 00-28K in the overall production totals, both models accounting for 15 guitars made in 1921. And yet he seemed to leave out the entire column for 000-28K, or any other 000 made with koa.
It was only when I inquired of my contacts at Martin that I learned this guitar was a one-of-a-kind that was never listed in their production totals. One may imagine how pleased they were to acquire the instrument for the Martin Museum. And now it is being shared with the world, in the form of this lovely reproduction.
Aloha Koa
In 1915, millions of Americans visited the Pan-Pacific Exposition in San Francisco, where they found the pavilion of the former kingdom of Hawaii, then a U.S. protectorate, and encountered for the first time hula dancers and steel guitar players. America was swept up in a wave of all things Hawaiian, and Hawaiian music was embraced across the nation. Martin was one of the first musical instrument companies to cater to the new fad, as it grew into a cultural phenomenon. They produced enormous quantities of ukuleles and, for the first time in the company's history, guitars built to withstand the tensions of steel strings. Many of these instruments were made from koa, a wood of great beauty, found only in the Hawaiian Islands.
These new instruments were made in the same styles as traditional Martins, so a K was added to the stamp to set them apart, while other Martins with spruce tops were given an H for Hawaiian. And while guitars with the H stamp were set up to be played on the lap, with a metal bar called a "steel," used to slide across the metal strings, small numbers of K-stamped instruments were set up to be played in the customary fashion. That was the case with this particular 1921 000, which would have come with a "conversion kit," including an extra tall nut the owner could install to raise the strings high enough to play steel guitar.
Martin returned to koa again and again, and in the modern era koa was used on several limited editions, including signature models for artists such as Keb' Mo', Steve Miller, Robbie Robertston, John Sebastian, and Laurence Juber. However, none of the modern koa Martins sound as nice right out of the box as this one.
Spectacular Koa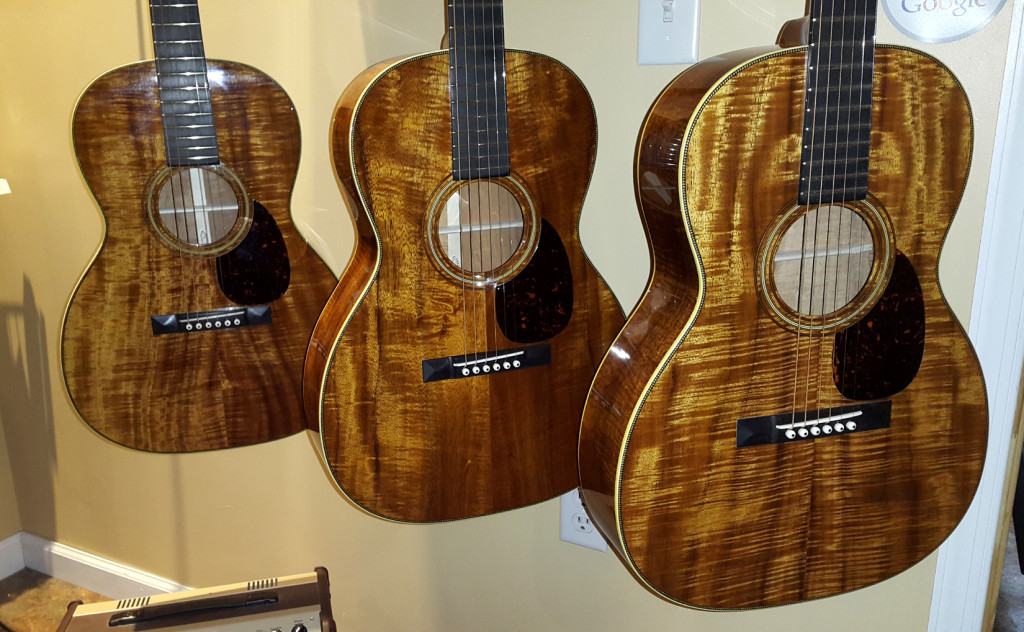 As tonewood, people often say koa sounds in between rosewood and mahogany. Such a characterization amounts to saying some exotic meat "tastes like chicken." Koa has its own tonal pallet, which contains a different combination of warmth, chime, overtones and undertone. And guitars that also have a Koa top sound even more unique. There is a certain roundness to the notes, similar to what one hears in guitars with tops made from mahogany or walnut, but koa has a different and delightful complexity in the harmonic overtones.
But as a topwood, koa takes a lot longer than spruce to break in and open up, which one reason the 000-28K Authentic 1921 is so impressive – it sounds amazing.
Lightness of Being
The first surprise of this 12-fret 000 is how unbelievably light of weight it is in the hand. As with all the Authentics, the wood has been sanded down to a thinness not seen on a Martin in many decades. The bracing and bridge plate are simulations of the original 000, thanks to information gleaned when the museum piece was X-rayed and put through a CAT scan. And to the surprise of all, they found the 1921 guitar had a neck of solid mahogany, with no reinforcement rod whatsoever.
Fred Greene, Vice President of Manufacturing, and commanding general of the Martin Custom Shop, where the Authentics are made, said there was considerable discussion about whether to add a neck rod, but he decided they would stick to their goal of replicating the museum Martins as exactly as possible, including the neck reinforcement, or lack thereof.
Michael Dickinson acquired the vintage guitar for the museum, and said it would have been constructed for steel strings from the get go, since it was made with Hawaiian music in mind. This also explains the original pickguard, a rarity for Martins made before 1930. I wonder if said pickguard might have been a costumer request due to the metal fingerpicks used by many players of steel guitar. The Authentic version comes with a recommendation for "custom light" strings, (gauges 11-15-23-32-42-52,) although silk and steel strings are certainly an option for those who like the mellower tone they provide.
Easy Does It
The dynamics of this guitar can require some adjustment for players used to higher string tension and heavy handed attack, like me for instance. But it takes almost no effort whatsoever to get the top moving and the tone soaring. Playing becomes a relaxed experience once I surrender to the whim of the guitar and allow it to guide me to its sweet spot, where fundamental sustain and sympathetic resonance meet, blossom and glow.
I was unprepared for how alive and responsive this brand new koa top would prove to be. The very best sounding guitars I have ever played were koa-topped Martins from the late 20s and early 1930s. But from my experience, new koa soundboards offer significant sustain in the fundamental notes, ideal for slide playing, as well as a pretty chime to sweeping chords, good for accompanying singing, but they tend to sound as if a good deal of the tone is trapped inside and unable to make its way out into the world. Not so with this new 000!
It makes me wonder how much of the tone from those old timers was the result of decades of drying out and playing in, and how much of it was due to the exquisite construction, finely crafted bracing, hide glue, and solid koa that was planed and sanded to extremely responsive thinness.
It remains obvious that it will take some time before the top really wakes up. But that is almost scary, considering how great it sounds already. It has a head start few koa tops get, in this modern era of thicker wood and heavier finishes to guard against warranty repairs. But then, even the finish on the Authentic Series guitars is thinner than that found on other modern Martins.
When knuckling down and ripping into the strings, the unwound trebles do get thin and snappy, particularly in the upper most frets, and when tuned down below concert pitch. But that is one more feature it shares with all small bodied Martins from the pre-war era. In time this will be less of a concern, as repeated fretting of the same notes will train the top to respond more fully at specific frequencies, and as the player comes to know just how much attack to bring to bear, they will naturally work with the guitar to find the appropriate level of attack. In the video accompanying this review, the listener will repeatedly hear where I over-play the strings and get a down and dirty overdrive, and when I adjust my attack to end up with plump notes of great purity.
Wood Lover's Dream Wood
One concession made in the execution of this new Authentic is the aesthetic quality of the koa. The Museum's guitar has very plain-jane wood, looking like rather dull mahogany with some sort of apricot finish applied to it. Fred Greene decided to use the best and most beautiful koa from Martin's stores, and the two prototypes of this model feature highly figured koa with spectacular flame and color variation, often with that holographic effect that gives the cross grain a 3D look, like ripples of pristine sand as seen through the clear, glinting waters of a tropical lagoon. It is something no photograph can do justice to, or even capture.
And most every example from the production run I have seen is even more impressive than the prototypes!
| | | |
| --- | --- | --- |
|  Pyramid Bridge and Abbreviated Pickguard |  Slotted Headstock With No Logo |  Highly Figured Koa |
~:~
~:~
While the solid, non-adjustable neck may be of concern for some people, the 1-7/8" width of the neck at the nut, which widens to 2-3/8" at the 12th fret, may be of concern for others. The example I played at the factory was so comfortable and effortless in its playability, I quickly forgot about the extra-wide neck. No doubt, this was due in part to the carving of the neck profile.
Like many Martins from the pre-1930, 1-7/8" neck era, the carving of the mahogany is rather shallow by vintage standards and thankfully, the V is gently softened and rounded. This is not one of those sharp and angular pup tent Vs pervasive in many guitars from the 1920s. But even with a shallow, comfortable carving, it does splay out the palm when grasping the neck nearer the body. It is, after all but 1/8" narrower than the neck on a classical guitar. But the intelligent shaping of the neck profile makes it seem more like a 1-13/16" neck, if not a 1-3/4" neck.
The Audible Auditorium Difference
It had been my quiet hope that Martin would come out with a 12-fret 00 size guitar for the Authentic Series, perhaps, say, a 00-40, and I even allowed myself to imagine a 00-40K, like the "best sounding guitar I ever played," which was built by Martin in 1930. But Fred Greene decided to offer a 12-fret 00 in the Custom Shop Series, the CS-00S-14. After playing the 000-28K A 1921 on three different days, I can see the wisdom in their choice of the larger Auditorium-size Authentic.
The 12-fret guitar design invented by C.F. Martin in the 1840s with its main X-brace and lightly carved supporting struts, has some tonal advantages over the modern 14-fret version, also invented by Martin in 1929. Basically, the shoulders are rounded and connect farther up the neck, which does several things. The transfer point for energy passing between the neck, neck block, and body is at a different position then on 14-fret guitars. The bridge, which disseminates string vibration to the sound board, and the sound hole, which focuses and projects the resulting sound waves, are in a different position on the top, in relation to the overall body. And the extra two frets of sound chamber inside the guitar all add up to extra volume and greater bass response.
The Mr. Martin running the family business in 1921, Frank Henry Martin, felt the 12-fret 00, introduced in the 1870s by his father, C.F. Martin Jr., was the perfect design, offering ideal balance across all six strings. He introduced the 000 size just after 1900, as the public was clamoring for larger, louder guitars to compete with banjos, fiddles and mandolins. But he always felt it was bass heavy and therefore out of balance. But it is exactly that extra oomph in the bass that attracts modern players to the 12-fret 000 sound.
To my ear, many 12-fret 000s can sound muddy and unfocused down where the bass and low-mids intermingle. But in the case of this particular guitar, the low E string does indeed sound full and rich, but the throb and swell seem to project off the deepest end and do not overly intrude on the mid-range and treble. The A string is still quite meaty, even if it is graduated down from the throbbing level of the E string. But both retain their definition and that holds true when taken down a step for alternate tunings. And like all good 12-fretters, just when my ear expects there to be some drop out over the mid-range fundamentals, which I hear in bassier 14-fret guitars like dreadnoughts, they actually stand out forthright.
As for the unwound trebles, they do require a pretty light hand if the player wants to keep the bluesy twang out of the picture. I would think that someone might be willing to risk a normal light gauge .12 and .16 for the high E and B strings, respectively, especially if they intended to keep them tuned to D and A most of the time. But when it comes to the unwound strings, it is hard to believe these are lighter than light gauge strings, and that it is such a new guitar. It just pushes so much air and provides so much tone.
Otherwise, I expect that thin koa top to begin its metamorphosis from Day One, and that the fretted notes will begin to take on some fatter qualities over time as that hardwood top starts to break in and open up. But as it is, they exhibit such a refined and undistorted definition for which traditional Martins made with a hand-fitted dovetail neck joint are so renowned. It is a quality I often refer to as "violin-like purity," gossamer thin, but clear as crystal. And this new vintage reproduction has loads of it. And every treble note ignites an aurora of harmonics rising off the mid-range, of the sort only heard from guitars made with koa, or other woods from the Acacia family. But koa is the only Acacia tonewood I know of that also has this kind of warmth under the bottom end.
Availability Good, But For How Long?
By the time the NAMM show was over, Martin had secured dealer orders for just under 90 units of this model. Certainly, not all of them are spoken for by end user customers. But that doesn't mean people shouldn't think about acting sooner than later if this guitar has captured their imagination.
When asked if Martin had enough koa to secure long-term production of this model, should it prove as popular as initial indications, Fred Greene was confident about the prospect. "Will it all look as good as the koa on the one you played? There is a lot of variation in the sets…but we have enough to keep making them for a good while."
I was happy to hear that, as I cannot afford one any time soon. But it certainly has won me over and I know I am not alone in that assessment.
And that is one man's word on…
Martin 000-28K Authentic 1921
List Price: $7,499
Call your Martin dealer to find out the real price.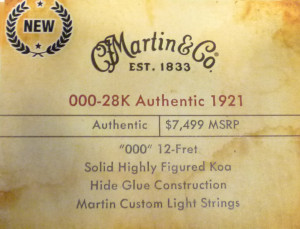 Read More About…
Martin Model Designations and Differences
~:~
~:~
Official Spec Sheet
Model:    000-28K Authentic 1921
Construction:    Mahogany Blocks/Dovetail Neck Joint – Hide Glue
Body Size:    000-12 Fret
Top:    Solid Highly Figured Koa
Rosette:    Style 28 (Authentic 1921)
Top Bracing Pattern:    Standard "X" Scalloped (Authentic Style) – Circa 1921
Top Braces:    Solid Adirondack Spruce 1/4"
Back Material:    Solid Highly Figured Koa
Back Purfling:    28 Style Zig Zag (Authentic)
Side Material:    Solid Highly Figured Koa
Endpiece:    Grained Ivoroid in a Narrow 1921 Shape
Endpiece Inlay:    Black/Maple/Black Fiber
Binding:    Grained Ivoroid
Top Inlay Style:    Fine Herringbone (Authentic Style)
Side Inlay:    none
Back Inlay:    Black/Maple/Black Fiber
Neck Material:    Solid Genuine Mahogany
Neck Shape:    Authentic 1921 Barrel & Heel – No Truss Rod
Nut Material:    Bone
Headstock:    Slotted/Square Slots/Diamond/1921 Taper
Headplate:    Solid Madagascar Rosewood
Heelcap:    Grained Ivoroid
Fingerboard Material:    Solid Black Ebony
Scale Length:    25.4"
Number of Frets Clear:    12
Number of Frets Total:    20
Fingerboard Width at Nut:    1-7/8"
Fingerboard Width at 12th Fret:    2-5/16"
Fingerboard Position Inlays:    Diamonds & Squares – Short Pattern Golden Era
Fingerboard Binding:    none
Finish Back & Sides:    Polished Gloss w/Aging Toner
Finish Top:    Polished Gloss w/Aging Toner
Finish Neck:    Polished Gloss w/Aging Toner
Bridge Material:    Solid Black Ebony
Bridge Style:    Authentic Style Pyramid w/Long Saddle
Bridge String Spacing:    2-3/8"
Saddle:    16" Radius/Long Bone
Tuning Machines:    Stew Mac Golden Age Bright Nickel 2515 Side Mounts w/Ivoroid Knobs
Recommended Strings:    Martin M535 Phosphor Bronze (Custom Light)
Bridge & End Pins:    Ivory Colored Poly w/Tortoise Colored Dots
Pickguard:    Delmar Tortoise Color
Case:    535V Harptone
Interior Label:    none
Electronics:    none
Other Options:    Available left-handed at no additional charge
Other Comments:    All prices & specifications are subject to change without notice