Martin's Authentic line of guitars now offers brand new instruments that are closer in many respects to pre-war Martins than ever before.
Links to Reviews of All the Authentic models are found at the bottom of this page.
Introduction
Between 1930 and 1944, C.F. Martin & Co. set the gold standard for steel-string acoustic guitars. Today, Martin offers a growing number of new models virtually identical to those priceless vintage instruments.
As economic realit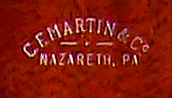 ies changed after World War II, along with tastes in popular music, so did Martin's designs and core product line. While their contemporary instruments remained popular with professional musicians and amateur enthusiasts alike, the lightly-built and ultra-responsive instruments from Martin's "golden era" remained highly coveted, even after prices for a pre-war dreadnought, 000 or OM reached into the tens of thousands of dollars. As C.F. Martin IV is fond of saying, "Our number one competition for a new Martin is a used Martin."
Beginning in the 1970s, some guitars in Martin's Standard Series were given a few vintage-esque specs, like herringbone trim, and scalloped braces, which are hand-carved to allow the guitar's top, or soundboard, to resonant more freely. In later decades the company offered product lines that more closely resemble pre-war Martins. While they evolved over some 25 years, today the surviving members of the Vintage Series, Marquis Series, and Golden Era Series can be found together under the marketing banner of the Marquis Collection, with varying degrees of vintage looks, feel and tone to fit most any guitarist's budget.
In January 2013, Martin introduced a new line-up of guitars in the Authentic Series. Made entirely in the Custom Shop, the new Authentics have proven to be among the most accurate reproductions of pre-war Martins available today, and certainly among the most affordable available anywhere.
Progressive Methods Lead to Traditional Guitars
About a year ago, we were given a sneak peek at some images on a computer deep within the Martin guitar factory. There we viewed rare pre-war Martins, as seen through state of the art imaging technology typically employed in the medical field, but also utilized by scientists and art historians to peer inside priceless objects without putting them at risk. Among the resources Martin sought out to obtain their data was the CAT scan machine of the Smithsonian Institute.
The presenters were notably excited by many discoveries that had come to light related to the construction of the specific instruments, which could not have been possible through any other means, short of literally taking them apart. Some were known but confirmed in greater detail. Others were genuine surprises.
Even as they pursued this avenue of scientific examination, Martin also engaged their sophisticated acoustics research and development technology designed to reveal the practical effect of construction methods and materiel upon sound production. While these methods are typically used in the development of new guitar designs, they were recently brought to bear upon vintage Martins for the development of Martin's new Retro Series of acoustic-electric guitars. And now, similar testing has been used to investigate just how vintage specs and building techniques give acoustic results that differ from modern designs.
While such discoveries were a gold mine in terms of the historical record, Martin seized upon the opportunity to incorporate this new-found information for the purpose of resurrecting the holy grails of acoustic guitars, the pre-war Martins.
Newly Authentic
The fruit of their investigations came to light at the 2013 Winter NAMM show, as Martin introduced the new D-18 Authentic 1939, D-28 Authentic 1941, D-28 Authentic 1931, OM-18 Authentic 1933, and the D-45S Authentic 1936. Each instrument is a meticulous recreation of a specific vintage Martin guitar residing in the collection of the Martin Museum.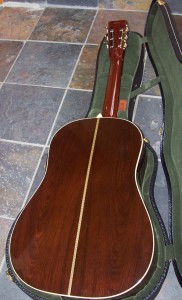 One notable difference between these new Martins and the old timers (or previous Martins labeled "Authentic") is the use of Madagascar rosewood rather than Brazilian rosewood, an endangered species that is extremely expensive. Madagascar rosewood is closer to Brazilian in looks than most any other wood, but results in a guitar with a much lower price point, by many thousands of dollars.
While Authentic Style 18 uses rosewood only for cosmetic trim, Style 28 uses rosewood for the tone-producing back and sides of a guitar. And that is where some controversy may develop. Only Authentics built in Style 45 feature Brazilian rosewood.
Madagascar rosewood is itself an exotic hardwood that is similar in tone to Brazilian. In general, I find its harmonic tonal spectrum to be shifted out of the bass and centered more in the higher mid-range, when compared to Brazilian rosewood. So there is slightly less complexity and depth in the harmonic undertone of the bass and low-mids, but a notable increase in the chime off the fundamentals, and up in the highest angelic overtones. It is a very "musical" sound, which is quite pretty and highly detailed.
The differences are subtle, and there are guitars made with both species that overlap the other in terms of tone. I own Martins made from each, and I am a big fan of Madagascar rosewood as a tonewood. I feel it is an excellent choice for the exquisite 28s of the new Authentic Series, and helps keep them within reach of less than wealthy guitarists.
Otherwise, the Authentics share numerous features with Martins from the 30s and 40s not found on a typical modern Martin. For one thing, they are built using hot animal hide glue, which was discontinued at Martin in 1965 and only reintroduced when Martin offered the first guitars in the Authentic Series. It has since appeared on a few limited editions as well.
Hide glue requires considerably more time, effort and overhead to use compared to synthetic glues. But many guitarists and luthiers feel hide glue makes a noticeable difference in the sound that ultimately is created by an acoustic guitar. This seems to be especially the case for guitars made with a traditional, hand-fitted dovetail neck joint that allows greater direct contact and vibration transference between the neck and the body of the guitar, when compared to other types of modern neck joints.
The Authentics also have bracing inside the body that is closer to what was used on the pre-war Martins than any other modern Martin. And each neck is carved, shaped and sanded by hand, by a master craftsman specifically trained to recreate vintage Martin necks. The support used inside the necks is either a non-adjustable T-bar or, for those reproductions based before 1934, an ultra-light ebony rod.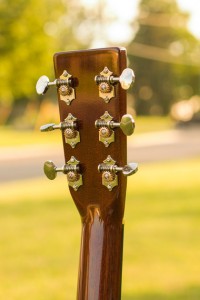 The things they got right on the money greatly outnumber what few things nitpickers may find that are not exactly like some vintage Martins. Many details will go unnoticed by the average guitar player, like the size and exact position of the sound hole being different from modern Martins, the fact this inlay or that purfling is narrower than previous vintage reissues, or the fact they are using solid abalone and mother of pearl for the fingerboard markers and trim, rather than the laminated abalone material that became the modern industry standard.
Other specifics will certainly be noticed when it comes to the dynamics and sound, like the size and shape of the bracing, the fact the bridge plate is tucked under the main X brace (something not seen on a Martin since the late 40s), and the placement of the X brace in relation to the sound hole, which is based upon the exact year they are aiming for. All such things effect exactly how the guitar's soundboard resonates, which effects how the instrument reacts to different kinds of playing, and how it responds with its own unique bass, mid-range, treble and harmonics.
As Stephen Stills put it, "a guitar is a box that rattles" and everything in the creation of a guitar "effects how beautifully it rattles." Only in recent times has there been genuinely systematic study of vintage Martins to find out why they have the dynamics, playability and tone that they do. And these new Authentics have dozens of tweaks and perks that make them more like the old-timers than previous attempts to offer vintage-esque Martins.
Thin Is In
The detailed scientific examinations of the older Martins have led to these new Authentics having thinner head stocks and fingerboards than other modern Martins. They also have thinner bridges where the wings taper out from the saddle area. Even the center strip on the inside of the back is thinner.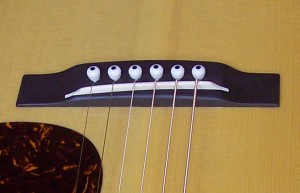 The thickness of the top and tonewood are sanded down to vintage specs, and the finish is thinner than that used on the earlier Authentics. And the already thin maple bridge plates have been shaped in painstaking detail based upon the data gleaned from the medical imaging technology that had been applied to the priceless, old Martins.
Each model has a unique neck shape, which closely mimics the exact vintage Martin it is based upon, carved by a specially trained craftsman. Having played all of these new guitars side by side, I can say the necks vary considerably, based on the specific model, even when the fingerboard width and string spacing remain the same.
Conclusion
Does all this nuanced approach to pre-war replication really matter when making a better Martin? That question may forever be debated in greenrooms and guitar forums. While many players may actually prefer the tone and dynamics found in Martins made the modern way, those looking for Martins made more like they used to make them, and the feel, dynamics and voice that comes with that, now have a growing number of such guitars to choose from, without taking out a second mortgage to pay for them.
While it may be impossible to infuse 70 or 80 years of playing time into the wood and finish of a new Martin, these new models from the Authentic Series offer the closest thing to taking a time machine back to the 1930s to buy a brand new OM-18 or D-18, and starting it off on its own 80-year journey of vintage Martin mojo.
Here is is a list of Authentics reviewed by One Man's Guitar, along with a companion demonstration video:
Additions will be added as Martin releases new Authentics
All prices are list retail at time of model debut. Call your Martin dealer for the real price.
00-17 Authentic 1931 – $5,999
000-30 Authentic 1919 – $8,599
D-1 Authentic 1931 – $6,999.00
000-42 Authentic 1939 – $14,999.00
00-18 Authentic 1931 – $7,499.00
000-28K Authentic 1921 – $7,499.00
OM-45 Authentic 1930 – $99,999.00
OM-28 Authentic 1931 – $8,499.00
OM-18 Authentic 1933 – $6,499.00
D-18 Authentic 1939 – $6,749.00
D-28 Authentic 1931 – $8,499.00
D-28 Authentic 1937 – $8,499.00
D-28 Authentic 1941 – $7,999.00
D-45S Authentic 1936 – $59,999.00