A Rarefied Martin Lives Again in the 000-42 Authentic 1939
The First Affordable Pearl-Trimmed Martin in the Authentic Series is a Beauty
Specs include: All solid woods with hide glue construction; Premium Grade Madagascar rosewood back and sides; Premium Grade Adirondack spruce top, thinned to pre-war specs, treated with Martin's Vintage Tone System torrefaction; VTS torrefied Authentic Series scalloped bracing and bridge plate; grained ivoroid binding; abalone top purfling and rosette; mahogany neck with 1-11/16" width at nut, vintage V profile unique to this model, ebony fingerboard with abalone fret markers; ebony bridge with 2-1/8" string spacing; unique reproduction tuners; extra-thin high gloss finish
"It is an emotionally expressive instrument that naturally inspires nice bluesy string bends, and even subtle little waggles of a fretting finger translate into evocative alterations in the tone of each note, which then spawn echoes that radiate within and without the lively 000 body with its scallop-braced VTS top."
Pretty – Very, Very Pretty
Out front, this guitar gives off mirrored, glimmery silvers and brightly active colors, any of which can stand out starkly or shimmer collectively with reflective radiance and sophistication. And behind is the Madagascar rosewood that is relatively sunny and ruddy, but with a richer, darker heart and various strains and veins of complex texture. And that is all heard within one muscled strum of an open E Minor Eleventh chord.
The guitar looks very pretty too.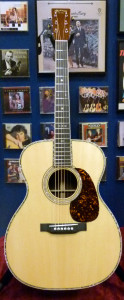 The Martin 000-42 Authentic 1939 is a 000 (Auditorium) size instrument made in Vintage Style 42 for the Authentic Series of meticulously exacting recreations of specific Martin guitars, in this case one that was built in 1939 and now owned by the Martin Museum.
It is the only pre-war 000-42 I have ever played, so I cannot say how it compares to others, most notably the 1939 000-42 that Eric Clapton used during his seminal MTV-Unplugged concert, now enshrined at the Rock n Roll Hall of Fame. But I can say the guitar that provided the detailed specs for this new Authentic model is on a very short list of my all-time favorite pre-war Martins.
It is a tough act to follow indeed, but Martin has done a very good job in the construction of this modern reproduction. The discerning guitarists who are seeking a flattop acoustic guitar of this caliber will be happy and fortunate to land one of these, as I expect they will not make all that many of them, since the model is priced notably higher than most others in the Authentic Series.
Spec-tacular
While it may not look all that different from other acoustic guitars with this very-popular body shape, the detailed specs of the 000-42 Authentic 1939 are exclusive and exquisite to the point of mouthwatering.
The two features truly unique to this model are the fret markers and the tuning machines. The original 1939 000-42 has gold-colored Grover tuning machines with unusual, fancy housings, made for only a short time and in small numbers. Martin was unable to locate any examples that could be used to replicate them. So they had to – very carefully – remove them from the priceless museum piece and – very carefully – have them recreated. Wisely, the decision was made to alter the gear ratio slightly, to prevent the wobbly backtracking of the originals, which may give a clue as to why they weren't widely used back in the day.
I absolutely love the fret markers that, along with the top purfling, are made from high-color abalone shell. I had been misinformed when told they were using solid abalone shell. It turns out they went with lametated abalone, which allows for an outter veneer made of just the most vibrant and highly-colorful shell.
As is always the case with Style 40 and Style 42 Martins made until the early 1940s, the markers start at the 5th fret. But this guitar has an arrangement of markers unlike any I have seen before.
Instead of the usual six-point circular snowflake at the 5th fret, there is a four-point leafy diamond that is normally seen at the 9th fret on pearly Martins. And at the 9th fret is a most unusual emblem. It appears to be a tall, rectangular six-point star with thin bars sticking out from either side, attached to a crescent semicircle.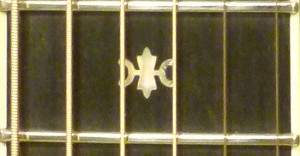 This and one other 1939 000-42 are the only Martins I know of with this particular symbol on the fretboard – and it isn't Eric Clapton's. And while some unusual Martins made for the Wurlitzer Company did use the four-point diamond as the first marker, no other Martins sold under their own brand has it in place of the circular snowflake.
So, here is an Authentic Series replica of a particularly rare pre-war Martin, a precedent set with the 000-28K Authentic 1921, a replica of the only 000-28K ever built, and the OM-28 Authentic 1931, which replicates an OM-28 that was made with 2-5/16" string spacing rather than the normal 2-3/8". And like those other Authentics, the tonewoods chosen for this new 000-42 Authentic 1939 are also pretty special, even more than usual.
The premium Madagascar rosewood on the prototype I played is subtly busy with layered figuring. Long, straight swaths surround the multi-colored Style 45 back strip, bordered with blackish webbing, and matching bands of interlacing grain that fall like braided tresses from the shoulders of the treble bout, past the tight, feminine waist, but are split by feathered spearheads thrusting up from the edge of the wide bottom bout. The reddish stain used for this model helps the Madagascar rosewood look even more like the Brazilian rosewood that would have been employed on such a Martin in the 1930s.
Now an endangered species, Brazilian rosewood adds many thousands of dollars to the cost of a Martin. Madagascar rosewood is considered the next best thing, and to some people it is actually preferred, due to its uniquely radiate, musical voice, which sounds especially beautiful when matched with Adirondack spruce.
Adirondack spruce is quite stiff and provides exceptional headroom and volume, along with a chiming ring, profound definition, and a transparency in terms of tone that allows the personality and sonic colors of the wood used for the back and sides to come through with great clarity.
It is also notorious for taking years to break in and open up, compared to other spruce. But this premium grade Adirondack spruce soundboard has been treated with Martin's proprietary Vintage Tone System, which uses the torrefaction to alter the cellular interior of the wood until it behaves and in some ways sounds like spruce that has aged for nearly 100 years.
The special, "zeroed-in" to the early twentieth century, version of the Vintage Tone System was developed expressly for the Authentic Series. It is now available on other special editions and custom orders. But what remains exclusive to the Authentics is the use of the VTS on the bracing and bridge plate inside the guitar. To learn more about the ancient process of torrefaction and its use in modern luthiery, go HERE.
Martin's VTS is most noticeable in the way the tone from the played string effortlessly triggers sympathetic resonance with the sort of depth and openness one hears in vintage instruments. But it is only one feature of this guitar that makes it so close to owning a vintage Martin at a fraction of the price.
Click on Photos to Enlarge
Divine in the Details
As with the other members of the Authentic Series, this 000 feels much lighter in the hands than most modern acoustic guitars. It has a t-bar support in the neck, which adds less weight than contemporary adjustable truss rods. Also, the spruce top is sanded down to pre-war specs, notably thinner than can be had on typical Martins. This makes it that much more flexible and responsive. Added to this, is bracing on the back and top that has less mass than modern specs call for. Even the wings of the solid ebony bridge are thinner and therefore vibrate more easily as the energy of the played strings passes through to the spruce soundboard and maple bridge plate beneath.
Most every aspect of the construction is designed to promote optimum transference of that string energy and ultimately maximize its potential as it is converted into resonant, complex, beautiful tone.
The bridge plate is tucked underneath the main X brace, which is notched to accommodate it. This is a practice Martin abandoned in the late 1940s to cut production time. But a tucked bridge plate transfers energy directly to the center of the braces making up the X, which spreads it across the entire soundboard. And all the bracing is scalloped so the extra-thin top is wonderfully alive and alert.
All joinery is accomplished with traditional hide glue, just like that used in the 1930s. And where the Authentic Series bracing and bridge plate are constructed to maximize responsive dynamics from the inside, the outside of the entire 000-42 Authentic 1939 is encased with a high gloss nitrocellulose finish that is considerably thinner than has been used on Martins for many decades. It is a significant factor in how alive, vibrating, and expressive the entire musical instrument becomes when under even the lightest playing.
That is particularly important here, since this is the first 14-fret Authentic model made with a short-scale neck, which has less tension in the strings than something like a long-scale OM or Dreadnought.
That means it creates less string energy under the same level of attack. But in exchange, one gets more play in the strings for bends and vibrato, and the frets are a touch closer together, which makes for a faster feel with less-strenuous reaches.
It is an emotionally expressive instrument that naturally inspires nice bluesy string bends, and even subtle little waggles of a fretting finger translate into evocative alterations in the tone of each note, which then spawn echoes that radiate within and without the lively 000 body with its scallop-braced VTS top.
The 3D voice is anchored in the bottom end strings that report with a roundness both plump yet open. They have a bass-player throb during bare thumb fingerpicking, but stand out with stark definition when hit hard with a pick or fingernail.
There is an arid dryness that moves in around the higher midrange of the G string, increasing with the unwound treble strings, so the notes firing from the strings are precise and clear, like seeing vivid detail at a distance across a desert landscape.
And there, rising up out of the high open plane of the treble are the glorious Madagascar rosewood harmonic overtones, which shimmer like a sunlit mirage, while the shadier rosewood undertone swells out of the low-mids with a slight delay, humming through the fundamental sustain as it subsides.
The neck has a lovely carving to it, with the cheeky sides that tilt suddenly back inward just before they meet the bound fingerboard – an advantage to thumb-fretters, as is the general feel of the V neck.
By comparison to modern Martin necks, I would say this is closer to the Modified V with the '30s Heel found on the CEO-7 and 000-18GE, when it comes to the shaping of the hand in the upper frets. But it is a 1-11/16" width at nut, so everything feels just a bit more relaxed, although it never felt like it was collapsing or disappearing in my hand down by the nut. I will go so far as to say it is a nice approximation of the neck on the actual 1939 000-42, but it is in fact a bit more comfortable in my hand.
Style 42 Then and Now
Many people have only seen the modern Style 42 in person, which is different from Vintage Style 42. The modern version was introduced many years after Martin had re-introduced the D-45 in 1968, with its abalone hexagon fret markers.
Dealers began requesting the snowflake fingerboards of pre-1939 D-45, which resulted in the modern D-42, designed to look from the front like Style 45 from the early 1930s. It has the colorful abalone purfling inlaid around the top and fingerboard extension, and the long snowflake fingerboard pattern running from the first position to the sixteenth fret.
The major difference setting it apart from Vintage Style 45 is that Style 42 does not have any pearl inlay on the sides and back. That and the fact some Style 42 models get a round snowflake inlaid on either side of the bridge. Martin used "42" as the designation, because they had no other pearl-trimmed guitars but the D-45 and there was no intention at the time of resurrecting Vintage Style 42.
But the true Vintage Style 42 has no inlay on the bridge. And it has the abbreviated pattern on the fingerboard, with no pearl inlay beyond the fifth fret, including the headstock. This is because Style 42 was created in the nineteenth century, when Martin made only 12-fret guitars, usually with no markers out past the fifth fret, along with a slotted headstock that had no inlay or markings of any kind.
Personally, I used to think the looks of the 000-42 seemed oddly incomplete, as there was all this pearl around the body and on the neck, which suddenly stops. And then there was nothing but the gold foil logo decal out there between the farthest tuners. The long, narrow 14-fret neck made the pearless region appear that much more austere and eccentric.
But then, that is one of the things that made the model so cool and rare. And when Martin came out with the delightful 000-42 Marquis, which replicated the look, I was very happy indeed. But while that Indian rosewood model was absolutely lovely, it has the dynamics and response of a modern-day Martin.
The 000-42 Authentic 1939 is a very different athlete all together; one that is much nimbler and more expressive, sensitive and old-timey sounding, while having that Authentic Series ability to effortlessly give off whispery nuance in reaction to nuanced fingerstyle playing, but still have all the ammunition necessary for a driving Eric Clapton solo of a barky Lead Belly blues. That is a very "vintage Martin" attribute that goes beyond this particular thickness or that neck shape.
Reincarnated If Not Resurrected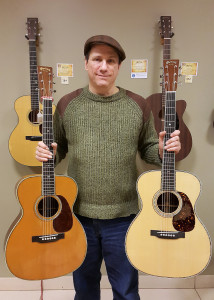 Does this guitar sound exactly like the 1939 000-42 it was made to represent? Nope. I doubt any other pre-war 000-42 sounds exactly like it either.
But Madagascar rosewood does not sound exactly like Brazilian rosewood in any case, even if they overlap in certain ways. Brazilian provides a warmer, deeper and more colorful bass and sympathetic undertone than even the warmest and deepest Madagascar. And Madagascar provides a high end more effervescent and sparkling than heard from any guitar made with Brazilian.
And torrefied spruce does not replicate everything that aged wood provides when it comes to tone production. The sustain off the fundamentals on this new Martin does not have the same skyward length of the old timer, even if it radiates in all directions and sounds more open and resonant than typical modern guitars.
But the good news is, according to their owners, Martin Authentic Series models with VTS tops, bracing, and bridge plate continue to sound fuller, mellower, and more colorful the longer they get played. And that only makes sense, as all that hide glue joinery, and the full dovetail neck joint with its solid mahogany neck block, and the new Madagascar rosewood back and sides settle in, begin to vibrate more freely, and the wood begins to forget it used to be a tree and accepts that has now become a guitar.
But that is almost scary when you consider how alive and open and ringing a 000-42 Authentic 1939 is during the first month of its life.
Since I first published this review, some queries and criticism have been raised about the pricing of this particular model in relation to the other Authentic Series models. And it is a reasonable concern.
The list price is $6,400 more than the OM-28 Authentic 1931, nearly $3,900 in terms of the best street price. That appears to be quite an increase for some pearl trim.
Part of the price difference comes from adding abalone trim and inlays in Style 42, along with grained ivoroid binding on the neck. Based on 2015 Custom Shop upgrade pricing for all that, plus the up-charges for Premium Grade Madagascar rosewood and Adirondack spruce, and a small bump for Martin's annual price increases, I am estimating an even $4,000 to "42 a 28."
That still leaves $2,600 list, or a best street price of $1,560.
Since they are not using solid abalone, that is not a consideration. Then the real reason the 000-42 Authentic costs what it does: exclusivity.
Personally, I believe Martin has always priced their Authentic Series guitars based less on the sum of their parts and labor than on the contemporary market price of the pre-war Martin model they are based on. The Brazilian rosewood Authentics have a list price approximately one-third the price of an actual pre-war D-45 or OM-45 Deluxe. The other Authentic Series models appear to have a street price with a zero knocked off the end of the typical market price of similar pre-war Martins. A pre-war OM-28 in very good condition will cost over $50,000 today. The OM-28A 1931 can be had for just over $5,000.
Martin paid nearly $90,000 for their 1939 000-42, not including taxes and auction fees, and we must pay nearly $9,000 for the Authentic Series version.
I do not condone or support such a pricing model. And I cannot say that it is in any way what is really going on, but the math does seem to add up.
When it comes down to it, if you want a 000-42 Authentic 1939, you have to pay what Martin charges for it, because no one else in the world has one for sale.
Any modern guitars remotely as close to a pre-war 000-42 do not have C. F. Martin on the headstock. There are many guitarists who feel that is indeed worth the price. The mark up for the masthead of this high-end luxury item is considerably smaller than those charged for names like Cartier or Mercedes-Benz.
There are a very small percentage of new guitars today that are built as much like a pre-war Martin. And there is a minuscule amount as much like a pre-war 000-42. All of them are stamped "000-42 Authentic 1939." And there were not many 000-42s to begin with.
A 14-fret guitar made in Style 42 is a rare bird indeed. At the point when abalone trim was discontinued in 1943 only two OM-42s were made, in 1930, and one D-42, made in 1934 with "Tex Fletcher" inlaid on the fingerboard. All of them were special orders.
The 000-42 was the only 14-fret 42 in regular production. Offered in the Martin catalog from 1938 through 1943, a total of 112 were stamped and completed for sale, compared to 1,580 of the 000-18, 511 of the 000-28, 399 of the 000-21, and 123 of the 000-45s.
In 1939 one Fredrick Ray Brown purchased a brand new 000-42, serial number 73741, with the handsome list price of $125. After a lifetime performing locally in Wisconsin, and another thirty years in the hands of his son, the guitar passed on to fingerstyle blues master Kenny Sultan, who put it up for sale in 2008.
While that original $125 may translate to just over $2,000 in today's money, in practical terms it was a lot more in 1939 money. All but the most exclusive apartments in Manhattan rarely topped $50 a month to rent, compared to an average near $4,000 today. And the cost of living in wartime Wisconsin was even less. So, a Martin 000-42 was one expensive guitar.
In terms of the buying power of the dollar, it was about a $10,000 guitar by today's standards. Yet it comes nowhere near the $100,000+ that the Martin Museum paid to obtain the guitar at the 2008 Christie's auction. Not long after that, it was placed on the list of perspective Authentic Series recreations. I have had to wait a very long time to see and hear the results.
It felt so good in the hands I hated to give it back when it was time to review yet another guitar that day. And it had so few playing minutes under its hood that the sustain was obviously improving just in the 15 minutes I got to play it. Of the many guitars that passed through my hands over the two days I spent at the Martin factory, the 000-42 Authentic 1939 was the one I most wished I could have taken home with me. With the possible exception of the $100,000+ 1939 000-42 from which it is derived.
I will remain curious as to just how many examples of this pearly wonder will be out there for sale. Certainly there will be enough so that many people will get to play one and feel good about the opportunity. It is the much smaller population of guitarists with the good fortune to own such a unique replica of such a unique vintage Martin who have my envy and congratulations.
And apparently Eric Clapton had that good fortune. Here he is playing a brand new 000-42 Authentic 1939, although there is only one quick shot near the end of the video that reveals the unusual 9th fret marker.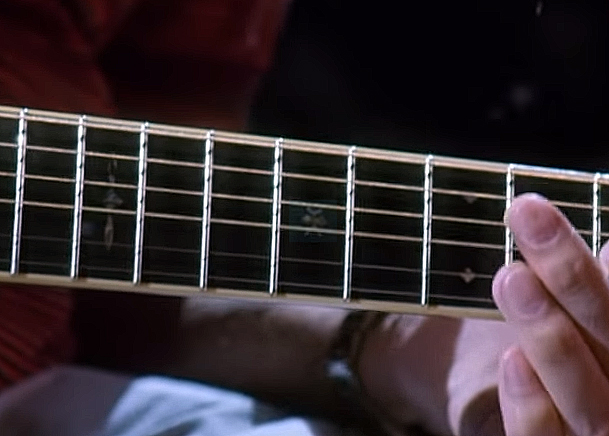 Perhaps he misses the '39 000-42 he auctioned off for charity.
And that is one man's word on…
The Martin 000-42 Authentic 1939
List Price: $14,999.00. Call your Martin dealer to find out their best price.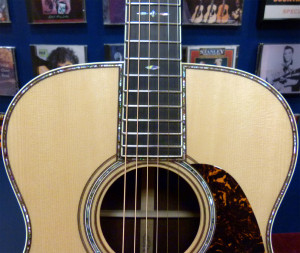 More Photos HERE
Related Reading:
Reviews of other Authentic Series models
2016 Martin Guitars: An Overview