New Grand Concert Size Martin, the 00-18 Enters the Standard Series
World-class tone from a small-body mahogany mighty mite
Specs include: 14-fret 00 (Grand Concert size) body; all-solid wood construction; South American mahogany back and sides; Sitka spruce top with scalloped 1/4″ Sitka spruce bracing; short-scale High Performance mahogany neck with Modified Low Oval profile, 1-3/4″ at nut, 2-1/8″ at 12th fret; ebony fingerboard and bridge; bone nut and saddle with 2-5/32″ string spacing; Standard Style 18 appointments including faux tortoise shell pickguard and body binding; mother of pearl dot fret markers, Indian rosewood headstock face plate with vintage style C. F. Martin & Co. gold foil logo; chrome open back tuners with butterbean knobs.

"The new 00-18 provides a relaxing, comfortable playing experience that rewards the guitarist with a prosperous voice, lavish with presence in the undertone resonance and the wafting high harmonics."
watch in 1080p HD for best sound
A High Set of Standards
The new Standard 00-18 is made in the 00 "Grand Concert" size, in Martin's Standard Style 18, which includes traditional South American mahogany back and sides and a Sitka spruce top. It is the first 14-fret 00 in the Standard Series of professional-level guitars, and features the same level of excellent construction and materials that make its larger siblings so successful and popular. Like the Standard D-18 and 000-18, it has the same all-solid wood construction, same ebony fingerboard and bridge, the same full gloss nitrocellulose finish, and the same traditional, hand-fit dovetail neck joint used at C. F. Martin & Co. since its founding in 1833, which provides optimum transfer of tone-producing energy from the neck to the body for the signature full bass, midrange presence, and violin-like purity to the trebles that define classic Martin tone.
But as a 14-fret Grand Concert-size 00, many may expect a trade-off between having a smaller physical body for the sake of comfort and portability and a significant drop in the amount of "body" in terms of the sound it puts out.
Well I can tell you, a lot of people are in for a very big surprise when they pick up this little guitar that sounds anything but small. It provides a thoroughly satisfying playing experience, with an uncompromising strength of character at the heart of its remarkably robust voice.
A Welcome Return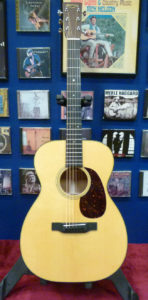 The last time the Martin 00-18 was made in any significant numbers it had straight, non-scalloped bracing, a rosewood fingerboard and bridge, and a skinny 1-11/16" neck. The high watermark for 00-18 production was 1954, when 800 were built.
Relatively affordable for grassroots musicians, the 00-18 played a part in the Great Folk Boom of the late '50s and early '60s, and served as a comfortable "writing sofa" guitar for professionals like Johnny Cash and Bob Dylan. But after Woodstock came and went, the model all but vanished from the scene, even if it remained the favorite recording acoustic guitar for Steve Howe of Yes.
After the turn of the century, 00-18V entered the now defunct Vintage Series in 2003. Made with scalloped 1/4" bracing and pre-war Style 18 appointments, including the ebony bridge and board, and a 1-3/4" modified V neck, it was a feisty bantam-weight acoustic, offering a punch and roar much bigger than the typical Grand Concert size guitar.
Some people bemoaned the removal of the 00-18V from the Martin line, because it sounded so good, if even if they didn't actually buy one. But there were many others who bemoaned the fact it had a V neck, and didn't buy one for just that reason.
Well, this new 00-18 is basically the 00-18V, with its pointy V neck replaced by Martin's modern High Performance neck, combing the Modified Low Oval profile with the sleek High Performance taper, which starts out at 1-3/4" at the nut, but is only 2-1/8" at the 12th fret. In essence, it is the Standard 000-18 in the slightly smaller 00 size.
A More Perfect Union?
The 00-18 and 000-18 have a short-scale neck that allows for those great bluesy string bends, fully two-frets worth with light gauge strings. But the slightly smaller body of the 00-18 brings the fretting hand a little closer to the player's body, making everything that much more comfortable and easy to play.
The 00-18 and 000-18 each have a flexible Sitka spruce top, made all the more responsive by scalloped 1/4" Sitka spruce bracing, just like that used on the long-scale Orchestra Models of the Vintage Series and Standard Series. So, the 000-18 is basically a short-scale version of an OM-18, since the OM and 14-fret 000 have the exact same body.
In fact, the Grand Concert soundboard of the 00-18 may be a more-ideal size for the specific string tension that comes with a short-scale neck, when it is brought to bear upon a top with scalloped 1/4" Sitka bracing.
One thing is certain; the 00-18 puts out a full-bodied voice. It is responsive enough to accommodate nuanced playing as well or better than most other world-class fingerstyle guitars. Expressive and glowing tone blossoms with the slightest touch. But it also has the support needed to withstand a flatpick with some muscle behind it, or when a player digs in with their fingers to mine some weighty Sitka tone enriched with the gleaming, woody sonic qualities of genuine South American mahogany.
Although it is true the 000 has a rounder, more pronounced low E string, the bottom bass note from the 00-18 prototype I played never got lost in any kind of playing. It retained a honed but strong definition in its tonal signature. So, I might say the 00-18 is more like a strong safety than a linebacker, not as hefty, but having an impressive punch and power for its size.
It will never have the massive bass of the D-18, and dread players may prefer the 000-18 as a result. But the bottom E string of the 00-18 never gets lost when it comes to the fundamentals, and it has an undertone welling up from the deep end that permeates through the mids and treble, like the best mahogany Martins always do.
Click on Photos to Enlarge
My Hogany Has a Sitka Top
I have enjoyed mahogany guitars with every type of top wood out there. But I am especially enamored of guitars made of Big Leaf mahogany and Sitka spruce, which provides my ear with that Goldilocks' "just right" combination of muscle, clarity, and tonal coloring. And this 00-18 prototype was so very gratifying in this regard.
The original "mahogany" (Swietenia mahogani) came from the islands of the Caribbean, and was all but cut to extinction by the time C.F. Martin Sr. set up shop in New York City in 1833, before moving to Nazareth, Pennsylvania. So his guitarmaking decedents turned to the species known as Big Leaf mahogany (Swietenia macrophylla) from Central and South America, when looking for a more-affordable alternative to South American rosewood. The first Style 18 guitars made in mahogany were built in 1917.
Guitar players quickly came to appreciate mahogany's unique tonal properties. Compared to the denser rosewood sound, it has an open and airy quality, with a sunnier disposition ringing with chiming clarity. It has less complexity to its harmonic overtones and resonating undertone, but it still has plenty of both.
While mahogany is said to be brighter than rosewood in terms of the overall voice, Big Leaf mahogany has a greater bass response than other members of the mahogany family. It has warm woody depths without being overly murky, so it allows the fundamental to ring strong and clear with distinct definition that "cuts" when played alongside other instruments.
Sitka spruce adds some color and warmth to that clear, clean mahogany sound. It accentuates the warmer shadows in the mahogany tonal landscape, while giving the fundamental notes some lean muscle, particularly in the unwound treble strings. And overall, it provides a palatable increased richness to that ethereal presence rising from the body of a well-made mahogany guitar.
And just as a lighter, more-refined scotch malt whisky is most influenced by the cask that ages it, compared to the heartier and heavier malts, so too does a mahogany guitar take on and show off greater tonal influence from the species of wood used for the soundboard, compared to the denser and more tonally complex rosewoods.
Adirondack spruce provides a bell-like chime of crystal clarity, but it is a drier and snappier sound overall, and rather arid and straight forward in its effect, when paired with the less-complex harmonic structure of mahogany tone. European spruce offers a more metallic ring in its own bell-like chime, as well as some Sitka-like richness, but it is so awash with a diffuse sonic aura that is more of a cream sauce emulsion, while Sitka remains leaner but still beefy.
While Sitka does not have quite the headroom of Adirondack, with the tone spreading out under a hard attack rather than condensing and popping, as heard in Adirondack's bark, it still holds up very well under normal playing conditions. The classic Bluegrass canons from the 1950s are fine examples of that. As too are the 00-18s favored by hard-playing Blues masters.
I play pretty hard myself. But I also like to ease off the throttle at times and let the guitar lead me to "the zone," where the resulting tone of Sitka over mahogany can be quite luscious indeed. And that is exactly what happened when I laid back and eased into the new 00-18. It provides a relaxing and comfortable playing experience that rewards the guitarist with a prosperous voice, lavish with so much classic Martin presence in the undertone resonance and the wafting high harmonics.
Modern Martin Legacy
When I sat down to discuss the Summer NAMM Martins with Tim Teel, Director of Instrument Design, and Fred Greene, VP of Domestic Manufacturing, the conversation began with Martin's renewed commitment to making the Standard Series the place where the world's best professional guitarists and discerning amateurs alike can reach for their next guitar. And it turned to Martin's methods of getting a sense of balance across their entire product line, while weeding out poorer sellers to make room for new models.
Fred Greene said to me, "Of course there will always be some models that won't provide dazzling sales numbers, but need to remain in the catalog because of their historical significance. Like the 00-18 for example; we need to have a 14-fret 00 for legacy reasons."
I believe Martin may be surprised how well this new 00 sells. Just putting it in the Standard Series and giving it the same neck as the 000-18 provides a bit more affordable price point than the 00-18V managed. And the High Performance neck makes it directly competitive with the majority of acoustic guitars on the market. Personally, I find the short-scale version of the modern Martin neck to be the most comfortable.
For those wanting the big V neck experience on a versatile mahogany blues machine, the CEO-7 would be my recommendation. But I expect the new 00-18 to ultimately outsell the 00-18V, and probably the CEO-7 in time.
In this monumental Year of the Dreadnought, perhaps the most surprising success story in the entire lineup of 2016 Martin guitars is this unassuming but untimorous 00-18.
Many people will find the new 00 ideal as a living room sofa guitar, because of how comfy it is in the lap and how effortless the short-scale neck is to play. Others will find it to be a very good travel and touring guitar that does not compromise when it comes to tone. And yet others will find it a wonderful smaller companion for their larger dreadnought or jumbo.
It is an absolutely successful design and a worthy addition to the Standard Series and Martin's perpetual legacy.
And that is one man's word on…
The Martin 00-18
List Price: $3,099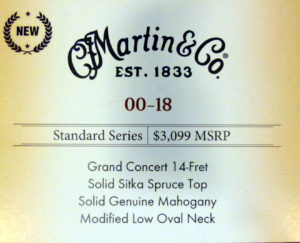 More Photos HERE
Related Reading:
Martin 00-18 Authentic 1931 Review
~
Official Spec Sheet
Model:  00-18
Construction:  Dovetail Neck Joint
Body Size:  00-14 Fret
Top Material:  Sitka Spruce
Top Detail:  N/A
Rosette:  Old Style 18 Multi-Stripe
Bracing Pattern:  X Brace
Brace Shape:  Scalloped
Brace Material:  Sitka Spruce
Brace Size:  1/4″
Back Material:  Genuine Mahogany
Back Detail:  N/A
Back Purfling/Strip:  Style 18
Side Material:  Genuine Mahogany
Side Detail:  N/A
Endpiece:  Faux Tortoise
Endpiece Inlay:  N/A
Binding:  Faux Tortoise
Top Inlay Material:  Multi-Stripe
Side Inlay Material:  N/A
Back Inlay Material:  N/A
Neck Material:  Select Hardwood
Neck Shape:  Modified Low Oval
Neck Taper:  High Performance Taper
Plek:  Yes
Nut Material:  Bone
Headstock Shape:  Solid with Square Taper
Headplate Material:  East Indian Rosewood
Headplate Detail:  N/A
Headplate Logo Style:  Script Old Style Overlay
Headplate Binding Material:  N/A
Heelcap:  Faux Tortoise
Fingerboard Material:  Ebony
Scale Length:  24.9″
Neck Joins Body At:  14th Fret
Number of Frets Total:  20
Fingerboard Width at Nut:  1 3/4"
Fingerboard Width at 12th Fret:  2 1/8"
Fingerboard Inlay Material:  Abalone
Fingerboard Inlay Style:  18 Old Style
Fingerboard Binding Material:  N/A
Side Dots:  White
Back and Side Finish:  Gloss
Back and Sides Color:  Dark Mahogany
Finish Top:  Gloss
Top Color:  Aging Toner
Finish Neck:  Satin
Neck Color:  Dark Mahogany
Bridge Material:  Ebony
Bridge Style:  Modern Belly – Drop in Saddle
Bridge String Spacing:  2 5/32″
Saddle:  Compensated Bone
Saddle Radius:  16″
Tuning Machines:  Nickel Open Gear
Recommended Strings:  SP Lifespan 92/8 Phosphor Bronze Light (MSP7100)
Knob:  Butterbean
Bridge Pin Material:  Black Plastic
Bridge Pin Dots:  N/A
Pickguard:  Faux Tortoise
Pickguard Inlay:  N/A
Case:  Ply Hardshell
Label:  N/A
Electronics:  Optional
Left Handed Availability:  Yes