A time machine 12-fretter, the 00-18 Authentic 1931 is superb
The new featherweight champ with heavyweight tone
00-18 Authentic 1931 specs include: All solid woods with hide glue construction throughout, including traditional Big Leaf mahogany back and sides; Adirondack spruce top with M1 level of Martin's Vintage Tone System, and VTS treated Authentic Series 1/4″ bracing and bridge plate; short-scale mahogany neck with a shape unique to this model, 1-7/8″ at nut; ebony fingerboard and bridge with 2-3/8″ string spacing; bone saddle and ebony nut; Vintage Style 18 appointments for the fret markers and rosette, tortoise colored pickguard and binding; Madagascar rosewood accents; thin, Vintage gloss finish.

"From the first note, I felt that of all the Authentic Series, the 00-18 Authentic 1931 would fool me most easily if I was blindfolded and told I was playing a pre-war Martin."
~

Set the Wayback Machine for 1931
The 00-18 Authentic 1931 is a Martin 00 (Grand Concert size) guitar made in Style 18, as part of the Authentic Series of meticulous vintage instrument recreations. In this case, it is a 1931 00-18 that has been copied down to the exact shaping of the bridge plate.
And it is not just any 1931 00-18. It was borrowed from the collection of Fred Oster, owner of Vintage Instruments in Philadelphia, who has offered up several of his personal guitars over the years so that Martin could study them when developing their Golden Era Series and Authentic Series.
For the Authentic Series, Martin chooses one specific instrument and they go to great lengths to recreate it to smallest detail, even using CAT-Scan and X-Ray technologies to pinpoint the exact position and composition of bracing and bridge plate, etc.
They also like to select a vintage guitar that is in all-original condition, and the particular 00-18 in question appeared to be immaculately well-preserved. I must say it is one of the most enjoyable vintage guitars I have played in any size or style. Attempting the recreation of such an exceptionally fine pre-war Martin is one tall order indeed.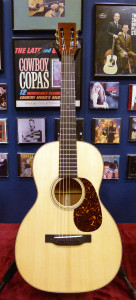 I am happy to say that today's Martin Guitar Company has proved up to the task.
Just like an early '30s 18, I reached out for it assuming it to be very light in weight, and yet was unprepared for just how light it really is. After playing a variety of modern Martins it feels like it weighs nothing at all. And like an early '30s 18, just speaking toward the sound hole makes the mahogany and spruce body vibrate and echo.
And then I strummed it, and I played various runs and licks. The slightest pluck, the lightest strum, the most relaxing glide or slide up the neck conjured resonating music; out of thin air was audible tone that was pleasing and evocative, even without anything like a melody underway. But once I did start to play it I wished I didn't have to stop.
I particularly love how connected the fundamentals are to the resonant undertone, seamless in a way that makes it impossible to tell where one leaves off and the other starts. That is very much like an old Martin. And in that mahogany way, it is sunny on top and spacious behind the trebles, but gets warmer with more presence the deeper the pitch. Also like a vintage 18.
From the first note, I felt that of all the Authentic Series, the 00-18 Authentic 1931 would fool me most easily if I was blindfolded and told I was playing a pre-war Martin.
A Classic Reborn
The traditional, or "Standard" 00 design has a 12-fret neck and sloped shoulders, giving it an elongated top compared to the 14-fret version of the same "size," resulting in a larger sound chamber. But the bridge is also closer to the center of the top, which disseminates the strings' tone-producing energy from a more-centralized location.
The 12-fret 00 is similar to Classical or Flamenco guitars when compared to most modern steel-string guitars. In fact, Standard Martin 00s were originally made for gut strings and were the primary choice of the most celebrated Classical guitarists in America, beginning in the 1870s to well into the twentieth century.
Although Martin invented the modern 14-fret acoustic guitar in 1929, almost all the guitars they made prior 1934 had the same 12-fret configuration used by C. F. Martin Sr. since he established his business in 1833. He died in 1873, the same year that his son, C. F. Martin Jr. introduced the 00 size, considered at the time to be an extra-large guitar meant for "grand concerts."
The Martin 12-fret 00 was the favorite design of the third generation heir, Frank Henry Martin. He was the visionary who led the family business into the era of steel-string guitars and was responsible for the invention of the 000 size, the Dreadnought, and the 14-fret Orchestra Models. And yet, he deemed the 12-fret 00 was the perfect guitar, because it has an ideal sonic relationship between full, round, projecting bass, clear commanding midrange, and strong, articulate treble.
The 00-18 Authentic 1931 is a literal, ringing example to support that belief.
But that is not to say this guitar sounds exactly like the actual vintage 00-18. It does not. The treble strings are a little more out into the room and have a shinier ring – more metallic and less glassy. The fundamentals off the A and D string are plumper and sit down below the waterline more, as it were, and meld with that Martin low-mid undertone in a weightier fashion. The bass is a bit tighter and a bit brighter. But there is way more in common with its namesake than there are differences. And that is pretty darn impressive for a guitar that had its playing life counted in days and hours, not years and decades.
I do not believe it is possible for anyone else to clone a pre-war 00-18 and come any nearer than this one, when it comes to the feel and play and sound.
Click on Photos to Enlarge
Elegant, Not Ostentatious
In 1931, Style 18 translated to a body made of Big Leaf mahogany from South America, with a soundboard made of Adirondack spruce from the Eastern U.S., an African ebony fingerboard and bridge, with graduated dots for fretboard markers, tortoise colored plastic binding and pickguard, and black and white plies for the trim and soundhole rosette.
The purpose of Style 18 was to offer Martin's widely-acclaimed quality in a guitar made from mahogany, which was less expensive than their rosewood models, and with simpler trim and appointments to further reduce cost, while maintaining excellence in a musical instrument.
This modern-day guitar embodies the essence of that practical yet elegant style, which puts the emphases on the tonewoods used to create it. It doesn't even say Martin on the headstock. There is just a plain yet lovely rosewood faceplate. The guitar it was based upon was made just before Martin started using the now-famous script logo.
The neck is shaped by hand and just like a pre-war 00 it simply does not feel like it could be a 1-7/8″ neck. Yes, making barre chords above the 5th fret is a notable reach, as is trying to do more than basic thumb fretting. But I hardly noticed the width most of the time, and with the short scale it is a very comfortable playing experience. Effortless for basic chords and fingering picking patterns.
The V itself is rather modest. Even if it is detected all the way down to the first position, it is mild at most and more like the modified Vs on modern Martin dreads and OMs than other vintage guitars.
The neck has an ebony truss rod, which is the chief reason older Martins feel so feather-light compared to even those made later in the 1930s with a steel t-bar neck support. And it has a lot to do with how the entire guitar comes alive with the lightest playing and produces a nuanced voice full of so much character.
Vintage Top, Vintage Finish, Vintage Tone

Other vintage-like aspects include the bracing, which is carved thinner than modern Martins, and with an X brace notched to fit over the bridge plate. A tucked bridge plate passes resonant energy directly to the X brace, which spreads it across the top. It is a design feature available only from Martin in the Authentic Series. The same is true for tops sanded to vintage thinness and a finish buffed to the level of their exclusive Vintage Gloss.
A thinner top is much more responsive and alive. And the entire guitar has a nitrocellulose gloss finish that is not only hand-sprayed and brought to the same level of gloss as a pre-war Style 18 guitar, it is also notably thinner than the finish used on other modern Martins.
It is likely that vintage Martins did not start out with finish this thin. Rather, they lost mass from the outer layers of the finish as the guitar aged. But certainly they were built with thinner finish than today's guitars. And having Martin's proprietary thin finish makes the tonewood on a new guitar vibrate more like a vintage guitar. In fact, the whole body on this 00-18 Authentic 1931 just breathes and resonates so delightfully well as a result.
But it is the Vintage Tone System torrefaction of the spruce top, braces, and maple bridge plate that is responsible for that impressive sonic depth. While torrefied tops do not miraculously make every aspects of a guitar's voice identical to a vintage instrument, Martin's specialized torrefaction certainly succeeds in some very welcomed ways.
The M1 level of torrefaction was developed specifically for the Authentic Series, although it is now showing up on various special editions and Custom Shop instruments too. While spruce that is torrefied to typical levels has its interior cell structure altered until it closely resembles wood some 300 years old, Martin's proprietary treatment makes it behave and sound more like wood that is around 80 years old. Not only does it look like wood that old under a microscope, it reacts to vibration and produces tone in similar ways to the tops on Martins made between the World Wars.
And when I say depth, I do not mean depth as in a big 12-fret dreadnought sounds deeper than a 14-fret OM. I am talking about how the sounding note from a played string does not just bounce off the wood and out into the room, but fires way down inside the voice without  any perceptible resistance, where it sets off sympathetic tones like ripples across a pond.
But actually not like pond ripples, since they are limited to one plane, much like the resonance of a brand new guitar made with non-VTS Adirondack spruce. The sound waves from this stuff ripples out across the surface, but also down inside the body and inside the voice; out the soundhole, and out and around the guitarist in all directions, in a way that simply was never experienced in a brand new Adirondack spruce top before Martin and other guitarmakers started torrefying wood.
Martin's VTS makes a guitar sound "broken in" or "opened up" in a way that previously took years to achieve, even if other tonal properties may not sound exactly like an old guitar sounds.
You can read more about the science and history of this very old wood treatment technique, which was only recently used in guitar making, by going HERE.
Big Tone from a Little Guitar
In this age of Dreadnoughts and Jumbos, a 12-fret 00 appears at first like a little guitar, and a bit of a novelty. In fact, a well made one can fill up a room without any problem at all. And the virtues of the 12-fret body size make it sound fuller and louder than the equivalent 14-fret 00. Most people are usually surprised at just how much sound comes flying out of a 12-fret 00. But not everyone.
When the Unofficial Martin Guitar Forum arranged to have a "UMGF Model" made, they ended up with the first mahogany 12-fret 00 made in any quantity since the 1930s. They are very cool guitars and fun to play, built with the same construction of the Vintage Series instruments.
Well, the new 00-18 Authentic 1931 does not just pay homage to the vintage 00-18s. It is much more like taking a time machine back to heart of the Great Depression and buying a brand new 1931 00-18, only with the advantages that come with Martin's Vintage Tone System to help it along to a voice as fully realized, resonant, and responsive as possible, from the moment it comes out of its case to meet its new owner.
And with a street price thousands of dollars less than even a beat up 1931 00-18 with cracks and replaced parts, I have a feeling this new addition to the Authentic Series will quickly be considered every bit as impressive and respected as its other larger and more expensive members.
How differently does this brand new Authentic Series guitar sound form the old timer it is based on?
Here is a sound comparison between the two.
https://www.youtube.com/watch?v=sMQGMEqHV6E
And that is one man's word on…
The Martin 00-18 Authentic 1931
List price $7,499.00
Call your Martin dealer to find out their best price!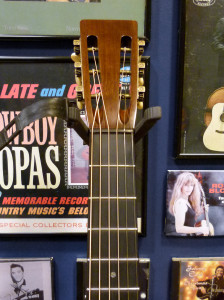 More Photos HERE
Related Reading:
Martin 00-17 Authentic 1931 Review
Martin D-1 Authentic 1931 Review
Martin Authentic Series Reviews
00-18 Authentic 1931 Spec Sheet
~
Official Spec Sheet
Model: 00-18 Authentic 1931
Construction: Dovetail Neck Joint – Hide Glue Construction
Body Size: 00-12 Fret
Top Material: Adirondack Spruce with VTS
Top Detail: N/A
Rosette: Old Style 18 Multi-Stripe
Bracing Pattern: X Brace
Brace Shape: Scalloped
Brace Material: Adirondack Spruce with VTS
Brace Size: 1/4″
Back Material: Genuine Mahogany
Back Detail: N/A
Back Purfling/Strip: Madagascar Rosewood
Side Material: Genuine Mahogany
Side Detail: N/A
Endpiece: Madagascar Rosewood
Endpiece Inlay: N/A
Binding: Madagascar Rosewood
Top Inlay Material: Multi-Stripe
Side Inlay Material: N/A
Back Inlay Material: N/A
Neck Material: Genuine Mahogany
Neck Shape: Authentic 1931
Neck Taper: Standard Taper
Nut Material: Ebony
Headstock Shape: Slotted with 1931 Taper
Headplate Material: Madagascar Rosewood
Headplate Detail: N/A
Headplate Logo Style: Stamped on Back of Headstock
Headplate Binding Material: N/A
Heelcap: Madagascar Rosewood
Fingerboard Material: Ebony
Scale Length: 24.9″
Neck Joins Body At: 12th Fret
Number of Frets Total: 20
Fingerboard Width at Nut: 1 7/8"
Fingerboard Width at 12th Fret: 2 5/16"
Fingerboard Inlay Material: Abalone
Fingerboard Inlay Style: Authentic 18 Old Style
Fingerboard Binding Material: N/A
Side Dots: Grained Ivoroid
Back and Side Finish: Vintage Gloss
Back and Sides Color: Dark Mahogany
Finish Top: Vintage Gloss
Top Color: Clear
Finish Neck: Vintage Gloss
Neck Color: Dark Mahogany
Bridge Material: Ebony
Bridge Style: Authentic Belly – Glue in Long Saddle
Bridge String Spacing: 2 3/8"
Saddle: Bone
Saddle Radius: 16″
Tuning Machines: Golden Age Relic Brass Side Mount
Recommended Strings: SP Lifespan 92/8 Phosphor Bronze Light (MSP7100)
Knob: Cream Plastic
Bridge Pin Material: Black Plastic
Bridge Pin Dots: N/A
Pickguard: Faux Tortoise
Pickguard Inlay: N/A
Case: Ply Hardshell
Label: N/A
Electronics: Not Available
Left Handed Availability: Yes
~