The new acoustic-electric 00-15E Retro is loaded with vintage Martin vibes
A seamless melding of the storied past and promising future of America's oldest musical instrument maker
NOTE: This review is for the original version of this instrument. Martin has since changed the electronic pickup-system to the modern, simplified Aura VT Enhance system, with no longer uses control knobs and a readout in the side of the guitar, and has only ONE Aura microphone image in the on-board computer. It is unknown which of the microphone images mentioned below was selected.
It also has Martin's Performing Artist fretboard taper has been renamed the High Performance taper, but it remains the same dimensions. When coupled with Martin's Low Oval neck profile shape the combination is called the High Performance Neck.
Specs include: Grand Concert body size; solid mahogany back, sides, and solid mahogany top with 15 Series Burst; solid Sitka spruce 5/16" bracing; solid ebony fingerboard, bridge, bridge pins; short-scale select hardwood neck with a simple dovetail neck joint, modified low oval profile and Performing Artist taper, 1-3/4" at nut and 2-1/8" at 12th fret; 2-3/16" string spacing; short-pattern diamonds and squares fret markers; Martin nickel open back tuners; satin finish; bone nut and Tusq saddle to go with the Fishman F1 Aura+ electronics.
"…lovely playability and seriously impressive acoustic tone, at a more affordable price than other professional-level Martins made with solid tonewoods and the top-of-the-line Fishman Aura F1+ pickup system."
Watch in 1080p for best sound
Surprisingly Successful
The new Martin 00-15E Retro is surprising, since there was no such thing as a 00-15 from the decades other Retro series designs were taken from. And it is a surprisingly affordable, professional-level guitar, which has a surprisingly rich and robust voice emanating from its surprisingly attractive, little body. And it is made, surprisingly enough, from sipo, a species of mahogany emanating from Equatorial West Africa, rather than South America. But more about sipo later on.
Retro Tone at Any Level
Even without plugging in, the Martin 00-15E Retro produces satisfying tone, volume, and projection from its comfortably small acoustic guitar body. Regardless of the builder, guitars with a mahogany top share unique tonal properties, which have always challenged my skill at putting tone into words. And this particular Martin prototype provides a great specimen to practice on.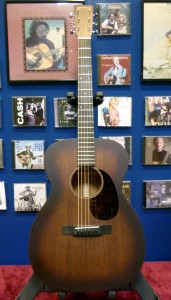 There is a succinct and solid sustain to the fundamental notes firing off the strings, which hangs out in the air for just a moment longer than other guitars provide. The elongated solidity to the immediate notes is why slide players often favor tops made of hardwoods like mahogany and koa. And yet, once the sympathetics trigger and reverberate they quaver with quick repetition. And there is a density to the bass and midrange notes that is thick but with softer edges, so they bloom and knit together while retaining those strong fundamental centers. And then there is the certain piquant ring to the unwound treble strings that reflects off the lower registers, all adding up to what my brain keeps identifying as "sweetness." And this is a very sweet little guitar with a big heart and plenty of sonic body to go with it.
When electronics are required, the Fishman Aura F1+ pickup system provides amplified sound every bit as enjoyable, by simply plugging in and playing, thanks to its EZ mode options. But for the gigging guitarist who performs through all sorts of sound systems in venues of different sizes, the F1+ offers considerable customization with programmable three-band EQ, compression, phase switching, and an on-board tuner, in a portable, comfortable guitar made from solid, exotic tonewoods, all for an exceptionally good price.
Although guitars in this series have some vintage Martin appointments, the term Retro refers to the fact that some actual vintage Martins were recorded with the world's best microphones to create the Fishman Aura "images" that are heard when a musician plugs into the state-of-the-art electronics built into the guitar.
In greatly simplified terms, the Aura F1+ system makes a guitar heard through an under-saddle pickup sound quite similar to a guitar amplified through a microphone. This is achieved by Fishman recording an acoustic guitar, analyzing its wave pattern, and then sculpting the pickup signal's wave pattern to match it. And that happens in real time, thanks to sophisticated propriety technology that allows it all to react to the touch and attack of the guitarist.
In the case of this new model, the microphone images were taken from a 1935 00-55 residing in the Martin Museum. That unusual model number was requested by Rudick's Music Store in Akron, Ohio, who had ordered a series of some 14 guitars made with mahogany back, sides, and top. It is most similar to the Martin 00-17 of that era. Style 15 did not appear in an all-mahogany format until 1940. It had simpler appointments than the 17s and was only built in size 0 or smaller.
Apparently Martin wanted to do a Retro version of the museum guitar, but chose to use the cosmetic appointments of today's Style 15M, which falls somewhere between what was seen on a 1935 00-17 and a 1940 0-15. And this Retro model is the first 15 to get the full Aura F1+ pickup system, so the special tonal properties sought from a mahogany top come through wonderfully well.
But what impresses me most about the 00-15E Retro is how good it sounds unplugged. It has a surprisingly full-bodied voice for a small guitar, with all the delightful sweetness and warmth mahogany tops are known for.
And it is all the more impressive for having an all the more comfortable short-scale neck with the modern Performing Artist taper and modified low oval profile.
Modern Old School Features
When Martin revived Style 15 in the late 1990s it was decided that the 25.4" long scale would be used for every model, since it had become the industry standard. This is the first modern 15 to come with a 24.9" short-scale neck, used on 0s, 00s, and 14-fret 000s throughout most of Martin's history. The short scale puts the frets a touch closer together, while bringing less tension to the strings when tuned to concert pitch, allowing for easier bending and finger vibrato. And yet, this new model still has plenty of volume and projection, especially for a 14-fret 00 (Grand Concert) size instrument.
And where the other 14-fretters in Style 15 have a 1-11/16" neck, the 00-15E Retro has Martin's high performance neck, which feels similarly trim in the upper frets, but its PA taper subtly widens out near the headstock, culminating in a 1-3/4" width at the nut. So there is a little more room where one's wrist does the most-stressful bending, without getting as wide and bulky up the frets as a vintage 00 neck.
Similarly, the looks of this latest E Retro model most resemble the 15M models, with vintagesque features like diamond fret markers and open back turners. But its "15 Burst" top shading is unique. It has a darkness like the burst seen on the mahogany-topped 00-DB Jeff Tweedy signature model, but it fades out nearer to the sides like on the 000-15M Burst. Another change from the past, the modern 15M guitars have solid ebony for the fingerboard and bridge, while the old timers had rosewood. Even though there was no vintage Martin that looks quite like this guitar, the overall aesthetic quality is vintage in appearance, or at least retro.
And so, like the other models of the Retro series, the 00-15E Retro has classic looks matched with the latest neck and the latest in electronic amplification. But this one also has the latest mahogany.
Sipo – It's the New Mahogany
Traditional South American mahogany is vanishing from the natural landscape and the few plantations that utilize environmentally responsible growing practices cannot keep up with demand.
At the rate it is used for furniture and paneling, it is almost certain to end up on the same endangered species list as Brazilian rosewood. So, Martin has proven wise in their enthusiasm for plentiful and renewable alternatives to this and other traditional tonewoods. A member of the mahogany family, sipo may be the best one they have offered yet.
In the autumn of 2014, Martin quietly began building their 15M models with the back, sides, top and neck made from sipo. This was significant for three related reasons.
Martin started using mahogany as a tonewood during World War I, but this is the first time that the term "mahogany" appeared on a spec sheet signifying wood that did not come from the Americas.
Second of all, technically speaking, sipo is mahogany, since it is in the mahogany family (botanical name Meliaceae.) So is sapele, but when Martin started using that on guitars, including the 15 series, the spec sheets said sapele.
Click on Photos to Enlarge
But the most important reason is found on a finished guitar, where sipo looks and sounds virtually identical to South American mahogany. So much so, Martin feels no compunction whatsoever in simply calling it mahogany.
Sipo (Entandrophragma utile) is a close relative to sapele (E. cylindricum) and the two could easily be confused when looking at raw boards. The key difference between them is found in the tone department.
Both come from tropical Africa, where Martin's wood buyer Michael Dickinson first recognized the impressive properties of sipo, when on a trip to the Republic of Congo. In his estimation, "Out of all the 'cousins,' of mahogany, sipo has the most similar tonal qualities" to South American Big Leaf mahogany (Swietenia macrophylla,) also known as Honduras mahogany, or "genuine mahogany."
And for now, Martins made from sipo will say "mahogany" on the spec sheets, while those made with Big Leaf mahogany will say "genuine mahogany."
But the latter is a title bestowed by various wood merchants and a bit of a misnomer, since it can be argued that the only truly "genuine mahogany" is the species Swietenia mahogani, now known as Cuban mahogany. It is native to the northern Caribbean and was cut to near extinction by Europeans before C. F. Martin Sr. was even born.
I have played small-shop luthier guitars made from Cuban mahogany. To my senses, all of them have looked and sounded more like guitars made from sapele than they did Big Leaf mahogany. That is not what I would say about this new Retro model, which is my first experience with a guitar made from sipo.
Hold the Toast
I may never live down the term Toasted Wheat Underpinnings, for which I have been teased for years. I coined it in a review of the Martin CEO-5, which introduced sapele into the Martin lineup. I was trying to explain how it differed from a similar Martin made from Big Leaf mahogany when it came to tone production.
So, I came up with the metaphor that equated rosewood with dark pumpernickel bread due to its rich, dense, complex flavor; mahogany with lighter but still full-bodied whole wheat bread; and sapele with toasted whole wheat, because it sounds drier and crisper than mahogany, even if the difference is subtle, showing up only as those "toasted wheat underpinnings."
It was all a polite way of saying that by and large, sapele looks more like mahogany than it sounds like mahogany, because it is drier and more trebly with fewer midrange overtones, and lacks some of the warmth and richness heard from the bottom end of mahogany.
Well, this sipo 00-15E Retro has loads of the stuff! Of the 550 mahogany species, I have heard no guitar built with an alternative to Big Leaf mahogany that sounds as much like it. And from this one example, I can speculate that it might even sound better.
It gives off marvelous resonance across the entire voice, with that delayed swell that rises out of the body of the best Martins after a note is played and sustained, or a chord is strummed and left to hum. And that is most noticeable from that bottom end, which makes me wonder what larger guitars like a 12-fret dreadnought will sound like with sipo for the back and sides.
Sipo's true potential will play out by and by, as guitars show up made from sipo with traditional scalloped X bracing, and full hand-fitted dovetail neck joints, etc., not to mention those made with spruce tops.
A Lot of Guitar for a Little Money
The modern-day 15s have a cost-saving construction compared to other Martins, and a reduction of appointments that further lowers the end price for the consumer. They feature Martin's modern simple dovetail neck joint, which does not have the same kind of wide contact surface or solid wood neck block as guitars made in Style 18 and above. But it is a vast improvement over the Mortis and Tenon joint found on earlier incarnations of Style 15, both in terms of stability and tone.
They are made without binding on the body, or purfling inlaid around the edge of the top and where the back strip is normally found. But this simpler design helps put the focus on the nut brown tonewoods. And this model comes with a bridge and fingerboard of real, solid wood, and a wood fiber rosette inlaid around the sound hole, rather than a decal used on less-expensive Martins.
All 15s also come with the reduced A-Frame X bracing that has a traditional X brace and the A frame braces required for the simple dovetail neck joint, but little in the way of supporting tone bars. This bracing proves a benefit for the hardwood top of a 15.
The unique sonic filtering provided by a mahogany top removes the more strident edges heard in the highest timbres of spruce-topped Martins made with this bracing pattern, while the reduced bracing allows the denser mahogany top to breathe and vibrate more freely, yet produce a voice that withstands harder playing without breaking up.
I was afraid the hardwood top might suffer from a lack of string tension without a long-scale neck. But actually, it seems to benefit from the short scale, and it comes off more lively and responsive as a result.
The 00-15E Retro is an interesting amalgamation of features. It resembles a vintage 00-17 in looks, while sporting all the modern features of the Retro series, with the contemporary neck design and string spacing, and the on-board electronics, and still it serves the same important purpose as the Style 15 guitars from the prewar era.
While it costs more than Woody Guthrie's beloved 0-15, which he called "the people's Martin" due to its low price, the 00-15E Retro is a genuine Martin guitar of very good quality, lovely playability and seriously impressive acoustic tone, at a more affordable price than other professional-level Martins made with solid tonewoods and the top-of-the-line Fishman Aura F1+ pickup system.
And that is one man's word on…
The Martin 00-15E Retro
List Price: $2,549.00
Ask your Martin dealer for their best price.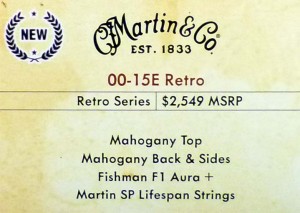 More Photos HERE
Microphone Images on the 00-15E Retro
| | | | |
| --- | --- | --- | --- |
| Image | Microphone | Type | Position* |
| #1 | Shure SM57 | Dynamic Cardioid | Close |
| #2 | Neumann M147 | Large Diaphragm Condenser | Close |
| #3 | Telefunken ELA M 260 | Small Diaphragm Condenser | Close |
| #4 | Soundelux E47 | Large Diaphragm Condenser | Close |
| #5 | DPA 4011 | Small diaphragm Condenser | Close |
| #6 | AKG C-414B | Large diaphragm Condenser | Close |
| #7 | Shure KSM141 | Small diaphragm Condenser | Close |
| #8 | Earthworks QTC30 | Small diaphragm Condenser | Close |
| #9 | Neumann KM84 | Small diaphragm Condenser | Close |
* Fishman Aura images can contain microphone placement farther away, but all images used on Martin Retro Series guitars have close placement.
See the Aura images for all Retro Series Guitars HERE
Related Reading:
Martin OM-28 Authentic 1931 Review
Official Spec Sheet
Model: 00-15E Retro
Construction: Simple Dovetail Neck Joint
Body Size: 00-14 Fret
Top: Solid Mahogany
Rosette: Single Ring Maple and Black Fiber
Top Bracing Pattern: A-Frame "X"
Top Braces: Solid Sitka Spruce 5/16"
Back Material: Solid Mahogany
Back Purfling: none
Side Material: Solid Mahogany
Endpiece: none
Endpiece Inlay: none
Binding: none
Top Inlay Style: none
Side Inlay: none
Back Inlay: none
Neck Material: Select Hardwood
Neck Shape: Modified Low Oval w/Performing Artist Taper (now called High Performance Taper)
Nut Material: Bone
Headstock: Solid/Square Taper
Headplate: Solid East Indian Rosewood
Heelcap: none
Fingerboard Material: Solid Black Ebony
Scale Length: 24.9"
Number of Frets Clear: 14
Number of Frets Total: 20
Fingerboard Width at Nut: 1-3/4"
Fingerboard Width at 12th Fret: 2-1/8"
Fingerboard Position Inlays: Diamonds & Squares – Short Pattern
Fingerboard Binding: none
Finish Back & Sides: Satin
Finish Top: Satin w/15-Style Burst
Finish Neck: Satin
Bridge Material: Solid Black Ebony
Bridge Style: Modern Belly
Bridge String Spacing: 2-3/16"
Saddle: 16" Radius/Compensated/White Tusq
Tuning Machines: Nickel Open-Geared w/ Butterbean Knobs
Recommended Strings: Martin SP Lifespan Phosphor Bronze Light Gauge (MSP7100)
Bridge & End Pins: Solid Black Ebony
Pickguard: Tortoise Color
Case: 350 Hardshell
Interior Label: none
Electronics: Fishman F1 Aura Plus