North Dakotan Jeff Huss and Virginian Mark Dalton were both interested in Bluegrass and traditional music from an early age. They met up at a jam session and a few years later, in 1995, they began a partnership based around creating the kind of guitar they would want to play. The Huss & Dalton Guitar Company was born.
Both Huss and Dalton were employed at the Stelling Banjo Works, Huss for nine years before he opened his own shop. Today they use only choice materials that would have met with approval from the likes of Orville Gibson, C.F. Martin Sr., Lloyd Loar, or John Deichman, while utilizing progressive methods of design and technology unheard of in those bygone days.
Their philosophical take on luthiery is founded upon paying "homage to tradition while incorporating improvements in the structural design and cosmetics of the steel-string guitar."
Play one of their guitars at your favorite Huss & Dalton dealer, or ours.
You just might think those boys in South Central Virginia done got it right.
Huss & Dalton Reviews on One Man's Guitar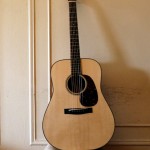 Some phots of Huss and Dalton TD-M Bracing
(thanks to Kimberly Dalton)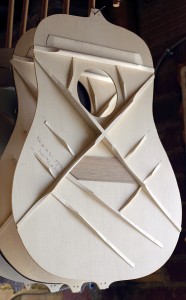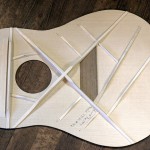 ~